There are a lot of time trackers out there, and some of them are quite good. So why make another one? Because there's not a single affordable time tracker for teams on the market.
When you have a team of 50 people, you have to pay more than $500 each month just so everyone on your team can use a simple timer. And that's simply too much. So we created Clockify.
How we used to track time
Our company, COING Inc, is a development shop. We make software for clients and charge based on how much we work. So naturally, we need time tracking software.
We used Toggl in combination with Trello, as it was the most straightforward combination.
When someone starts working on a task, they move the card to In-Progress in Trello, copies the ID of the card, pastes the ID into Toggl, and starts tracking time.
Some people used the timer while others filled out their timesheets at the end of the day. The method didn't matter, as long as people filled their daily quota (7:30 hours) and we knew how much to bill our clients.
And this setup worked wonderfully for years. Well, it worked until Toggl raised prices.  We used to pay close to $500 each month for Toggl (50 employees x $10/user). That was a lot of money for simple time tracking software. But then Toggl raised the price for our plan to $20/user, so we were faced with paying $1k each month. That was too much.
So we started looking for a Toggl alternative. We tried several other time trackers, but they were way too complicated. Still, complexity wasn't a big deal. After all, you can get used to software after a while.

The biggest problem with all the time trackers was the price – namely, almost all time trackers charged based on the number of users (mostly around $10/user). Yes, most had a free plan but only if you're a solo user or if you have less than 5 members. Then the price would sharply rise.
Most time trackers were too complicated and too expensive. So we created our own.
You can read more about how we use Clockify to track time and bill clients here.
It cost us less to build a time tracker than to use an existing one
We did some math and calculated that, instead of paying Toggl $1k each month, we can create our own time tracker in a couple of months and recoup our investment within half a year (and because we are a dev shop, our development costs are way lower than usual).
We used Toggl as a role model for how we want our time tracker to work, and built on top of it. We started working in February 2017 and finished everything in a couple of months.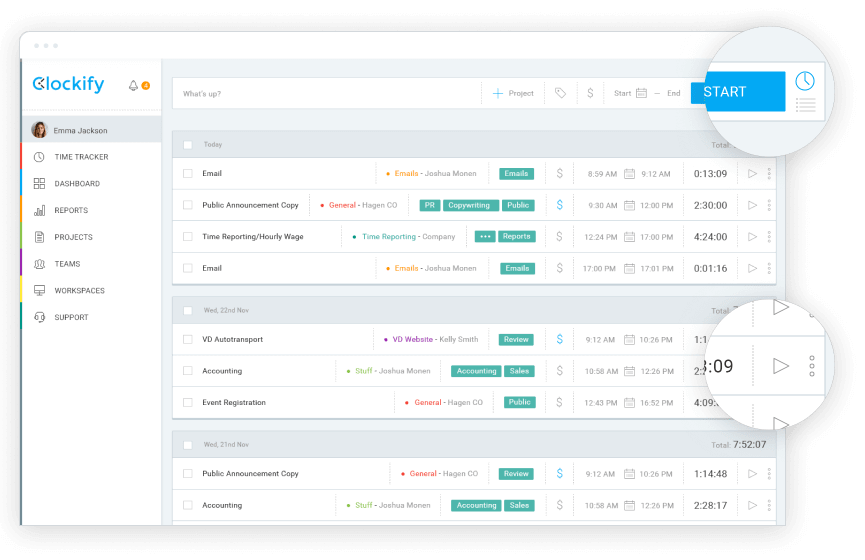 Then, in March, we started using Clockify ourselves. It had quite a lot of bugs, so we spent several months fixing them.
The most difficult thing after the initial period was resource allocation. Because we constantly had to work on client projects, we couldn't have a dedicated developer just for Clockify. Instead, people would work on Clockify whenever they found some spare time, between client projects.
So the development slowed down. But that was ok. We had a working app that finished 99% of the work we need from it.
Releasing Clockify to the public
We were proud of Clockify. We were proud of projects we create for clients too, but it's wasn't the same. Once you finish client project, they own it and in most cases, you don't get the right to brag about it (confidentiality and all).
But here was something we created ourselves, that we owned 100%, and that was actually useful. How can you not be proud and share it with the world? We decided to share Clockify and let others use it for free.
After all, there wasn't anything on the market that teams like ours could use without paying hundreds of dollars and we wanted to fix that.
Plus, we could always show Clockify to our clients and say "See, we made this. You can trust us. We know how to develop software". It's funny how an app with thousands of users can boost your credibility with potential clients.
So, we rented a few servers on AWS, set up Clockify as a cloud-based app, and launched on Product Hunt in August. In just the first few hours, 17.000 people registered, and the comments were very positive. We were beyond excited. Next thing we knew, we wanted to keep working on Clockify and create a truly great time tracker.
Future of Clockify
Clockify was not the first product we created, but it's the first one that was met with such a good reception, with more than a hundred people signing up each day.
Positive feedback has this strange effect that it makes you start dreaming about things – and that's just what we did.
Once we noticed how many people need it, we set aside a few people to work on improving Clockify full-time, while keeping it 100% free forever.
To make things sustainable (and make some money), we decided to introduce the option to offer self-hosted time tracking and charge for it.
(Self-hosting is where you get the software and install it on your own servers. This way, you control all the data and have nothing to do with the makers of software, except for receiving software updates if you want.)
Self-hosting was perfect because it would let us keep Clockify free while giving people who need more an option, for a fee. And because we're a dev shop, we also offer custom development on top of Clockify if someone needs it.
We're quite excited for the future. Clockify has more and more users each day, we are busy preparing new features (check out our feature roadmap), and there's a quite a demand for self-hosting so the future looks bright for our little time tracker.