Major new features coming soon!
Budget • Invoicing • GPS tracking • Screenshots • Calendar... and much more
Improved timesheet accuracy
See where the time goes with greater accuracy.
Finished

Force timer

Get more accurate timesheets by using only timer
Finished

Screenshots

Watch work unfold in near real-time with optional screenshots
Finished

GPS tracking

Simplify clocking-in of your remote on-the-go workers
Later (2021)

Auto-tracker

Track apps/websites you use and create timesheets based on data.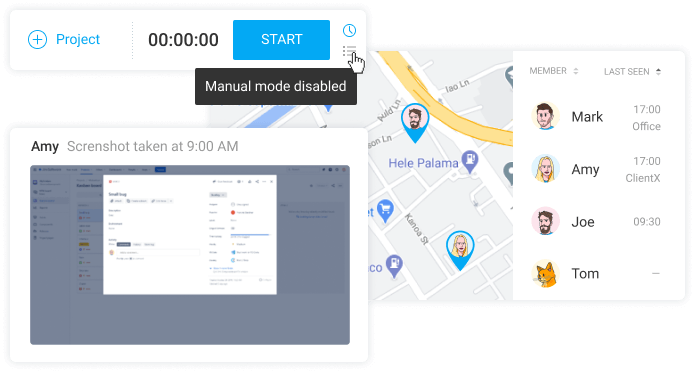 Improved client management
Get paid for your work based on your billable time.
Finished

Scheduled reports

Receive custom reports via email each day, week, or month
Finished

Task rates

Define which tasks are billable and their hourly rate
Finished

Project budget

Define fixed fees on projects and track their status
Finished

Invoicing

Create invoices based on tracked time
Later (2021)

Estimates in reports

See and export project estimates directly from reports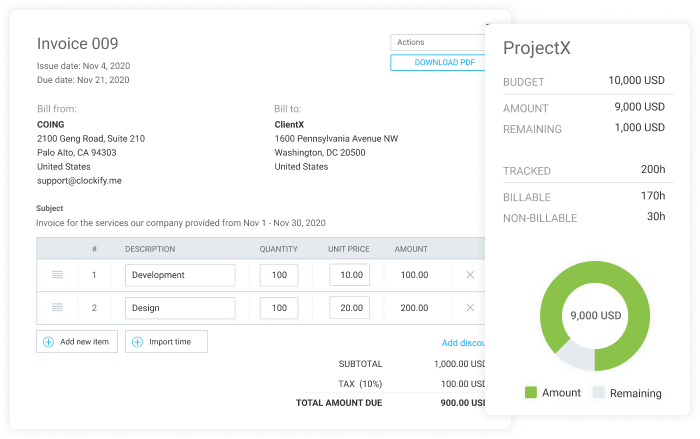 Improved Productivity
See how your days look like, find gaps, and integrate with your favorite apps.
Finished

Calendar view

See your tracked time in calendar format and visually track time
Finished

Import timesheets

Transfer your old timesheets into Clockify via a file
Later (2021)

More integrations

Improved integrations for Salesforce, Zendesk, calendars, QuickBooks, and more
Later (2021)

PTO tracking

Track paid time-off and leaves, and see accruals.