Time and attendance management system
The most popular free employee time and attendance management system. Manage work hours, eliminate paperwork, control costs, and increase productivity.
4.7 (4,295 reviews)
What is time and attendance clock
This clock serves as a time attendance software which employees use to track and better manage their work hours. At the same time — employers gain a more accurate insight into their team's activity and control labor costs more efficiently by using such an app.
An efficient time and attendance system automates processes, eliminates paperwork, and cuts tedious tasks.
What is Clockify
Clockify is the latest time and attendance management system that lets you and your employees enter work hours and run reports hassle-free.
Also, Clockify streamlines timesheet collection, attendance tracking, time analysis, and payroll calculation. No more piles of paperwork and outdated spreadsheets.
How Clockify time attendance software works?
In a nutshell — an employee logs in, creates or chooses an existing project, and enters their time in a timesheet. An employer can immediately see the time in reports and export the data.
With Clockify time and attendance system, employers can:
What is attendance management system for employees
It is a system that employers use to track and monitor employee activity more efficiently. In the past that was a punch time clock — now it's a time attendance software that does the job automatically.
How to manage time and employee attendance in Clockify
Follow these simple steps to track hours and manage your team easily:
Step 1
Create Clockify account
To start managing time and attendance, the first thing you need to do is create an account.
Step 2
Invite your team
You can invite an UNLIMITED number of people, for FREE. Simply send emails to the people you want to invite to your workspace. Bear in mind that only admins can invite new members and manage their details.
Step 3
Enter time in timesheet
Now it's time for team members to populate their timesheets. They can select what they worked on and log how much time they spent doing each activity.
In Clockify time attendance software, employees can track work and attendance in real time using a timer.
Choose the way you want to track your or your employee attendance:
Step 4
See reports
See your team's logged time broken down by:
Week
Month, or
Any custom period you need
If people forget to log time, Clockify can automatically send them reminders.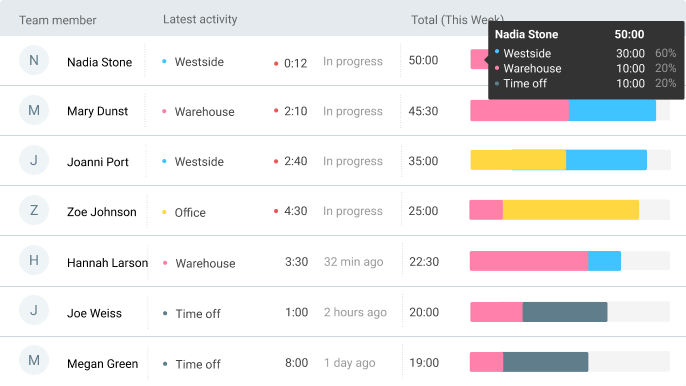 Step 5
Track team attendance
See when employees clocked in and out, their break time, overtime hours, and time off taken during the day.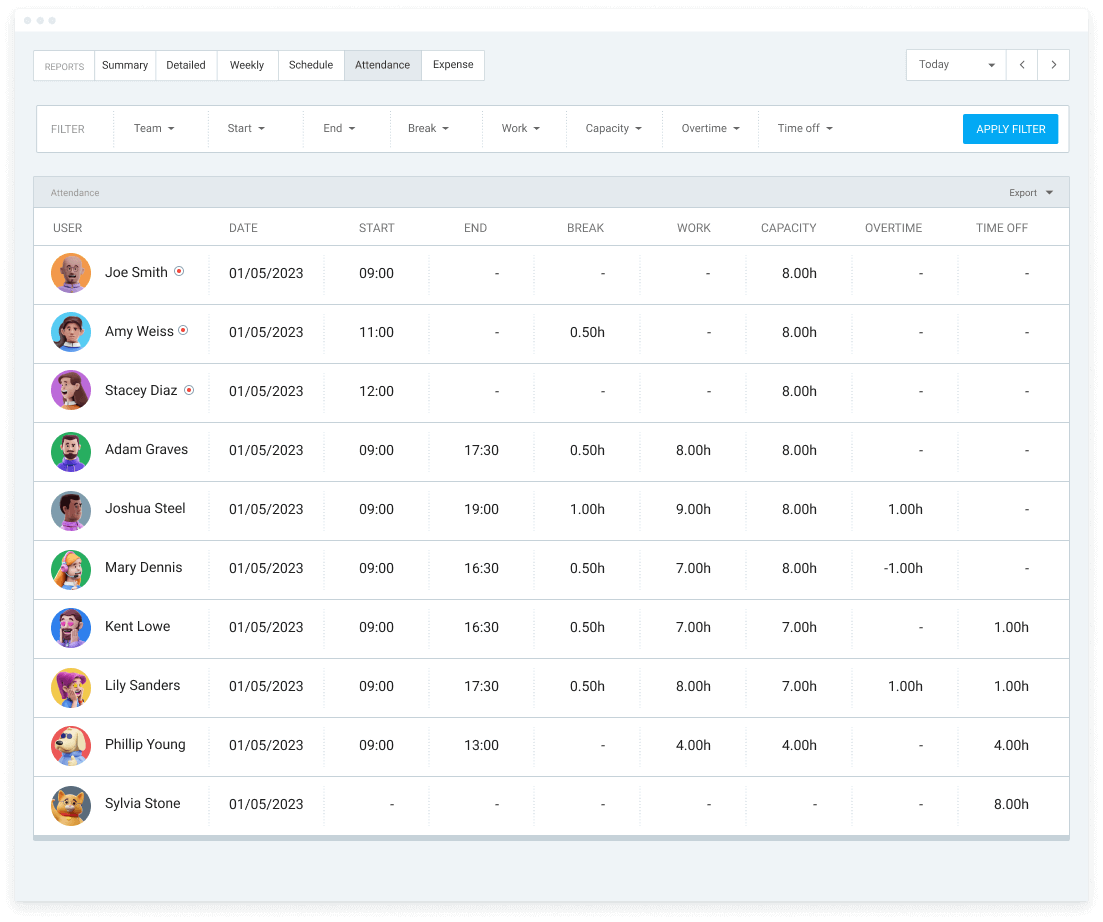 Step 6
Analyze and export data
Clockify time and attendance system helps you keep a clean employee attendance record.
Have a better understanding of your business performance by analyzing reports and data in Clockify summary reports.
Finally, export reports as: PDF, CSV, Excel.
Download PDF samples: Summary • Detailed • Weekly
Analyze performance reports and export data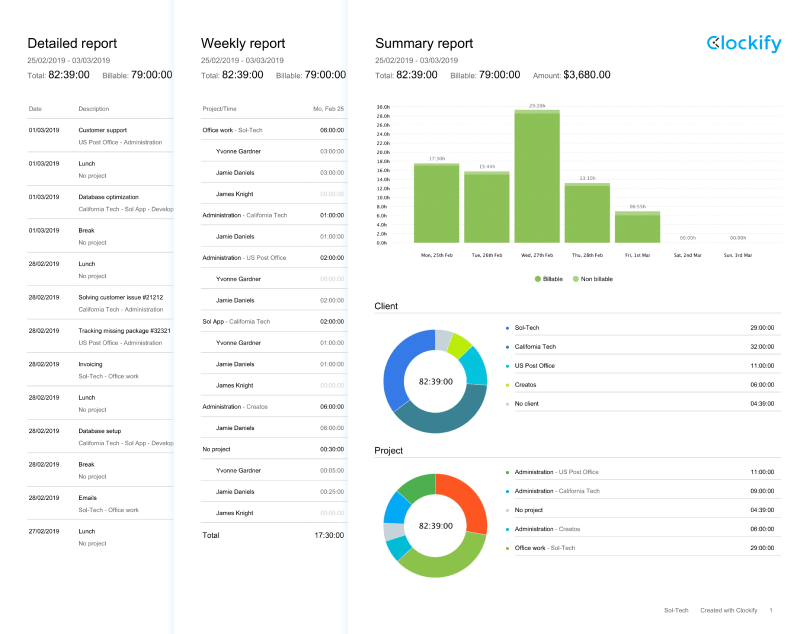 Learn: How to set up a simple clock-in clock-out system | Tracking vacation and PTO