PTO & Vacation Tracker
Clockify's PTO tracker streamlines employee time off management with centralized request tracking, accurate record-keeping, automated approvals, and real-time visibility that ensures smooth workflow management.
4.7 (4,492 reviews)
How to track time off with Clockify?
It might sound confusing at first, but requesting and regulating time off with a leave tracker is extremely easy. Here are the basic steps that'll guide you through the process.
Step 1
Create a Clockify account
Step 2
Invite your team
You can invite an unlimited number of people. Clockify lets you add people to your workspace by sending them email invites.
Step 3
Employees log their hours
Employees fill their weekly timesheet, detailing what they've worked on and how much.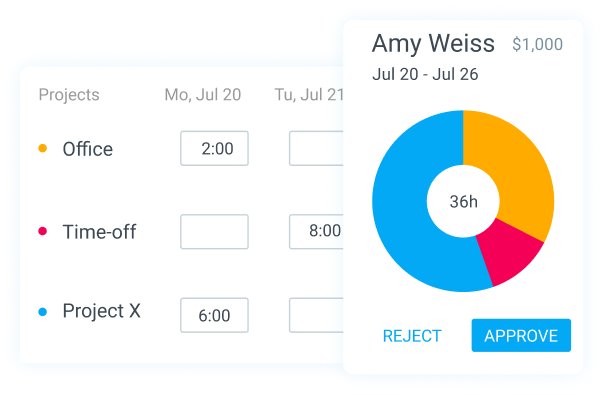 Step 4
Set time off policy
Create a policy for each type of paid leave you offer employees (including holidays). You can create an unlimited number of policies for your team in the Workspace.
You can create policies for: Sick leave, Vacation, Business trip, Sabbatical, Family leave, Unpaid leave, Bereavement, National holiday, Jury day, Half-day, etc.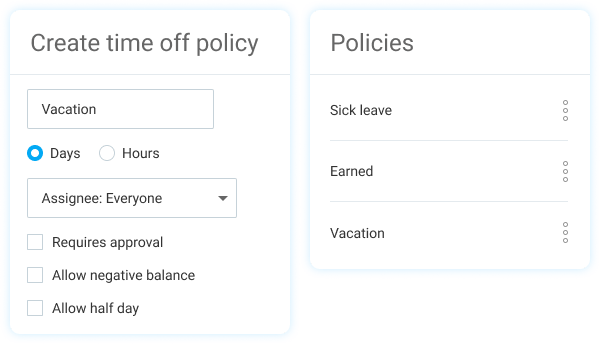 Step 5
Request time off
Your team can send requests for time off by choosing the specific policy and the number of days they wish to use. Also, you can set up which members can approve the requests — e.g., members of the HR department and team managers.

Step 6
See who's on leave
When you click on the "Timeline" in the Time off sidebar, it'll show you all the upcoming leaves and holidays, as well as the vacation days your colleagues have chosen to take.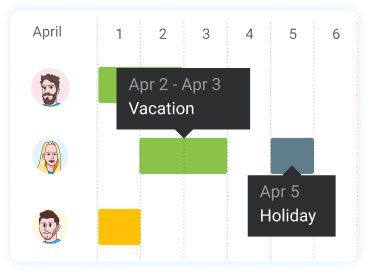 Step 7
Track accruals and balance
Employees can check their PTO balance and accruals in the Time off section by clicking the "Balance" tab. They can also check their balance history, which includes pending and approved requests with optional notes on the sides.

Step 8
Track attendance
Track daily employee arrival and departure times, breaks, overtime, and time off.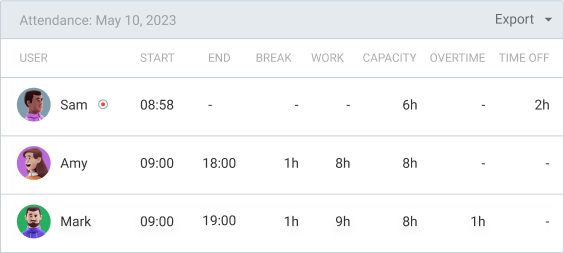 Clockify Pricing
Upgrade your business with Clockify's paid plans.