The Best Connecteam Alternative
Clockify is the best Connecteam alternative that lets you easily schedule, track, and analyze work hours.
4.7 (4,492 reviews)
Clockify vs Connecteam
Pay less than for Connecteam and get more time clock options in Clockify.
Price (per user)
from $0.99 (kiosk user)
$3.99 (full user)
from $3
Timer, Timesheet, Calendar
✓
✓
Apps (mobile, desktop)
✓
✓
Kiosk
✓
✓
Reports
✓
✓
Hourly rates
✓
✓
Approvals
✓
✓
Scheduling
✓
✓
Time off
✓
✓
GPS tracking
✓
✓
Budgets
✓
Custom fields
✓
Expenses
✓
Invoicing
✓
Screenshots
✓
Chat
✓
✓
Forms
✓
Surveys
✓
Quizes
✓
Documents
✓
Knowledge base
✓
How Clockify works
Step 2
Set up projects
Create projects, categorize them by clients, and create tasks on projects.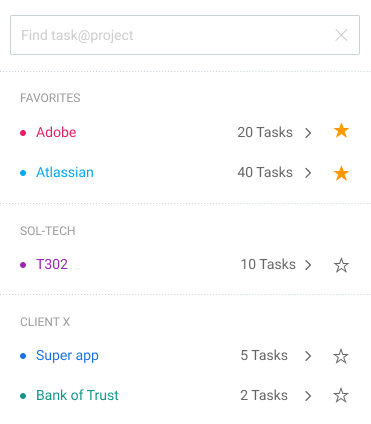 Step 3
Add team members
Invite your whole team so you can plan their schedule.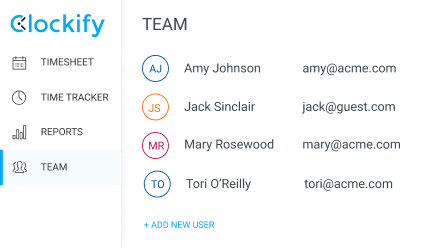 Step 4
Track time
Track time you spend on activities with a single click using a timer (web, iOS, Android, Windows, Mac), or enter time in Timesheet, or set up a shared clock-in kiosk on a tablet.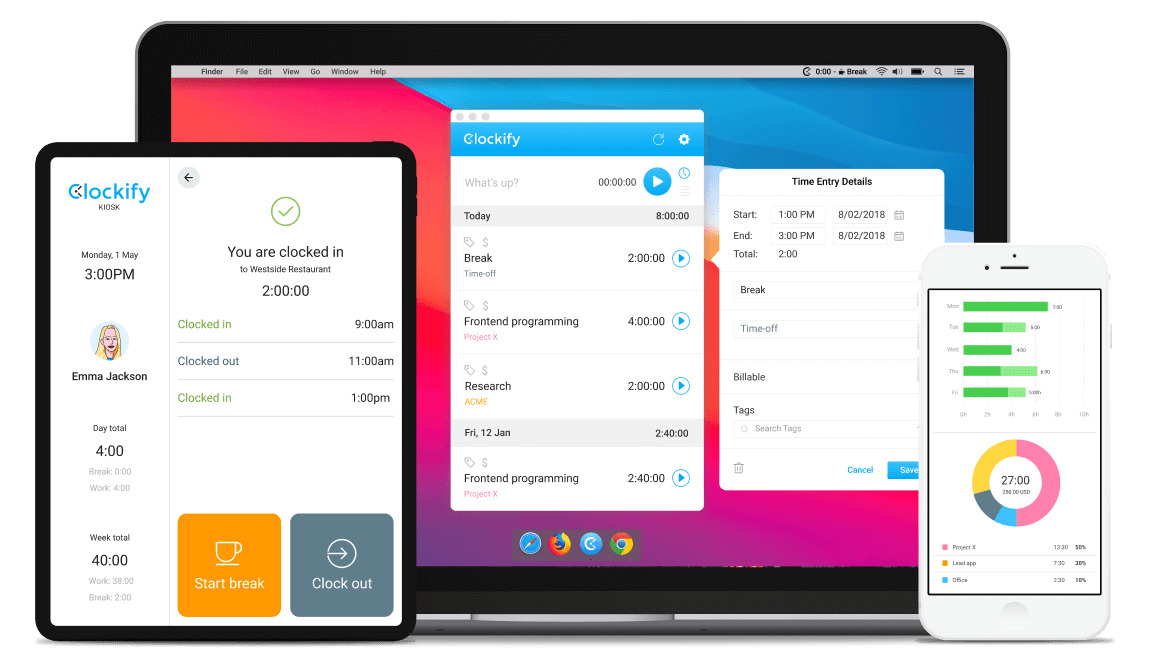 Step 5
Run reports
You can run an online report and break down billable data however you need, and later export as PDF, Excel, or CSV, or share a link to the live report with your client.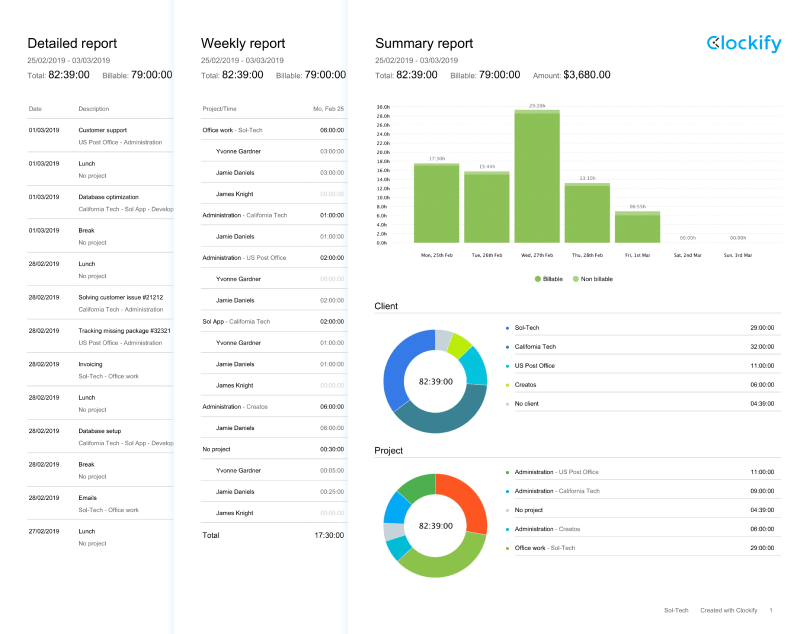 Step 6
See attendance
Track daily employee arrival and departure times, breaks, overtime, and time off.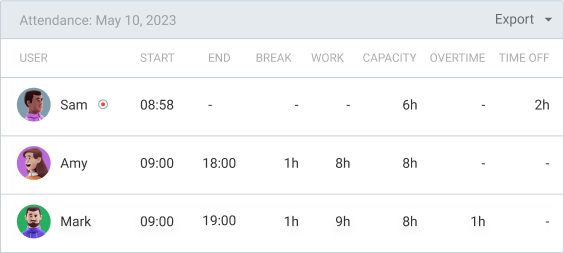 Step 7
Approve timesheets
Managers can officialy approve your team's weekly timesheet before they're sent to accounting and payroll.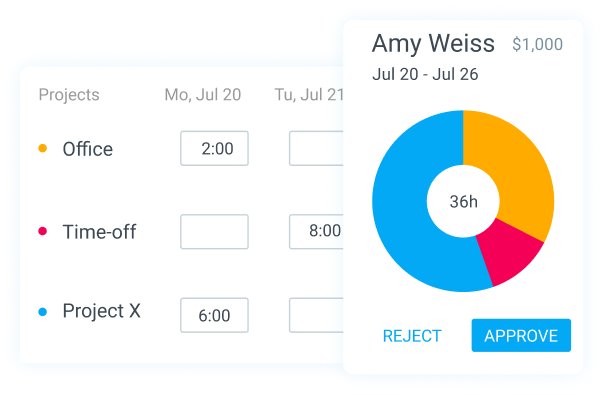 Step 8
Manage time off
Request or approve employee time off, and manage company policies in one place.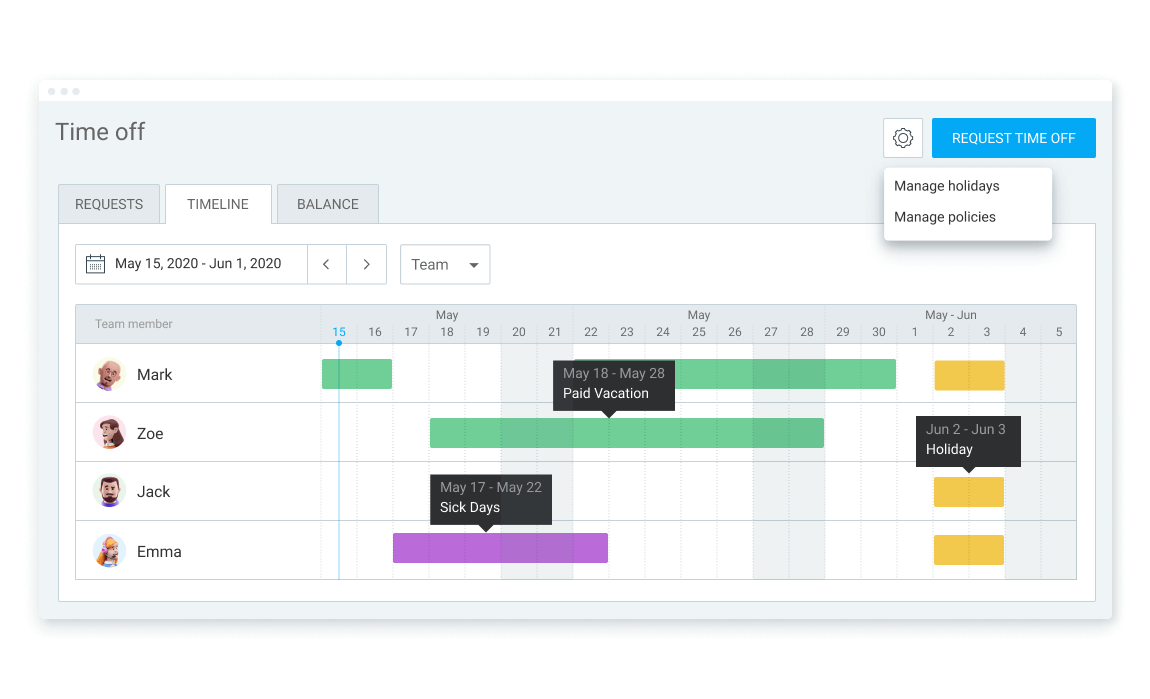 Step 9
Create assignments
Define who needs to work on what and when, and add a note with more details.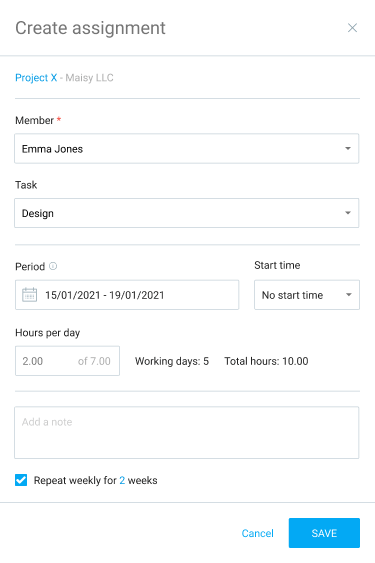 Step 10
Manage capacity
Visualize assignments on a timeline
See who has too many hours assigned
See who can take on more work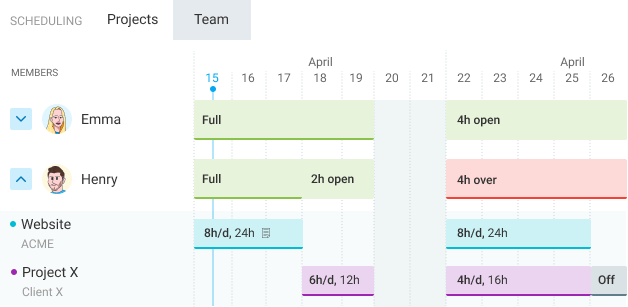 Clockify features
Time clock
Track time using a timer on your phone or desktop computer, or set up a shared kiosk so multiple people can clock in and out.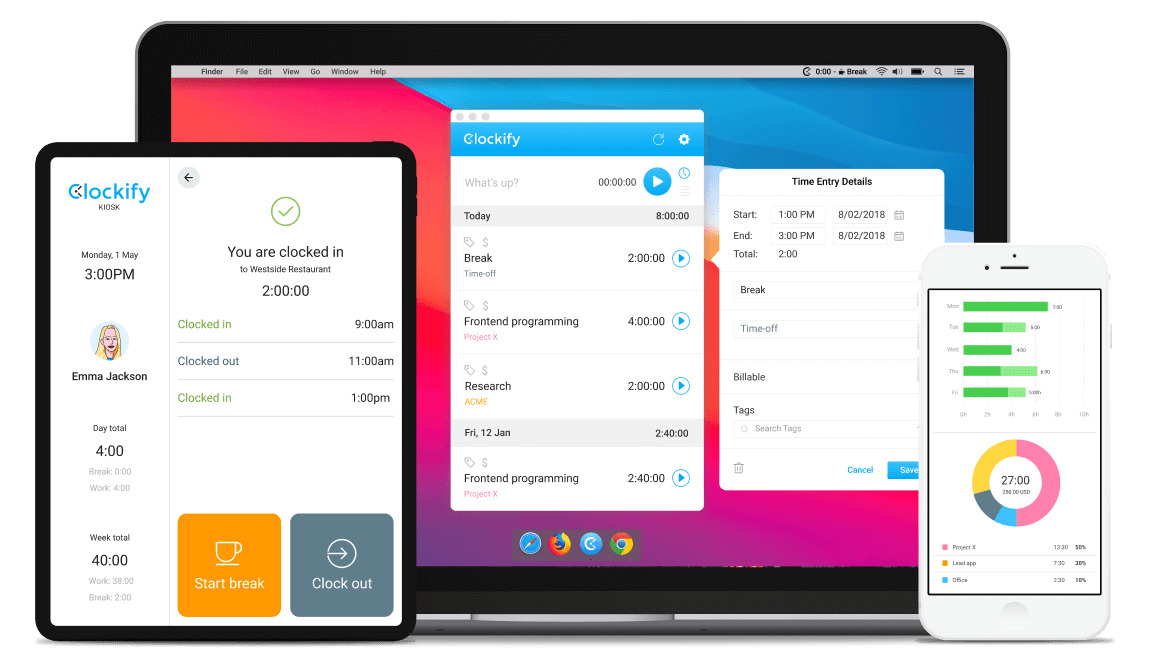 Reports
Clockify's advanced time reports will help you see where you and your team spend time.
Scheduling
Plan shifts and assignments on a timeline, manage employee capacity, and publish assignments so people can track time on them.
Time off
Set up vacation policies and balances for employees so they can request time off.
GPS tracking
Track location and routes of your remote workforce and see visited client sites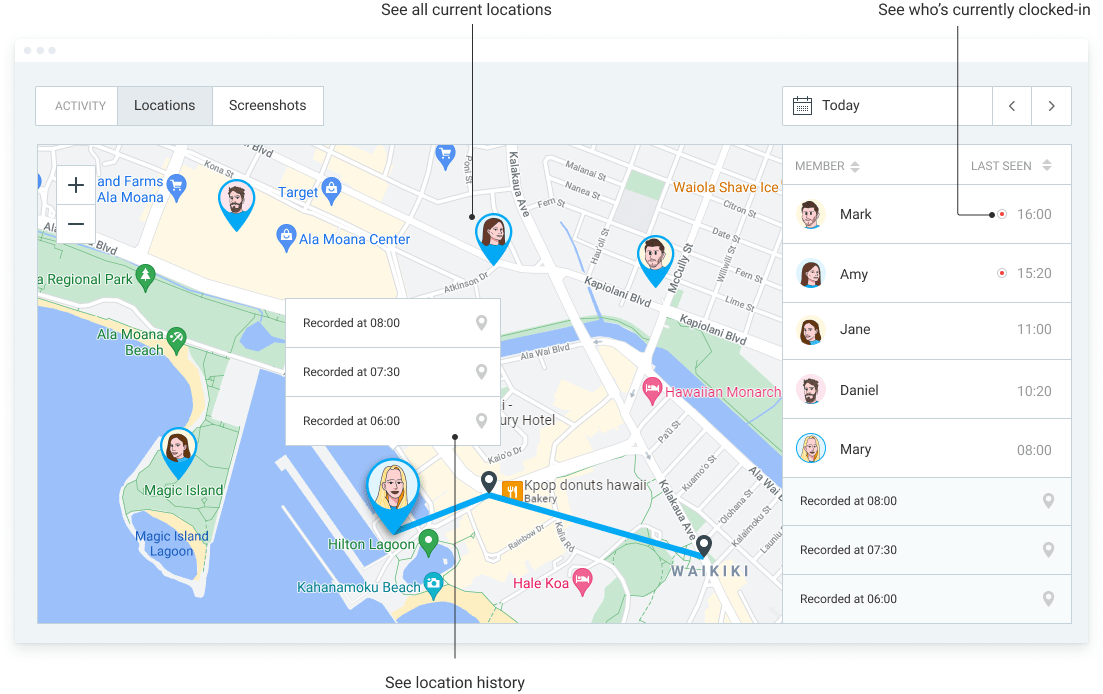 Attendance
See daily breakodown of who started working when, how long they were on a break, and find everyone who had overtime.
Communication
Let your team members chat directly with each other, or set up shared channels where everyone can updated and ask questions.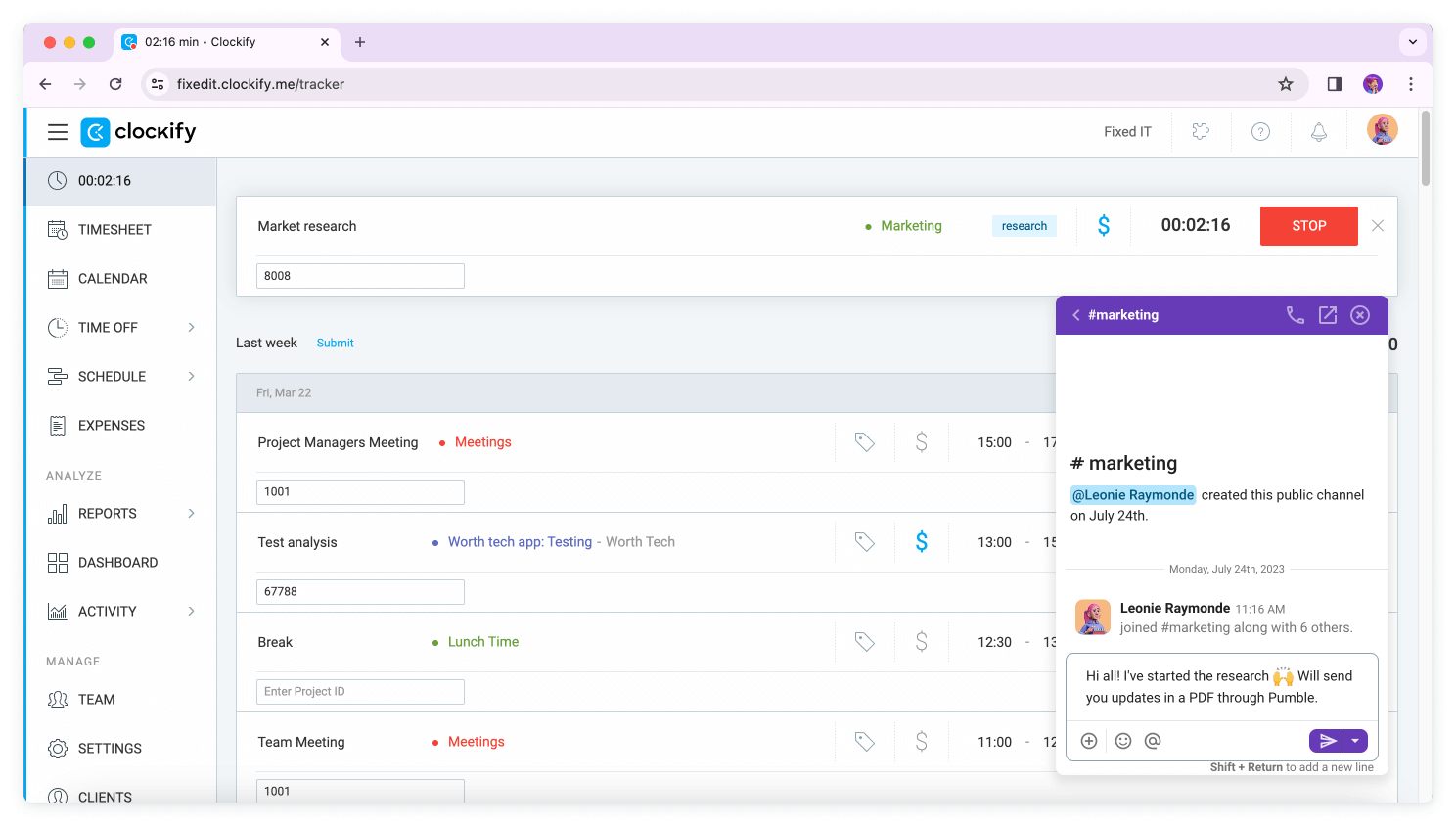 Import data from Connecteam
Transfer all your past tracked time, clients, projects, tags, and team members to Clockify and continue tracking time in the simplest way possible.
Clockify vs Connecteam Pricing
Upgrade your business with Clockify's paid plan.