4.7 (4,492 reviews)
Zeiterfassung

für Lagermitarbeiter

Zeitplanung für Lagermitarbeiter, Anwesenheitserfassung und Zeiterfassungssystem für deine Firma.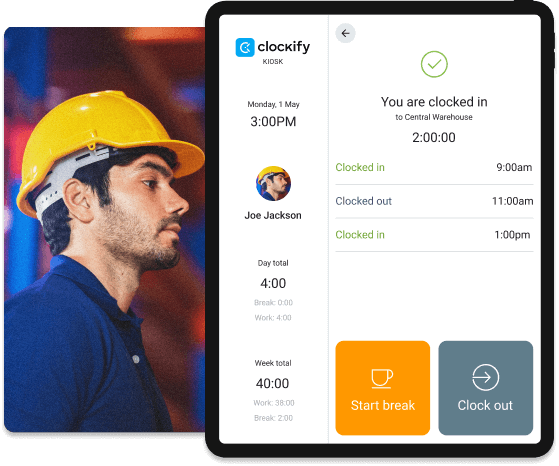 Super simple and efficient kiosk
Works anywhere
No special equipment needed. Works on any internet-connected device.
Quick setup
No installation required. Setup takes less than a minute.
Always reliable
No hardware issues, maintenance, or troubleshooting. It just works.
Low cost
Get started for free. Upgrades start from $0.99 per user.
Easy to use
Clock in and out in a couple of steps. No training required.
24/7 support
Contact us via email, chat, or phone. Response within 1h.
App zur Zeiterfassung im Lagerhaus
Jedes mit dem Internet verbundene Gerät kannst du in einen Zeiterfassungskiosk verwandeln. Deine Lagermitarbeiter können sich mit der App ein- und ausstempeln. Keine spezielle Ausrüstung ist erforderlich.
Du kannst den Kiosk von Clockify verwenden, GPS-Tracking aktivieren und die Anwesenheit und Pausen der Mitarbeiter erfassen.
Ein- und Ausstempeln leicht gemacht
Schritt 1
Anmeldung
Du kannst dein Profil wählen und deine persönliche PIN eingeben.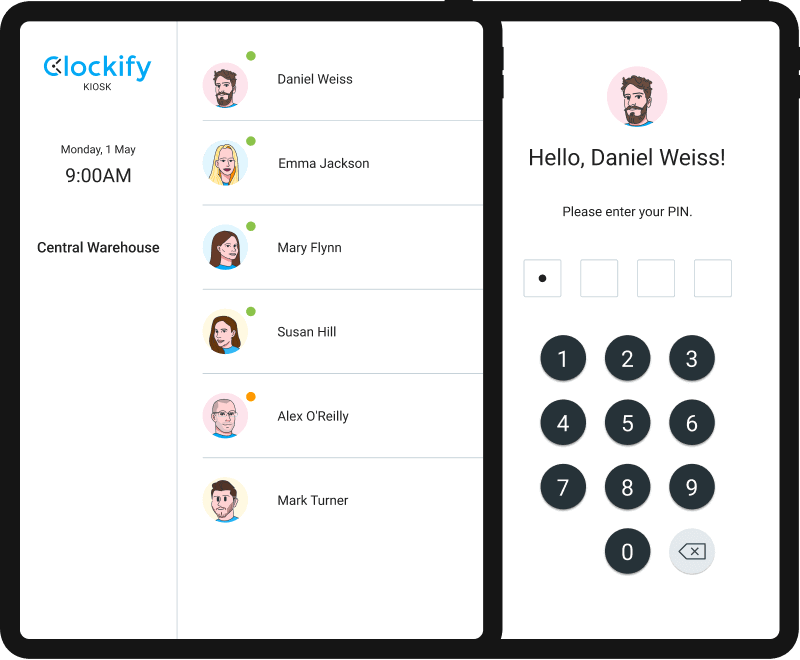 Schritt 2
Einstempeln
Mit einem Knopfdruck startest du deine Arbeitsschicht.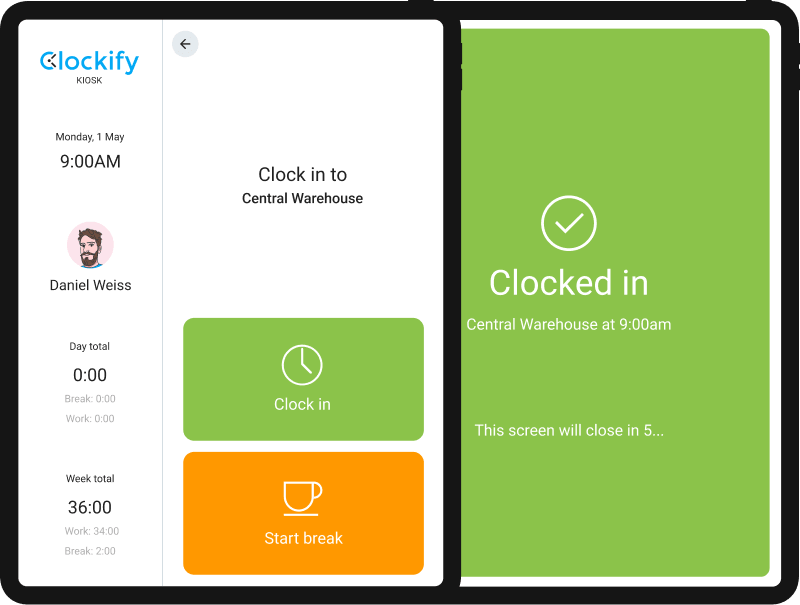 Schritt 3
Ausstempeln
Mit einem Knopfdruck beendest du deine Schicht.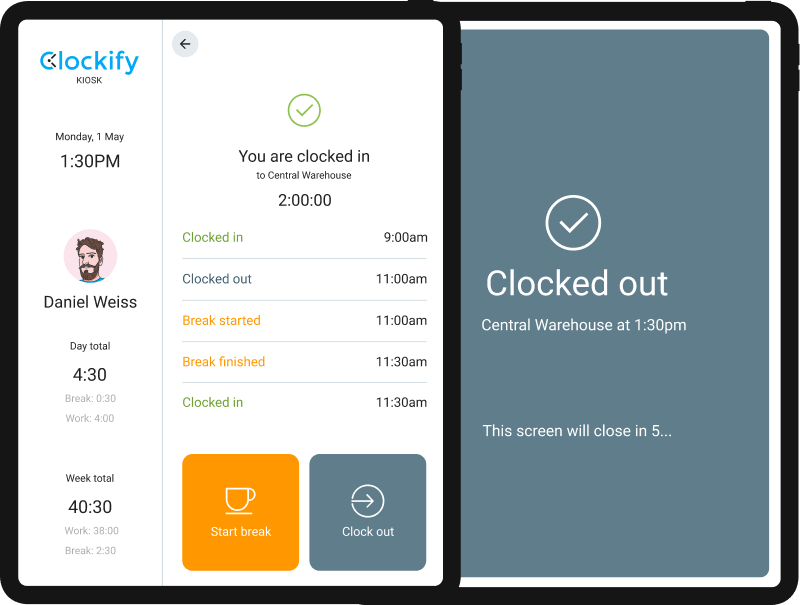 Option B
Fill timesheets
Let employees fill out their timesheets on their own, or do it yourself for them.
Warum die Zeiterfassung-App von Clockify verwenden?
Anwesenheit verfolgen
Du kannst die tägliche Anwesenheit deiner Mitarbeiter verfolgen. Daneben siehst du die geleisteten Arbeitsstunden, Pausen, Überstunden und die arbeitsfreie Zeit der Mitarbeiter in einem Bericht.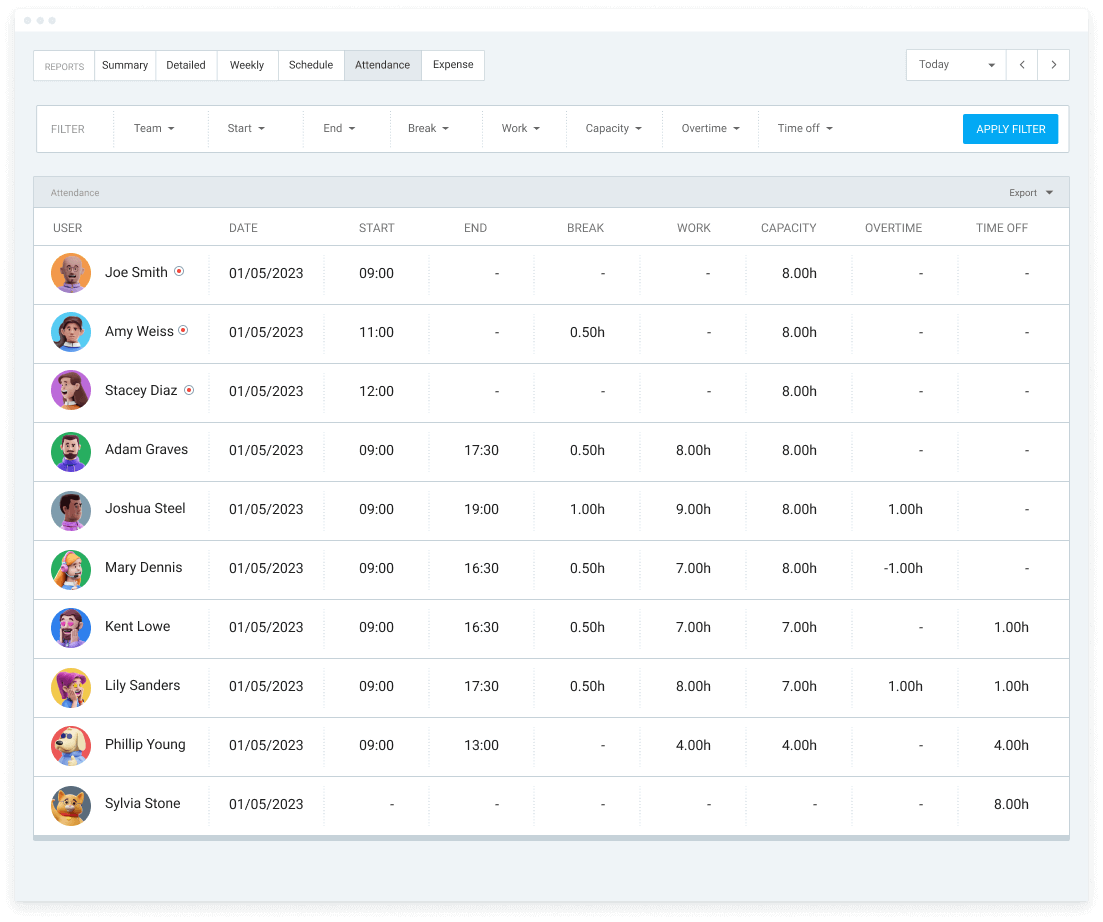 Anwesenheitserfassung für Lagerhäuser
Du kannst mehrere Stellen zum Einstempeln einrichten, um die Anwesenheit von Lagermitarbeitern zu erfassen, und sie über Mobiltelefon, Kiosk, Web oder Desktop einstempeln lassen - die gesamte Erfassung wird geräteübergreifend synchronisiert. Du erhältst einen Überblick darüber, wer sich angemeldet hat und woran dein Lagerteam gerade arbeitet.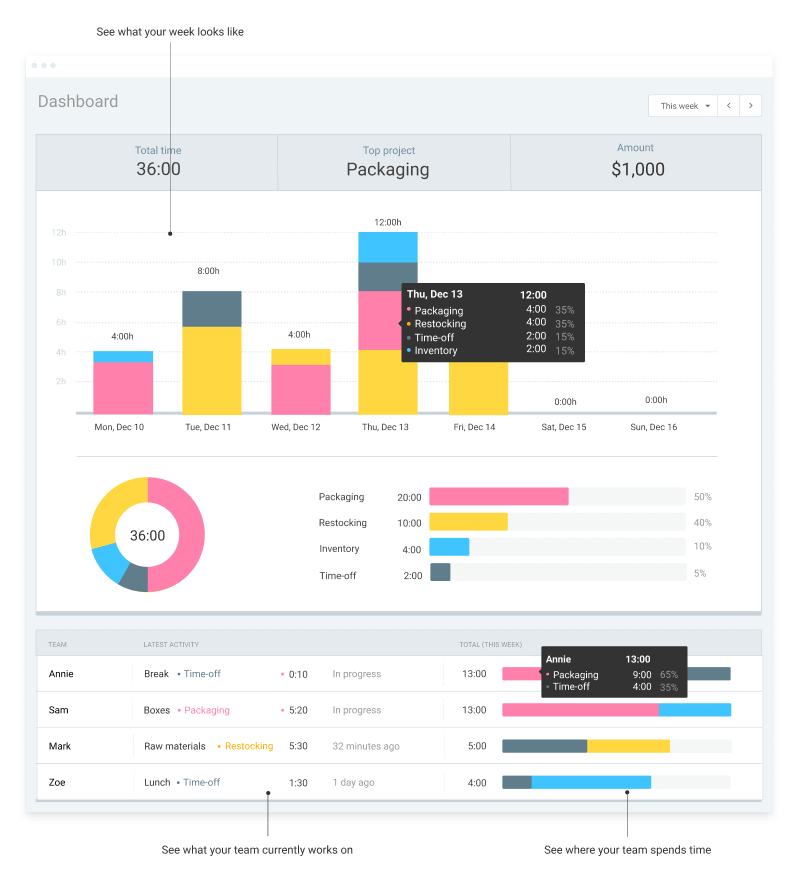 Zeitplanung für Lagermitarbeiter
Du kannst die Teamkapazität visualisieren und Zeitpläne mit einer Übersicht aus der Projekt- oder Teamperspektive erstellen.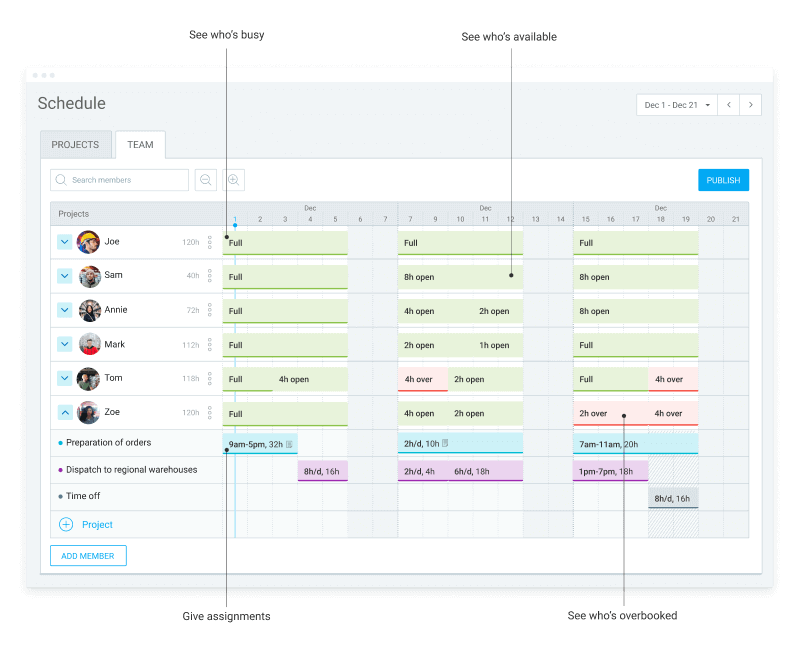 Genaue Berichterstellung
Du kannst automatische Berichte anlegen und jeden Tag, jede Woche oder jeden Monat individuelle Berichte per E-Mail erhalten. Du kannst Berichte exportieren und sie mit anderen teilen, innerhalb oder außerhalb deiner Firma.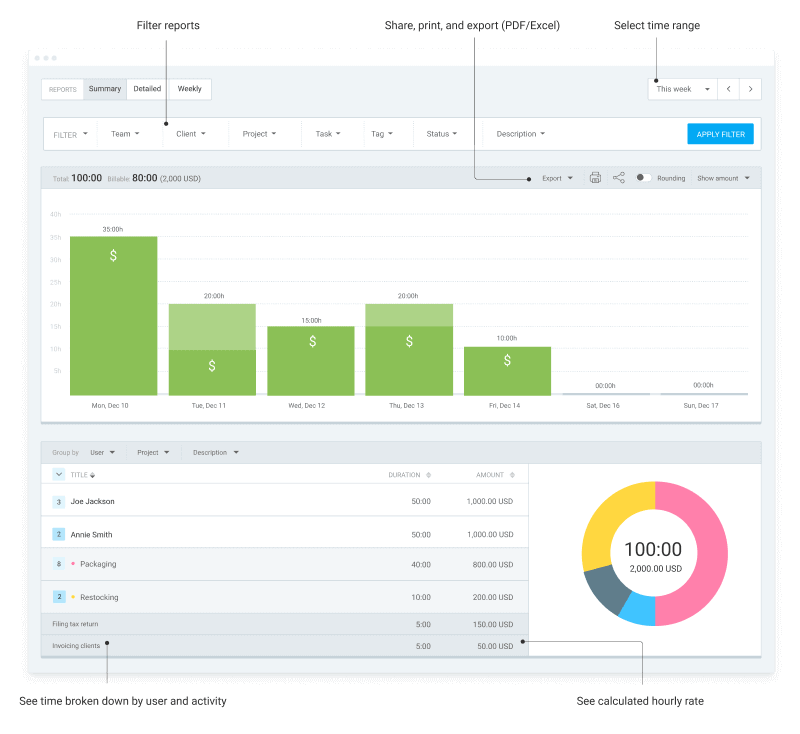 #1 SUPPORT IN SOFTWARE
World-class customer support
We're here 24 hours a day, every day of the week, including holidays.
24/7
support anytime, anywhere
95%
satisfaction score (12k+ ratings)
99.99%
highest uptime levels
EMAIL • PHONE • CHAT
@@h2
Upgrade your business with Clockify's paid plan.