The only truly free time tracker for teams
Clockify is the only 100% free time tracking software for teams. It's a simple online time tracker that lets you and your team track how much time you spend working on tasks with one click.
Free forever • Unlimited users and features
Clockify features
Clockify is a free and simple time tracker for teams of all sizes.
Time tracking →
✓

Track time using timer or fill timesheets

✓

Add time records manually

✓

Edit time records

✓

Mark time records as billable or non-billable

✓

Categorize by project, task, client, and tag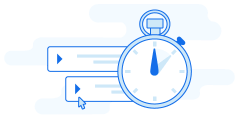 Reporting →
✓

Visual breakdown of all tracked time

✓

3 types of in-depth reports

✓

Filter and group time entries

✓

Save and share reports with clients

✓

Print and export data (PDF, CSV, Excel)
What makes Clockify unique?
Clockify is the only 100% free time tracker for teams.
It doesn't matter how many users you have or what features you use, everything is free and unlimited.
While other time tracking apps have pricing that depends on a number of users or access to advanced features, Clockify lets you have as many people as you want and use all the features you see available.
There are no sneaky upsells, pay-to-access the good stuff, ads, or anything like that. What you get when you sign up, that will be free, forever.
How come Clockify is free?
We created Clockify because our team needed a time tracker, but all the timekeeping options were either too expensive or too complicated.
We believe every team should have access to a simple time tracking software without having to pay hundreds of dollars each month.
That's why we keep Clockify free and only charge for custom stuff that most people don't need. But if you need more, for a fee, we offer:
✓

Self-hosting Clockify on your own server

✓

Custom development and branding

✓

Integration with in-house systems
We got tired of paying hundreds of dollars for Toggl
I own a software development company and we were paying Toggl around $500 each month so all employees could log time. That's too much money for something so simple. So we created Clockify. It has everything a typical company really needs, without costing a fortune.

Nenad Sean Milanovic, CEO at COING Inc