The only truly free time tracker for teams
Clockify is the only 100% free time tracking software. It's a simple time tracker and timesheet app that lets you and your team track work hours on projects. Unlimited users, free forever.
6,406 people signed up last week
★★★★★
"Simple, great user interface, works with our company's payroll system, and great support."
— Capterra review
★★★★★
"It's pretty full featured. You can categorize by project and the interface is easy to use."
— GetApp review
★★★★★
"We needed to start tracking time and this happened to be a perfect tool for our team. Works well."
— App Store review
★★★★★
"Clockify exceeded my expectations. I am canceling my current, premium, time tracker."
— Facebook review
★★★★★
A truly great product, filling a market gap with an unbeatable strategy!"
— Product Hunt review
Time management features
Clockify is a simple time tracker and timesheet app for tracking productivity, attendance, billable hours, and payroll.
Timekeeping →
✓

Track work hours using an online timer

✓

Log time manually in a timesheet

✓

Edit time entries

✓

Categorize time by project, task, and tag

✓

Invite your team to track time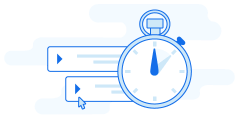 Time reporting →
✓

Visual breakdown of all tracked time

✓

Summary and weekly reports

✓

Set hourly rates, and calculate billable hours and payroll

✓

Filter and group time entries

✓

Save and share reports with clients

✓

Print and export timesheet data (PDF, CSV, Excel)
Time tracking apps
Clockify works across devices. Track time from your phone or desktop computer and continue online from any browser.
What makes Clockify unique?
Clockify is the only 100% free time tracker and timesheet app for teams.
Clockify, unlike all the other time trackers, lets you have an unlimited number of users and projects for free.
Other time tracking apps have free plans that limit you to 1 user (or 5 max), plus restrict access to advanced features that should be basic in the first place. Clockify, on the other hand, lets you have as many people as you want and use all the features you need.
There are no sneaky up-sells, ads, or anything like that. What you get when you sign up, that's free, forever.
Why is Clockify free?
We created Clockify because our team needed a time tracker, but all the timekeeping apps were either too expensive or too complicated.
We believe that every team should have access to a simple time tracker without having to pay hundreds of dollars each month. That's why we offer Clockify for free to teams of all sizes.
How we keep Clockify profitable
Although the cloud version is free, we do generate profit from Clockify, which helps us pay for all the development, infrastructure, support, and upkeep costs.
For a fee, we offer self-hosting and development services to big teams and enterprises.
This way, big companies get a great time tracking system that they can actually use, while others get to track time for free and in return help us improve Clockify and build a brand. It's a win-win for everyone.
Why choose self-hosting
Once you purchase Clockify license, you get:
✓

Install and host Clockify on your own servers

✓

Complete control over data, privacy, and security

✓

Priority support and SLA

✓

Custom development and branding

✓

Integration with internal systems and SSO
We got tired of paying hundreds of dollars for a time tracker
I own a software development company and we were spending $500 each month on a time tracking tool so all employees could log time. That's too much money for a simple time tracker. So we created Clockify. It has everything teams and companies really need, without costing a fortune.

Nenad Milanovic, CEO at COING Inc