Chat with teammates directly in Clockify via direct messages and channels. Unlimited users and message history, free forever.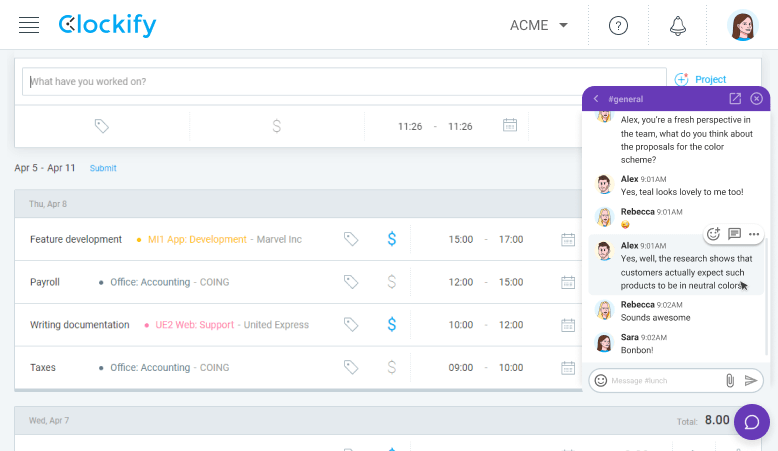 Enabling chat #
To enable team chat, just click on the widget and enable team chat.
If you don't see the chat widget:
Go to Integrations tab in Workspace Settings
Expand Pumble integration
Make sure "Show chat widget" is enabled and that you have at least 2 active users in the workspace
Click "Connect to Pumble"
Allow Pumble (our free team chat software) to access your Clockify users
Once the connection is established between Clockify and Pumble, you can open the chat widget and send message to anyone in your Clockify workspace.
If you already have a Pumble account, make sure you use the same email in Clockify and Pumble. When you click Connect, you'll be then asked to connect your existing account and workspace with Clockify.
Using team chat #
When you open the chat, you'll see the list of all the users and all channels you joined.
To send a message, click on a user or a channel, and type your message in the input bellow.
If you have an unread message, the widget will have a red badge, indicating a notification.
For more controls, open Pumble web app by clicking expand near the close button or by clicking the Pumble logo.
To communicate with your teammates while on the go, be sure to download Pumble mobile app.