Free Time Tracking App for Freelancers
Clockify is the most popular free time tracking app that lets freelancers and contractors track billable hours and hourly rates.
4.7 (4,492 reviews)
Freelance time tracking features
Clockify works great for anyone who bills by the hour — regardless if you're a consultant, freelancer, or an independent contractor. Get a complete report of your weekly activity and tracked hours with Clockify.
Track time from anywhere
You can use Clockify to: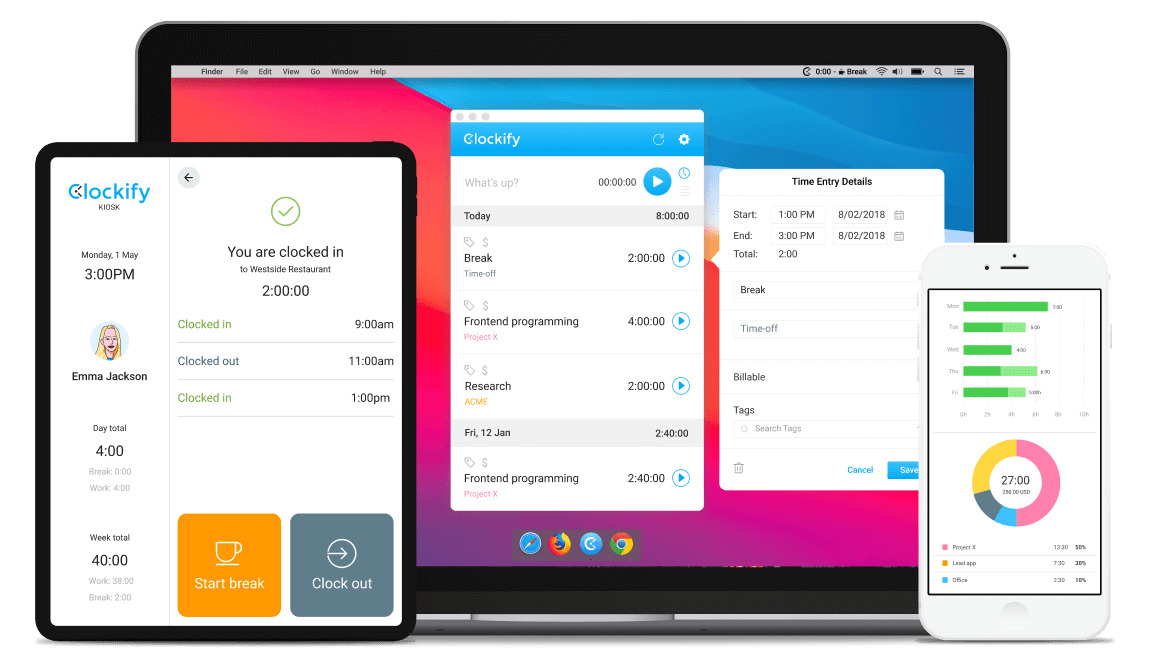 Freelance time tracking and invoicing
Aside from helping you create invoices with accurate billable hours and information, Clockify can also produce:
Summary and weekly reports
Automatically calculated amounts based on your billable rates
Linked and exported reports for your clients (PDF, CSV, Excel)
Track earnings and project progress
Clockify calculates how much money you've earned based on your billable rates and project ROI and assesses your productivity levels. The project time tracker also helps you:
Organize projects by client and task
Assign hourly rates by project
Track project status using estimates
How time tracking for freelancers work
Even though Clockify is a time tracker, it can be argued that it's a multifunctional app — meaning it can operate as a task/project management app with a hint of accounting in its system.
But, to find out more, you'll have to figure out how it works — here are some quick steps to get the hang of it.
Step 1
Create an account
Enter your email, choose a password, and create an account for free — it's that easy.
Step 2
Set up projects
Create projects, categorize them by clients, and create tasks on projects. Then, all you have to do is choose a project/task, write an optional description of what you're doing, and start the timer.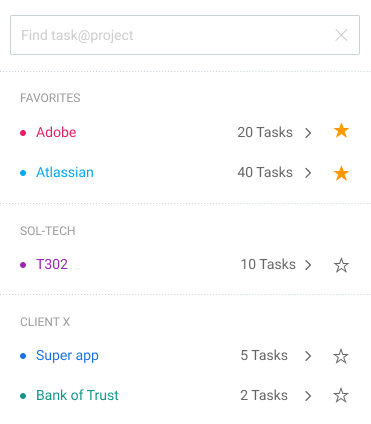 Step 3
Track time
Track the time you spend on activities across apps and webs with a single-click timer. If you forget to start the timer, you can always enter the time manually later.
You can track time in the browser, or via desktop and mobile app (iOS, Android, Mac, Windows, Linux). The desktop app can help you track time more efficiently with reminders, idle detection, and more.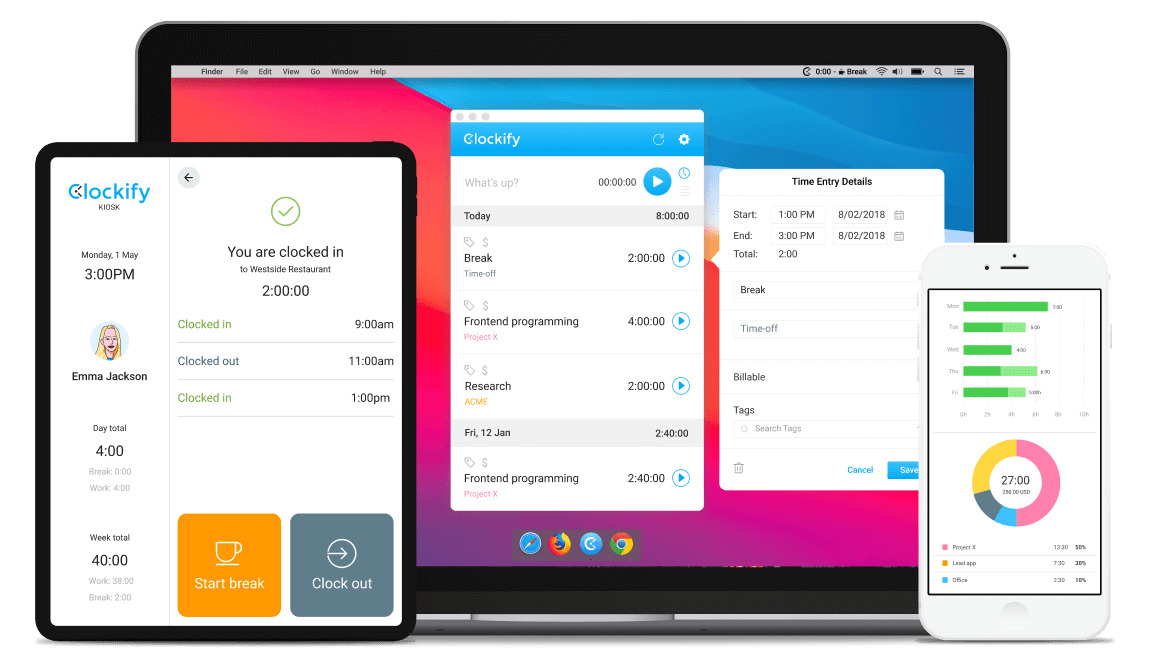 Step 4
Track time inside other apps
Install Chrome, Firefox or Edge extensions and a timer button will appear in your favorite web apps so you can track time more easily (Trello, Asana, Todoist, etc.).



Step 5
Set hourly rates
Set hourly rates for each employee and project. All your team has to do is mark their time entries as billable and Clockify will automatically calculate the billable amount.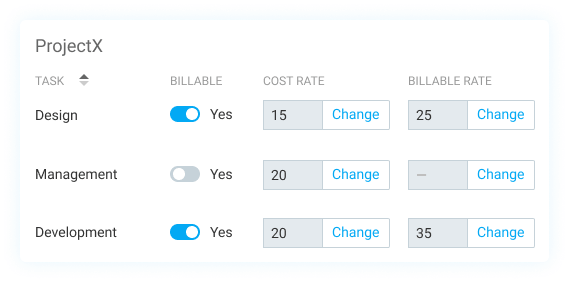 Step 6
Export reports
You can run an online report and break down time tracking data however you need.
When the time comes, export the report as: PDF, CSV, Excel.
Download report samples: PDF • CSV • Excel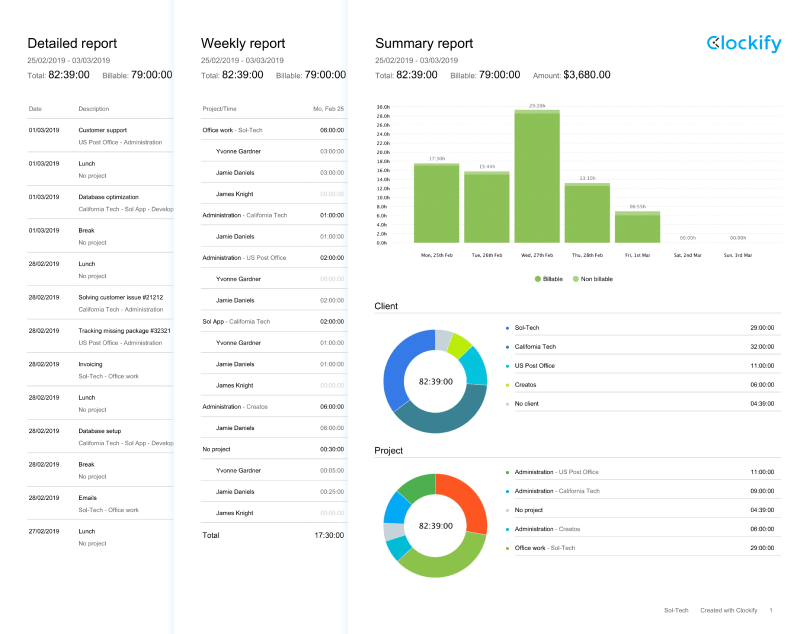 Step 7
Set budget and invoice tracked time
As far as finances are concerned, Clockify lets you:
Set fixed fee projects (in time or money)
Choose if you want to reset the tracking results each month
Create invoices from your billable hours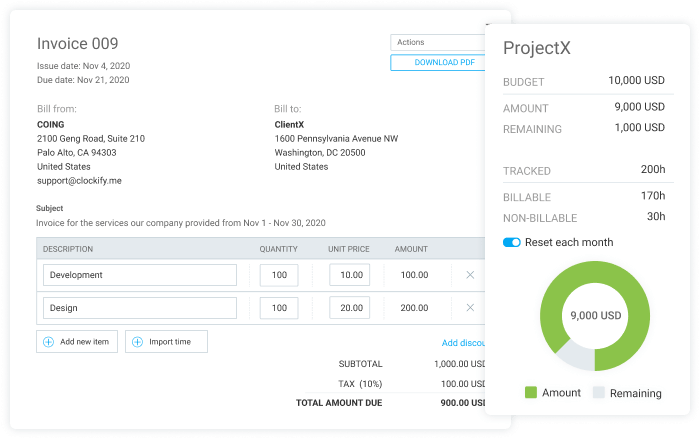 Perfect for all types of freelancers
Contractors • Consultants • Digital nomads • Self-employed • Business owners • Solopreneurs • Writers • Web developers • Designers • Bookkeepers • Photographers • Virtual assistants • Moonlighters • Temporary workers