Free employee attendance tracker
Clockify is the latest free attendance tracker that helps you track work time and employee attendance. See who was present, when, what they worked on, and how long.
4.7 (4k reviews)
What is attendance tracker app
An attendance tracker app allows employers to streamline team management — document employee work hours, avoid tedious paperwork, and increase team productivity in the long run.
An efficient employee attendance tracker offers its users:.
Clock-in and clock-out system
Timesheet auto fill
Payroll and budget tracking
PTO management system
How to track employee attendance in Clockify
Clockify is a FREE time tracking and attendance app for keeping record of work time in an advanced way.
Follow these simple steps to document your team's activity hassle-free.
Step 1
Create Clockify account
To start documenting your team attendance in Clockify, the first thing you need to do is create an account.
Step 2
Invite your team
Next, form teams. Simply send emails to the people you want to invite to your workspace. Assign team roles and responsibilities within your team. In Clockify attendance tracker, you can invite an UNLIMITED number of people, for FREE.
Learn more: Form your team and assign roles
Step 3
Enter hours in web timesheet
Now that you have teams formed and everybody knows their roles and responsibilities — it's timesheet time. In Clockify, each team member populates their timesheets based on what they worked on and how much time they spent on each activity.
Step 4
Track attendance
Choose the way you want to track your or your employee attendance:
Employees can clock-in and clock-out via an app
Employees can start a timer via web, desktop, and mobile app to track their attendance. Clocking-in and clocking-out can also be automated so the timer automatically starts and ends when they turn on the browser.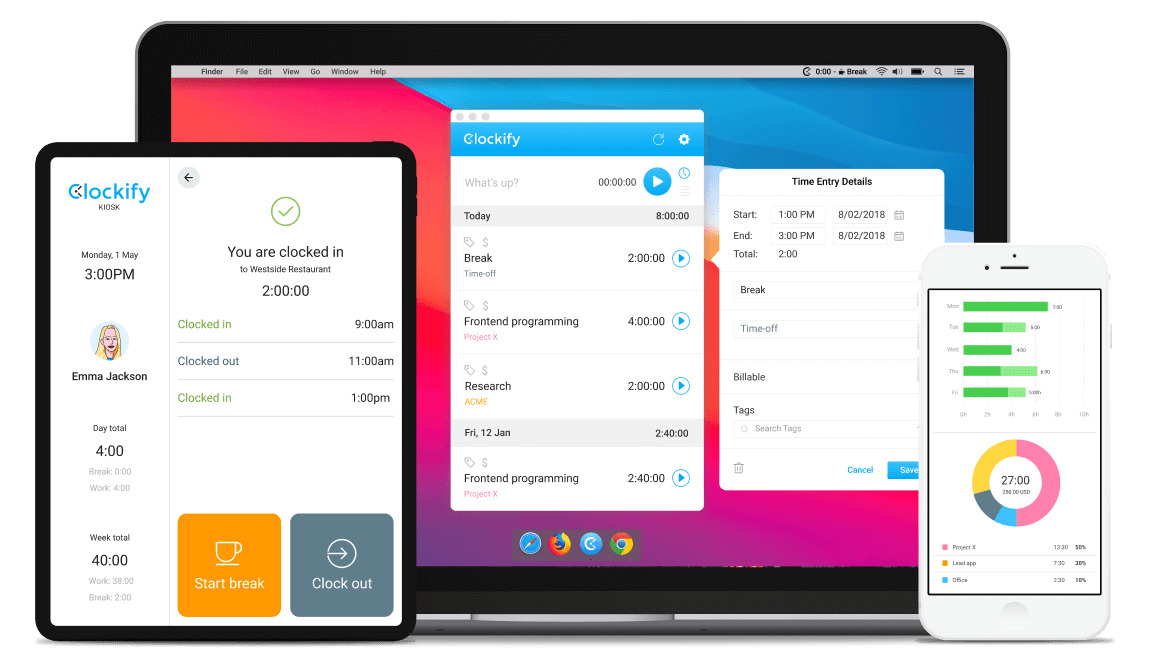 Learn more: Attendance management system | Get attendance templates (Excel)
Step 5
See who works on what
Team Dashboard shows your team activity. See who currently works on what (their running timer), when was their last activity, and see a visual breakdown of their workweek.
Clockify attendance tracker — additional uses
Apart from employee attendance tracking, you can use Clockify for:
Student attendance
Amplify students' productivity by using Clockify to track, record, and report on student attendance. Clockify gives you better insight into student absences, their projects, and total time spent in classes.
Event attendance
Use Clockify to track presence at various events. This will help you:
Understand your target audience better
Create a reliable event budget
Award professional or educational credit
Non-profit organizations attendance
Clockify is an efficient app that non-profit organizations can use to track time and attendance of hourly workers. Clockify saves time and offers transparency in communication within the organization.
Free time tracker for non-profits
Church attendance
Clockify also offers attendance tracking for church groups. See who is coming to your church and how often. Attendance tracking gives you a better insight into your resources, supplies, capacity, and the mission of the church. By documenting people's attendance, you can see the involvement and contribution of each church member individually.
Attendance tracking features
Insanely simple
Log in, select activity, and enter time.
Unlimited users
Free no matter how many team members you have.
Team activity
See who works on what in real time.
Works across devices
Track attendance from any device.
Export data
Download all attendance data in PDF, CSV, and Excel.
Hourly rates
Reminders
Get automatic reminder if you forget to log time.
Lock data
Prevent users from changing historic data.
Tasks
Set up tasks and track project progress.