Free project time tracker
Clockify is the most popular free project time tracker. Track how many billable hours you and your employees spend working on projects and calculate profitability.
A modern time tracker for projects
Clockify is a completely free timekeeping application that lets your employees track how much time they spend working on projects and clients.
Track billable and non-billable time
Employees can track time using an online timer, or enter how much they've worked manually on each project and task in a timesheet at the end of the day. You can maximize your revenue and bill clients for every work minute by making sure you log every call, e-mail, and meeting.
Manage projects and monitor progress
Create tasks and assign people to them so they can track time against them. Estimate how long each task should take and visually check progress.
See project profitability
Run a report which will break down all the tracked time and group it by project and client. See how much of it is billable and how much you've earned that week or month based on your hourly rates. Export data to bill clients or for payroll.
Learn more about: Calculating payroll | Calculating billable hours
Works everywhere
Track time from anywhere via web browser, integrations, or desktop and mobile app.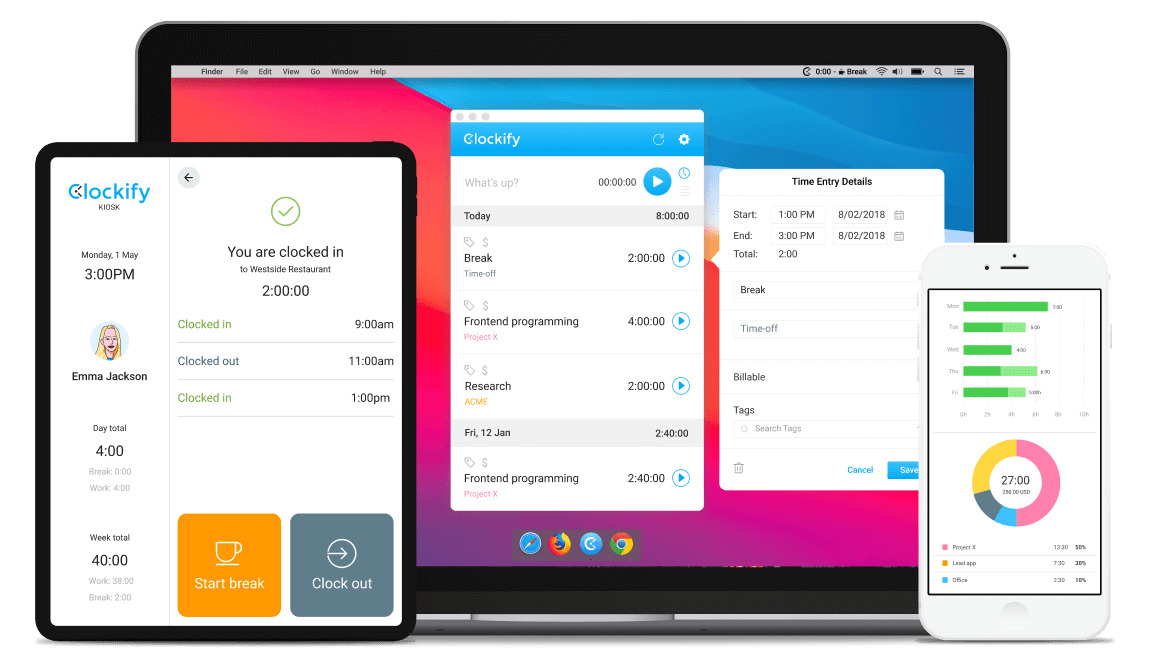 Who uses Clockify and why
Freelancers to keep track of their billable hours and productivity
Teams in agencies so they can know how much they need to bill their clients
Large companies so they can track project profitability, employee productivity, and payroll
Governmental and non-governmental organizations for legal reasons
Remote companies and entrepreneurs so they can know what each contractor worked on
Use time tracking data from projects to:
Improve yours and your team's productivity
Maximize time spent on high-value clients and projects
Minimize time spent on non-billable work