Best productive hobbies to take on
Modern ways of living brought us many perks and comfort, but also an abundance of responsibilities. Leisure time has become a luxury that not all people can afford.
Last year showed us how unpredictable life can be — some things that we took for granted are now appreciated more than ever. Fulfilling hobbies being one of such things. Namely, one OnePoll study conducted in the USA in 2020 stated that people opted for hobbies during the pandemic more than ever. And, productive hobbies are the type of hobbies that are useful, at any time.
Productive hobbies can make your workdays more relaxing and your lives fulfilling and effective. They are a perfect solution for keeping you in better physical and mental health, boosting your knowledge, and improving your social life.
In this blog post, we'll show you a list of fun and productive hobbies you can take on and explain how beneficial they can be. We prepared five different categories of hobbies and made sure there is something for everyone:
Productive hobbies that make money
Productive hobbies that save money
Productive hobbies that build on your knowledge
Productive hobbies to do at home
Stress-relieving hobbies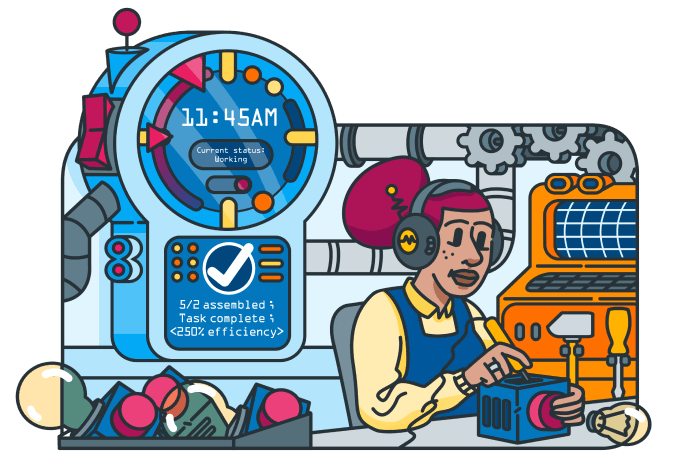 What is a productive hobby?
When you say 'hobby' — you probably think of an activity you do in your spare time. But, by 'hobbies' in this blog post — we mean productive ones. Productive hobbies don't mean working and being burdened with the outcome. On the contrary, they are both enjoyable and beneficial.
A hobby is productive if it:
Affects the way you think;
Elevates your mindset and strengthen your body;
Helps you acquire a new set of skills;
Keeps you motivated and makes you happy.
In case you are still wondering how a hobby can be productive, hang around with us. Here are some great benefits of productive hobbies.
Benefits of having a productive hobby
Apart from being fun, productive hobbies can also benefit you in different ways. The following are some benefits of having a hobby that is productive.
Stress relief
Stress accumulation harms both your physical and mental health. It drains your energy, gives you aches, and leaves you anxious. After a hard day at work, your hobby is something you look forward to. Doing something you love will make you feel relaxed and joyful. And as Phyllis McGinley said: "A hobby a day keeps the doldrums away."
Additional income
Imagine doing something for fun and getting paid for it. Sounds too good to be true? Stay with us and read the list of Productive hobbies that make money later in this post.
Meeting new people
Pursuing group hobbies can add more people to your friend list and enhance your interpersonal skills, too. When you communicate with new people, you improve your cognitive functions, boost self-confidence, and broaden your mind.
Learning new skills
Productive hobbies give us a unique opportunity to acquire new skills and be more successful in other areas of our lives. The key is to pick up a hobby you like and enjoy doing. Only then will you benefit from a hobby and acquire a new set of skills.
Spending more time with friends
In this fast-paced environment we live in today, it takes a lot of skill to organize your life effectively and make more time for friends. When you have a mutual hobby, you can hang out more often and remain effective. Find something you are all passionate about and enjoy your quality time together.
Active aging
According to the AGS's study, the concept of 'active aging' among elderly people consists of having hobbies and enjoyable activities. The study has shown lower scores in depression, dementia and higher scores in the frequency of laughter and overall happiness for those who had hobbies.
What are the most fulfilling hobbies?
The answer to this question is not easy since this is very individual. We all have different personalities, and the best way to choose the right productive hobby is to match it with your character. Your character influences what kind of hobby you'll pursue. For some, the right hobby may be gardening or knitting. For others, it may be cooking or reading.
In any case, there is no point in doing something that you find daunting or dull. It can make you feel anxious and stressed out, and hobbies should be satisfying — not frustrating.
5 top-level categories of productive hobbies
Now that we've discussed the benefits of pursuing a productive hobby, let's go through the list of productive hobbies to pick up, merged in five different categories.
1. Productive hobbies that make money
Earlier in this post, we mentioned productive hobbies that can help you make a fast buck. We singled out the following ones for you.
Gardening
For those lucky ones who live in houses, gardening can be a brilliant idea. Not only will you be able to plant your fruits and veggies, but you will also be able to sell them locally. We also have good news for those living in apartments — community gardens in big cities are growing more than ever.
Studies by TPL show that the number of shared community gardens has increased 44% since 2012. So, you can sell your healthy products to your neighbors, and boost both your mental and physical health along the way.
Writing
You can turn your passion for writing into a lucrative hobby since freelance jobs for writers are in demand more than ever nowadays. If you are good at writing, you should consider pursuing this hobby and making extra money. You can consider writing for blogs or news portals, take on a job as a copywriter, or even try applying as a journalist for the local newspaper. And, that's just scratching the surface — there are plenty of other writing opportunities you can consider if you dig deeper into the subject.
Online tutoring
Teaching classes online is a high-in-demand job on the market nowadays. This can turn into a hobby because it is flexible, lucrative, and can enhance your language and interpersonal skills. You can choose from teaching languages, math, delivering presentations, and motivational speeches. This can be a small and simple business you do when you have free time and just feel like doing it. The choice is up to you.
Sewing
Everybody keeps asking you favors to do alterations on their clothes and duvet covers? If your answer is 'Yes' — it's time to charge for your services and think of turning your hobby into a lucrative business. We all know how costly these alterations can be, so why not do something you are very good at and earn extra money. You can make an online ad and be specific on the sewing services you want to offer. Consider starting from simple alterations and repairs, and maybe you will improve your skills and start designing your own clothes eventually.
Knitting
Winter accessories can cost a fortune, especially if they are made of natural wool. Get your grandma's knitting needles back in action and start making money. You can design unique pieces and sell them locally. One qualitative study shows that knitting aids in feelings of depression and chronic pain. Thanks to the rhythmic hand movements, release of serotonin is triggered. One participant in the study stated:
"The only time I could significantly reduce the pain was either when I took a large amount of painkillers or when I could concentrate on knitting. Knitting became my drug of choice."
2. Productive hobbies that save money
Yes, you heard it right — you can also pursue a productive hobby and save money. These are some ideas we have for you.
DIY holiday decorations and presents
When holidays start approaching, everybody catches the holiday shopping fever. We are not aware of a great deal of money we spend on holiday decorations and presents each year.
According to a Christmas spending study from 2019, each American spent an average of $882.45 on presents, decor, food, and travel.
Just imagine how much money you can save if you decide to make your own holiday decorations and presents. There are so many DIY tutorials on the Internet that can help you do this. Plus, imagine the look on your family's faces when they see you've put your heart and effort into making them unique presents.
Thrifting
Another productive hobby worth trying that saves money includes second-hand shopping. Experts believe this market will beat fast fashion twice the size by 2030 (and by 'experts' — we mean one and only Harper's Bazaar). When you go out to the street, you see people trying to keep up with the latest trends, and we all know that can be financially draining.
Next time, instead of heading to huge shopping malls that can often be tiring, go to a local vintage or second-hand store to find hidden gems. Additionally, visiting flea markets is a fantastic idea if you like vintage and antique items. Thrifting can be a great pastime if you are currently unemployed, too — you'll stay stylish, but save money in the process.
3. Productive hobbies that build on your knowledge
Productive hobbies help you improve your existing skills and acquire new ones.
Cooking
Learn how to cook and plan your meals ahead of time. It can be demanding to find time for cooking healthy foods, but if you organize your time efficiently, you can save time and prepare cooked meals for the next few days. Cooking helps you acquire planning skills since it's a whole process from going grocery shopping to actual preparing and cleaning up.
Learning foreign languages
One of the best things you can do to boost your knowledge is to start learning foreign languages. Some people find this daunting, but if you look at it as a fun hobby that you can benefit from, maybe you will change your mind. People who love to travel will find their stays more authentic when speaking several languages since they can explore outside the tourist bubble. Also, learning a foreign language may be a fun and productive hobby you can do with your partner or friend. You can be each other's motivation and support.
Reading
No matter if you like reading a lifestyle magazine or academic literature, it's important to keep reading. A study conducted by the American Academy of Neurology in 2013 stated that reading together with other mental activities reduces stress and prevents cognitive decline as you age. Reading an appealing book is a much better idea than social networking for hours.
4. Productive hobbies to do at home
The lockdown changed our daily routines tremendously and gave us a lot of free time. We are all trying to put 2020 behind us, but it surely taught us that we must be on the alert. In line with that, we've prepared some productive hobbies you can pick up when staying at home.
Candle making
If you are looking for a way to express your creativity, you can opt for candle-making. You can make your own unique and organic candles from natural ingredients. You will never have to go to a store again to buy commercial candles if you pursue this hobby. After all, commercial candles contain paraffin wax —and, when you make your own candles, you can opt for natural beeswax. Making candles has therapeutic effects since it reduces stress and makes you calm. When you feel stressed out or anxious, light up your custom-designed candle, enjoy the scent and be proud of yourself because you did something productive at home. If you get really good at candle-making, maybe you can consider selling candles and make this another productive hobby that will help you earn extra bucks!
Jewelry making
Jewelry-making boosts your creative side and improves your imagination. Order various beads, pendants, and other supplies for jewelry making online and start beading. This way, you will have custom-designed jewelry. If you start getting positive feedback and admirers of your work, you can consider selling your pieces of art online.
Watching makeup tutorials
Putting makeup on your face can sometimes boost your confidence and highlight your beauty. However, cosmetic services can often be quite costly. The good news is that many makeup artists have their online channels where they explain step-by-step how to apply makeup.
By watching these tutorials, you can learn effective techniques on how to apply makeup like a pro. And, once you get really good at it, you will never again have to pay a fortune to beauty salons. Just, invest some money in your makeup tools and practice whenever you have spare time. Positive feedbacks and comments will start coming, that's for sure!
5. Stress-relieving hobbies
Staying healthy and working longer weekly hours is a daunting task, and if we don't pay attention to our mental health, it may take its toll. It takes a lot of skill to maintain a balance between work and family, but only those who manage their work successfully can afford themselves the luxury of having a hobby. Once you understand how to better organize your work, you can turn to productive hobbies that will help you de-stress.
Exercising
Not only will doing sports benefit you physically, but it will also make you feel calmer even a few hours after the actual activity. Studies have shown that by doing sports, you will get rid of accumulated anxiety and stress.
Jogging is a brilliant idea since it's cost-free, and you can do it whenever you want. If your schedule is tight, consider tracking your time effectively to make sure you go for a run each time you plan. Consider some group activities, such as CrossFit training, if you want something more challenging that involves a group of people.
Meditating
When talking about stress-free hobbies, we can't forget to mention meditation — an activity that was popular even in Ancient India. Meditation can be highly productive because it helps you build skills to manage stressful situations and help you be your best self. Just a 10-minute meditation a day can help you cope with anxiety, be more patient, and calm.
Conclusion
No matter which productive hobby you decide to pursue, it's crucial to have at least one fulfilling hobby and incorporate it into your daily life. Hobbies are beneficial for our mental and physical health, social life, and even our career. Choose a productive hobby that matches your character and that makes you happy. In the end, that is the most important thing.
✉️ Which productive hobby matches your character best? Is there a productive hobby you practice and love, but we haven't included it in our list? Send us your thoughts and suggestions on the subject of productive hobbies to blogfeedback@clockify.me, and we may include them in this or future posts.