Screenshots
Generate screenshots randomly, every 5 minutes, while the timer is running.
Note: Windows and Mac desktop apps have integrated screenshots.
Screenshots is an extra feature, which you can enable by upgrading your workspace to Pro or Enterprise plan.
Data gathering and privacy #
Screenshots can't be recorded without user's knowledge.
In order to record screenshots:
Admin has to enable "Activate screenshot capturing" in workspace settings
All workspace members will receive a notification when screenshot capturing is enabled via both the web and the desktop app
User has to install the screenshot recording app
Screenshots are taken only while the timer is running (regardless of where you started the timer) AND if you have the screenshot recording app installed
Screenshots are captured once every 5 minutes, at a random moment
Screenshots are low-resolution and blurred for privacy and security reasons, by default. However, admins and owners can set a higher resolution on a workspace level.
Each regular user can see all their screenshots. Admin sees all screenshots in the workspace
Each screenshot is tied to a time entry. If the time entry is deleted, its screenshots are also deleted.
If a user deletes a screenshot, the time between the previous and current screenshot will be subtracted from the total time
You can go back and see the screenshots up to a year from the moment they were created. All screenshots older than one year are automatically deleted forever.
Clockify can also:
Record which apps you use and websites you visit using auto tracker, but that data is completely private (data is not available to workspace admins).
Detect when you're inactive using idle detection (no mouse movement or keystrokes), but that data is shown only once when you become active again, so you can decide if you wish to keep, or exclude idle time (information is not available to workspace admins).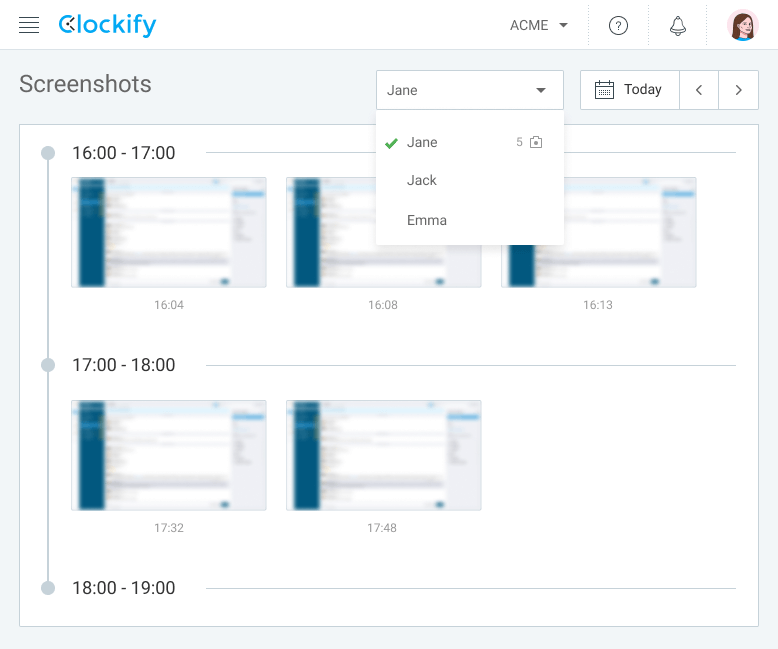 Record screenshots #
To capture screenshots, you need to install the desktop app for Mac or Windows.
Once installed, you'll need to log in and start the timer.
Screenshots are captured randomly in a 5-minute interval while the timer is running and the desktop app is active.
If you have the timer running on the web or mobile, but the desktop app is not running (or you aren't logged in), screenshots won't be captured.
Note for Mac: When Mac prompts you, you have to allow Clockify to take screenshots. If you click Deny, you'll have to go to System Preferences > Security & Privacy > Screen Recording and check Clockify app.
Viewing screenshots #
When screenshots are enabled, all users in the workspace will see the Activity > Screenshots page in the sidebar.
Regular users can see all their personal screenshots, and admins can see everyone's.
All active users in the workspace are listed, and next to each person you can see a total number of recorded screenshots in that day.
If a person has screenshots, you can click on their name, or the expand icon in the right corner to see the screenshots, time when each was recorded, as well as the name of a project, task and client, if available.
You can click on a screenshot to open a gallery view, and then go back and forth between the screenshots.
To see screenshots for other days, click on < or > in the upper right corner next to the date (you can go back up to one year from the time when the screenshot was taken).
Deleting screenshots #
Both admins and regular users can delete screenshots by clicking on the trash icon when you hover over a screenshot.
Regular users can delete only their personal screenshots – unless the time entry is locked or approved (in which case, admin needs to do delete it).
To delete a screenshot that was captured from a currently running timer, you first need to stop the timer, and then you can delete a desired screenshot.
When screenshot is deleted by a regular user, the time between that and the screenshot before it, will be subtracted from the time entry's total time. If an entry has only one screenshot, the whole time entry will be deleted. Deleting a screenshot for the approved time entry won't affect the entry.
Admins can delete anyone's screenshot without the time subtraction.
If a time entry that has a screenshot is deleted by users or admin, all its screenshots are deleted automatically. If a user deletes their account, all their screenshots are also deleted.
All screenshots older than a year are deleted forever automatically.
There is no undo when a screenshot is deleted. Each delete is permanent and non-retrievable.