Clockify Desktop app for Windows is a native Windows 10 application that enables faster and more convenient time tracking. Once you install it on your computer, you can track time right from your desktop, without having to open Clockify in a browser.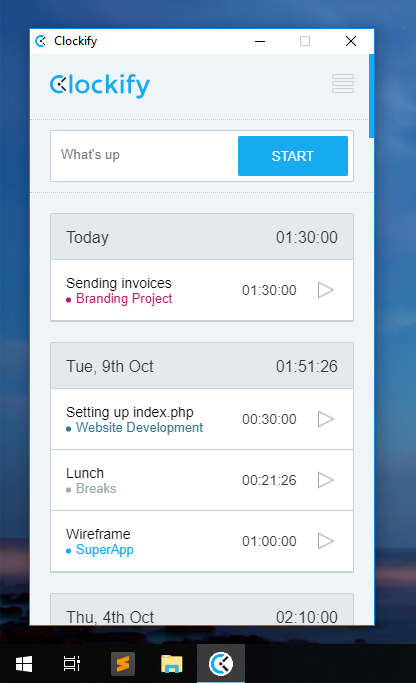 Logging-in #
Before you can start tracking time, you first have to log into your Clockify account (you can create one here for free).
Once you have an account, type your email and password to log in.
Logging in with your Google account is coming soon. If you've registered via Google and don't have a password, you can set a password in your User Settings (your log in username is your Gmail address).
Time tracking #
You can keep track of your time in Clockify Windows app in three ways:
Use a timer – Simply write what you're working on and start the timer with one click
Add time manually – Enter how much you've worked (eg. 1.5 for 1h30min) and click "Add"
Timesheet (coming soon) – Enter all your work hours in a timesheet at the end of the day
Continue timer #
You can quickly continue a timer from a previous time entry:
Find time entry for which you want to continue tracking time
Click on its play icon
A new timer will pick up that time entry's details (description, project, tag, billability) and start ticking
Add time manually #
To add time, first change time tracking mode by clicking on the menu icon in the upper right corner and choosing "Manual". Then, you can enter the duration, click Add, and type what you've worked on in the next screen.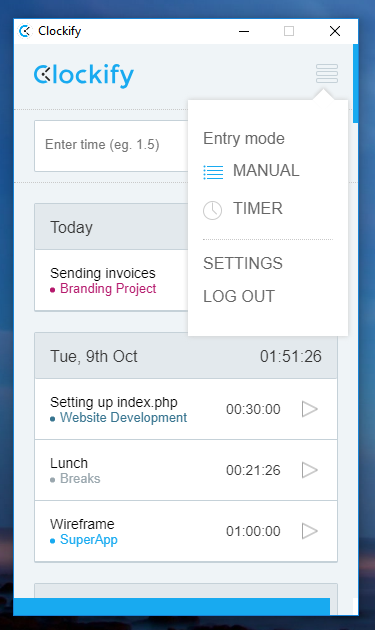 Edit time details #
You can edit any time entry simply by clicking on them and changing whatever you want to change:
Add project and task
Add tags
Change description
Change start/end time and duration
Mark as billable
To delete a time entry, click on a time entry to bring out its details, and click Delete (located next to the Done button).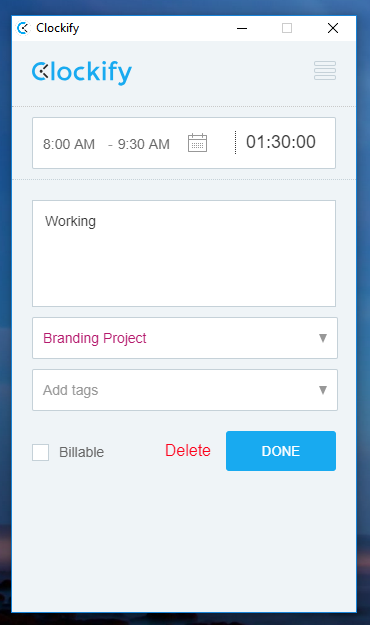 Offline support #
You can track time in Clockify Windows app even if you're offline.
You can create time entries manually or start/stop the timer. Entries made while offline will be saved locally on your computer. Once you get back online, they'll get synced with your web account.
When you're offline, you won't be able to see your other time entries, only those that were created while you were offline and which haven't been synced yet.
Projects, tasks, and tags are not available while offline.
Default project #
If you work on the same project every day, set a default project. Then, all you have to do is type what you're working on and start the timer, and the project will be selected automatically.
You can select:
A fixed project, which will be always used when you start a timer for an entry without a project (until you change the default project)
Or select "Last used project", and timer will pick up the most recently used available project from your list of time entries
You can enable default project in the app's Settings.
Upcoming features #
Idle detection (coming soon)
Pomodoro timer (coming soon)
Keyboard shortcuts (coming soon)
Reminders that the timer isn't running (coming soon)
Create projects and tags within the app (coming soon)
Self-hosted version #
Self-hosted users (Server plan) can also use the Windows desktop app. To sign in open the app and:
Follow the "For self-hosted version click here" link
Enter your server address
Log in with your e-mail and password