I tested bullet journal time tracking for a week
Imagine that after years of struggling to fit that one more task into your already crowded schedule, you've finally stumbled upon a time management technique that transforms you into a time management master and does wonders for your workflow!
Does this sound familiar?
I know — it doesn't sound familiar to me either.
But, that's exactly why I've decided to try and test a time management technique that promises to transform our days and boost our productivity levels straight off — and see if it really does what it says.
Fast forward to today, after spending five consecutive workdays testing out bullet journal time tracking (so that you don't have to), I'm able to reach a final verdict and let you in on all the ins and outs of this popular time management technique.
So, is bullet journal time tracking really worth your time and effort?
Stay put and read on, because we're about to uncover the true colors behind the vibrant bullet journal pages we've all seen on social media.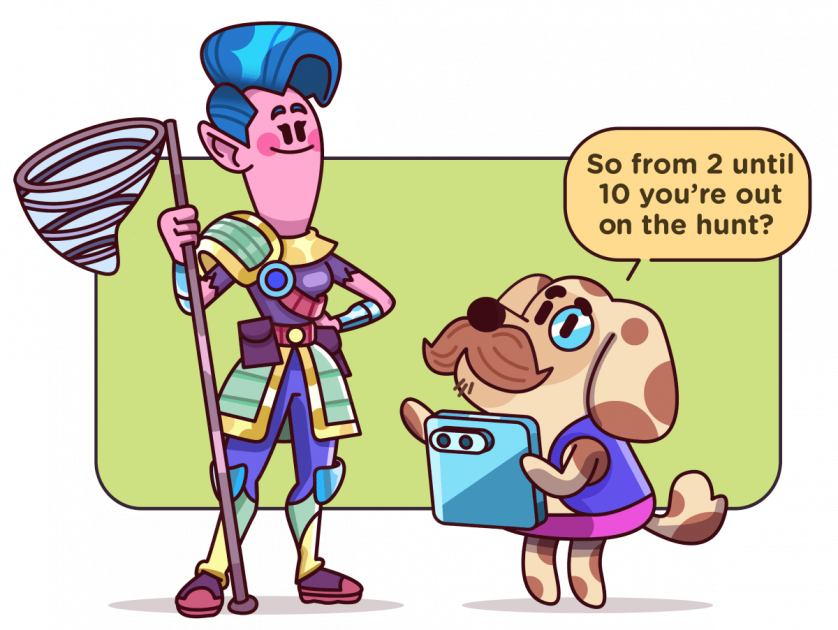 What is a bullet journal?
A bullet journal, a.k.a. BuJo, is a dot grid notebook usually used for keeping track of to-do lists, goals, and habits.
The inventor of the bullet journal method, Ryder Caroll, started from a minimalist design — nowadays, colorful, personalized bullet journals are quickly taking the world by storm.
But, even if you're not skilled at making your bullet journal aesthetically pleasing, that still doesn't mean you can't level up your productivity with a dot grid notebook — and that's where the real beauty of the bullet journal method lies.
How does bullet journaling work?
If you're new to bullet journaling, you might be confused about getting started with this technique.
Sometimes, even thinking about designing an artsy layout could be intimidating.
At least that's what happened to me.
But, it really doesn't have to be that way.
The original idea behind the bullet journal is quite simple, and you don't need to be a creative genius to make bullet journaling work.
Here's what Ryder Caroll imagined a bullet journal should consist of:
Index — A numbered list of everything your bullet journal consists of, including the page numbers where you can find each of the sections.
Collections — These are different sections you can include in your bullet journal. Although you are free to create as many collections as you need, these are the three main ones you can start from:

Future log — Usually consists of your future events and plans. You can go with a 6-months spread or plan out your whole year in advance.
Monthly log — Lets you plan your monthly tasks in more detail than you'd do in your future log. The monthly log consists of:

Calendar page — Allows you to list all the events and tasks you need to tackle within a month.
Task page — Lets you list all your monthly tasks, minus the exact dates for their completion.

Daily log — Gives you the option to keep track of your daily to-dos. A daily log looks just like a regular daily to-do list, with one exception — it includes dots, circles, and dash bullets for easier task tracking.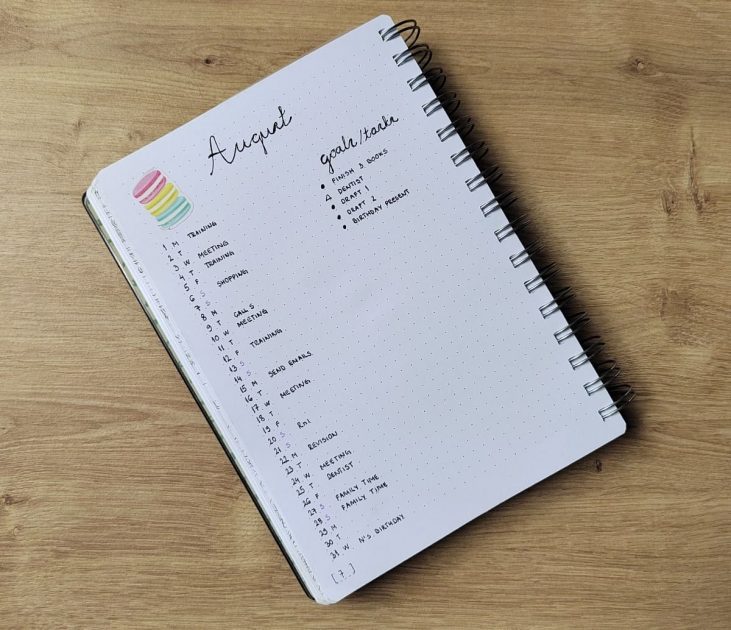 So, to make a bullet journal work, you can start by creating your collections and work your way back to the index page where you'll list everything your bullet journal consists of.
What is bullet journal time tracking?
You've most likely already seen at least dozens of colorful bullet journal pages online displaying perfectly shaped columns that promise to help people keep track of their daily activities.
But, what is this tracking all about, and how does it fit into the original bullet journal idea?
Well, as we've discussed before, collections can take many shapes and sizes. They can even take the form of trackers that let you keep a record of your eating and sleep habits, water intake habits, workouts — you name it.
So, bullet journal trackers are a nifty way to keep an eye on your progress, regardless of the habit you'd like to build.
💡 Clockify Pro Tip
Building a new habit might seem beyond the realms of possibility, especially if your schedule is always packed. But, however busy you are, there might be a solution:
But, if you'd like to go a step further and obtain even more data on your daily activities, that's where the bullet journal time tracker comes into the picture.
Bullet journal time trackers help you keep an eye on the amount of time each of your activities takes and lets you plan your future tasks accordingly. (At least that's what the social media posts claim.)
How do bullet journal time trackers work?
All you need to do to get started with the bullet journal time tracking is to:
Pick your time tracking layout — You can go for:

A horizontal bar, where one square equals one hour,
A vertical bar, which works the same way as the horizontal one, but the bar goes in a different direction, or
A time log, which looks like a more detailed version of a horizontal bar, allowing you to fit an entire month of time tracking in one page.

Create your bullet journal key list — If you'd like to color code the activities you'll keep track of, it's best to decide on the exact colors you'll use for each activity right from the start (for example, blue stands for sleeping, green is for emails, red means social activities, etc.) Then, all you need to do is create a list that explains exactly what each color represents. This will help you keep your bullet journal time tracking system as neat as possible.
Immediately after you're done deciding on all the basics, you'll be ready to take your time into your hands.
Why did I test a bullet journal time tracker?
Maybe you're wondering why an adult with zero talent for drawing would even try tracking their time the bullet journal way when there are thousands of apps out there designed just for that purpose.
Well, apart from being drawn by the beautiful pictures of bullet journal spreads I've seen everywhere, I was also quite desperate to kick my procrastination habits.
With that in mind, bullet journal time tracking seemed like just the type of activity that would keep me motivated enough to get started with all the tasks I've been postponing for a while.
Besides, I've been using an online time tracker for a while now, so I wanted to see how both options stack up against my chronic procrastination and whether the bullet journal time tracker would help me get going a bit quicker — especially on days when I'd rather leave all the tasks to my future self.
💡 Clockify Pro Tip
Believe it or not, leaving tasks for tomorrow is more common than you think — it's scientifically proven that we like to put our present selves first, a.k.a. have fun right now instead of completing a tiring task. But, there's a way to kick this dreadful habit, and you can read more about it here:
My five-day bullet journal time tracking experience
Being a proud owner of dozens of unused notebooks, sharpies, and highlighters that had no other purpose but to wait to be used (and gather dust during the process), I was already well prepared for my bullet journal time tracking experiment.
Also, since my work-from-home job comes with flexible working hours, I was quite sure that my little experiment would be beneficial for getting a clear overview of my most productive hours and plotting my perfect work schedule.
Since I had no reasonable excuse to procrastinate on this idea, I decided to begin tracking my time as soon as I finished my research on it. That's exactly why I'm able to present you with some of the main takeaways of my bullet journal time tracking experience.
Day #1— Creativity comes to light
I have to admit — as soon as my alarm went off Monday morning, I was pretty excited to start my day. Although the nice weather was partially responsible for my excitement, I was genuinely sold on the whole idea of a fun time management technique fixing my procrastination issues.
But, while I was waiting for my coffee to boil, it suddenly dawned on me — I was not well prepared. I didn't even settle on a layout, so how was I supposed to start tracking my time right away?!
After a brief pep talk session with myself, I decided to draw my time tracking layout while drinking my coffee.
So, I picked out my prettiest notebook, armed myself with dozens of sharpies, settled on a classic time log with a horizontal bar, and began drawing.
One thing after another, I quickly found myself rummaging through drawers looking for washi tapes to decorate my layout. Actually, if I'm going to be completely honest, it wasn't quick at all — I already spent 2 hours trying to draw a purple-colored butterfly to match my bullet journal key.
Realizing I didn't really think through this preparation part, I decided to stop myself right there and begin my workday at 10 a.m. sharp.
Being in the process of doing my research for an article, I decided to track my time in real time, marking the beginning and the end of a task in the horizontal bar.
Since my research doesn't usually consist of additional tasks, the only moment I had to shift my attention to the bullet journal was during my lunch break.
As soon as the clock struck 6 p.m. I marked the end of my research, colored the squares, and stepped away from my home desk.
Day #2 — Distractions out of nowhere
Since both my prep-time and my research were well behind me, Tuesday started off without the bleary-eyed chaos.
I quickly went through all the tasks that needed to be completed, decided to sketch an outline and write my article introduction, assigned colors to each activity, and dove right into work at 9 a.m. this time.
After an hour or so of moving my subheadings around the document, my phone rang.
It was the mailman rushing me to come outside and pick up a package — and this is where the confusion began.
Although my unexpected rushing down the street to meet the mailman probably didn't take away too much of my time, I realized that I did stand outside for a while, and I forgot to mark the time point I stopped working on my outline.
I quickly colored half the square red to mark the interruption, and moved on with my outline.
But, since half the square equals half an hour — and I was pretty sure I wasn't away for that long — my initial excitement about the bullet journal time tracker subsided, and I have to admit I missed the option to hit the stop button that most time tracker apps come with.
After spending 25 more minutes trying to sketch an outline, I was finally able to send it to my editor and move on to the introduction. I decided to leave half a square blank in my time tracking bar and marked the beginning of the next task.
As soon as I finished my introduction and a couple more subheadings, it was time to call it a day. I colored all the remaining squares and put my bullet journal away.
Okay, I might have spent my after-hours trying to finish the butterfly I started drawing on Monday.
Day #3 — Reminders save the day
Taking into account my previous failed attempts at being consistent with tracking my time the bullet journal way, I decided to bring out the big guns — my sticky notes.
I placed a sticky note saying "Whatever happens, don't forget about the bullet journal" right on top of my screen, planned to move on with my article, and attend one meeting.
As soon as I logged in at 9 a.m., I marked the beginning of my writing process in the time tracking bar. Before I knew it, a couple of hours flew by, and I managed to write almost 1000 words up until the beginning of my meeting.
This time, relying on the sticky note to remind me to color the squares turned out to be a great idea — and the first half of my workday went surprisingly well.
I spent the rest of the day editing my first draft, figuring out how to fit just one more sentence into an already lengthy paragraph, and trying to resist the urge to decorate my bullet journal and stay on schedule.
As the end of my workday was coming near, I realized that I didn't deviate much from my original plan, and didn't forget to turn to my bullet journal time tracker even once.
All in all, apart from my slight struggle to stay focused on a task at hand — which had less to do with the time tracking and more with my lack of sleep — Wednesday turned out to be dramatically more productive than my previous attempts.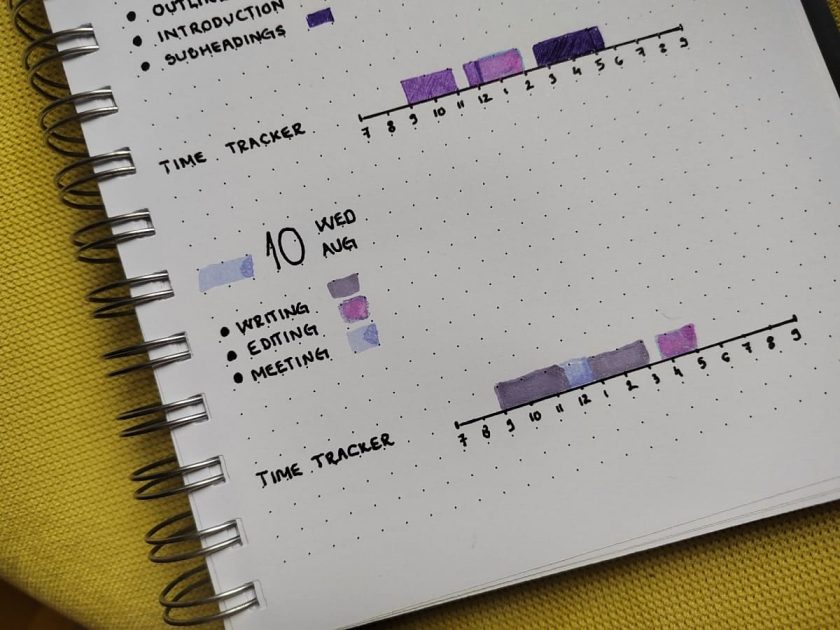 Day #4 — Interruptions take on from here
Since placing visible reminders worked out so well the day before, I glided into Thursday carefree.
I knew I was supposed to pick up where I left off with my writing and get in touch with our illustrator regarding my article's cover image.
It was that simple — so I armed myself with enthusiasm one more time, marked the time point I began writing in my bullet journal time tracker (9 a.m.), and actually did three and a half hours of uninterrupted deep work.
Little did I know that just when things were going so well, a surprise was waiting for me around the corner.
After a couple of hours of writing, my last week came back to haunt me. I discovered that some of the templates I finished on Friday were not as perfect as I thought they were. This was the moment I had to stop everything I was doing and try to figure out how to fix a formula error in a spreadsheet.
Since I'm not exactly a math whizz, it took me quite a while to fix the spreadsheet issue — and guess what happened with my time log?
As you might have guessed, I didn't really pay attention to my bullet journal as soon as there was an unexpected emergency.
At this point, I wasn't really sure whom to point fingers at for my inability to be consistent with bullet journal time tracking.
Maybe my faulty memory was the real culprit here.
But then again, if that was the case, I would have failed to stick with any time tracking method, including a timer app, and that never happened.
Not being able to pinpoint the exact problem, I decided to color 8 squares — marking them all as Work — and leave this failed attempt at time tracking behind me.
Day #5 — Time blocking might be the answer
On my last day of the experiment, I didn't really hope for a fresh take on the bullet journal time tracking.
I decided to do my best and mark all the changes that might occur along the way — but also not be discouraged if something unexpected comes up.
Since, due to obvious reasons, I didn't do a lot of writing nor get in touch with the illustrator the day before, creating my Friday to-do list didn't require much plotting. I only needed to put on my bravest face and pick up the threads of the work I started on Thursday.
As soon as I signed in and opened my document at 9 a.m., I marked the beginning of my writing process and buckled down to work.
After an hour of writing, I decided to color one square, switch to a new tab, and open Plaky to create a new task and assign it to the illustrator. Since this activity didn't take up much of my time, I decided to check my email and respond to several DMs too — and label these tasks as social activity in my bullet journal time tracker.
Although I didn't want to get my hopes up that I'll remember to turn to my bullet journal in case something unexpected popped up, I tried to go back to writing without giving much thought to previous incidents.
Surprisingly, I didn't forget to color my squares even once.
However, the number of interruptions I had to deal with along the way was minimal, so I had enough room to set aside two separate blocks of time for writing and team communication.
After a long day of writing, I signed out at 5 p.m., colored all the squares, and put the finishing touches to the purple butterfly.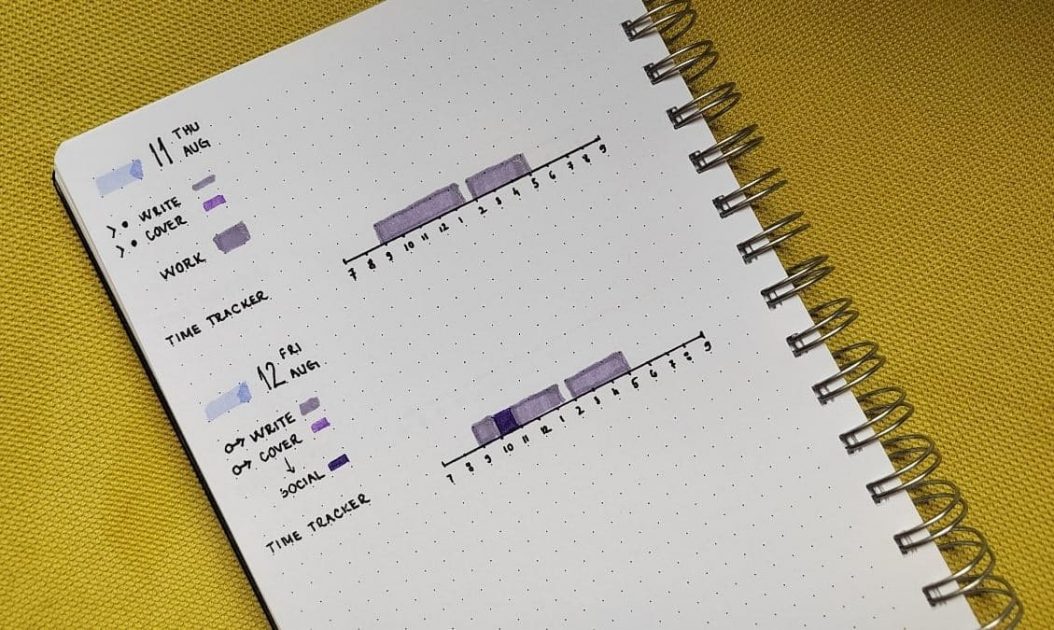 What are the pros of bullet journal time trackers?
As is the case with every productivity and time management technique, things are never black or white, and each method requires initial tweaking to show in its best light.
However, after five days of my trial and error experience with bullet journal time tracking, I'm able to let you in on the greatest advantages that come with this time management method.
✅ Bullet journal time trackers improve focus
It's not a secret that even a simple activity such as doodling can do wonders for your brain activity. Namely, science has shown that occasional drawing sessions increase both our focus and our problem-solving abilities.
So, when you set aside an hour or two to decorate your bullet journal (regardless of your artistic skill), you might actually be doing your mind a favor.
Instead of relying on your daily dose of caffeine to help you get ready for the day, going for a couple of colored pencils and a dot grid notebook could help you reach your peak productivity the healthy way.
From my personal experience, after five days of tracking my time the bullet journal way, I can confirm that science was definitely right. Drawing in my bullet journal in the morning helped me ease into my day much quicker than usual, and it quickly brightened up my mornings, leaving me ready to tackle my writing tasks in no time.
✅ Bullet journal time trackers nudge you to plan smarter
Tracking your time in a bullet journal increases your ability to spot your workflow flaws and nudges you to adjust your schedule to fit your productivity levels.
In case you're used to creating to-do lists, you might realize they don't work as well when you're faced with frequent distractions. If interruptions lead you to forget to track your time (as it was the case with me), take this as a sign to explore other task management options.
Some productivity and task management methods, such as time blocking, give you more control over your day, requiring you to pinpoint the exact moment you'll give your attention to certain tasks.
💡 Clockify Pro Tip
If you'd like to give time blocking a try, but you're not exactly sure how to fit it into your busy schedule, make sure to check out the following guide:
Perhaps it'll take some trial and error before you tweak your perfect work schedule — but bullet journal time trackers can be a great asset in helping you acknowledge weak spots in your plan.
What are the cons of bullet journal time trackers?
Most of the mishaps I had to deal with along the way could easily have been avoided had I been warned that they might occur.
So, to help you come prepared and avoid losing precious time in trial and error, I present you with a list of the disadvantages of bullet journal time tracking.
❌ Bullet journal time tracking requires preparation
In case you're looking for a no-prep time management solution, you're likely to be in for a surprise if you decide to begin your workday without giving careful thought to your bullet journal time tracking system.
Before you give this method a try, you'll need to decide on the exact time tracking layout, spend some time drawing the tracker, and create your bullet journal key.
So, to avoid these requirements taking you by surprise and ruining your bullet journal experience, try to finish with the preparation part the day before you actually try tracking your time.
This way, you'll be able to make the most out of this method and figure out what works for you, right from the start.
❌ Bullet journal time tracking doesn't go well with interruptions
Bullet journaling is quite famous for giving you the option to migrate your tasks in case you didn't manage to complete them as planned. But, if you're about to track your time in a bullet journal, you'll need to come up with a system for dealing with interruptions that goes beyond moving a task to a different bullet journal page.
In case your job position involves constant task-switching or you're frequently required to check your email and respond to team chat messages, it could be challenging to remember to mark each new task in your bullet journal time tracker.
💡 Clockify Pro Tip
If you think there's nothing you could do to prevent task-switching from wrecking your productivity, think twice. There are actually 11 things that might help you preserve your focus, and we've listed them all here:
Although there's no universal solution that'll work for everyone, to avoid forgetting to pay attention to your time tracker altogether, it might be best to set up a reminder system until you get used to your new time tracking method.
What is my overall rating of bullet journal time trackers?
Even though I ran into difficulties while trying to track my time in a bullet journal, I have not even once given up on the thought that it might work out in the end.
But now that I've reached the finish line, I've noticed that I have mixed feelings about this time management technique.
Although I genuinely liked the creative part of the technique I cannot say it didn't feel distracting.
However, despite the urge to stop everything I was doing to go and decorate my bullet journal, this time management method actually prevented me from procrastinating. Since I was excited to color my squares in the time log, my bullet journal time tracker motivated me to get going.
Still, I'm not able to shake off the fact that this method did not go well with interruptions — when faced with an unexpected change of plans, I forgot to track my time more often than I'd like to admit.
Also, figuring out how to design my layout took a while, and making it aesthetically pleasing led me to start working later than usual.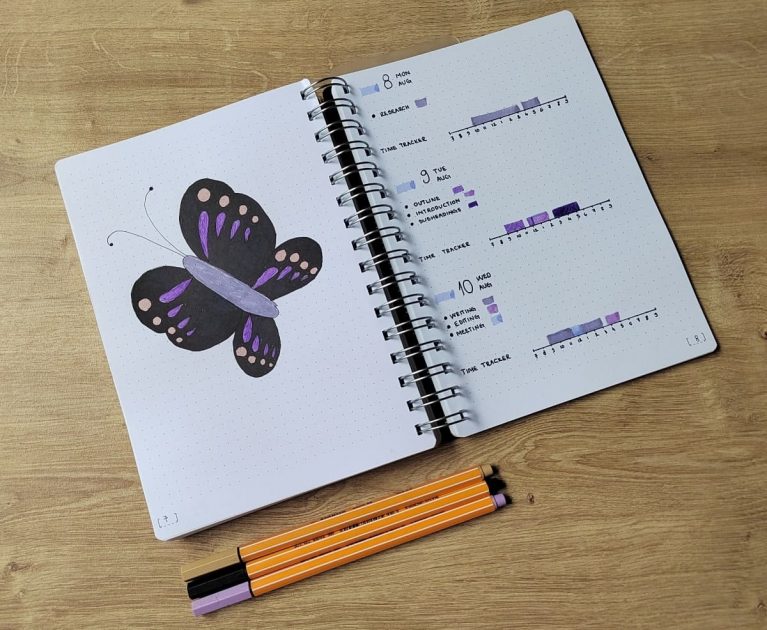 Still, I do think that if I tried tracking my time the bullet journal way one more time, I'd probably start off on the right foot this time. However, I'm not really sure this method would ever go well with sudden task-switching.
With a heavy heart for giving up on my not-so-aesthetically pleasing butterfly, I'd have to say bullet journal time tracking was a one-and-done experience for me.
FINAL RATING: ⭐⭐⭐
The final verdict: Are bullet journal time trackers worth your time?
Although I'd love to settle on a clear-cut response regarding the effectiveness of this time tracking method, the issues I had to tackle along the way led me to the conclusion that there's no one-size-fits-all time management method.
Perhaps bullet journal time tracking was not my cup of tea due to my unreliable memory, while it might do wonders for your work schedule and help you break your time-wasting habits.
But, what my bullet journal time tracking journey doesn't tell you is how this time tracking method fits into your day. So, before you reach a final decision based on my personal experience, try bullet journal time tracking and see for yourself.
You can always go back to your old tried and tested time tracker if things go out of hand.
Until then, keep your sharpies close and your sticky notes closer.

✉️ Have you ever tried tracking your time in a bullet journal? Perhaps you have a suggestion on which time management method we should try out next. Share your thoughts at blogfeedback@clockify.me for a chance to be featured in one of our future articles.