The exceptional entrepreneur Elon Musk always managed to find time for his kids, all while working 120+ hours per week and making plans with NASA to colonize Mars – thanks to a time management technique called time blocking.
Here's everything you need to know about this productivity strategy that will help you pursue big plans, but still spend time with loved ones:
What is time blocking?
How to time block your schedule
Time blocking tips
Time blocking apps
What is time blocking?
Time blocking, or calendar blocking, involves defining specific time blocks for the tasks, events, and activities in your life, and then scheduling them against your calendar. You can schedule and follow time blocks for both business and personal tasks.
The gist of this time management technique is simple:
Add all your daily or weekly tasks to a to-do list
Select specific time slots in your calendar and reserve them for the tasks
Work on the tasks during the prescribed time blocks, and aim to complete them before it's time for the next time block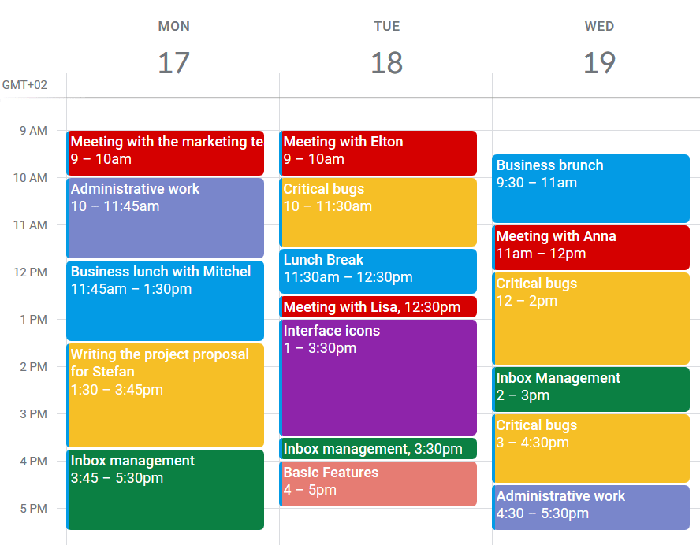 As mentioned, Elon Musk was the one who made this time management technique popular – he'd often work in 5-minute time blocks while he was the acting chairman of Tesla and SpaceX. Apart from helping him successfully run two colossal companies, time blocking also helped Musk exercise twice a week and spend about 4 days of quality time per week with his children.
How to time block your schedule
Now that you've understood the gist of time blocking, here's how it all works in more detail.
Time blocking involves 4 main steps you need to follow:
Plan everything
Define time blocks
Act on your schedule
Test and revise
1. Plan everything
This first step sets everything in motion – in it, you first need to brainstorm all tasks you may have to work on this week, and then work your way down from there.
Once you're done brainstorming, you'll likely find that you've listed a number of tasks that aren't a priority or have a distant deadline – scrap these tasks for now, and aim to limit your daily schedules to 3-5 priority tasks per day.
These priorities can be recurring tasks you tackle every day, like answering important emails or handling client calls. Or, they can be tasks you tackle every-so-often, like handling some urgent administration work, or conducting research for your new project.
Either way, make sure you highlight these priority and unavoidable tasks in your to-do list. You can even add time estimates for each task, to make the next step easier.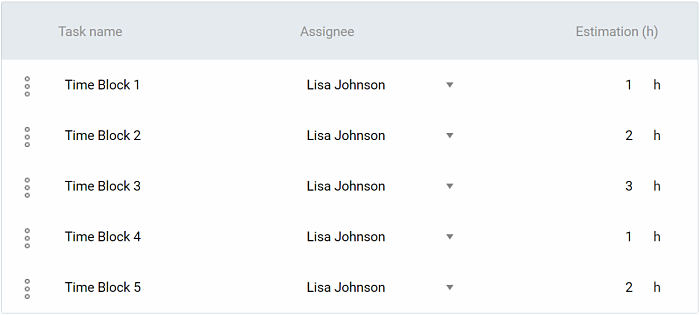 Moreover, to make matters easier, you can even parse these tasks into smaller tasks, if possible. For example, instead of allocating 1 hour to the task of "answering emails", count the number of emails you've received that day and allocate 5 minutes to each email. This way, you'll avoid wasting 10 minutes on one email, and then rushing to finish the next one in 2 minutes (resulting in numerous errors) just to keep up with your impractical time block.

Once you've selected your priorities and compiled a comprehensive to-do list, it's time that you define precise time blocks and mark them in your calendar.
2. Define time blocks
In the second step, time is the main component – you'll need to decide:
When you need to block time, by defining specific start and end times
For how long you need to block time, by defining the task duration
When answering these questions, bear in mind that there are optimal time periods and duration for each task – you just need to figure them out.
When you need to block time
According to the science of circadian rhythms, each activity has an opportune moment – there's an ideal time for sleeping, eating, relaxing, and working on your priorities. So, unless you have no choice (or find this practice natural for you), you shouldn't sleep for 8 hours during the day, and then start working on priority tasks at 3 AM.
You likely already have a history of studying or working, so you likely already know when it's your ideal time for work – the time when you're the most alert, concentrated, and most likely to focus without distractions. This is the time when you should schedule your priority tasks – schedule other tasks, either business or personal, around this "prime" time, to different time slots.
Alternatively, you can schedule your most important, urgent, or, simply, the most difficult task first thing in the morning – this practice is known as "eating your frog", and it allows you to clear the rest of your daily schedule for more pleasant tasks as soon as possible.
For how long you need to block time
According to the science of Ultradian rhythms, peoples' minds work in 90-minute cycles – and, according to the popular Pomodoro principle, you should parse your work day into 25-minute work-time and 5-minute break-time.
What do we get from this?
Well, first, you should never define more than 90 minutes for a time block – science shows you cannot concentrate on one activity without a break for more than an hour and a half in a quality way.
Both the science of Ultradian rhythms and the Pomodoro time management technique insist you take frequent breaks – at least for 5 minutes after each work session. If you find the 90 nonstop minutes for work too much, you can instead choose 25 minutes for your time blocks – this time is long enough for you to fully focus on something, but short enough so that you don't tire yourself.
Or, you can combine these two types of prescribed time blocks, depending on the type of tasks you're working on – 90 minutes for more demanding tasks, and 25 minutes for less demanding tasks.

These are just some science-based suggestions for your time blocks – you may want to use your own custom time blocks.
Once you've decided how you'll handle your time blocks, simply add them to your calendar.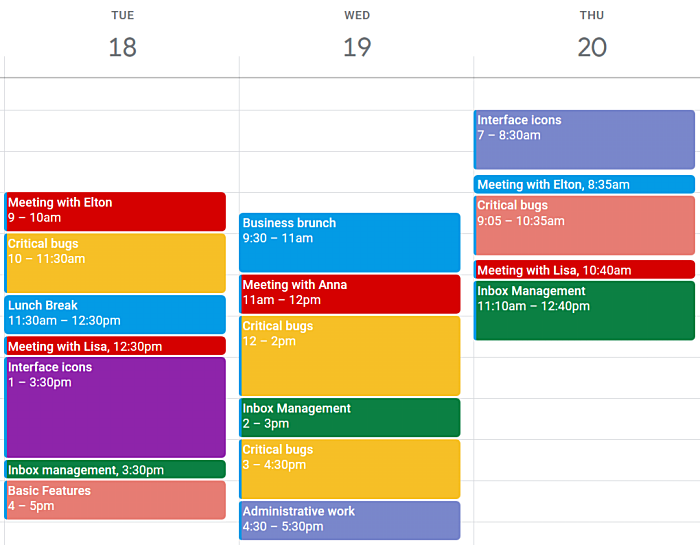 3. Act on your schedule
Once you've selected the what, and defined the when and for how long, you'll need to "act" on your promises and follow your schedule.
Start with your first time block – start working on it at the prescribed start time, and stop working on it at the prescribed end time. Then, repeat, until you reach the end of the schedule for today.
This may seem like the easiest step in the time blocking process – you've laid out the ground rules, now you just need to follow them. But, acting on your schedule will only become easy and simple once you figure out whether your prescribed time blocks work in real life – and this is where the revision step kicks in.
4. Test and revise
As you start working on your time blocks, it's best that you track time on them as you work – this way, you'll know whether some time blocks are too short or too long, and you'll be able to revise and perfect them in the future.
For example, you block all your tasks with 25 and 90 minutes, and your time tracking results tell you that this works about 80% of the time – but you also find out that some tasks take much more or less than that.
Perhaps you'll find that effective meetings typically take 15 minutes and that you waste the other 10 minutes in an effort to live up to your prescribed time block.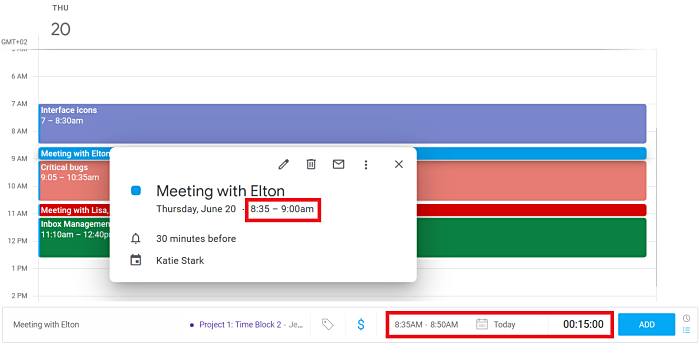 Perhaps you'll find that you take 2 hours to tackle critical bugs in your program, so your schedule falls half an hour short.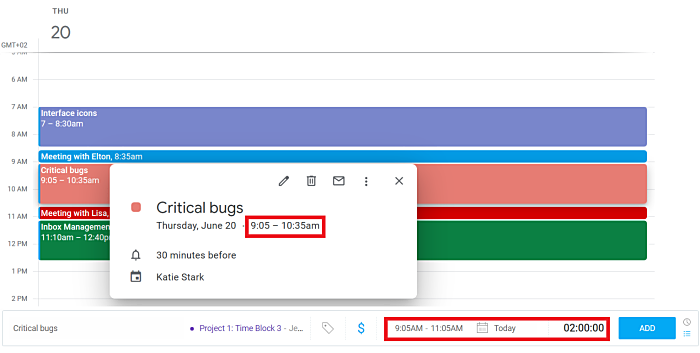 Either way, you should change your approach- next time you create a schedule, use your real-life time tracking results for each task to define time blocks. With time tracking, you'll already have proof they work, so you'll know you'll finish on schedule.
Additional time blocking tips
Create time blocking templates
Blocking time in your calendar may take time, but you'll speed things up if you create time blocking templates – you can create empty time slots with start and end times, and just fill them out with tasks as you are tasked with them.
Reserve empty time slots for your everyday activities – for example, reserve the times when you'll exercise, take a morning shower, eat breakfast.
You can also reserve empty time slots for your priority tasks – if you've calculated your biological prime time, you'll understand when your most effective time window is, and you'll know to always reserve these pre-made time slots for your priority tasks.

Follow theme days
You can do various tasks during the day, or you can define theme days when you'll tackle only a certain type of tasks – The CEO of Twitter, Jack Dorsey, follows this practice, so he spends entire Tuesdays on product-related activities, and entire Wednesdays on marketing activities.
Following suit, you can block your own days of the week only for specific tasks – for example, block Mondays for meetings and client calls, Tuesdays for research activities, and Wednesdays for administration.
This way, you'll fully immerse yourself in one type of activity, avoid multitasking, and make sure you have the tools and materials you need for this type of tasks.
Remain flexible
Sticking to a rigid schedule makes sure you achieve everything on your agenda, but what if something unexpected pops ups?
To prevent surprises that ruin your schedules, make sure you block at least an hour each day for unexpected tasks – if something unexpected happens, you'll be covered, and if not, you'll have an additional hour to work on your already scheduled priorities some more.
Time blocking apps
Once you've understood everything you need to know about time blocking, you'll need the right "equipment" to make the practice fast and effective – in gist, you'll need a:
Time tracker to track the time on your activities in real-time, understand how much time you need to finish each task, and define accurate time blocks in your calendar
To-do app, task management app, organizer, or planner, to help you better understand and keep an eye on your priority tasks for today, or any upcoming time period
Calendar app, preferably with deadline and reminder features, to help you plan your time blocks, and make sure you leave yourself time for everything you have to do
Here are the best such apps for time blocking:
Clockify – time tracker app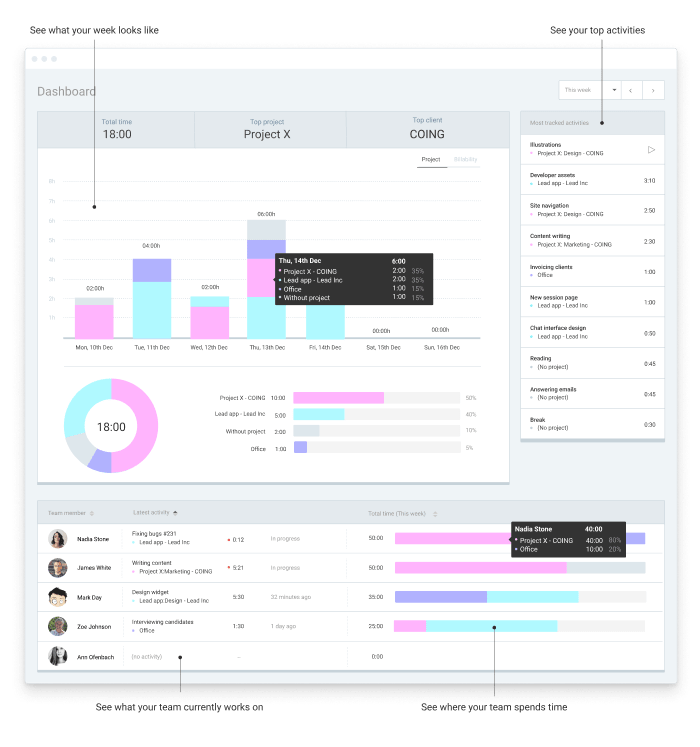 Clockify is a time tracker app with efficient time blocking features – you'll be able to track the time you spend on your scheduled time blocks as you work on them, and figure out whether you'll need to make revisions for the same time blocks in the future.
You'll be able to:
Track time in real time, to the exact second it really takes you to finish a task
Add the time you've already spent on scheduled time blocks manually on the Time Tracker page, or in a timesheet view
Make estimates for your time blocks, and compare whether you really live up to these estimates
Analyze the time you've spent on projects and tasks in Weekly, Detailed, and Summary Reports
Use the integration with Google Calendar to track time on scheduled events and tasks without ever leaving Google Calendar
You'll also be able to define 4 different types of hourly rates, and have the time you track on scheduled time blocks automatically calculated into earnings in the Reports section of the app.
Available for: Web, Windows, Linux, Mac, iOS, Android, Chrome, Firefox
Google Calendar – classic calendar app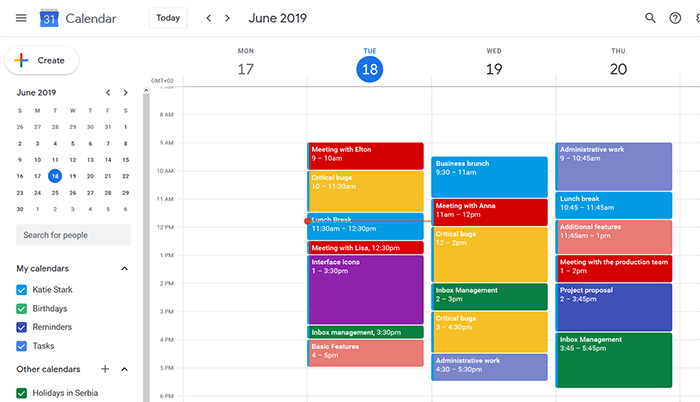 Google Calendar is a classic calendar app that allows you to schedule your events, tasks, and reminders in visual time blocks – each calendar entry represents a time block.
You'll be able to:
Create different, color-coded calendars for different parts of your life
Plan periods of focused time and schedule reminders for repeating time blocks/tasks
Schedule meetings with groups when everyone is available by analyzing suggested times
Add events and schedule meetings with teammates from around the world
Define your exact work hours, to have your teammates know when you're available
Enable Desktop notifications in order to be reminded of the next time block/task in your agenda
Google Calendar's highlight feature helps remind you of your daily agenda – every morning before the start of your workday (around 5 AM), you'll get an automatic email summarizing the events/reminders/tasks that await you that day.
Available for: Web, iOS, Android, Chrome, Firefox
Any.do – versatile task manager and calendar assistant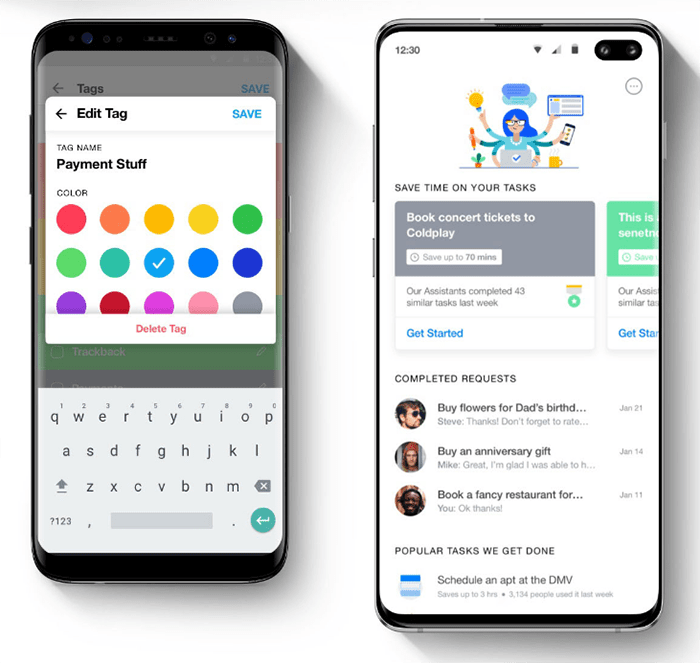 Any.do is an all-inclusive task manager with the features of a classic calendar, reminder, and planner app. You'll be able to plan and implement your time blocking schedule, as well as collaborate with others in a joint time blocking system.
In essence, you'll get to:
Add tasks, prioritize the right ones, organize them as lists, and break them into sub-tasks
Manage shared projects
Define recurring tasks and set reminders for them
Add events and tasks in your calendar, and then enjoy their combined view that highlights your busy hours and free time blocks
Have all your lower priority tasks rescheduled automatically to leave more room for priorities
The highlight of this calendar app are its voice command features – you'll get a chance to add events and tasks through dictation, ask for today's' agenda remotely, as well as tackle your to-do lists hands-free.
Available for: Web, Windows, Mac, iOS, Android,  Chrome, Firefox
Todoist – to do list app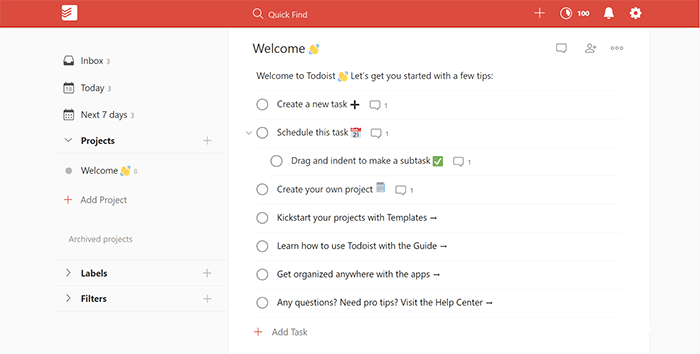 Todoist is the ultimate to-do list app, one that offers an array of task management features,  as well as a number of integrations and syncing options.
In gist, you'll be able to:
Create tasks and assignments, and group them into projects
Define deadline for tasks
Orders tasks by priority level with color-coded flags
Create and manage to-do lists
Collaborate with others on projects and tasks
Upload additional material to to-do items, and add enlightening comments to them
Todoist offers a more rounded task management experience than most similar apps, by letting you handle your projects as time blocks in a Calendar view and as Gantt charts – you'll be able to view all your projects mapped up with their respective deadlines, project deliverables, and dependencies.
Available for: Web, iOS, Android, Windows, Mac, Chrome, Firefox, Safari, Apple Watch, Android Wear
Edo Agenda – agenda organizer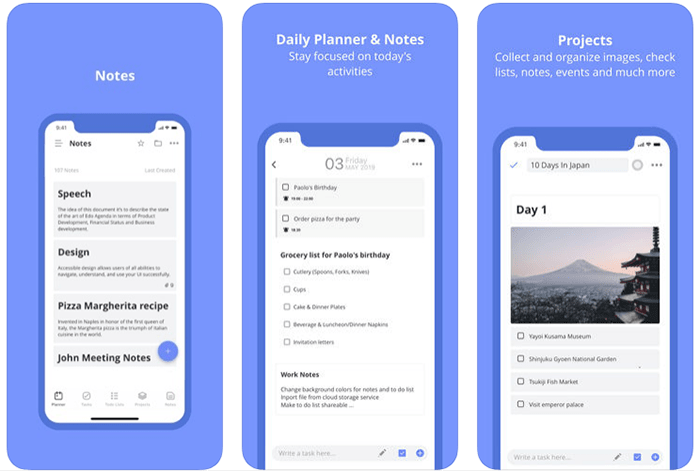 Edo Agenda is an agenda organizer and personal workspace meant to help you be more productive, while also leaving enough time for you to practice your creative side on creative tasks.
The most important element of the agenda organizer is the journal view – within it, you'll be able to define tasks, add reminders for them, and group them by type or project. If a task doesn't relate to other tasks (or doesn't have a definitive deadline), you can define it as "floating", and put in the group of tasks that don't have a topic or deadline.
This app is another one that syncs seamlessly with Google Calendar, so you'll have no trouble converting your plans, tasks, and events into straightforward calendar time blocks.
The highlight of the Edo Agenda app is that you can associate your tasks with pictures – for example, when you create a grocery list, you can use pictures as a reference to your food items and check them out instead of regular written items.
Available for: Web, Android, iOS
Fantastical 2 – Mac calendar app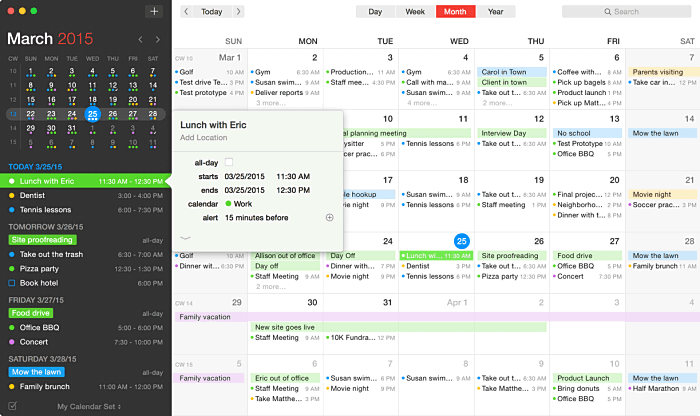 Fantastical 2 is a Mac-exclusive calendar app with the usual time-blocking-friendly calendar features – you'll be able to reorganize your schedule around team priorities, but also duplicate events across calendars and view your weekly agenda in a couple of clicks.
You'll be able to:
View maps showing the locations where you have scheduled events
Make use of various calendar sets meant to help improve your scheduling
Create reminders for your time blocked events and tasks in an instant by starting a sentence with "reminder" or "remind me to"
Enjoy a full-calendar view for the time blocks you had scheduled per day, week, month, or year
The highlight feature of the app is its Mini Window – this Fantastical 2 window inhabits your menu bar, and allows you to create, view, and edit events, tasks, and reminders in a faster way.
Available for: Mac
Remember the Milk – to-do list and task management app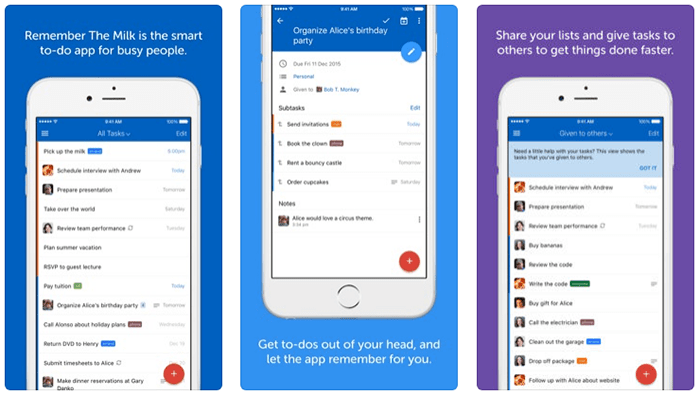 Remember the Milk is a to-do list and task management app meant to help you handle your to-do lists – especially if you have a busy schedule and are likely to forget about your priorities (like buying the milk).
You'll be able to:
Note down tasks and to-dos in a simple workspace
Define reminders for each task and set them to arrive to you via Twitter, Text, or email
Share lists and delegate tasks to others
Organize and categorize your tasks with priority levels, tags, deadlines, and more
Search for tasks, notes, and then save your most important searches as "Smart lists" for easier access
The standout feature of Remember the Milk is its recent integration with Google Assistant – once you instruct your Assistant to add a task to the list, the Assistant will notify you when the task is due. By using a similar chain of commands, you can instruct the Assistant to delegate a task to a colleague or friend.
Available for: Web, Windows, Mac, Linux, iOS, Android, BlackBerry, Apple Watch, Microsoft Edge, Chrome, Firefox, Safari
DigiCal – daily planner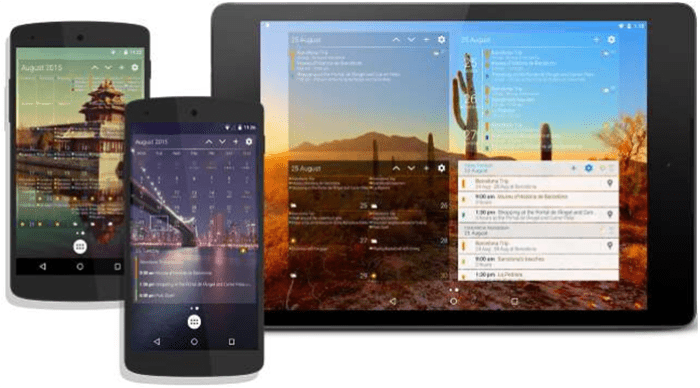 DigiCal is a straightforward daily planner in its core, but with multiple calendar views, widgets, a calendar catalog, and integrations with several notable online calendars.
Within this app, you'll get to:
Schedule appointments and then view them in 7 different calendar views, including a daily, weekly, monthly, or agenda overview of your events
Enjoy 6 functional widgets and 9 preset themes
Sync and plan your own schedule according to official TV schedules – tick your time blocked tasks, but also never miss an important game because of it
Synch with the most popular online calendars, such as Google Calendar, Exchange, and Outlook.com
The standout feature of this app is its weather forecast, making it a perfect companion for outdoor photographers – you'll be able to coordinate your outdoor events and tasks according to the outside temperature, clouds, wind conditions, as well as sunrise and sunset times.
Available for: Android
Things – task management app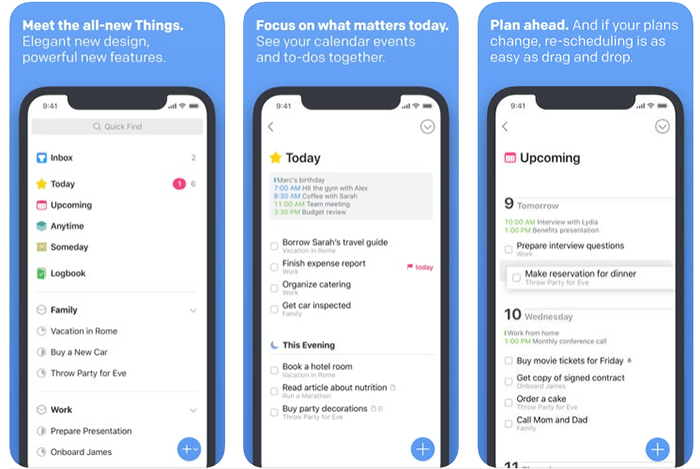 Things is another task management app with a journal-like view – you'll be able to make to-do lists, compile shopping and grocery lists, view tasks grouped by projects, and add notes to them. And all that according to the Getting Things Done methodology.
You'll be able to block time for events in a simple Calendar view, and then group them by type – Work, Personal, Family, or any other custom classification you want.
You'll also be able to:
Collect to-do items which haven't been categorized yet, and store them in the Inbox section of the app
Create projects, add corresponding tasks you can checkmark to them, and then divide them into subheadings, for easier management
Create areas, and group related projects together
The highlight element of this app are its scheduling features – you'll be able to group tasks by the time of day they need to be tackled:
Today – the section with all your priorities for that day
In the evening – the section for all your priorities you don't plan to tackle until the evening
Upcoming – the section with postponed and automatically generated tasks
Anytime – tasks you really haven't blocked time for yet, but can tackle any time
Someday – more tasks you really haven't blocked time for yet, but need to be done at a certain time
Available for: Mac, iOS
TimeBlocks – mobile planner, calendar, and organizer app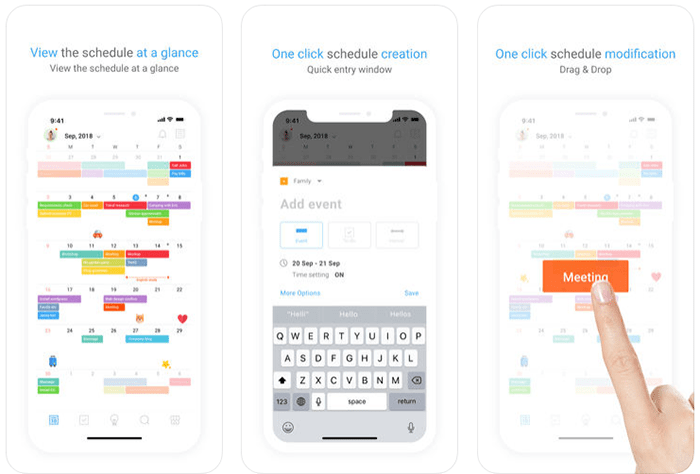 TimeBlocks is a mobile planner and calendar app meant to help you streamline business and personal scheduling.
You'll be able to:
plan events, to-dos, and define associated memos and alarms
drag & drop these events and to-dos to and from the calendar, as well as edit them easily
record, organize, and analyze from experiences from your life
set reminders for birthdays, holidays, family anniversaries and events
view graphic representations of your calendar events and tasks, in pie charts
The color-coding features of this app make it especially worth a try – you'll be able to define your calendars and tasks with any colors you want, as well as group related tasks and events by color, for easier calendar navigation.
Available for: Android, iOS
Jorte – calendar and personal organizer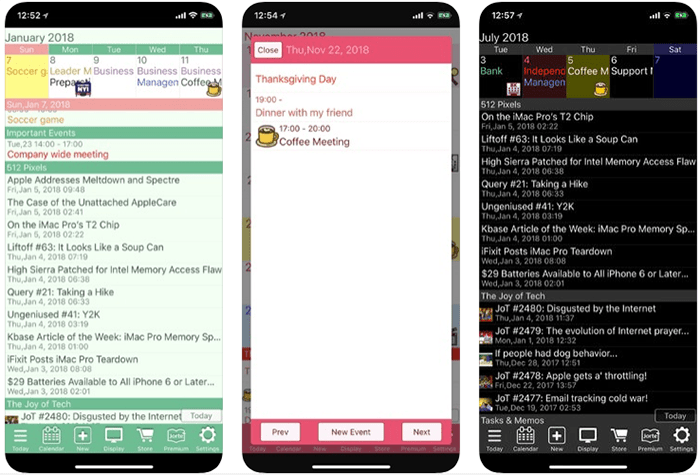 Jorte is essentially an international personal organizer and event calendar – it's dubbed the most fully-functional calendar app on the market, and its features do hint at that.
You'll be able to:
add events, tasks, and reminders to your event calendar
track the number of days left before you need to complete a task or attend an event, through the countdown feature
enjoy a monthly, weekly, and daily view of your events, tasks, and reminders, in order to fully grasp your complete schedule
elevate your time blocking experience by personalizing your fonts (most oft and ttf fonts supported)
make use of the Lunar Calendar
Perhaps the stand-out features of Jorte are its syncing features – you'll be able to sync with Google Calendar, Evernote, and Microsoft Office 365.
Furthermore, you'll also be able to enjoy these features in more than 25 languages, such as Chinese, French, German, but also Catalonian and Greek.
Available for: Android, iOS
Cozi – a family organizer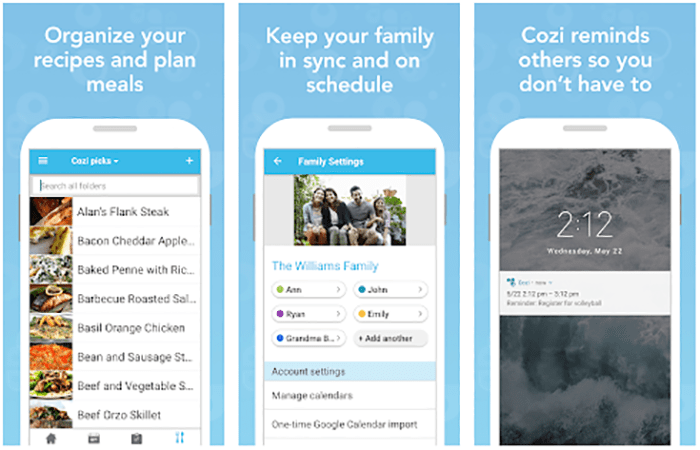 Cozi is a calendar app meant to help you block time for and organize family-oriented activities – you'll be able to add activities to a to-do list, sync them with other family member's available time slots, as well as set reminders to make sure everyone is always kept up to date.
In accordance with its "family organizer" label, you'll be able to:
Create, share, and view joint shopping and grocery lists
Note in and never forget family anniversaries, Sunday barbecues, or birthday parties
Keep a family journal, and capture the family moments you blocked time for
Block time for recurring events and tackle them according to schedule
If you install the app's screen widget, you'll also be able to access all your shared calendars, to-do checklists, and shopping lists as quickly as possible.
Available for: Web, iOS, Android
…In the end, is time blocking the time management technique for you?
In short – yes.
There are several benefits to the time management technique of time blocking, making it a perfect choice for when you're looking for an easy way to plan and manage your personal and business tasks (and make sure they don't coincide):
It forces you to focus on priorities
When making the initial plan for your time blocks, you'll feel the urge to block the most amount of quality time for your most important tasks. You'll also feel the urge to block your early morning slots for tasks that are both important and urgent.
It reduces procrastination and distractions
When you have a task scheduled in your calendar, complete with prescribed start and end times, you'll feel the urge to live up to that prescribed time, or even beat it – so, you'll be less likely to procrastinate or fall victim to distractions.
It makes you realistic about your time and work
Saying you'll finish a project draft today is an optimistic guess at best unless you have this task written down in your schedule, with the expected time it will take you to finish – and time blocks give you just that.
It helps you keep a record of how you spend time
With time blocking, you're essentially dividing your day into predefined time slots – for example, 1 hour for administration work, 1 hour for answering daily emails, and 3 hours for when you need to craft a project proposal.
As much as the time you block in your calendar serves as your guide for surviving your packed to-do list, it also serves as a reminder of what you've accomplished so far, and how much time you've spent on certain tasks. This data allows you to rethink your schedule, and whether attending meetings for 4 hours each day prevents you from focusing on other more important matters.
It helps you have time for everything
If you're worried you haven't been spending enough time with your kids lately, schedule a dedicated time block each day just for them.
If you have an important family dinner sometime soon, block your evening that day for it, and don't let any excuse stop you from attending.
If you want to work on a creative hobby, schedule an hour each week for it, and stick to this time.
This is one of the biggest perks of this time management technique – you'll not only reserve and save enough time for your work activities, but you'll also save time for relaxation, hobbies, family, and friends, or anything you want.