Attendance & overtime
Attendance report allows users to track their team's daily attendance, including their presence, absence, overtime work and more.
By using Attendance report you can see when team members started and finished working, how much they worked each day, who took time off or didn't log hours and who worked overtime.
To access Attendance report:
Hover over the Reports section in the left sidebar
Choose Attendance in the Teams section
When you click on it, you'll see your team's attendance report.
Attendance report page #
The Attendance report features columns for user, date, start time, end time, break (if enabled), work time, capacity and time off (if enabled) and overtime.
User column presents both full and limited users and indicates running timers
Date column exhibits the date in the user's profile settings format
Start and end times are displayed in the same format
Break column presents the total duration of break entries for the day
Work column contains the total work time for the day
Capacity column discloses the daily work capacity of the user, including time off hours
Overtime shows the difference between work and capacity, indicating how much time user worked over their capacity (excluding breaks)
Time off shows how many hours user is off for a particular day
The report accounts for "overnight" entries, as well.
Attendance report is an extra feature, which you can enable by upgrading your workspace to Standard, Pro or Enterprise plan and is available for users with an admin, or team manager role.
Admins can see all users, while team managers can only see the users they manage.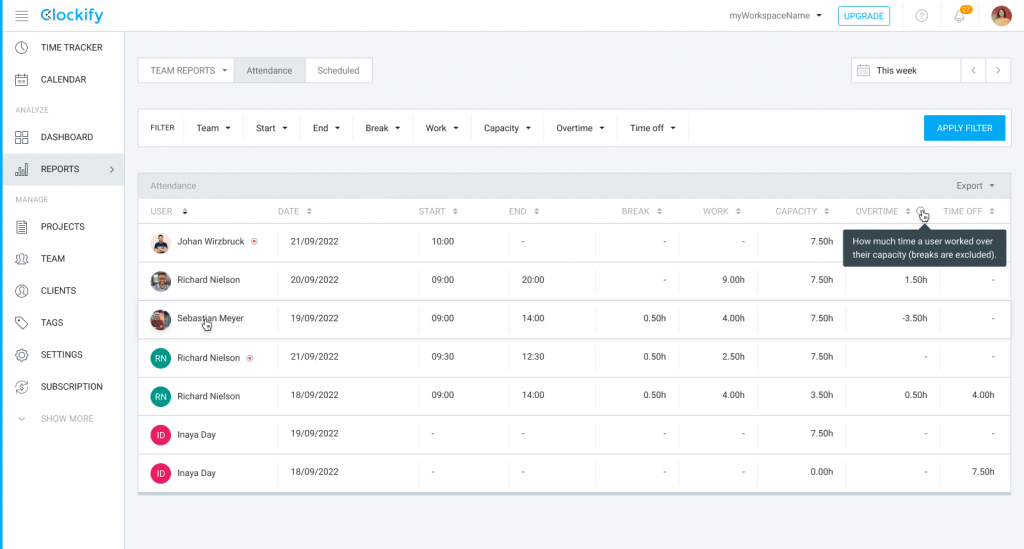 Export Attendance report #
To export a report, go to the report table header and find Export in the right corner. Choose Save as CSV or Save as Excel from the dropdown. A file will be generated and downloaded containing all available data.