GPS tracking
Whenever your team is on the road or on site, they can clock in via their mobile app and you can see their location on the map.
With GPS tracking, you can see who's currently working on site and everyone's location history throughout the day while they were on the clock.
GPS tracking is an extra feature, which you can enable by upgrading your workspace to Pro or Enterprise plan.
Data gathering and privacy #
Location can't be tracked without user's knowledge and permission. In order to record the location:
Admin has to enable Activate GPS tracking in workspace settings.
All workspace members will get a notification when location recording is enabled via a web and a mobile notification
User has to download and track time via the mobile app (iOS or Android).
User has to enable Location services on their mobile phone.
User has to allow the Clockify app to access their location.
Each regular user can see all their recorded locations. Admin sees all recorded locations in the workspace.
Location is recorded every time timer is started and stopped in the mobile app. Also, while the timer is running, more locations will be recorded if the user moves significantly (usually more than 500m) – this varies depending on your device (its operating system, version, settings, and granted permissions).
Locations are collected even if the mobile app works in the background.
Each location is tied to a time entry. If the time entry is deleted, its locations are deleted, as well.
Admins can delete anyone's location. Regular users can delete their own location.
You can view locations for the past 7 days. All locations older than 7 days are deleted forever automatically.
Viewing locations #
To view recorded locations, click on Activity in the sidebar, and then the Locations tab.
Admins can view everyone's recorded location, while regular users can see only their own.
You can see current locations of your staff, their routes, and time stamps of when the location was recorded.
On the right side, you can see all active users in your workspace, plus their last recorded location on the map for that day as well as the timestamp when it was recorded. If a user doesn't have any location that day, you'll see just a hyphen (-).
If a user has a red recording dot next to them, it means they still have the timer running at that location.
To see a user's all recorded locations in the day, click on them in the sidebar. You'll get a list of all the records, plus you'll be able to see their route on the map (based on recorded locations that day).
To close the detailed view and get back to the team overview, click on X next to the user's name.
To see locations for other days, click on < or > in the upper right corner next to the date (you can go back up to past 7 days).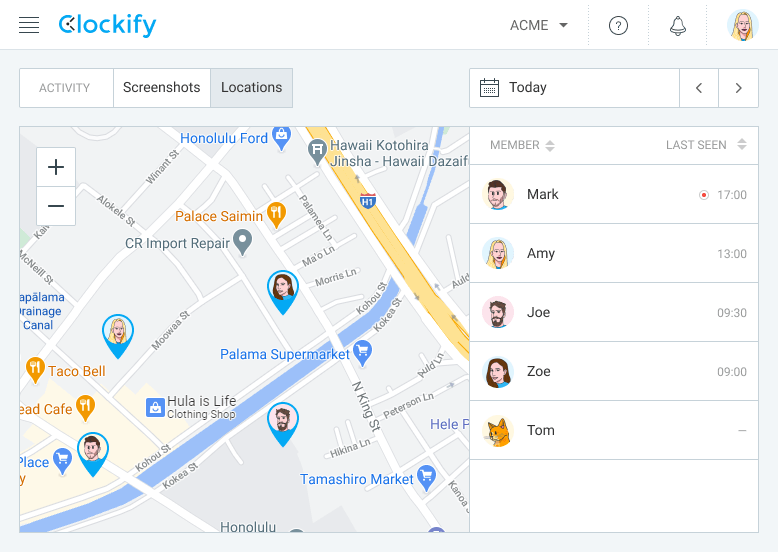 Deleting location #
Both admins and regular users can delete recorded locations.
You can delete recorded locations on the web version of Clockify, when you go to Activity > Locations from the sidebar.
If you're admin, click on a user on the right to enter their route view, hover over the location you wish to delete, and click on the trash icon.
If you're a regular user, just hover over the record you wish to delete and click on the trash icon.
All locations older than 7 days are deleted forever automatically.
There is no undo when a location is deleted (each delete is permanent and non-retrievable.).
If a user deletes their account, all their location data is deleted too.
Location accuracy #
GPS location tracking is not 100% accurate due various facts (phone's operating system, version, model, closed vs open space, geographic factors like tallness of buildings, etc.).
Location accuracy can be:
High accuracy – Real location can be off by less than 150m (500ft)
Medium accuracy – Real location is off by 150-500m (500-1,600ft)
Low accuracy – Real location is off by 500-1,000m (1,600-3,200ft)
When the recorded location has medium or low accuracy, you'll get an indicator in the person's detailed route view.
If the location accuracy is off by more than 1,000m (3,200ft), it won't be recorded.
Improving location accuracy (Android)
Improving location accuracy (iOS)