Track time while on the go from your Android phone.
Download Clockify for Android on the Play Store →
Not working? Download older version (apk) →
Logging-in #
Before you can start tracking time, you first have to have a Clockify account (you can create one here for free).
Once you have an account, type your email and password to log in. You can also log in with your Google account.
Time tracking #
You can keep track of your time in Clockify Android app in two ways:
Use a timer – Simply write what you're working on and start the timer with one tap
Add time manually – Enter how much you've worked (eg. 1.5 for 1h30min) and tap "Add"
Add time manually #
To add time, first change time tracking mode by tapping on the menu icon in the upper right corner and choosing "Manual".  Then, you can enter the duration, tap Add, and fill what you've worked on in the next screen.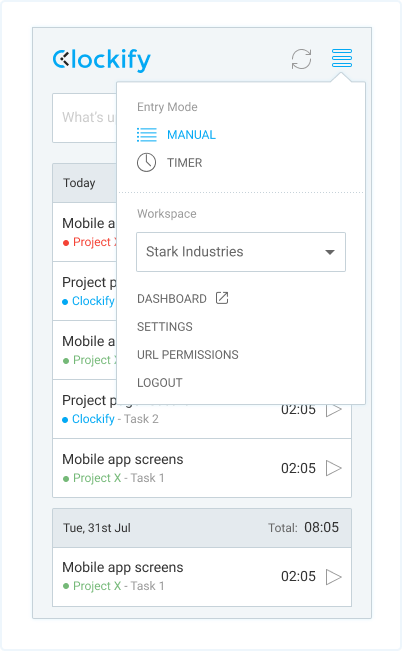 Continue timer #
You can quickly continue a timer from a previous time entry:
Find time entry for which you want to continue tracking time
Tap on its play icon
A new timer will pick up that time entry's details (description, project, tag, billability) and start ticking
Edit time details #
You can edit any time entry simply by tapping on them and changing whatever you want to change:
Select project and task
Select tags
Change description
Change start/end time and duration
Mark as billable
To delete a time entry, tap on a time entry to bring out its details, and tap Delete (located next to the Done button).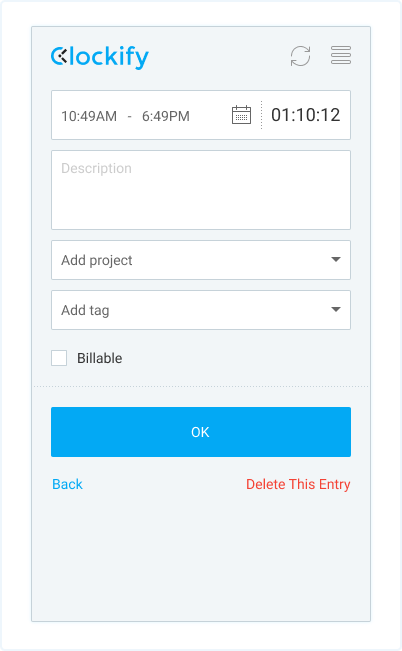 Create a project, client or tag #
To create project or tag:
Tap to edit a time entry
Select Add project/Add tag
In the dropdown click "Create new project" or "Create new tag"
If you're adding a project input the project's name and select color then tap "Add Project". Optionally, you can also select the client and mark the project as billable by default. If you're adding a tag, simply type in the name of the tag and tap "Add".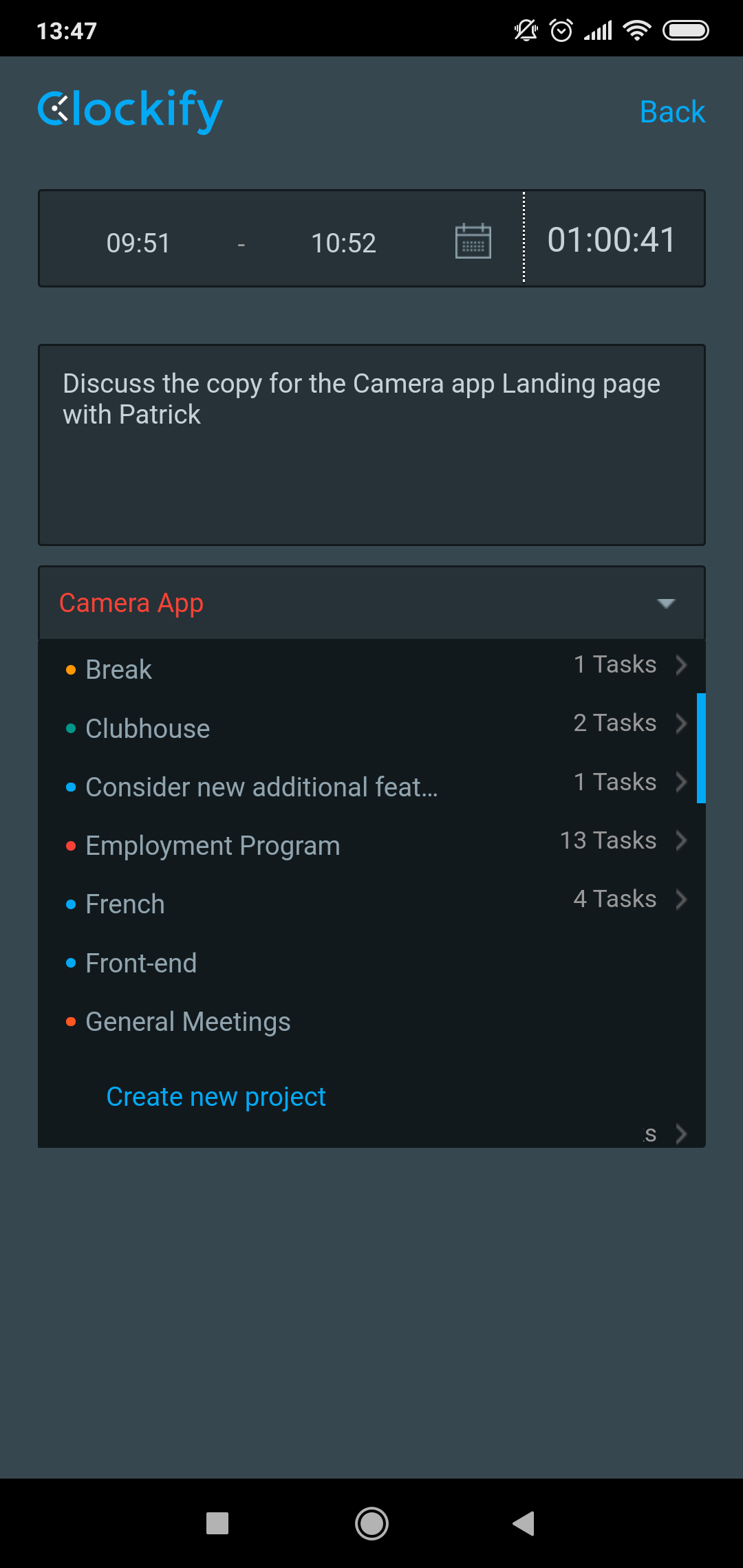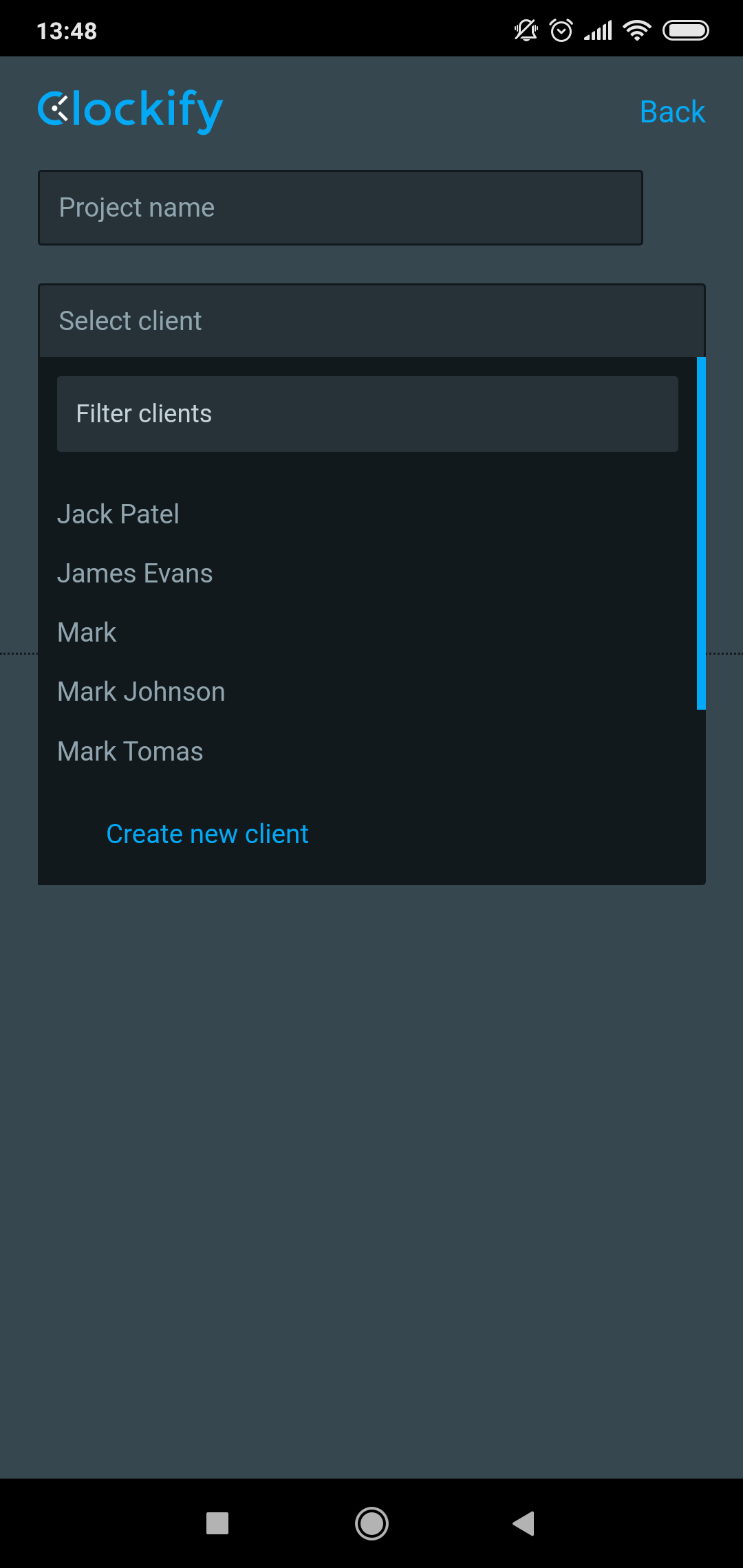 A client can only be created when creating a new project. To create a client:
Tap to edit a time entry
Select Add project
In the dropdown click "Create new project"
Tap "Select client" then "Create new client"
Type in the client's name and tap "Add"
You can simply cancel the project creation then if you just want to add a client.
Note: Regular (non-admin) team members aren't able to create clients, projects, and tags if they are not granted these permissions. To give them such permissions, you will need to log in via Web browser and set "Who can create projects and clients" and "Who can create tags" to Everyone in the Workspace settings.
Menu options #
To find the app's menu tap on the little hamburger menu icon located in the upper right-hand corner. In this menu you can:
Choose Manual or Timer entry mode
Switch workspace
Go to Settings
Visit the Dashboard on the Web
Log out
Settings #
Tap the little hamburger menu icon located in the upper right-hand corner to and select Settings where you can:
Set a default project
Enable dark mode
Opt to automatically send us error reports (e.g. in case the app crashes)
Default project
If you work on the same project every day, set a default project. Then, all you have to do is type what you're working on and start the timer, and the project will be selected automatically.
You can select:
A fixed project, which will be always used when you start a timer for an entry without a project (until you change the default project)
Or select "Last used project", and the timer will pick up the most recently used available project from your list of time entries
You can enable the default project in the app's Settings.
Note: if "Default project" is enabled, you won't be able to set "without project" to a time entry. If you edit an entry that's without a project, app will automatically assign it a default project.
Offline support #
You can track time in Clockify on your Android even offline.
You can create time entries manually or start/stop the timer. Entries made while offline will be saved locally on your phone. Once you get back online, they'll get synced with your web account.
When you're offline, you won't be able to see your other time entries, only those that were created while you were offline and which haven't been synced yet.
Projects, tasks, and tags are not available while offline.