Auto tracker
See how much time you spend across programs and create timesheets based on your activity.
Get for Windows →
Get for Linux →
Get for Mac →
Enabling Auto tracker #
Download and install Clockify desktop app
Open and log in into the desktop app
Click on the A icon at the top
Click Start Recording button
Note: Clockify for Mac on the App Store doesn't have Auto tracker. You'll need to install the version from our website.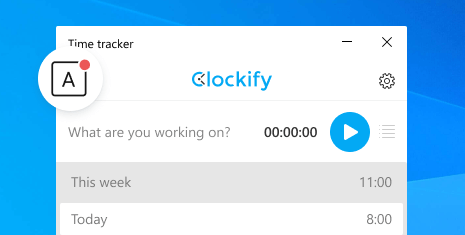 Once you start recording, Clockify will monitor which programs you use and create records.
Auto tracker will track websites and programs you view for more than 10 seconds (apps you use less than that won't show up). You can override this time in Auto tracker's settings.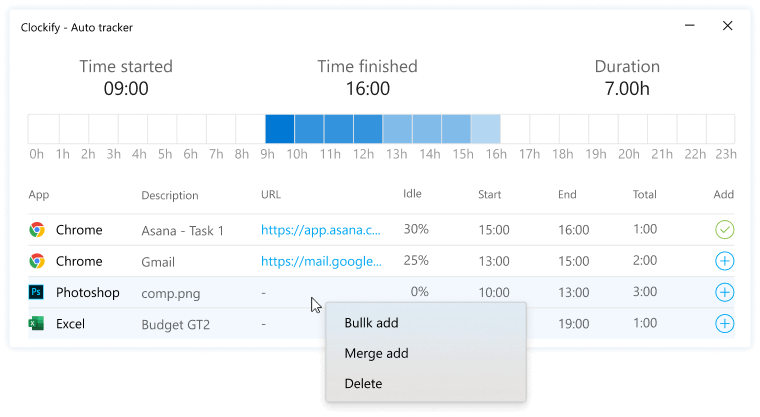 Data recording #
All recorded data is stored locally on your computer (nothing is sent online)
Only you can view the recorded activities
You can view past data up to one week
Data older than 45 days is automatically deleted forever
A new record is created for each different browser tab or open file
URL of visited websites (disable this in settings)
Idle column shows percentage of how much time you've been active vs inactive (no mouse or keyboard movement)
Creating time entries #
You can create time entries in Clockify based on the recorded activities by clicking on the plus (+) sign next to the activity.
If you don't want to see records that were already added as time entries, enable Hide added items in Auto tracker's settings.
You can also select and add multiple entries at once.
To select multiple items, click on one item and hold Shift and click on another to select everything between, or hold Ctrl and click on individual items to add or remove them from selection.
Right-click on selected items to:
Bulk add – each item is added as a separate time entry in Clockify (you can add project/task/tag, but each entry retains its original description)
Bulk merge – all selected items are added as one time entry in Clockify (each description is added, start time is taken from the earliest record, and all durations are summarized and used to calculate end time)
Delete – items are forever cleared from the activity table