Linux app
Download Clockify desktop app for Linux →

Below you can read more about features available on Linux App.
Log in #
Before you can start tracking time, you first have to log into your Clockify account (you can create one here for free). 
Once you have an account, type your email and password to log in.
If you've registered via Google and don't have a password, you can set a password in your Profile Settings on the web version (your login username is your Gmail address).
Log in to Linux app #
When you click on the Log in button, it will redirect you to the web app. Once you have logged in, allow browser to Open link to Clockify and it will automatically log you into the Linux app.

If your workspace is on a custom domain or subdomain you have to choose your regional server address or subdomain then log in through the browser.

Time tracking #
You can keep track of your time in Clockify Linux app in two ways:
Use a timer – Track your time in live mode, while completing your tasks
Add time manually – Enter how much you've worked (e.g. 1.5 for 1h 30min) and click Add

Add time using timer #
The timer mode is used to track live time during some activity. But first, make sure that the timer mode is activated. Click on the menu icon in the upper right corner and select Timer. After that, simply start the timer with one click.

Usually the timer mode is set automatically, so you don't need any previous setup.
Add time manually #
To add time manually, activate this tracking mode by clicking on the menu icon in the upper right corner and selecting Manual. After that, you can enter the duration, and click Add. You can also type what you've worked on, or add a category such as project, task, tag in the next screen.
Options with time entries #
Continue timer #
You can quickly continue a timer from a previous time entry:
Find time entry for which you want to continue tracking time
Click on the play button

▶

A new timer will pick up that time entry's details (description, project, tag, billability) and start ticking
Editing time entries #
You can modify any time entry simply by clicking on them and changing what you want.
Modify time entry in one of the following ways:
Add project and task
Add tags
Add/edit custom fields
Change description
Change start/end time and duration
Mark as billable
Deleting #
To delete a time entry, click on a time entry to bring out its details, and click Delete.
Creating project, tag or client #
How to create a project or tag #
If you wish to create a project or tag follow these steps:
Tap to create or edit a time entry
Select Add project/Add tag
In the dropdown click Create new project or Create new tag
If you're adding a project, type in the project's name and select color then tap Add Project. Optionally, you can also select the client; select the project's billability status and visibility.
If you're adding a tag, simply type in the name of the tag and tap Add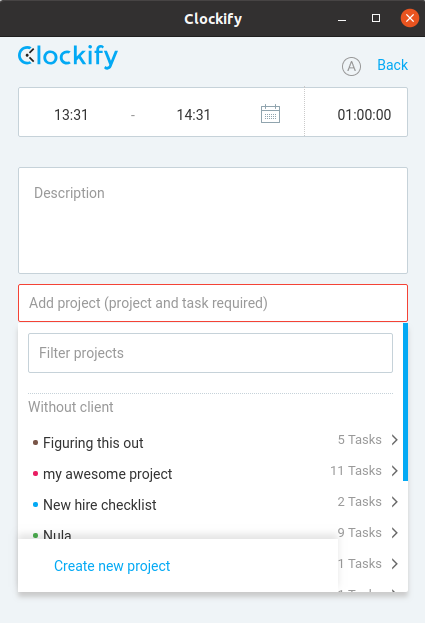 How to create a client #
If you wish to create a client keep in mind that this is only possible while creating a new project. So, follow these steps:
Tap to edit a time entry
Select Add project
In the dropdown click Create new project
Tap Select client then Create new client
Type in the client's name and tap Add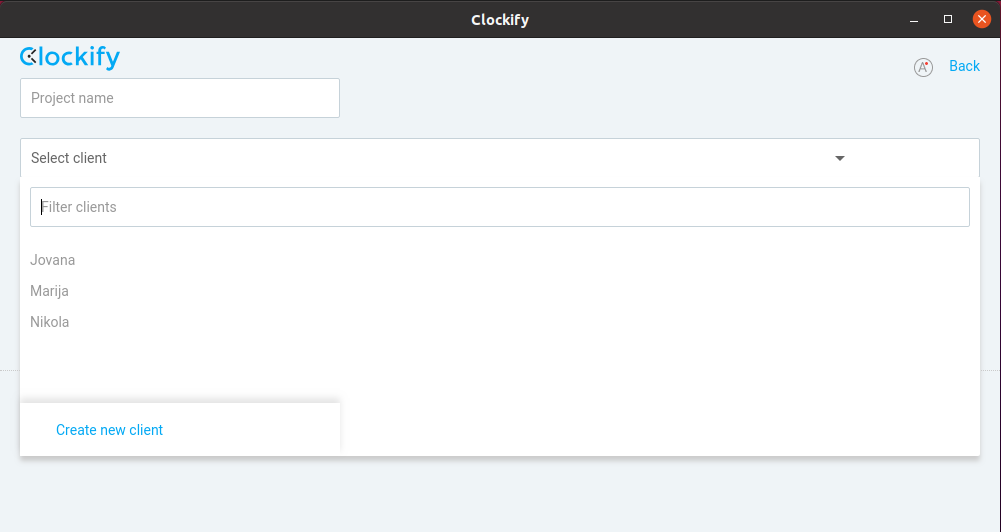 It's possible to create only a new client without saving a new project. Simply cancel the project creation and the created client will remain.
Regular (non-admin) users aren't able to create clients, projects, and tags if they are not granted these permissions. To give them such permissions, log in via Web browser and enable this in the Workspace settings.
Auto tracker #
Auto tracker tracks your time across apps and sites you are visiting. This feature can give you a detailed look at how much time you spend across programs and it lets you create timesheets based on your activity.
Auto tracker is enabled by default.
To start recording activities automatically, click on the A icon and then on Start Recording.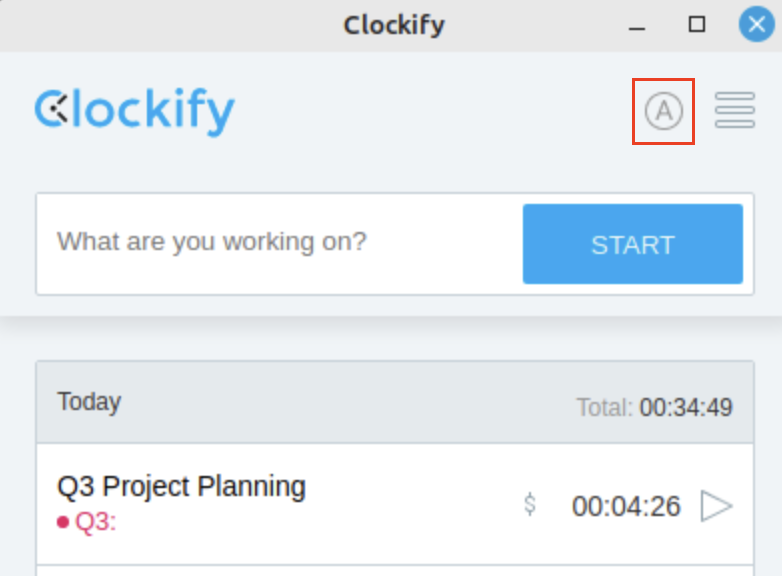 Auto tracker will track websites and programs that you view for more than 5 seconds (apps you use less than that won't show up). Any time longer than 5 seconds can be customized in the Auto tracker settings.
What should you know about auto tracker?
All recorded data is stored locally on your computer (nothing is sent online)
Only you can view your recorded activities
You can view past data up to one week
Data older than 7 days is automatically deleted forever
Auto tracker tracks changes that last minimum 5 seconds
URLs of visited websites are not tracked
Importing auto tracked time #
You can create time entries in Clockify based on the recorded activities. Just click on the plus (+) sign next to the activity.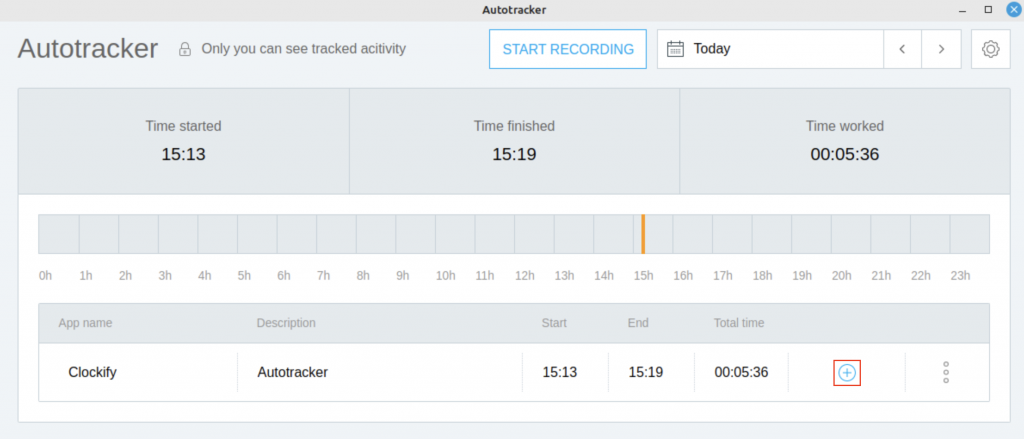 Add more details to the entry in a new window that pops up, and then simply click OK.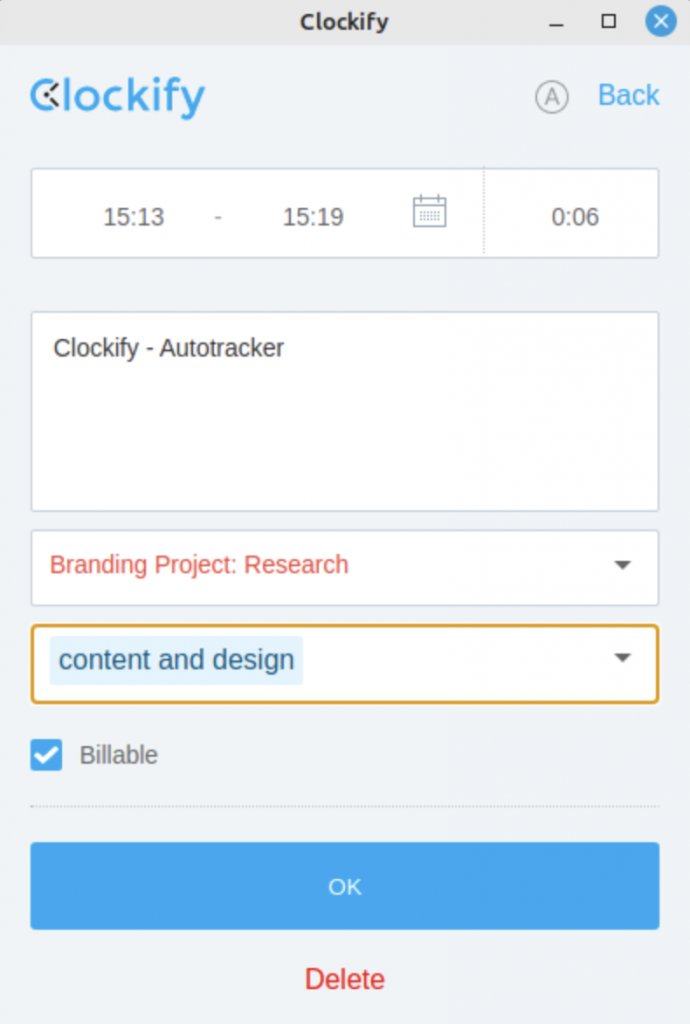 If you don't want to see items you've already added to Clockify, you can check Hide added items in the Auto tracker's settings.
Deleting auto tracked time #
If you'd like to delete a recorded entry, you can to that in the edit entry modal. Once you click on the plus (+) button, click Delete in the pop-up window. Click Delete in the conformation modal to complete the action.
You can also click on the three dots next to the entry and choose Delete.

Menu options #
The menu is located in the upper right-hand corner. Just click on the little hamburger icon and you will find options:
Choose Manual or Timer entry mode
Switch workspace
Go to Settings
Visit the Dashboard on the Web
Log out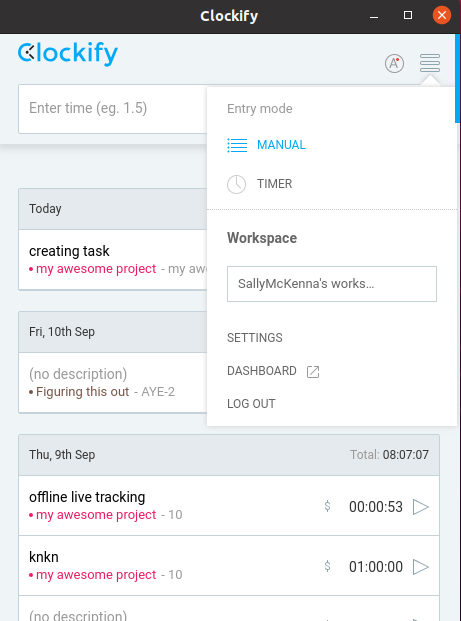 Settings #
Settings are located in Menu, the hamburger icon in the top right. In the app's settings, you will find the following options:
Set a default project
Enable dark mode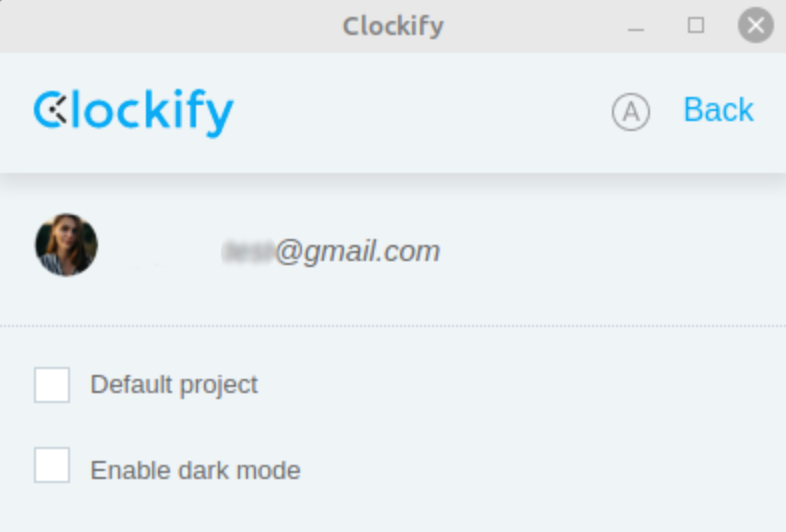 Default project #
If you work on the same project every day, perhaps you could set a default project. Then, all you have to do is type what you're working on and start the timer, and the project will be selected automatically.
You can choose between:
A fixed project, which will be always used when you start a timer for an entry without a project (until you change the default project), or
Last used project, and the timer will pick up the most recently used available project from your list of time entries
Offline tracking mode #
You can track time in Clockify Linux app even if you're offline. You don't need to specifically turn on offline mode, it will happen automatically if you are not connected to the internet.
You can create time entries manually or start/stop the timer. Entries made while offline will be saved locally on your computer. Once you get back online they'll get synced with your web account.
Projects, tasks, and tags are not available while offline, therefore if those fields are required, you will be able to edit time entries before they are synced.
When you're offline, you won't be able to see your other time entries, only those that were created while you were offline and which haven't been synced yet.
If you are using the app in the offline mode, please make sure you've synced your time entries with the cloud prior to logging out. If you fail to do that, all the data that is not synced at the moment of logging out, will be lost.