JIRA is an Atlassian developed issue tracking software that allows you to plan, manage, and track projects, priorities, bugs, issues, and tasks.
JIRA doesn't have a native real-time time tracking functionality, so you have to use external time tracking software, like Clockify. With Clockify, you can track the time you spend on issues, tasks, and bugs right inside from JIRA.
Best of all, time tracking in JIRA with Clockify is free and works without any setup or configuration.
How JIRA Works?
JIRA allows you to plan your tasks and priorities, gather contextual data about your tasks from stories, track your project progress, report, and tackle your bugs, as well as release project versions when you see fit.
The name JIRA is a shortened version of the Japanese word for Godzilla (Gojira) – in line with its robust namesake, JIRA offers its users a number of powerful features, and various JIRA plugins to help streamline their work.
When deciding on how to approach work in JIRA, you can choose between two types of templates: classical and next-gen.
Classical Templates
Kanban
Kanban boards are made for teams who plan and execute their work in a continuous flow – you'll be able to manage your tasks, stories, as well as bugs in a continuous flow. Kanban boards allow your team to parse issues into cards – you'll be able to focus on the work that's in progress, while keeping in mind what you've finished so far, and what you have to do next.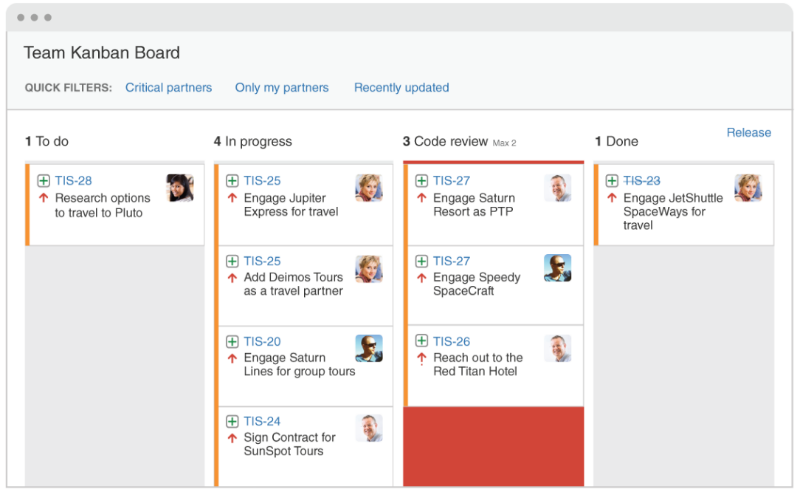 Scrum
Scrum boards are made for teams who plan and execute their work in sprints – you'll be able to manage your issues in sprints. This type of boards is most suited for teams who have to work on a regular schedule, and provide constant feedback and results. The sprints of a Scrum board revolve around milestones – each short sprint ends in a project milestone which helps make progress more visible and concrete.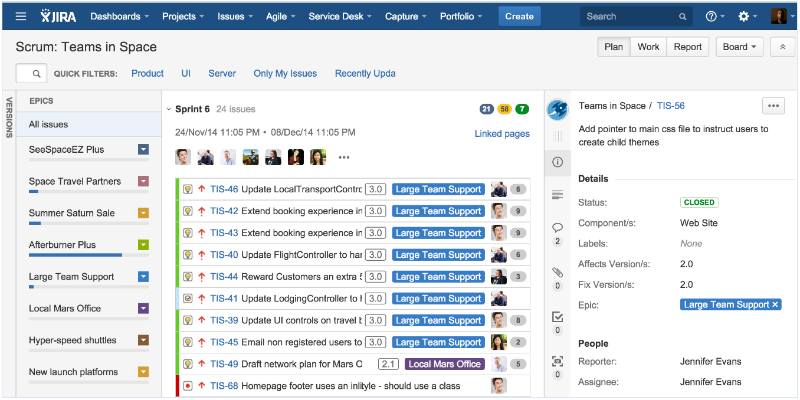 Next-Gen Templates
While Classic Templates offer more options and complexity, Next-Gen Templates let teams tackle their issues in a more straightforward manner.
Next-Gen boards are made for teams who value simplicity above all else – you'll be able to manage your tasks within a straightforward, but flexible board. This type of board is most suited for teams who are just starting out with JIRA, or who simply don't want to bother with constant configuration and tweaking.
The benefits of this type of boards compared to classical templates is that your team doesn't have to go through complex set-up to start developing a product.
Kanban Next Gen
This simplified Kanban template allows you to visualize and track your project progress through a simple system of cards on a board.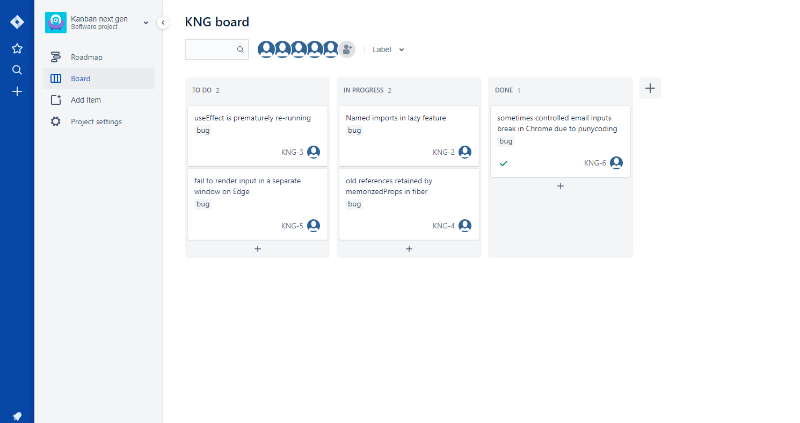 Scrum Next Gen template
This simplified Scrum template allows you to follow your sprints easier and faster, owing to a simplified board and backlog.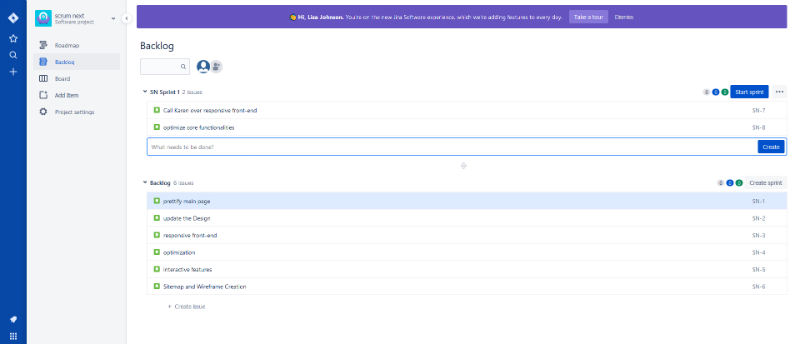 Both Next Gen Scrum and Next Gen Kanban have a Roadmap that shows you your team's progress on a project – the Roadmap section also allows you to define your deadlines.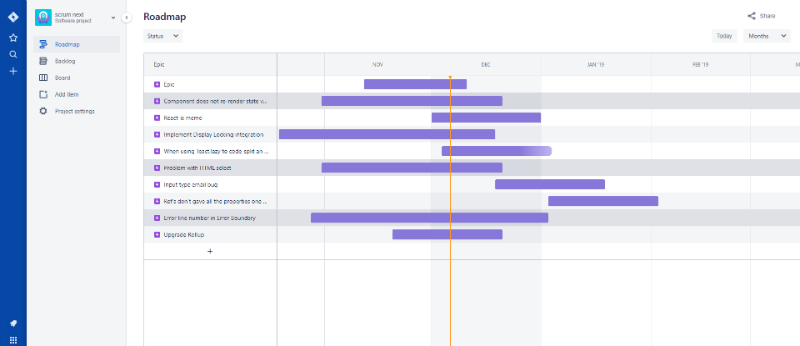 In it, you'll be able to:
Communicate your plan to your team, so you can find your priorities together
Manage, visualize and create all your work through epics
Drag & Drop whatever you need to your roadmap, for better planning and prioritizing
In the "Epics" section, you can list your issues and keep track of how they unfold – when they're due and how much you've progressed with them. You can manage each issue in a number of ways:
define whether it's "to do", "in progress" or "done"
add a description for it
assign it to a team member
view the start date and the end date
add comments, labels, attachments, link issues, and more
Both Next Gen Scrum and Next Gen Kanban Template also have a Board where you can track and indicate your team's progress on a project – by moving cards across columns.
The default columns are "To Do", "In progress" and "Done", but you can add more columns and change the names of the existing columns.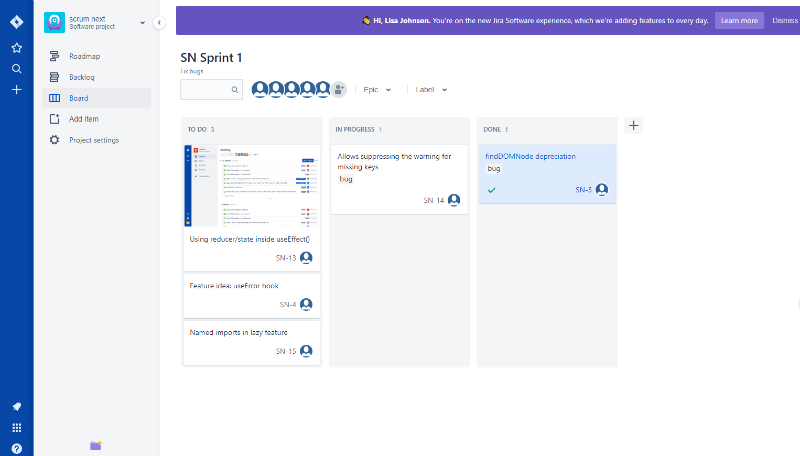 What is Clockify and how you can track time with it
Clockify is the only truly free time tracker for teams. It's integrated with 100+ web apps, including JIRA. With it, you'll be able to track time from JIRA's issues, and later analyze this time in Clockify's Web, Mobile, and Desktop apps.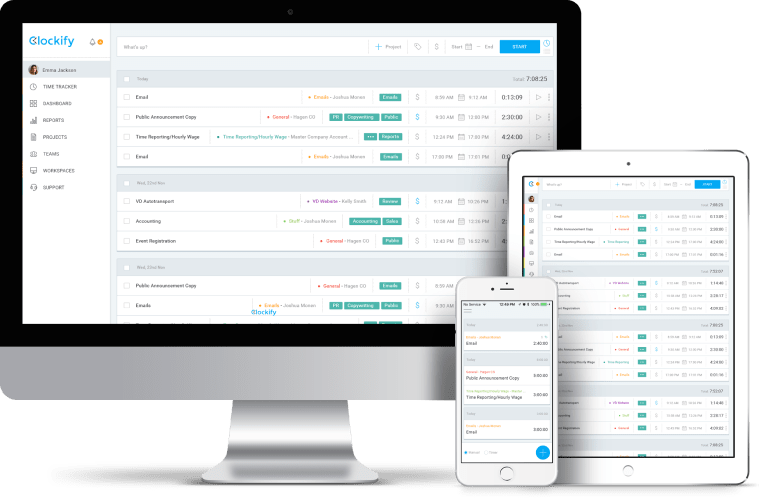 To track time in JIRA, all you have to do install Clockify browser extension (available for Firefox and Chrome), log in, and a timer will appear in all your JIRA tasks.
Clockify extension lets you to:
Start and end tracking time on your activities with just one click
Continue tracking time on an activity whenever you want to
Associate activities you're tracking time on, with the right projects, tasks, and tags
Define the billability status of your time entries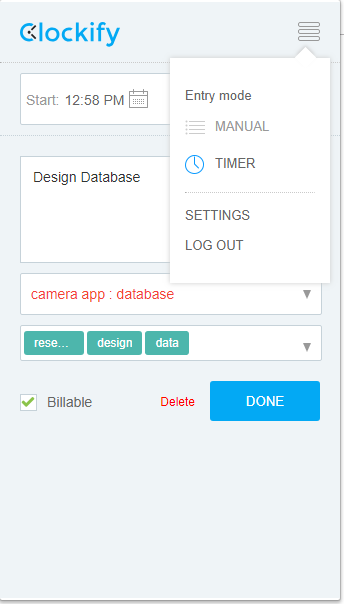 Before you start tracking time in the Clockify extension, it's best that you first set up clients and projects, tasks, and tags in the web version so you can select them when tracking time. If you bill your work by the hour, you'll also want to set your hourly rate – this way, all the time you track in an integrated app will be multiplied by your hourly rate, and added to your earnings, which you'll then be able to view in the header of a Report.
The extension for Clockify is linked with other Clockify apps, which means that all data tracked across the apps syncs in together – once you enter data in the extension it automatically appears across other Clockify apps.
How you can track time with Clockify in JIRA?
By using Clockify and JIRA together, you'll get a powerful agile system with straightforward time tracking features.
After adding the extension to your Firefox or Chrome browser, your JIRA projects will get an easy-to-use timer button – and you and your team will be able to track time on JIRA issues directly from your JIRA cards.
Within the Kanban and Scrum templates, you can track time in the Board section, within each card. Within the Scrum template, you can also track time in the Backlog section.
To start tracking time in JIRA's Board section, first, select a card. Then, locate the "Start timer" button, in the upper left-hand corner, next to the project key and the issue number.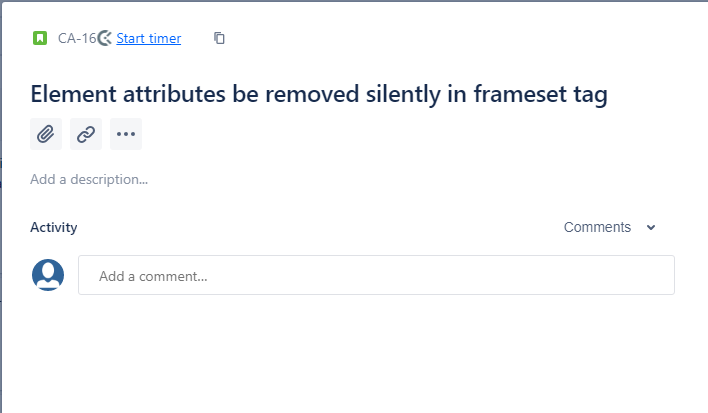 Once you click on it, Clockify's extension will immediately pick up the project key, the issue number, as well as the card's name, as the description of your entry, and the timer will start ticking in the extension.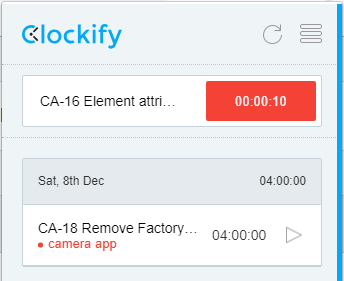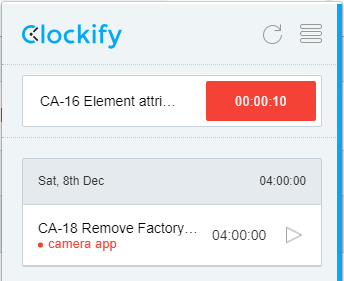 Or, as an alternative way of tracking time on a JIRA card, you can selecting the title of the card, right clicking on it, and starting the timer from there.
You can also use this method if the activity you want to track time in JIRA isn't the card's title – say, if it's a reminder made by your teammate in the comments sections of the card. Simply, select the comment, right click on it, and start the tracking time on the activity from there.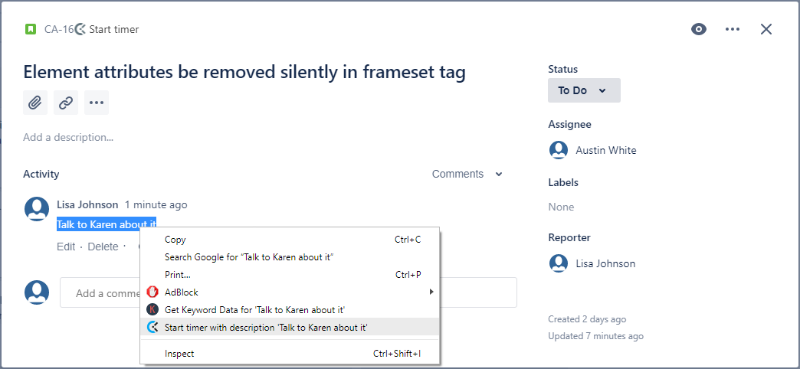 As previously mentioned, you can also track time with Clockify in the Backlog section of the Scrum Project Template, for an issue, or a sprint.
In order to track time on a Backlog issue or sprint, click on it, to get an editable description menu on the right side of the screen. Within it, you'll see the Clockify Time Tracker button located next to the name of the project and Backlog issue (or sprint) number.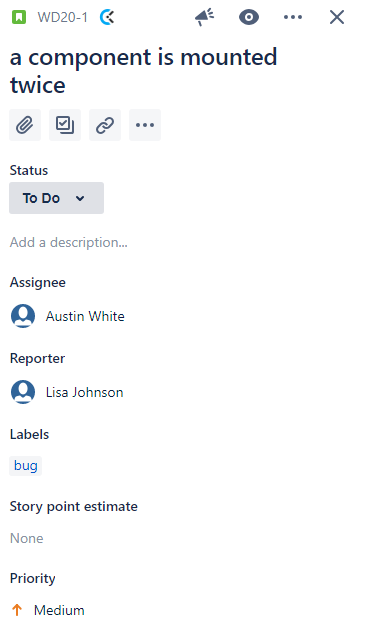 Once you click on it, Clockify will pick up the project key, Backlog issue or sprint number, and the name of the Backlog or sprint, to serve as the description of your time entry, and the timer will start ticking.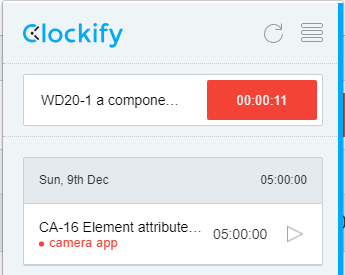 The Clockify extension also allows you to track time within the sub-tasks you create for a sprint – when you create a sub-task and open its menu, you'll notice another Clockify button next to the project key and issue number of the sub-task.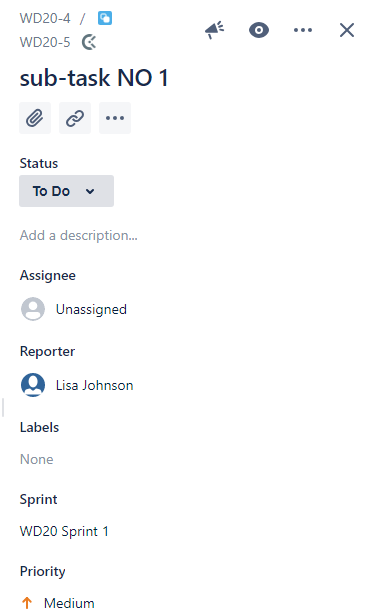 When you click this Clockify button, you'll start tracking time on the sub-task within the sprint – and your description will include the project key, sub-task issue number, and sub-task name as the description.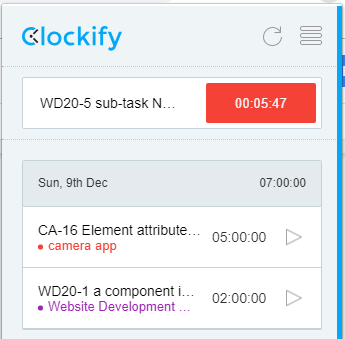 Whatever method you choose, and no matter whether you track time from the Backlog or Board in Scrum, you can stop tracking time on the entry directly in the extension –  Once you stop the timer, the entry will be added to the list of time entries bellow, and you can start tracking time on another JIRA card.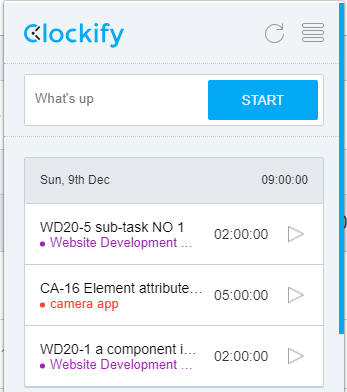 Once you and your team are done with tracking time on JIRA, you can visit your Clockify Web account and analyze and further manage your time entries by:
deleting or editing them
viewing the client associated with that project
viewing the earnings you've made while tracking time on Jira issues
continuing tracking time on an already added entry
To analyze your time spent on JIRA, you can generate a Summary, Detailed, or Weekly Report. Once you select a Report, filter by your JIRA project, and then select a time period in order to view a breakdown of the hours you've tracked.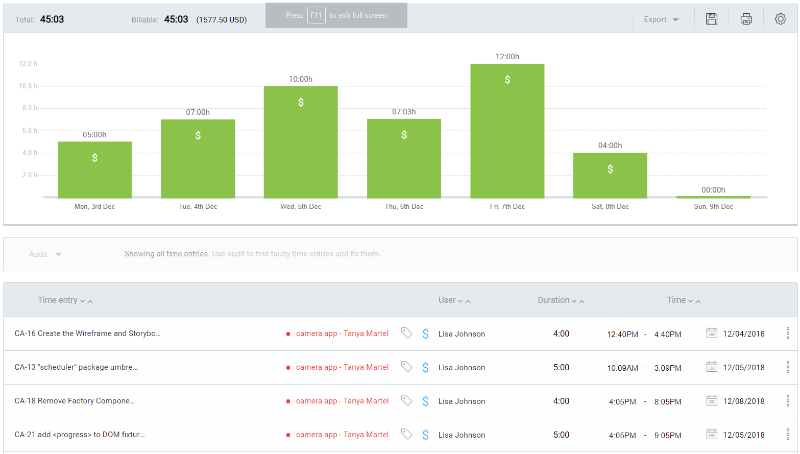 Afterwards, you'll be able to export this Report, and analyze it further.
Or, you can save it, and then send it as a link to your client or supervisor, so he or she can track the progress you make on JIRA issues in real time.
—
By using JIRA and Clockify together, you'll have a better handle on your projects. You'll know which project took how long, what your team is working on, and more.
To start using Clockify, sign up for a free account here.