How to stay focused during a work meeting
Sure, meetings can get boring. I know it. You know it. The account guy who left the team meeting 20 minutes ago to get a notebook and then never came back knows it.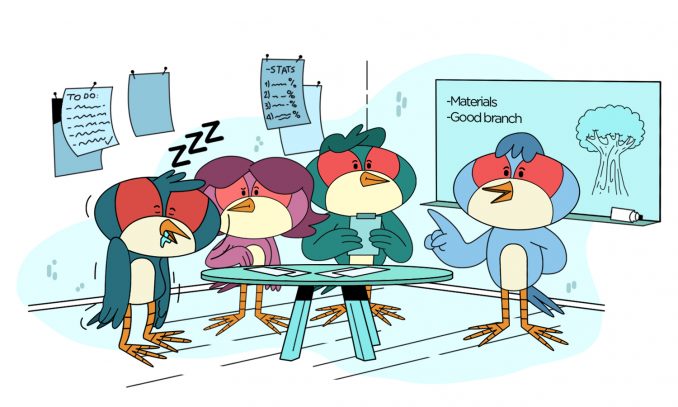 But, many team meetings are mandatory, and you have to endure them – here are 8 tips on how to stay focused in a meeting and be able to follow your colleague's line of thought. It all boils down to good time management and productivity practices:
Tip #1 – Get enough sleep the night before 😪
If you have an important meeting in the morning, make sure you get enough sleep – you shouldn't be drowsy if you want to be able to pay attention.
So, make sure you get at least 7 or 8 hours of sleep the night before the event.
If you have trouble falling asleep, you can:
Take a warm shower before bed to relax
Go to bed at an earlier time, to get a head start
Make your room pleasantly cool
Play some soothing music to help you fall asleep faster
As a result of a good night's sleep, you won't spend most of the meeting yawning and trying to make the most of your first coffee for the day – instead, you'll be able to concentrate to the fullest.
Tip #2 – Eat before the meeting 🥐
Trying to focus on anything while hungry is tough – and meetings are no exception.
You'll be more likely to fully focus on your colleague's outputs if you've just had a protein smoothie.
Or, if you've just had a healthy snack, such as some dark chocolate, a handful of almonds, or a banana.
As an effective alternative, you can also pack a nutritious breakfast or lunch and make sure you eat at least some of it before the meeting.
By doing so, you'll stack up on energy and feel fully alert once you enter the conference room.
Tip #3 – Do something physical before the meeting 🚶🏿
You don't need to hit the gym before the meeting, but some light exercises will help you wake up your senses and arouse your brain.
For example, you can:
Go to work by foot – instead of taking a car or bus (if you live within walking distance to your office)
Take the stairs to the office – instead of the elevator
Walk a couple of laps around the building before the meeting
Afterward, you'll feel refreshed, more focused, and ready to listen to what your colleagues have to say, as well as participate in the discussions more actively.
Tip #4 – Listen to music before a meeting 🎶
Everyone enjoys listening to music from time to time – and listening to music before a meeting helps illuminate your brain and make it more receptive to new information.
So, next time before you hit a meeting, listen to your favorite productivity-boosting music for at least 10-15 minutes – afterward, you'll feel energized and refreshed.
Tip #5 – Track the time you spend on meetings ⏲️
Tracking the time you spend on meetings gives you a certain sense of control of your time that helps you focus.
So, each time before you go to the conference room, start your timer – and turn it off as soon as the meeting ends.
After a week or two of logging your time on a regular basis, you'll get your answer about the average times you spend on various types of meetings.
If past experience tells you that you'll only spend about 20 minutes at a meeting, it will be easier for you to focus – because you'll know how long you need to focus in the first place.
Tip #6 – Prepare questions in advance ❓
Is there a potential problem you've noticed in your new project?
Or a bug you're having trouble solving?
If that's the case, write a list of questions and concerns you're having during the week or day – you can then share them with your colleagues at the meeting.
As a result, you'll be appreciated for your initiative and assertiveness, AND you'll feel accomplished for making a worthy contribution.
Moreover, if you actively engage with questions in the meeting, you'll be more alert and feel more engrossed in the subject discussed.
Tip #7 – Bring a notebook or a doodle app 🗒️
When you're writing something down, you're more likely to keep your focus on it – so, never go to a meeting without a notebook or a doodle app.
You can use them to:
Take notes
Draw diagrams during brainstorming sessions
For extra flair, you can even use a mind mapping tool to capture, analyze, and connect your team's ideas.
This way, you'll make the meeting more tangible to you, as well as ensure you follow the course of it.
Tip #8 – Stay positive 😊
Yes, the meeting might take forever – especially if it's a meeting meant to introduce the team to specifications for a new project.
But, try to be positive about the time you'll spend in the conference room – you'll likely learn something new, even if it's just a routine daily meeting.
You may even be tasked with an exciting new assignment, and get a chance to learn and practice some new skills.
If not, well, it's not all in vain – you'll still get a chance to spend time with your colleagues, exchange concerns and ideas, and generally learn how to be a better teammate.
Wrapping up…
When your team announces another meeting, the way for you to stay focused is if you:
Rest well the night before
Eat well beforehand
Perform some exercises before going to the conference room
Listen to music beforehand
Track the time you spend on meetings
Bring a notebook
Make a list of questions and concerns you want to raise
Arm yourself with a positive attitude
If you do all that, you're off to an excellent start to keep your focus and wow your colleagues with your meeting vigilance.