Tracking time while doing bookkeeping
Whether you're an accounting firm or a CFO for a company or your own small business, bookkeeping is a huge undertaking. Time tracking is just one of the responsibilities, and it should be one of those that you stress about the least. With these simple pieces of advice, tracking time while bookkeeping can become a habit you start doing automatically. At the same time, it will seamlessly meld with other responsibilities, making your job a whole lot smoother and easier.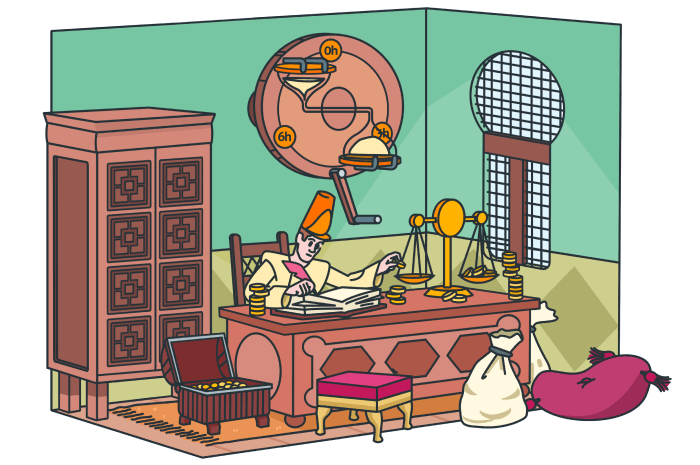 Biggest hurdles for accountants (and those who needed to become one)
You might be wondering what exactly you need to track. Or you're simply reading this to make sure you have all the avenues covered.
Well, the short answer is, unsurprisingly: everything.
The somewhat longer answer is that plenty of work goes into bookkeeping and accounting in general. There is a lot of paperwork, consult calls, meetings, commuting even, in some instances. And when your line of work demands this kind of versatility, it's only logical you will want to keep tabs on where your time goes.
That way, you'll know if there are any processes that can be shortened, eliminated, or require more time. Not only does time tracking give a solid starting point to analyze and improve your workflow, but also shows if you're quickly becoming overwhelmed.
In this section, we'll take a look at some common processes you might be unsure if you should track.
Working on several projects/with several clients at the same time
It's not uncommon for accounting firms or other companies with a larger number of clients to find themselves handling more than one case a day. Working parallelly on different cases means receiving an unexpected client phone call, or an emergency meeting, an urgent problem that needs to be solved now.
When it comes to these types of tasks, you will want to track the tasks simply because they provide invaluable information on how your brain behaves when there is a switch in tasks. Preparing paperwork for an audit demands one type of focus, and when that work gets interrupted with a panicked call from a client who's just received an email from the IRS, you will need to shift your mind to a different lane. And that shift alone takes a lot of brain energy, believe it or not. Also known in agile development as context switching. So, knowing how much time exactly it took you to adjust to the new type of task, you try and find workarounds for urgent cases like those.
Spending a lot of time on consult calls
This is a big factor for a lot of accountants. Mostly in the sense that a portion of their actual workload goes to consult calls with established or occasional clients who just need advice. Still, time tracking is a good way to keep those callers in check.
At the end of the month, you can see who contacted you the most, for what reasons, and how much time each call took. Clockify, for example, can help you store all the information you need for future analysis. Here's the process in a few simple steps:
When the client calls, start the timer on your digital tracker;
In the notes section, add important information like the name, and the initial reason for calling;
As related questions pop up, you can add them as bulleted points;
When the call ends, simply stop the timer, and your entry is complete.
After some time, you can create labels to categorize the most frequently asked questions for easier archiving.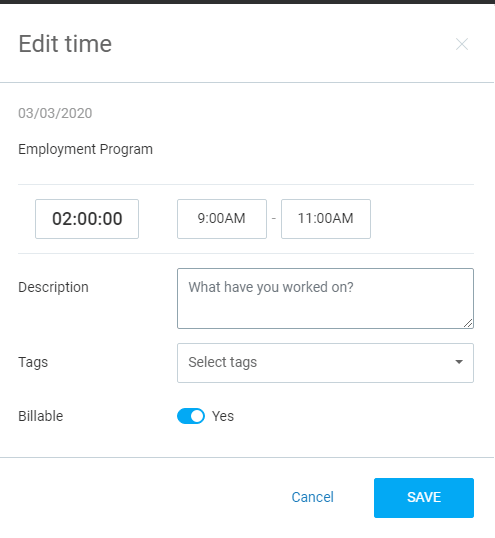 In this way, digital time trackers like Clockify eliminate any need for additional note-taking programs or Google Documents that you can lose track of. In one compact space, you can see who called, how long the call lasted, what questions were asked, and how much you can bill for the call.
"Client hopping"
Some people simply work better when they cover different clients throughout the day. And unless they track the time spent on each client's, small business' or company's bookkeeping, they can easily lose accuracy when it comes to billing their services. This inevitably leads to time rounding, which mostly relies on guesswork.
When you opt for a digital time tracker, there's really not much effort on your part. Especially one that easily integrates with software you may already use, like Trello, Zoho, Quickbooks, and even as a browser extension. Your time tracking starts and ends with a click. And in return, there's no more guessing.
Shifting between clients and projects can become much easier.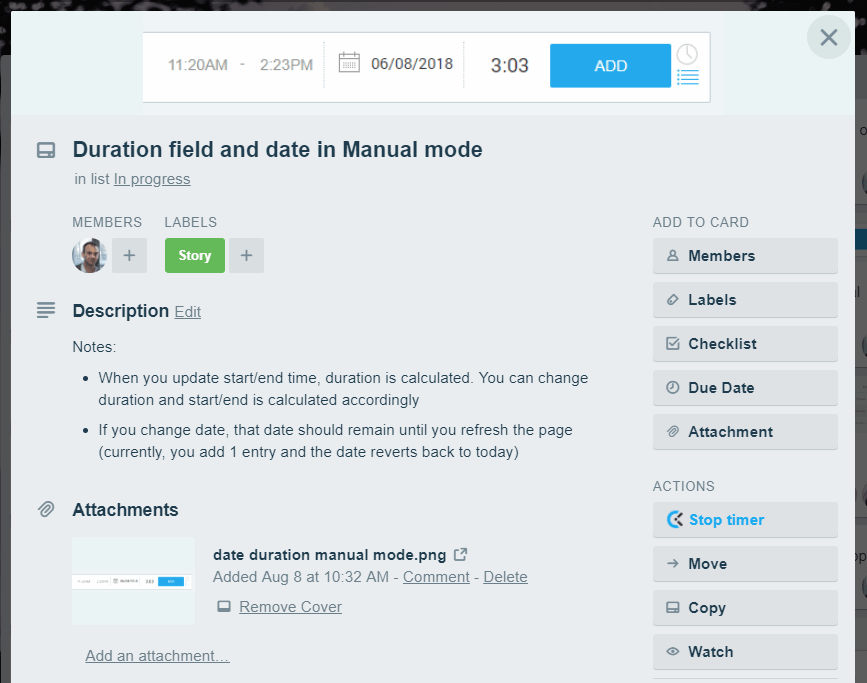 An example of how Clockify integrates its timer with Trello cards
Spending time on paperwork delivery, notarizing, etc.
While plenty of processes have been digitized nowadays, we can't lose sight of those countries that still deliver their paperwork in person. Most accounting firms will have employees whose responsibilities include going to public offices and notaries for various contract work.
So, while one person tracks time as they prepare the papers for approval or processing, the other will need to track time for the delivery. This includes time spent in commute, potentially waiting in lines, and even being stuck in traffic. Tine trackers with GPS options work great in these cases as well, as they eliminate the additional step of manually inputting locations and names.
Tracking bookkeeping with Clockify
In the second section, we'd like to break down how a time tracker can help you with every aspect listed above.
Treat every client work as a "project"
With a digital time tracker like Clockify, you have the option to set up one project for each client. And since the software aims to accommodate large enterprises, freelancers, and small businesses from various industries, it has a wide range of features. This alone gives a great deal of freedom and flexibility on how you can approach time tracking. For example:
You can open a new project for every client and then add the client to the project page;
You can create templates for repeated projects, especially for recurring clients;
Each project can be broken down into tasks with their own deadlines;
Timesheets ensure daily progress is visible to everyone;
Custom tags help categorize tasks on each project for easier reporting later on.
Set project estimates, deadlines and track project status
The second big aspect of a quality time tracker is the ability to set estimates and track overall project progress.
Project estimates are a great way to see how your productivity fares with specific tasks. If you aim to use a time tracker to improve your workflow, this is a great option. Additionally, you can use the data to see if you are charging enough for your services, or if you're underselling.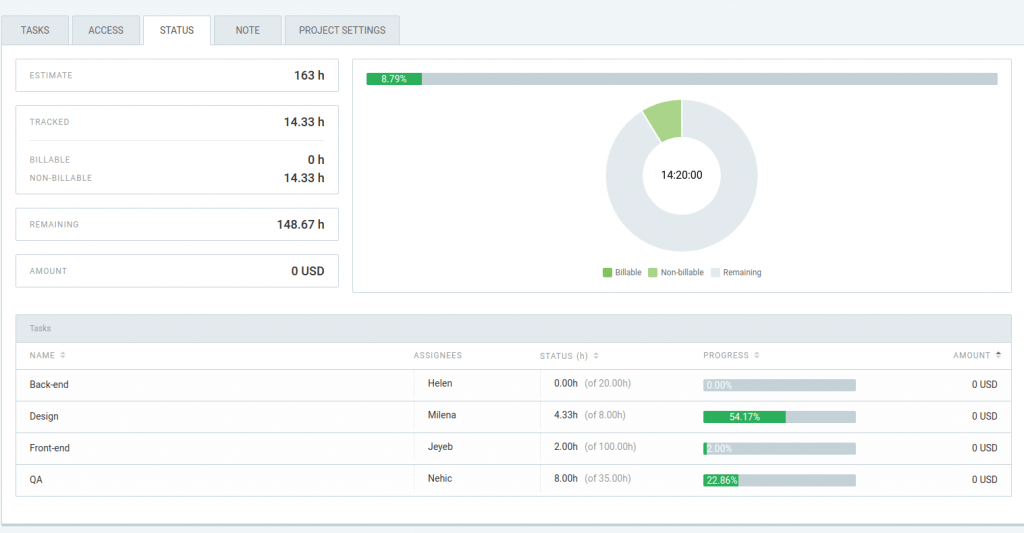 Clockify can show you how much time you've spent on a project, how much you've earned thus far, as well as the estimated budget. For better quoting, these reports can be exported as pdfs and given to clients as a clean-cut display of your time.
If there are more people for each client
When you're an accounting firm, you'll essentially have people under you with various responsibilities. Naturally, you won't be able to monitor every single task or read every end-of-the-day report that may come your way.
For that reason, timesheets can be a blessing in disguise. Clockify has an established, trust-based system that doesn't monitor screen activity, but rather lets users be liable for their own time entries. However, it does create transparency and endorses responsibility, because project admins can set timesheets to be visible to everyone on the project.
This means that coworkers on the same project can see one another's tasks, and how much time they've spent on them.
By keeping each other in check, it alleviates a lot of the pressure of monitoring everything to ensure tasks are delivered on time.
Hourly rates and billability
Different projects, different teams, may require different ways of billing. Clockify gives the option of choosing not only your billability rate, but also how you will bill for each client/project. Because not every project or task has the same price per hour, nor does every employee work for the same pay.
This is why in Clockify you can choose how you bill for each project, each team member, and even set different rates for labor cost.
Lastly, it gives you the option to toggle tasks as billable or non-billable, which helps in later reporting, more accurate invoicing, and budgeting.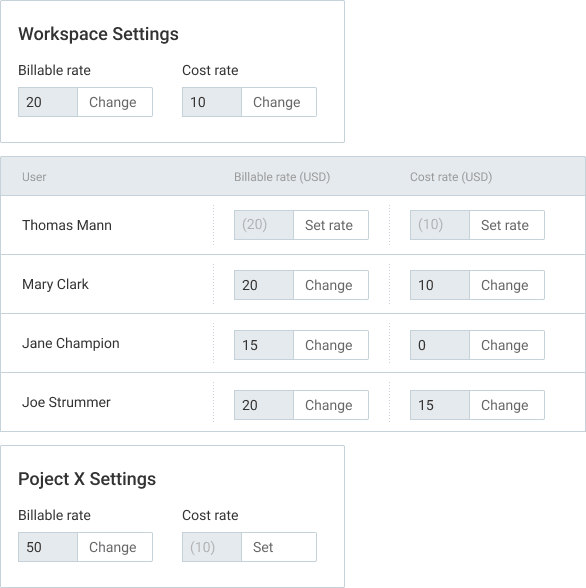 To find out more, you can take a look at the Labor cost and profit section or Hourly rates on our website.
Reports
Last but not least, we have reports.
A healthy relationship with clients will rely less on one's approachability and charm, and more on their professionalism. A big part of that is ensuring they get clean, detailed reports on what services they paid for.
Reports also make for great meeting material if they ask for a more detailed breakdown of the cost, or you wish to let them in on the specifics of certain tasks for future reference. Nowadays you'll find few time trackers that don't have this option on their feature list.
With Clockify, you can choose whether to export Summary or Detailed reports.
Summary reports show all the time entries, grouping them by project, user, or client and even by specific tags. It all depends on which time racking aspect you wish to focus on.
Detailed reports are basically summary reports with timestamps included. This is especially useful for internal analyses.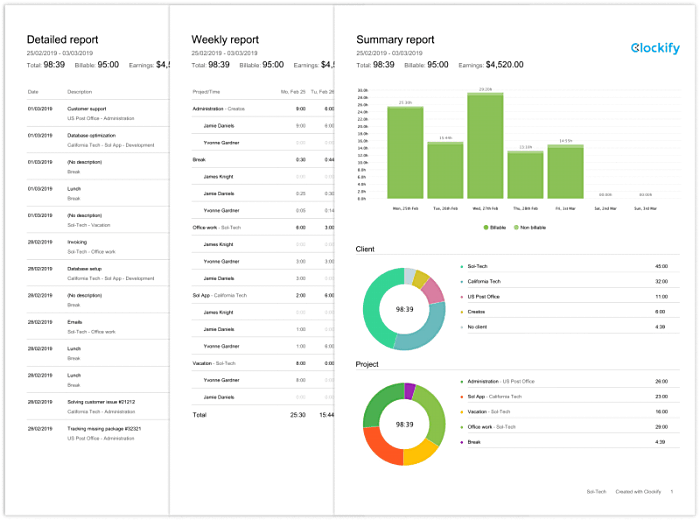 How time tracking helps with bookkeeping – reports from professionals
As a final word, we've decided to include some of the feedback received from our users who specialize in accounting. Here's what they had to say about time tracking, and how it helps them.
"I own a small, niche accounting firm with one employee three time zones away. And while most of my fees are fixed, we often take on "projects" for which we bill by the hour. Clockify lets my track our hours down to any "sub-level" I need. It's perfect for me to track my admin time as well, so I know when it's getting close to me needing to hire an additional person. It's perfect for what I need."

– Michael A, Reconcile Bookkeeping and Business Solutions
"Many people don't realize how efficient (or rather – inefficient) they are at work; we lose so much time in unnecessary meetings or taking on irrelevant tasks. I use the tool to delineate which tasks I'm spending the most time on, which has led to actionable insights: e.g. "spend less time doing unimportant work," "allocate more time to less urgent but extremely important work," etc. It's a great tool if you care about your productivity and want to aggressively control your own schedule."

– Heather A, Pre-MBA intern in Finances
"Being able to view detailed reports that tell me who worked on which client for how long during a particular week. It makes calculating payments to contractors easier to do as persons are paid for the time they put in if one chooses. It can determine how long it takes to work on recurring tasks – which is good for estimating how long projects would take"

– Tina H, Business in Balance Solutions
"I worked as a freelancer for a while. I used this software to keep track of my work so I could do accurate billings. It also really helped me with understanding where I was spending my time and to align myself better with revenue-generating activities."

– Arwa N, Tax Associate
"I work part-time for a client working as his executive assistant and his bookkeeper. I was getting myself in a mess just using a timesheet created in MS Excel and when I discovered Clockify I was over the moon with joy. I keep Clockify open in the background and I switch projects when I start the work and when I finish the work. I used to under invoice for my time and lose income but now I can bill for every second I work on his projects. Also, it has a great reporting function and can either print off or save as a PDF or Excel, etc. So not only do I invoice my client, but I've also got exact data for the time I carry out each of his tasks (Projects)."

– Ruth M, Executive Assistant and Bookkeeper