In addition to billable rates, you can also define cost rates and see what you charge clients vs what you pay your team, and track profitability.
Custom fields is a paid feature, available in Enterprise plan. You can try out the feature for free by activating the free 7-day trial (no credit card required).
Defining cost rates #
In order to see and define cost rates, you first have to enable cost rates in workspace settings.
Cost rates work the same way as billable hourly rates and you can define them right next to billable rates.
Unlike billable rates:
Cost rates are always applied to each time entry (doesn't matter if an entry is billable or not)
You can put zero as a cost rate (eg. projects that don't have costs)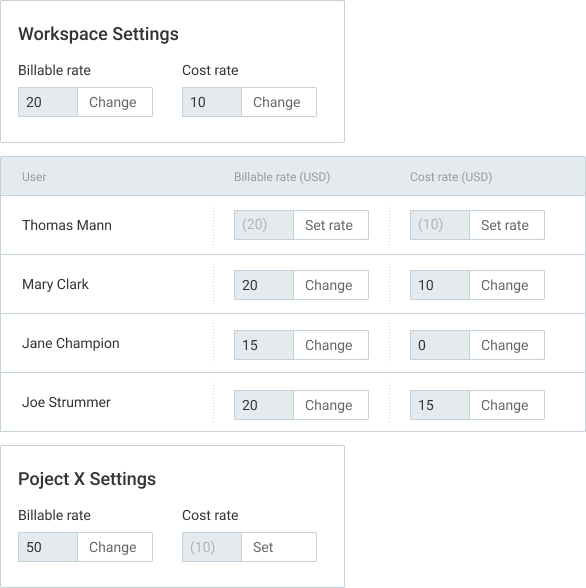 Seeing costs and profit in reports #
When you run a report, you can choose whether you wish to see:
Billable amount – what you charge clients
Cost amount – what you pay your team
Profit – the difference between billable and cost (can be negative if costs are greater than income)
This lets you track and compare costs and profit across dates, projects, and users in total (via Summary report), as well as see profit and cost for each individual time entry (via Detailed report).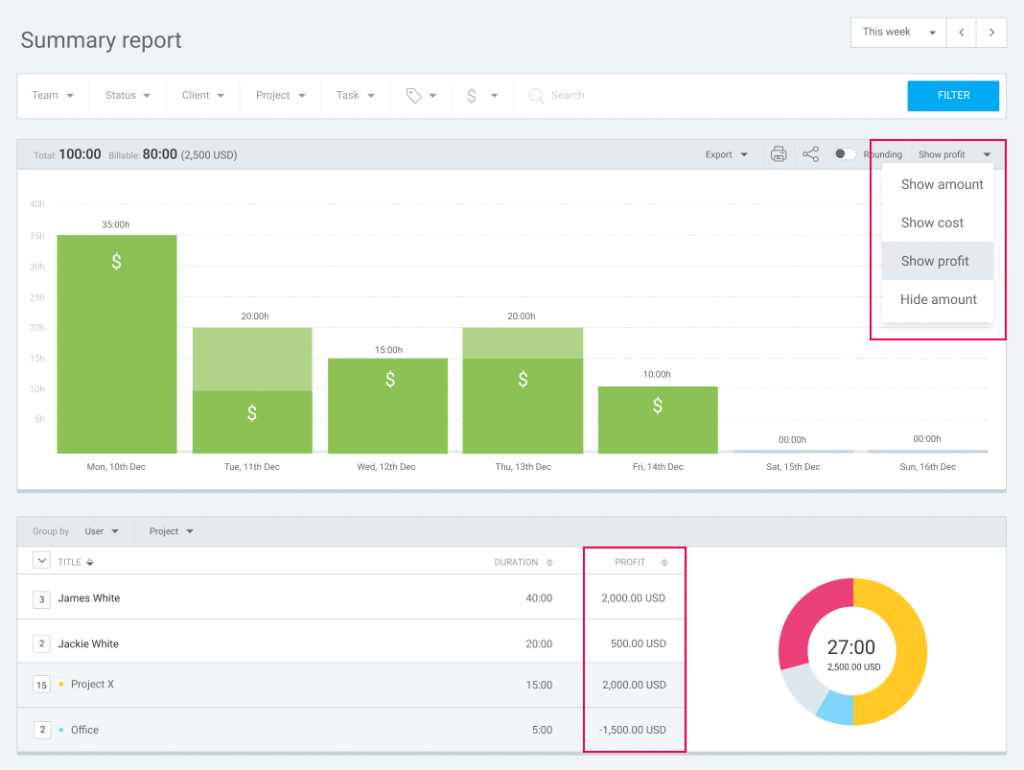 Exports follow what you're seeing in the interface. For example, you can set "Show cost" in a report, export PDF, and send it to payroll; or you can set "Show amount", export PDF, and send it to clients.
If you're exporting Detailed report in CSV or Excel:
"Show amount" will give you "Billable amount" and "Billable rate" for each entry
"Show cost" will give you "Cost amount" and "Cost rate" for each entry
"Show profit" will give you everything: "Billable amount", "Billable rate", "Cost amount", "Cost rate" , "Profit amount", and "Profit rate" (caclulated difference between the two rates)