Add time for others
As an admin, you can see your team members' timesheets and add time on their behalf.
Adding time for others is an extra feature, which you can enable once by upgrading your workspace to any of the paid plans.
Adding time in Timesheet #
Here's what you need to do to add/edit time on your team member's timesheet:
Go to your Timesheet Page
Click the Teammates button
Select a Teammate to view their Timesheet (Active, Inactive, All)
Choose a Project or a Task
Add/edit time for that Teammate
If you don't see Timesheet in the sidebar, you can enable it in Settings.

Adding time in the Detailed report #
If you need to be more specific regarding the time entry, you can add time on your team members' behalf directly from Detailed Reports page with just a few clicks.
You can add time for a one or multiple users at once.
Hover over Reports on the sidebar and click Detailed
Click Add time for others button
Click Select user
Choose members or groups for whom you would like to add time
Enter start and end time and pick a date
Click Add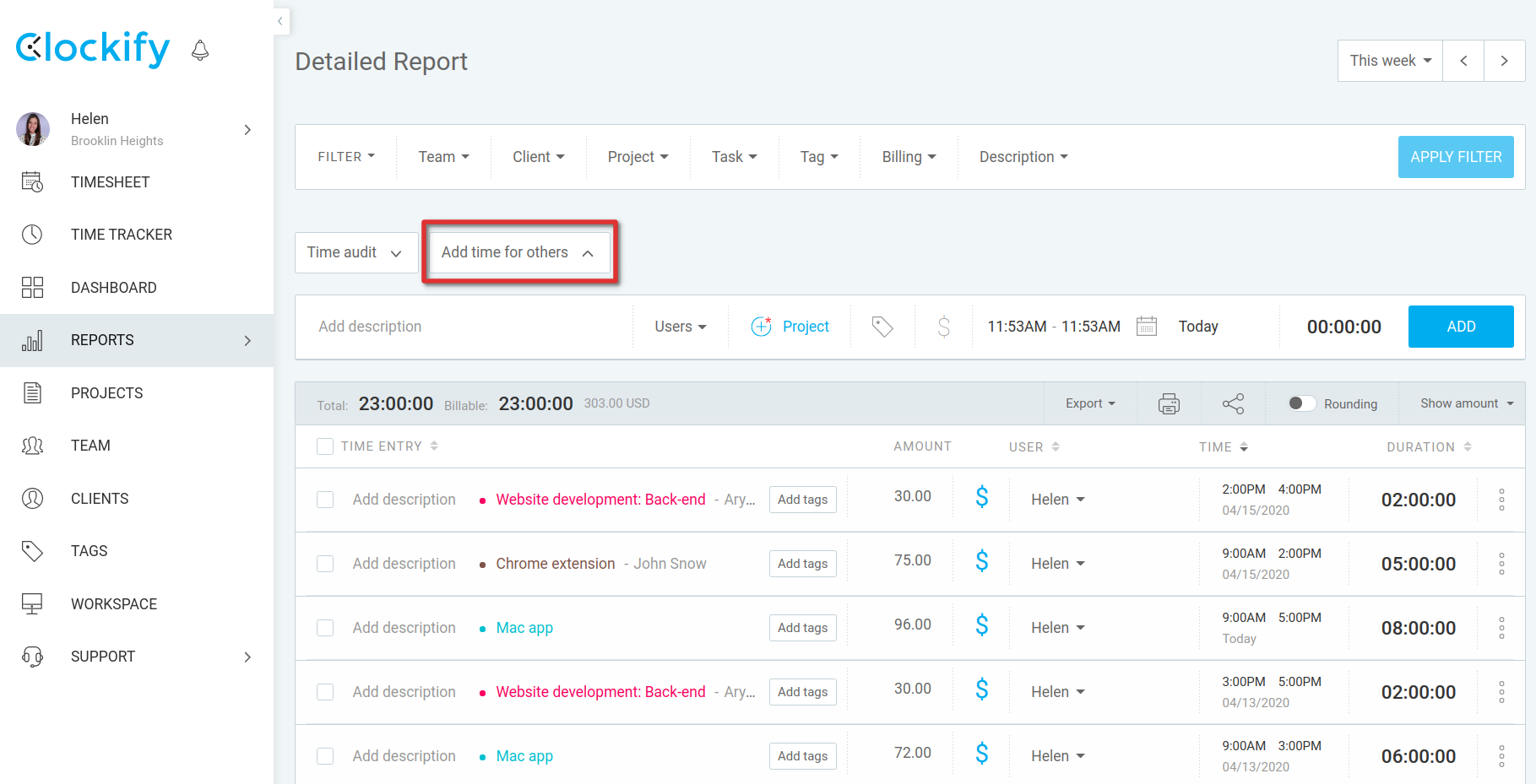 You can also add a description, select a project, add tags and choose if the time entry is billable or not.
In addition to adding time for someone else, you can also reassign entries to a different user. You can reassign entries one by one by clicking on entry's user and choosing a different person, or in bulk form the bulk edit screen.
Workspace owners or admins can add or edit another person's time entries. Team managers can perform these actions if this option is enabled in the workspace settings. Regular users can only edit their own time entries.
Add time in Calendar #
Go to the Calendar page
Click the Teammates button and select a Teammate to view their Calendar
Click on any open time slot to add a time entry
Click and drag up or down to create a time entry for the desired time slot