Receive custom reports by email each day, week, or month.
When you filter and share some report, you can also specify for it to be sent by email to you or anyone else in your account so they always receive the latest tracked information for that or previous day, week, or month.
Scheduled reports is an extra feature, which you can enable by upgrading your workspace to the Enterprise plan.
You can try out the feature for free by activating the free 7-day trial (no credit card required).
Scheduling reports #
Go to any report
Apply necessary filters you wish report to have (eg. filter by user, client, etc.)
Choose a relative date range (eg. This Week, Last Month, etc.)
Click Share icon
Name a report (this name will be used in emails, on the page of the report, and in exports)
Choose recipients
Choose how often you wish to receive the report (daily, weekly, or monthly)
Click "Create link"
You can see all your scheduled reports on the Shared reports page. Reports that are sent to email will have the "scheduled" tag next to them.
You can turn scheduling on/off for existing shared reports from the Shared reports page, by clicking on the three dots next to to a report.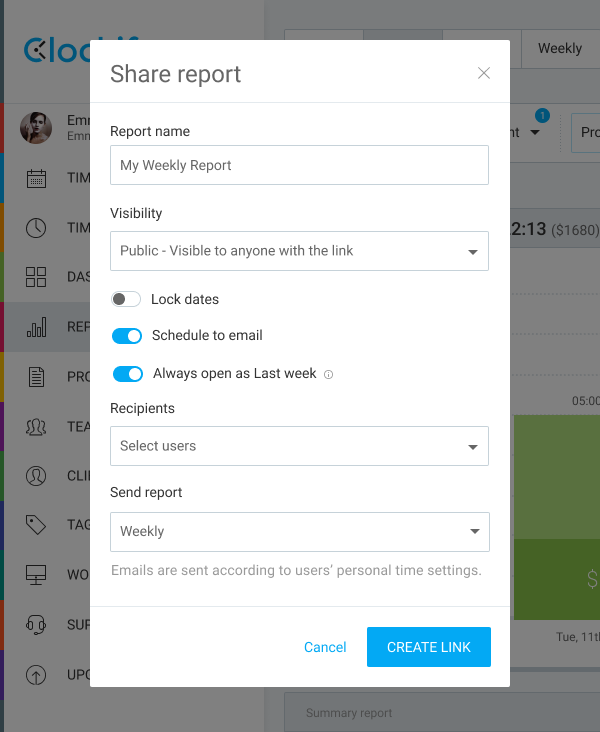 Only admins can schedule reports.
Admins can choose for report to be sent only to themselves, or select other users in their Clockify workspace.
When are emails sent? #
Daily emails are sent each day according to the recipient's "Day start" setting in Profile settings
Weekly emails are sent each week according to recipient's "Week start" and "Day start" setting in Profile settings
Monthly email are sent each 1st of the month, and according to the recipient's "Day start" setting in Profile settings
Report's email content #
Name of the report
Exact dates for which the report is sent
The total tracked time and how much of it is billable (as calculated at the moment the email is sent)
The link to the live time report for more information (always opened to show the current relative range you've saved)
Direct links to download the report as PDF, CSV, and Excel (download will be for the dates from the email)
If there's a new total because you've added or edited existing timesheets, the email will contain the outdated information, but the link will display the current information.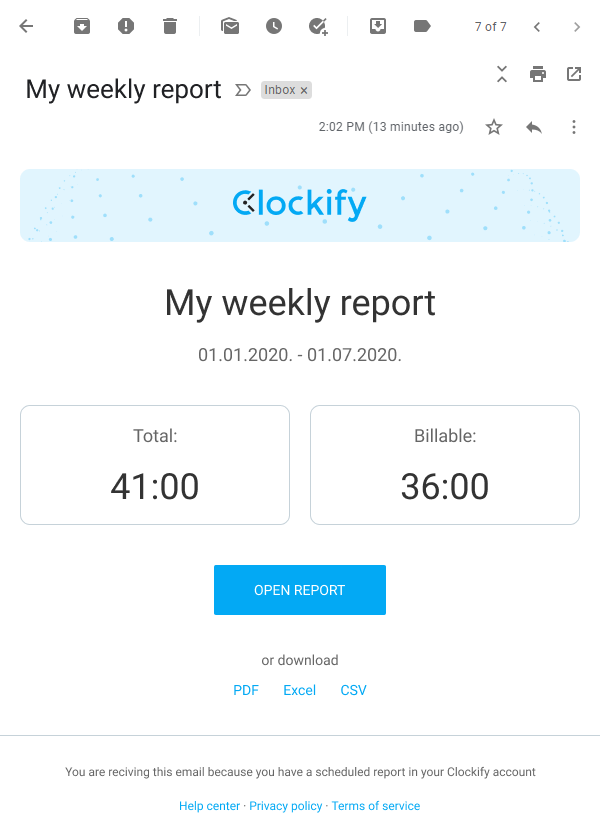 Sending reports to people outside Clockify #
If you wish others to receive a scheduled report, you'll need to set up email forwarding.
You'll need to create a filter in your email client for emails that contain the subject you need, and then create a rule for those emails to be forwarded to another email.
For example, you can filter a report by client, name the report "ClientX Weekly Report" and schedule it to be sent once a week, and then create a filter and rule for those email to be sent automatically from your inbox to the client's email address.
How to set up email forwarding for: Gmail / Outlook / Mail (Mac)