You can send a private link to a report to others so they can have access to data in real-time without having to have a Clockify account.
How to share a report #
Use filters to filter out data
Customize report (choose date range, grouping, sort, rounding, show/hide amount)
Click on the share icon (located between Print and Rounding)
Enter report name (this will be displayed as a title of the report in the header and in PDF export)
Choose who can open link (public/private) and whether date range can be changed (lock dates)
Click "Create Link"
Copy the link and send it to others
Lock dates option prevents viewers from seeing your shared report for different date ranges. This is disabled by default, so viewers can go through different date ranges when viewing the report.
If you choose a relative date range (eg. This Week, Last Month, etc.) instead of a custom date range, you'll also get the option "Always show...". This means that the report can always show the last or current day, week, or month when opened.
For example, if you're viewing a report for "Last Month" in May, when you click share you'll get an option "Always show Last Month" that's enabled by default. If you disable it, the report will always show May when opened.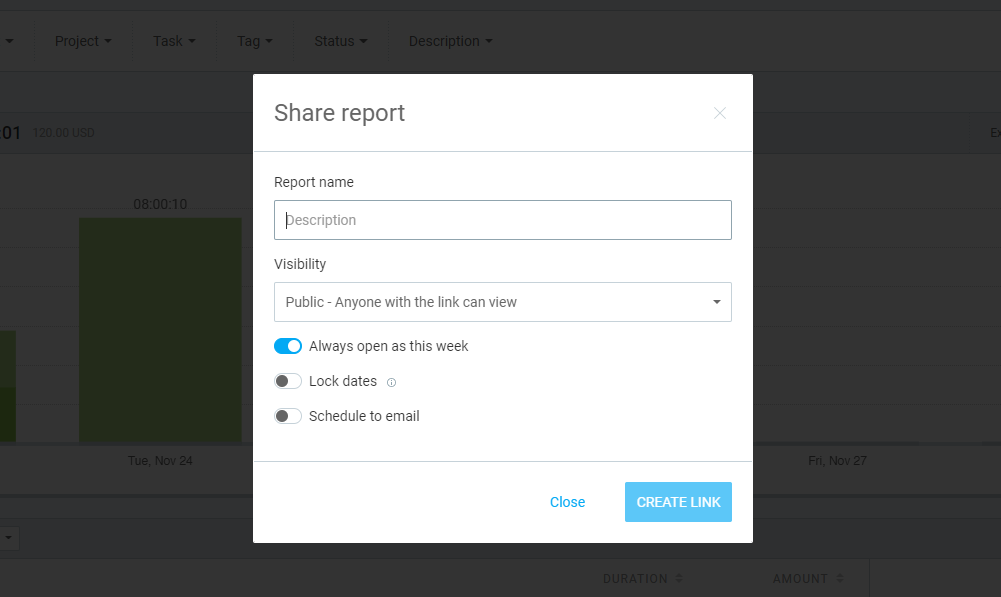 You can access all the links you've created from the Shared page. There you can update the link (name, visibility, and lock date), as well as see what filters are applied in a report, by clicking on three dots.

Permissions #
Shared reports always reflect the creator's current set of permissions (what data they can see) and settings (their timezone and week start at the moment of the creation).
For example, if you are admin and you create a link to the report where you can see billable amounts and all time entries, but you later become a regular user, the link to the report won't work because you as the creator of the link don't have access to those information any more.
Shared reports page shows only the links you've personally created.
Once you delete a shared report, the link will become inactive and browser will display a blank page.
Scheduling repots #
You can schedule a shared report and receive it in your inbox each day, week, or month.
Who can open the link #
Public: anyone with the link can open it.
Private: no one can see it unless they: have a Clockify account, are part of your workspace, and are part of the selected group.
What viewers can do #
Can change the date range (unless you lock dates)
Can export the results in PDF, CSV, and Excel
Can sort by other criteria
What viewers can't do #
Can't change grouping and subgrouping options
Can't edit anything (it's read-only)