Whether you're a student, a business owner, or a freelancer, odds are that you're looking for some productivity apps to boost your workflow and minimize procrastination.
So, to kickstart that, we've covered various tools in neat little categories. Consider them your "better workflow starter kits". You can search the apps by your preferred platform or device, or by the type of users they're aimed at.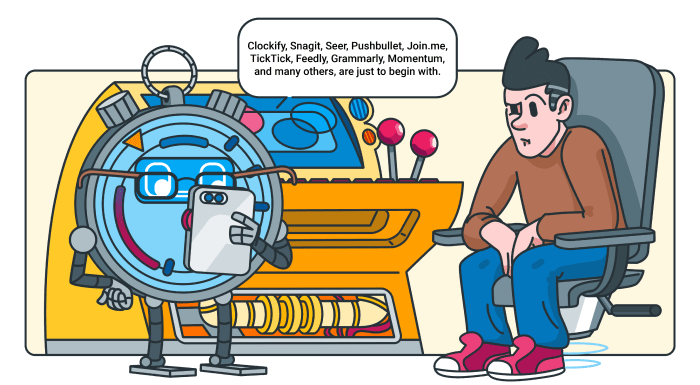 How we chose the apps on these lists
There is a slight difficulty when choosing top-of-the-line apps on official stores, such as Google Play or the Apple App Store. Namely, they will rarely (if ever) display any kind of top list of their apps since the rating algorithm can be easily manipulated. The only exceptions are the annual lists, such as the App Store Best of 2020 list published by the Apple company.
So, to prevent any kind of misinformation or false advertising, Apple has disabled the option of sorting by ratings or reviews. Instead, you can look at categories that narrow down your search (which is what we did).
On the other hand, Google keeps changing and improving its rating system. According to the Tech Crunch article, Google's current ratings reflect the newest app releases. Pretty fickle, right? Just like with the Apple company, Google also published the list of the Best apps of 2020, although there are only a few productivity tools on the list.
So we set out to read numerous articles, app store reviews, and expert opinions, all with the aim to find those that most will agree on. And it was a lot of legwork.
This is why we hope that after reading this master post, you will have come out with several new tools under your productivity belt.
Best productivity apps across platforms
Our first category takes a look at the best productivity software across all major platforms. Since it is difficult to find an app that is not cross-platform today, we've focused on selecting those that have become a productivity staple for one platform.
Best productivity apps for Mac OS
Clockify is a time tracker with a native Mac OS app that also boosts your productivity by helping you identify wasted time, and making your daily scheduling easier and faster.
Alfred is a productivity app and an application launcher. It keeps all of your most-used processes, most visited websites, etc, in a single handy window. This greatly shortens your "travel time" between different tasks.
Bear is a to-do and note-taking app with sophisticated editing, sharing, and encryption features. It connects to your other iOS devices, including the ability to dictate notes on your iWatch.
Fantastical is the calendar app that has been recognized as the Mac App of the Year, on the App Store Best of 2020 list. Plus, Fantastical works as a project management tool as well. So, by having an overview of your calendar, you can review your tasks, schedule events, access the files you need for meetings, and make templates from current events and tasks.
Magnet is an organization app every multitasker needs. It lets you snap multiple open windows to different sections of your screen, which gives you a much better overview of everything you're currently working on. This way, you avoid the frustration of looking for that one window you lost in the crowd.
Best productivity apps for iPhone and iPad
Calendars by Readdle offers sleek and sophisticated calendars for your iOS device. They're equipped with the fastest syncing out there, drag and drop options, calendar view preferences, custom keyboards, offline mode, etc.
IFTTT (If This Then That) plays an integral part as a time-saving app. You can use it to make your own integrations between different apps already on your phone. It can connect your to-do list to your GPS so you're reminded of a task with a specific location, or have a time tracker start the moment you open a work-related app, etc.
Cozi is a great app that organizes your home life. For working parents and guardians, this specifically-designed solution helps juggle everyone's tasks and stay on top of the schedule. It keeps the schedules transparent to everyone, and it's customizable enough to match every family member.
iCloud is the best cloud storage solution for those who have multiple iOS devices. From the Apple Watch to the Mac, this service can sync all of your data and content across every piece of Apple tech you own. It starts with 5GB of free storage, but for a small monthly fee, you can get at least ten times more.
Mint is a personal finance app you can use on your iPhone or iPad. This tool helps you keep track of how you spend your money. You can monitor your accounts, bills, and subscriptions. Besides, you can create your custom budget and review all transactions, which gives you a clearer understanding of how much money you have left in the budget.
Best productivity apps for Apple Watch
For when you really need to do things on the fly and don't want to rummage for your phone.
Streaks is a to-do app intended to make habit-forming an easy process. With all of your daily rituals (taking vitamins, checking emails) on an app on your wrist, you can easily keep track of them. Checking them off from your Apple Watch with a single tap will be beneficial for your productivity.
Endel is an app that provides you with soothing sounds that help you sleep, focus, and relax. This app is the Apple Watch app of 2020. Endel covers four core areas: Relax, Focus, Sleep, and On-the-Go, which all have a unique soundscape meant to suit your current state.
Citymapper is an app designed to be a companion to those who spend a lot of time commuting. It will give you the quickest access to information on traffic jams, transportation departures, maps, etc. While it's only available for certain cities in several countries, it is being developed and expanded.
Spark is a very sleek, accessible email app. It adapts all the smart solutions from the iPhone counterpart – automatic sorting, previews, and big bright icons to help navigate the tiny screen.
Just Press Record is an on-the-run solution for your note-tang needs. You can use the app to record, playback, edit and transcribe the data, all from inside it. It syncs incredibly fast to your iPhone or iPad as well, for later use.
Best productivity apps for Android
Solid Explorer is a file management app that shortens the time you spend looking for different apps and files on your phone. You can create shortcuts on the home screen, connect to your PC remotely and even customize everything from icons to themes.
Forest is a focusing app that, in a way, gamifies your productive time. When you start a task, you plant a virtual tree. The longer you work on the task, focused, the more the tree will grow. If you get distracted by other apps or the Internet, the tree can die.
MixNote is an app for note-taking and to-do lists. However, it also has a high privacy feature, autosave, and even lets you shake your phone to record phone calls. You can even place your notes and to-do lists on your home screen.
Grid Diary, one of the apps in the Best Everyday Essentials 2020 list by Google Play, works as your personal weekly, monthly, and yearly diary. You can create separate journals for work, family, travel, and other categories. In addition, Grid Diary lets you set reminders and sync your data across devices.
Hound is a voice search app, and an assistant, much like Siri or Alexa. The developers point out that the app uses your natural vocabulary to search for things. It has all the basic functions, but also some additional ones like a mortgage calculator, hotel booking, and a music searching feature that lets you hum the tune.
Best productivity apps for Windows PC
AquaSnap is a great tool that builds upon Windows' integrated window-snapping option. Not only does the app let you place more than four windows on your screen at the same time, but you can also move a cluster of windows together, stretch and snap them, and even pin a specific one to always be on top.
Snagit is an invaluable app for when you want to record more complex feedback. It can quickly capture and markup any content. There is screen recording, screen capture, templates to choose from, making GIF instructions, and even panoramic capture.
Seer is handy for when you want to quickly find certain files in otherwise cluttered folders. The app offers a quick preview of files like images and pdfs, without you actually having to open them. This can be a huge time saver if you need to fetch a file as soon as possible.
Pushbullet is a smart solution for those who find that switching between devices breaks their focus. The app connects all your handheld devices to your computer, so you can see your phone notifications on the desktop, or send yourself a phone photo without having to email it to yourself or send it to the cloud. If you want to be able to access all your devices no matter where you are, then this app is for you.
Join.me is a great little app for organizing impromptu meetings, as well as larger, planned-out ones. Instead of finding a platform, and then the other persons' contact info, you can use the app to simply create a virtual room with a shared screen or webcam. You then share the link to everyone who needs to join and – voila! It's simple and easy.
Best productivity apps for the Chromebook
Chromebook devices run the specific Chrome OS, a Linux-based operating system. The apps are focused more on performing via the Google Chrome browser. This is why a lot of the data will be stored in the cloud.
TickTick is a task management app that lets you manage your tasks, create task lists, and collaborate with colleagues or friends. The free version of this tool provides you with two reminders per task and a calendar view. Besides, you can sync your account with other devices you frequently use.
LastPass is the only tool you'll need to manage all your passwords. Be sure to remember your master password on LastPass and the app will automatically save other passwords. Aside from this feature, LastPass has options like a digital wallet, username generator, and dark web monitoring.
Feedly is an app that allows you to save, share and send pages you want to read later. To avoid wasting time on article after article, you can simply click the small icon the app places in your browser, and the page gets saved for later.
DejaOffice CRM is a customer management app designed for small businesses or freelancers with a large client base. It is completely free, with a slew of features – airplane mode, phone sync, multiple task styles, advanced contact management, etc.
Best productivity apps for Linux
DeepIn Screenshot is the simplest and the most functional screen capturing tool for Linux. You can easily drag a box to capture whatever section of the screen you want to markup, save, edit or share. There are several different saving and copying options, and you can choose a default one for every time you take a screenshot.
Osmo is an organizer app that encompasses everything you will need. It's highly customizable, has high encryption and privacy, data backups, tasks, different calendars, and deadline calculators, and much more.
Freemind is a high productivity tool that lets you create mind maps on your device. Then, you can break them down into tasks or organize them for a project. It's a perfect alternative for those who are not into project management through cards or boards.
Okular is a reader app whose strongest selling point is the ability to preview and open any document format. You can also easily extract embedded files such as graphs and images. From .doc and .odf, to .pdf. It saves you the hassle of finding the right document converter. Particularly useful if you're working with people who use different operating systems.
GnuCash is a Linux app designed for all of your accounting needs. The UI is simple, it's easy to learn, and the app is completely free. You can also see your stock or bond accounts, there's double-entry accounting, data import, financial calculations, and much more.
Clockify is one of the few time trackers that offer a native Linux app. So if you are looking to track your billable hours or just want to know where your time goes while working on a Linux-based OS, Clockify is a time tracker for you.
Best productivity apps for the Chrome browser
Momentum is an add-on that has you customize your "new tab" into a real productivity dashboard. Whenever you open a new tab in Chrome, you can see anything from calendars, to-do lists, tasks, and the weather. Your most important tools become more accessible.
Clockify also has a Chrome extension that provides an easy-to-manage yet powerful time tracker. Additionally, it has idle detection, Pomodoro feature, editing task descriptions by simply selecting a text on your webpage, and more.
Grammarly is the most widely used add-on. It's useful for firsthand proofing of texts and emails, as its automatic correction saves a lot of time on looking up grammar and spelling uncertainties. It can also assess your text's level of formality and tone to help you spruce it up.
Timewarp is an add-on that lets you set up different redirections in case you visit an unproductive website during work. You can have the add-on redirect you to a more productive site, show you a motivational quote, or display the time you've spent on it.
Best productivity apps for the Mozilla Firefox browser
Infinity is the equivalent of Chrome's Momentum. The add-on lets you turn your new tab into a productive dashboard that displays your most useful websites, important information, to-do lists, tasks, etc. It keeps everything you need in one place, without the need for infinite browsing and checking.
Web Search Navigator is an add-on for those who find it slow and tedious to switch between mouse and keyboard when browsing the Internet. Instead of constantly moving from one to the other, the app lets you set up commands on your keyboard to navigate search results through the keyboard completely. It surely improves your speed.
Gesturefy is a neat little add-on that speeds up certain web-browsing actions. It allows you to record specific mouse gestures (e.g. swiping to the right while holding down left click), which you can then assign to specific actions – reload a page, go back, close a page, etc.
Todoist is also a fairly popular add-on that works as an in-browser list of all your tasks. This add-on takes it a step further by letting you customize as much as you want, assign different labels, and even add entire web pages as tasks.
Best productivity apps for specific users
This is our second category with apps divided by the type of users that would most have the most benefit from them.
Best productivity apps for teams
Typio Form Recovery is a great safety net for when your wifi gives out. It is a Chrome extension that works as an autosave tool for any website, online form, or Google document you and your team may be filling out. The add-on backs up and restores any writing you may have lost through broken connection, page reloads, or other disturbances. Especially useful for remote teams.
Clockify provides an efficient, yet feature-laden solution for teams because it's free no matter how many people are in the team. You can track time, manage tasks on projects, create full project transparency and make timesheet reports for clients and team revisions. Use it to enhance productivity or identify the wasted time.
Airtable is a collaboration/project management platform that boasts a large number of templates you can use to make a perfectly customized dashboard for your team. That way you have a tailored project management platform for your business or industry. Just some of the templates include publishing campaigns, non-profit project management, user studies, product roadmap, and much more.
Zoom is a highly user-friendly tool suitable for teams of all sizes. This app has been recognized as the iPad App of the Year 2020 on Apple's list and as one of the Best Everyday Essentials apps by Google. With Zoom, you can create smaller rooms alongside bigger conference calls. You can host webinars, teaching panels, more private team chats, and have simple audio calls. This is the kind of communication tool that bends to your team's size and needs, rather than have the users adapt to it.
Basecamp is a simple and straightforward team collaboration platform. It lets you create pages for your projects and tasks and assign as many people as you need. There are also group chats, message boards, and automated check-ins to ensure deadlines are met.
Pumble is a free communication channel that ensures effective collaboration within the team. You'll be able to chat with your colleagues within groups or channels, but also by sending private messages. Some of its best features include user and workspace admin tools and 24/7 web support. In addition, Pumple is available for an unlimited number of users.
Best productivity apps for small business
When it comes to this category, we've looked at apps, tools, and services that are free or affordable for a starting business.
Happeo is a workforce management software. Its pricing depends on the needs and size of your company, and being excellently integrated with G-suite, it is quite an affordable solution. Feature-wise, it gives you access to personalized timelines, social intranet, collaboration tools, etc. Especially useful for HR teams.
G-suite is a favorite among many startups and collaborating freelancers. It's free/affordable, all the apps reside and store data in the cloud, so there's no overburdening to your servers or tools. Additionally, the software has everything you need to run the basics of a small business – productivity tools, team management and project management tools, and hundreds of integrations.
Let's Build is a multi-purpose solution ideal for those who own construction businesses and the like. It has a very handy mobile app that allows workers to remotely (or on-site) access all the necessary plans, correspondence, and data.
Wave is a financial app that gives you plenty of accounting and invoicing features for free. It also boasts a great expense tracker, so come tax season, you'll be able to do it without hassle. The app is also designed to help your accountant with all the data if you have one.
Best productivity apps for developers
The following apps are designed specifically with developers in mind. And while there are plenty more of them, these seem to be the most praised ones among a variety of users.
BBEdit is a professional HTML and text editing app. It's designed for Mac OS, and with software developers in mind. It offers a lot of options – a built-in FTP client, color coding within the code, collapsible blocks of codes, etc.
Git is a distributed version control system that allows you to track changes in the source code with projects of all sizes. It's particularly useful in that the changes and the version history during development are not stored in a single place, but distributed among participants on the project (similarly to SVN was). This allows for greater speed, transparency, and flexibility.
The Silver Searcher is a free code searching tool. This app makes searching for a code extremely fast and it has a smart case search feature. The Silver Searcher is available for Linux, BSD, macOS.
Musicforprogramming is a programmer-centered website offering a wide range of different music to listen to when coding. There are more than 60 playlists, and each is filled with specific types of songs. The whole web page visually resembles a code editor, so as to not distract you from work.
Plan.io is a project management tool designed for software developers. Its main features involve tracking issues and bugs, an optional Scrum framework, a Wiki for anyone with ideas and processes to share, and much more. With this tool, you have a project management platform focused on the programming workflow.
Flynn.io is meant to make software deployment smoother and easier. If you don't have the staff, enough resources, or the know-how for the process, this cloud-based platform has got your back. It takes over the deployment, scaling, and database management, to let you focus on other tasks.
Monit is another open-source solution, but this time, it's made to monitor your server's health. Aside from tracking any server changes, it also lets you set up simple testing responses for commonly seen problems (e.g web page timeouts), so you don't have to do it manually. There are also automatic maintenance and repair.
Best productivity apps for entrepreneurs
Entrepreneurs are bound to have a big issue with managing time and their schedules. They're often overburdened with different tasks, especially when starting off. Every entrepreneur should steadily learn how to manage long work hours and avoid burnout at the same time. The following apps can help mitigate some of that stress, too.
Doodle is an app that helps you easily set up meetings. It can automatically convert time zones for online meetings, calculate the best times based on participants' schedules, and much more.  It's like a designated meeting and correspondence pocket assistant.
Personal Capital is an online platform that helps you oversee all of your finances. Especially useful for investors and startup owners. It is a feature-packed free budgeting application with investment tools and features.
Otter is a voice recording app that lets you record thoughts and notes, meetings, feedback, emails, etc. You can take notes and transcribe the audio, share it with others and mark up important sections. Its high functionality makes it a really good contender to other voice recording apps out there.
Camcard is a nifty little tool for those who network often, attend conferences and various meetings. The app allows you to take a photo of a person's business card and have the data automatically uploaded to your phone contacts, or the app's own organizer. This way, you have all the important contacts digitally stored, instead of hoarding cards.
TripIt is an invaluable tool for all entrepreneurs who travel frequently. This app helps you keep all the details of your business trip in one place. Then, you can share your calendar with your colleagues or partners. Plus, TripIt also allows you to add important documents to your travel plans and provides you with an airport map so you can easily get around.
Best productivity apps for students
Notion is an app that's become a strong contender to Evernote. It's a different kind of project management tool that puts an emphasis on task lists, document storage, and scrapbooking. With large storage, you can keep all of your notes, photos, and schedules in one place where they can be easily retrieved. What's more, if you have a .edu email at your school, Notion gives you a free upgrade from the basic plan.
Flipd is a focusing, meditation, and digital detox app that is bound to be integral to any stressed student. It helps you mitigate stress and practice focus and mindfulness through various modes, some of which are self-care, sleep stories, meditations, and unplugging.
My Study Life is a cross-platform app that covers all of your student needs. It lets you create a daily schedule, organize tasks and subjects, and take note of upcoming exams. As an organizational tool, it works wonders with its free plan, and can completely replace a paper planner.
Best productivity apps for people with ADHD
ADHD stands for Attention Deficit Hyperactivity Disorder. It's mainly characterized by the person affected not being able to focus on one thing for a longer period of time. Emails, phone notifications, sounds outside the workspace, and even other tasks can become an enormous distraction.
Here are some of the apps that could help mitigate unproductivity whose main cause is ADHD.
Remember the Milk is a to-do list app that is designed with busy people in mind. Since you may have plenty of tasks that you can't afford to forget, this app could be really helpful. As some experts advise people with ADHD find a highly customizable to-do list to keep their attention from switching, Remember the Milk has this option as well.
Focus@Will is a focusing background noise app that boasts having a specific ADHD channel. The unique backlog of music presets this app offers is bound to help you find a tune to boost your productivity. If the ADHD channel doesn't help you, there's also an option of doing a questionnaire to find the perfect one for you.
ScheduleOnce is a great app if you work with a lot of clients, or offer a service. Since it can be difficult to keep track of appointments and bookings, and you run the risk of double-booking a meeting, this app can help alleviate some of that responsibility. You can custom-create a booking page for yourself (or your business) and have clients schedule themselves with your premade openings.
Unroll.me is an app that mitigates the damage constant email notifications make to your focus. It is able to opt you out of newsletters you no longer want to receive and accumulate all the ones you do into a single daily email. That way, you only get one notification of all the news instead of a dozen. It's also a great way to declutter your inbox and avoid doing it manually where you can get carried away.
Clockify Pomodoro timer keeps you away from distractions and helps you focus on work. When working in 25-minute sessions followed by a 5-minute break, you'll be able to aim your attention only on tasks during these work sessions. Thus, you'll avoid distractions with ease.
Lastly…
All of the apps you've seen here are just the tip of the iceberg. We've covered the ones we've found to be most recommended by various users, or suggested by leading names in business and education. Keep in mind that your productivity is in your hands, and these apps are here to be a helping hand.