According to one MIT research, virtual teams perform better than teams who work face-to-face, even if this means they're just situated on different floors of the same building.
Naturally, this boost in productivity and efficiency is only feasible if they have the right communication and collaboration software to work with. And, according to Bianca Pasare from G2 Crowd, "An average of 68% of users who try team collaboration tools adopt the software." Now, when it comes to the process of team management, the best type of communication and collaboration software you should try is team management software.
What is Team Management Software?
As previously suggested, team management software are programs whose main purpose is to help your team collaborate and communicate better.
As a direct consequence of improved collaboration and communication, it gets easier to plan workflows, assign tasks, and handle all the sub-processes that encompass better team management.
In the end, such improvements in team management lead to increased productivity – in the form of a faster turnaround and the better end quality of your projects.
By proxy, the features of team management software often involve:
Scheduling – you can define, assign, and track tasks in relation to the task-related deadlines defined in shared calendars.
Progress tracking – you can track the progress everyone is making with their project-related tasks.
Reporting – you can generate reports and then analyze and compare your teams' progress with a project on a daily, weekly, monthly, and yearly basis.
Storing – you can save and organize project data, and create an archive you can then use for future reference.
Communication – you can create or join discussions, add comments to projects and tasks, as well as provide and receive feedback.
Now, most team management tools don't address all of the listed processes – each tool focuses on only a couple of team management processes, so think about your choice of team management software carefully, in relation to what your team needs.
To help you make your pick, make sure your virtual team fully adopts your choice, and then thrive as much as MIT experts suggest, here are more than 20 best team management software in no particular order that you can try:
Clockify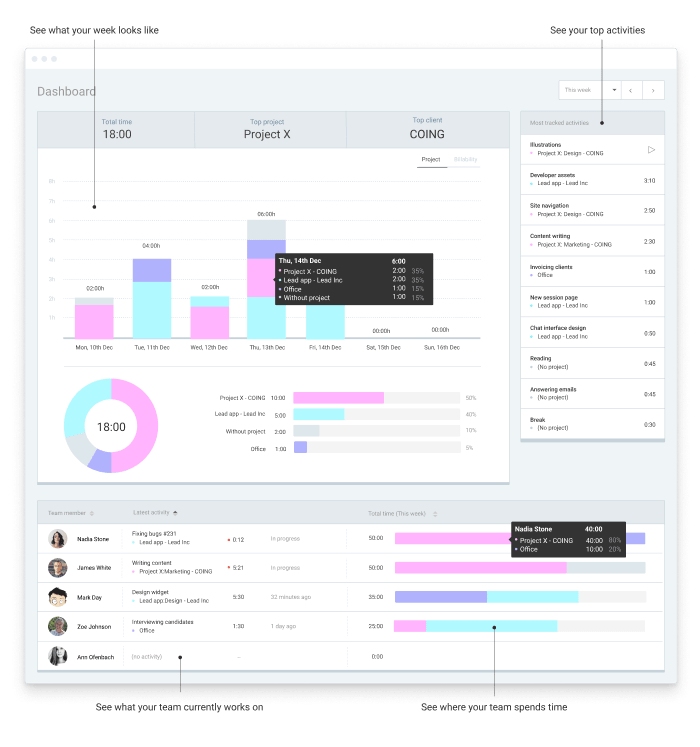 Clockify is a free app with efficient team time management features. You'll be able to see who's working on what, track project progress, as well as track productivity levels across weeks.
Clockify allows you to add unlimited users and create unlimited projects and tasks – then, you can assign the right users to the right projects/tasks, set project time estimates, and let your team members track time as they work on their assignments.
You'll be able to add tags, define billability status, and add descriptions to your time entries, in order to get a clear overview of what's been done, and how long it took to finish. Also, you can manage your team's hourly rates and billable time so that you get a clear overview of your earnings for payroll.
The highlight here for teams is the Dashboard section – you'll be able to see a weekly breakdown of your team's activities, visually assess who worked on what each day, see who's most active, and see who's working on what at the moment (or what was their last activity and when).
Available for: Web, iOS, Android, Windows, Mac, Linux, Chrome, Firefox
Trello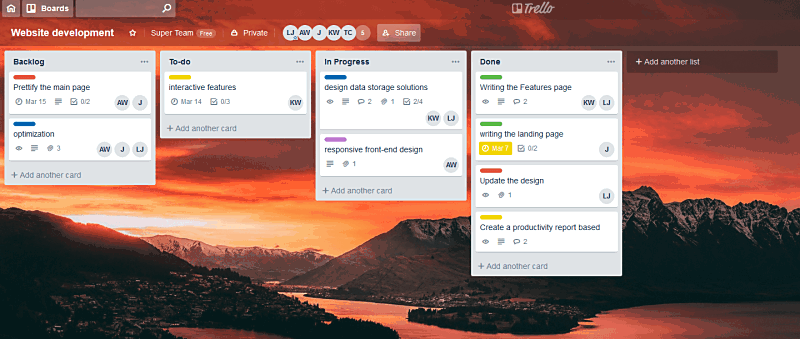 Trello is a Kanban-based free team management app – you assign team members to cards (tasks) and then track your team's progress, as they move their cards across appropriately named columns:
Backlog – for ideas your team is still discussing whether to put into motion
To-do – for the tasks your team has on the agenda for the future
In progress – for the tasks your team is currently working on
Done – for the tasks your team has finished
This is just one of the possible approaches to your work in Trello – you and your team can add as many columns as you like, and define their names to fit your desired workflow best. For example, if you're a marketing team launching a product, you can add columns such as "Content Created", "Updates Created", "External Launch", and "Completed".
With Trello, you'll be able to organize your cards through tags, attach files, and define deadlines – you'll also be able to track when each task is due in a comprehensive Calendar view.
This app's highlight feature are its card checklists – you and your team can add to-do items (viewed as sub-tasks) to each card, and then put a checkmark next to each, as soon as you're done, to track the progress you're making with a card.
Available for: Web, iOS, Android, Windows, Mac
Asana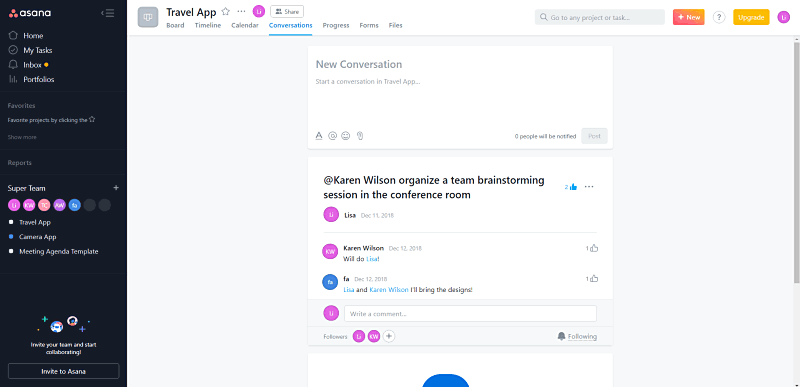 Asana is a straightforward team collaboration tool for people who prefer to mix approaches to tasks and choose whether they want to implement the Kanban drag & drop system, or handle their tasks in a list view.
With Asana, you can assign team members to cards (within a Board Project), or to to-dos (within a List Project) – within those to-dos and cards (both represent tasks), you can add attachments, labels, subtasks, descriptions, and comments. Also, you can mark certain tasks as milestones, and define dependencies between tasks, as well as track the deadlines for your tasks in a Calendar view.
To help streamline your communication and collaboration, Asana offers a "Conversation" section  – here, you and your team can post updates, provide feedback, add comments, and have discussions and debates about your projects, all in one place, for the whole team to see.
One great feature that stands out in this app is the "Files" section – all files you attach to cards or to-dos appear here, so you can quickly access anything you need, even if you forgot what card or to-do you attached it to.
Available for: Web, iOS, Android, Chrome, Firefox
JIRA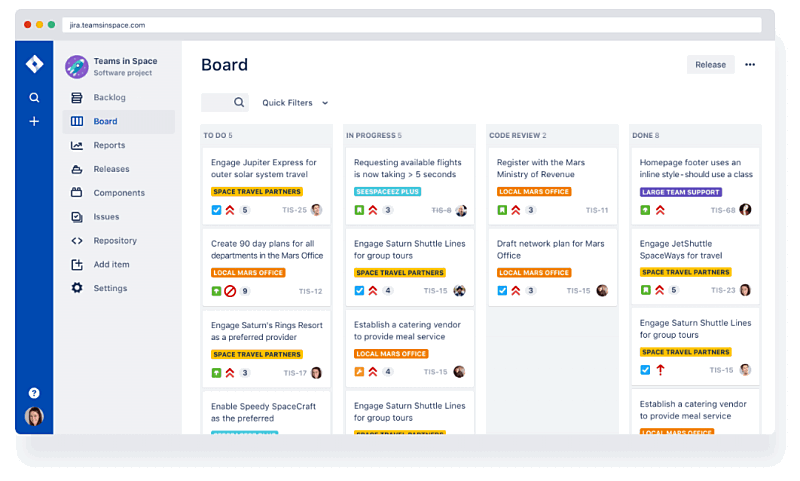 JIRA is essentially an agile project management system for business and software development teams – you'll be able to manage your projects, track bugs and tasks (defined as "issues" within this software), measure performance, as well as monitor project details.
You'll get the chance to choose one of many Project Templates, either Classic or Next Gen (most prominent templates being Kanban and Scrum), and then manage your issues:
add issues to a board and track or define their progress status (whether they're "To Do", "In Progress", or "Done")
plan and prioritize your work in a Roadmap view
have the right team members assigned to the right issues
Within Scrum Templates, you'll also be able to manage your Backlog – create issues within your Backlog, and then plan and manage your sprints for those issues.
JIRA's bonus points go to its versatility – apart from managing your issues through the Kanban and Scrum templates, you and your team will also be able to:
handle your bugs (Bug Tracking Template)
handle activities within a business project (Project Management Template)
organize tasks on a team project (Task Tracking Template)
track activities for recurring processes (Process Control Template)
and much more
Available for: Cloud, Server, Windows, Mac, iOS, Android, Chrome (Quick Jira), Firefox (Quick Jira)
Slack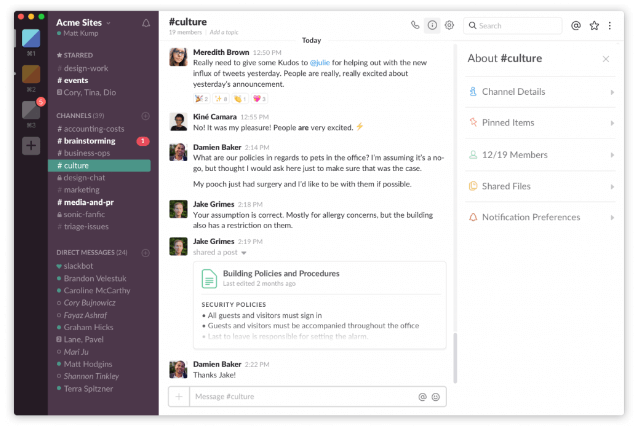 Slack is a desktop and mobile communication app that lets you manage all team communication – you'll be able to send direct messages, create locked and public channels covering various topics (from company culture to separate company projects and departments), and then communicate with your team in real time.
You'll be able to send feedback, notes, files, photos, videos, audio messages, comments on projects, or anything else you want to communicate directly to the person you need – you'll also be able to pin important messages and attachments to make them more visible to colleagues.
Slack allows you to send notifications to the entire team, or use the @User syntax in order to ping only a particular user within a channel.
Its highlight feature are the reminders you can set within Slackbot – the "/remind" command allows you to automatically send out a reminder to anyone in your workspace, and any time in the future.
Available for: Web, Windows, Mac, Linux, iOS, Android
Infinity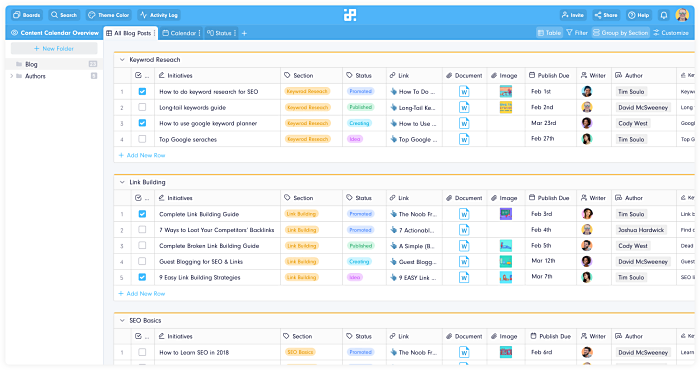 Infinity is a fully customizable team management software where you can organize any type of data, all in one place. >Thanks to its flexible structure and versatile customization options, Infinity lets you build your own system and organize your tasks and projects however you want.
Using Infinity's 15+ custom attributes you'll be able to create any type of data, not just tasks. That way, you'll be able to store and organize projects, notes, CRM, files, goals, metrics, or any other data your team needs.
You can manage your work in Infinity using four different views: list, columns (Kanban), table and calendar. And you can easily switch between those views and customize them further using filters, grouping, and sorting.
What makes Infinity different from other team management tools is definitely its powerful tree structure – you can break down your projects into smaller, more manageable sections that make more sense to your team and allow more efficient collaboration.
Twist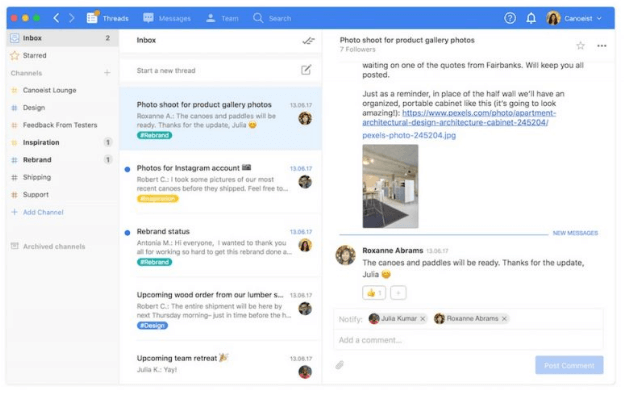 Twist is a team communication app for remote teams – you'll organize your team's communication by keeping important information, feedback, discussions, and comments in subjects within threads.
Essentially, Twist is similar to Slack – you'll also be able to organize your conversations in channels, by teams, projects, clients, or whatever categorization you need, and you'll also be able to send direct messages, either to one person, or a smaller private group.
The difference, however, is that Slack is more about real-time messaging, while Twist offers a slower, more contextual approach to communication – apart from channels and direct messages, you also get threads where you can manage your conversations by creating, replying to, and following specific subjects.
As the approach is more specific, your remote team members will be able to easily find the information they need and get up to speed with topics they're interested in, despite different time zones, whenever they tune in to work.
The standout feature of this app is its Inbox section – although you're not checking the app after every ping, you'll be able to track what's new, and who commented on a particular topic last.
Available for: Windows, Mac, Android, iOS
Hypercontext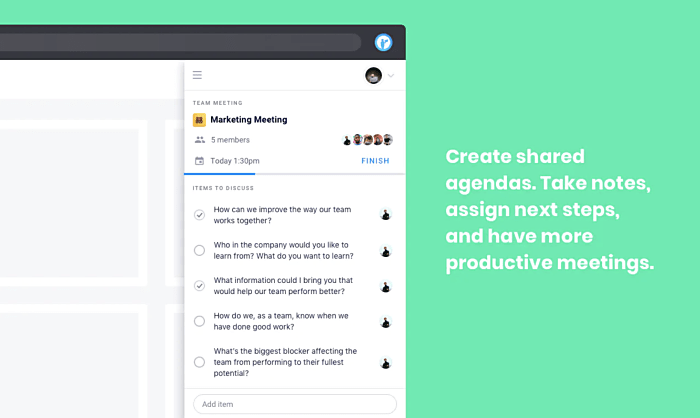 Hypercontext is a one-on-one and team meeting agenda app that's trusted by over 30,000 managers and their teams. The app provides a central place for teams to collaborate on shared agendas, take notes, assign next steps and collect feedback.
Some key features that allow teams to have more meaningful conversations include:
Suggested questions – Access a list of conversation starters, by meeting type, role and topic.
Meeting insights – As you have more meetings,

Hypercontext

will learn what topics you're discussing most and least in your meetings and provide helpful resources to better balance conversations.
Meeting rating – Send quick post-meeting survey questions automatically to track and improve meeting quality over time.
Available for: Web, iOS, Android, Chrome, Slack, Microsoft Teams and more.
Basecamp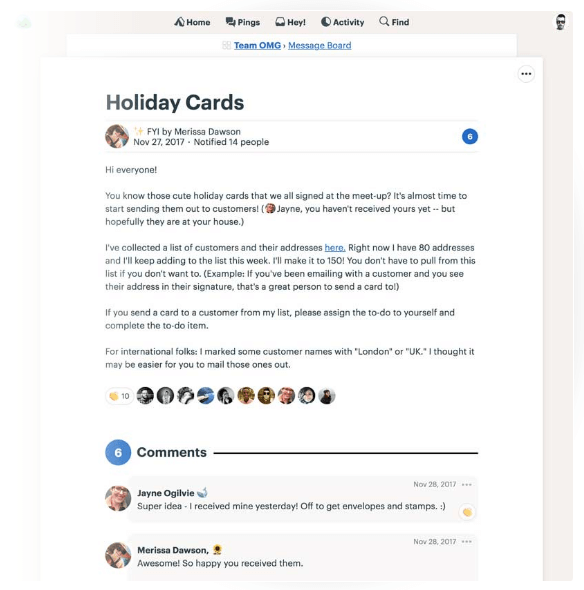 Basecamp is a project, collaboration, and communication platform that lets you tackle your projects, handle your conversations, and manage your teams in one place. You'll get a chance to group your teams by department (Management, Marketing, Development…), as well as handle rebranding, launch products, create podcasts, and tackle other types of projects, all together, and all in one app.
Within the app, you and your team will be able to create, track, and finish to-dos, create and follow schedules, attach and store files, as well as track your project progress and efficiency in hill charts. The feature you'll especially want to look into are the Message boards – here, you and your team can handle all team communication, from project discussions to arrangements of company events. You and your team members will also be able to ping each other directly, answer public messages directly, and add reactions to comments other team members have posted.
One of Basecamp's prominent features is its synchronization with your email inbox – you'll be able to reply to Basecamp emails without entering the app, directly from your regular email provider.
Available for: Web, Windows, Mac, iOS, Android
Kipwise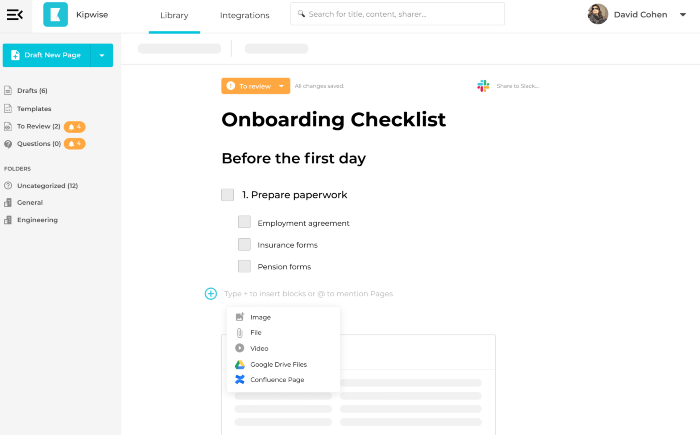 Kipwise is a knowledge management tool that helps teams build up their company knowledge hub easily. It offers powerful Slack integration, browser extensions and is integrated with Google Drive, Trello, Airtable and more, so you can save and retrieve team knowledge easily, wherever you need them.
Some key features that help teams enable better internal knowledge flow:
Powerful Slack integration – Handy slash command and Slack Actions to create and search for team knowledge. You simply don't have to leave Slack to build up your knowledge base.
Real-time collaborative editor – With rich embedding options, your team can edit the same doc at the same time and create visually appealing documentation easily.
Content review process – Set designated reviewers for your collections to ensure content is always up-to-date and accurate.
Available for: Web, mobile, Slack, Chrome, Safari, and more.
Agantty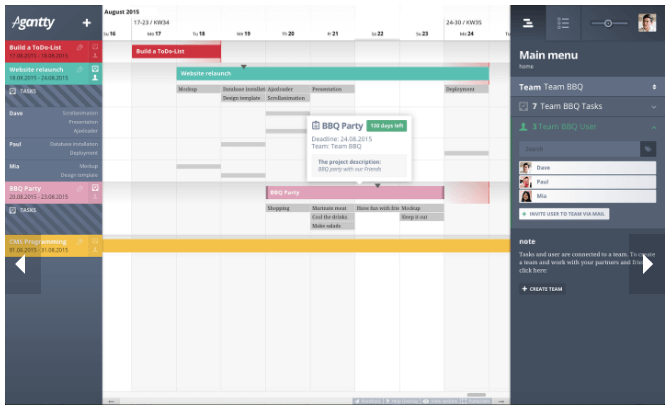 Agantty is a free project and team management software, which offers the Gantt chart approach for unlimited projects and tasks, to unlimited teams – you can assign tasks quickly by dragging and dropping them within a Gantt chart.
This app is perfect if you have to handle multiple teams – you'll be able to add as many users as you want, parse them, group them, and then assign individuals or entire teams with the right tasks and information.
The Gantt chart and its many features are Agantty's highlight – you'll get a chance to add tasks directly to the chart, sort them, set milestones, define deadlines, as well as select multiple tasks to be edited, moved, or deleted, simultaneously. Here, you'll also be able to directly manage your teams, by inviting new users, assembling new teams or deleting old ones, assigning roles, defining permissions, and more.
Available for: Web, Chrome web Store Plugin
Freedcamp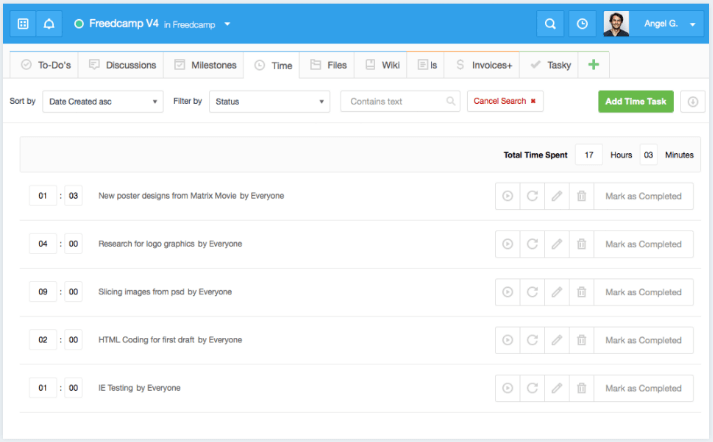 Freedcamp is a universal project and task management app with team collaboration features that allow you to organize your team around both business projects (such as work you perform for clients) and private events (such as wedding plans).
You'll be able to invite users, form teams, communicate with them, share tasks, as well as attach and store files for team members to access and view. You'll also be able to define deadlines and milestones, schedule events in a Calendar, and handle all debates, consultations, and conversations in discussion forum boards.
Freedcamp's standout point is its versatility in terms of features – your team will also get a Password Manager (to safely store important passwords), Invoices (to easily bill clients), Wikis (to create and manage documentation), as well as a chance to create custom fields within tasks (to organize, plan, and assign them better).
Available for: Web, Windows, Mac, Linux, iOS, Android,
Podio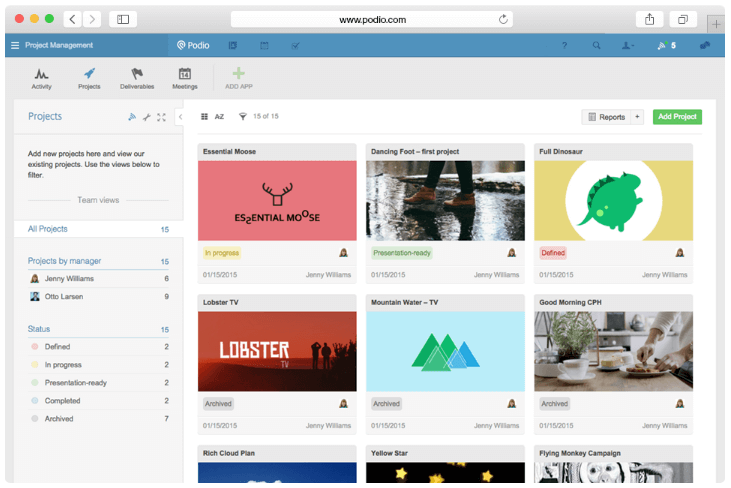 Podio is an online collaboration and communication software that lets you keep all your content, context, and conversations in one place – you'll get all updates, comments, feedback, and project progress stats in real-time.
You'll get a chance to cut down on long email threads by using Podio's integrated chat features, share files, implement automated workflows, track deadlines in a Calendar view, as well as streamline external collaboration by bringing in freelancers, clients, and other necessary, but external parties to the app.
You'll always have an activity overview of what's currently going on in your workspace in the Activity feed, and you'll also be able to post questions, comment on others' posts (via text, images, files, or links), as well as make video, text, and audio calls.
Podio's highlight are its visual Reports –  your team will get a clean visual overview of sales pipelines, the time you have left for deliverables.
Available for: Web, iOS, Android
Fuze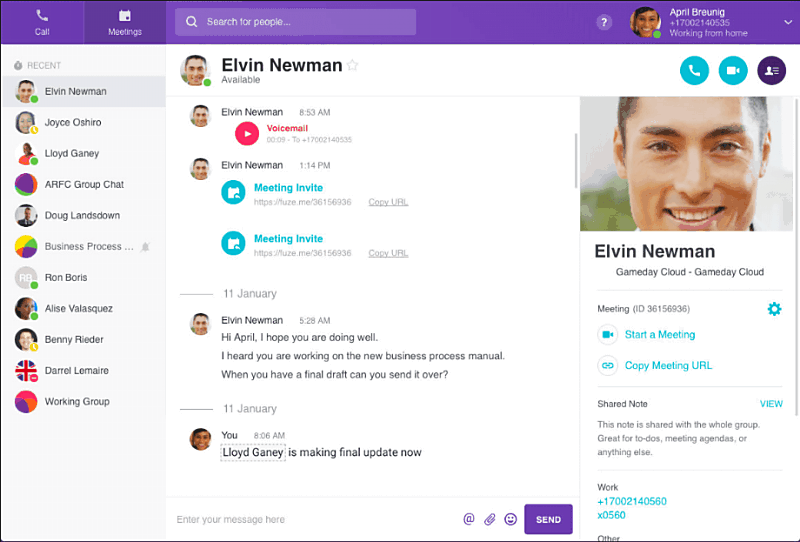 Fuze is a cloud-based collaboration and communication app suitable for all types of messaging – text, audio, and video.
With Fuze, depending on your preferences, you'll get a chance to send text messages, set up video conferences, and hold voice calls. Specifically, you'll be able to chat directly to specific team members, schedule meetings, hold one-on-one or group video and audio conferences, as well as record all these conferences, for safekeeping.
This app also provides you with an easy way to share your desktop screen, compile notes and context information about individual calls, for future references, or even grant or withdraw the rights to participants to address the conference. Conference presenters will also get a chance to use Slideshows, where you can add annotations or embed videos and images, in order to get their ideas faster and better.
Fuze's notable feature is that it lets you host smaller conferences within base conferences – in case you need to discuss something with a select group of conference participants.
Available for: Web, Windows, iOS, Android
MeisterTask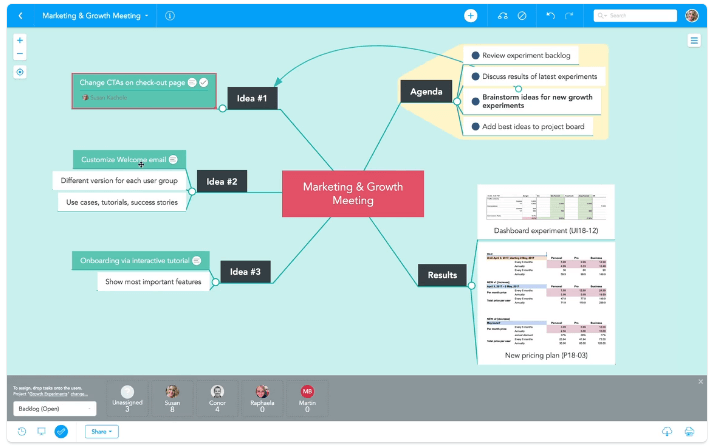 MeisterTask is a Kanban-based task manager meant to help you tackle collaboration and communication while working on tasks.
You and your team will be able to track your task progress, by dragging and dropping tasks from one aptly-named column to another, e.g.:
Backlog (Open) – for issues, tasks, tests you have yet to consider
Selected  – for issues, tests, tasks you've selected for work
Running  – for tests, tasks, issues that are currently being tackled
Evaluating – for issues you're currently assessing whether they are really fixed
Live – for finished tasks, fixed issues, and completed tests
With MeisterTask, each individual team member can jot down thoughts, ideas, reminders, and to-dos in a checklist, and either tackle them alone, or convert into tasks associated with a project and section, and visible to colleagues.
This app's standout feature is its automation options – you can access it from a column in your Kanban board, select a section you want to automate (e.g. "Backlog", "Selected", "Running"…), and then add the action you want automated (e.g. "Assign the task", "Send an email", "Set or remove due dates").
Available for: Web, Windows, Mac, iOS, Android
Notion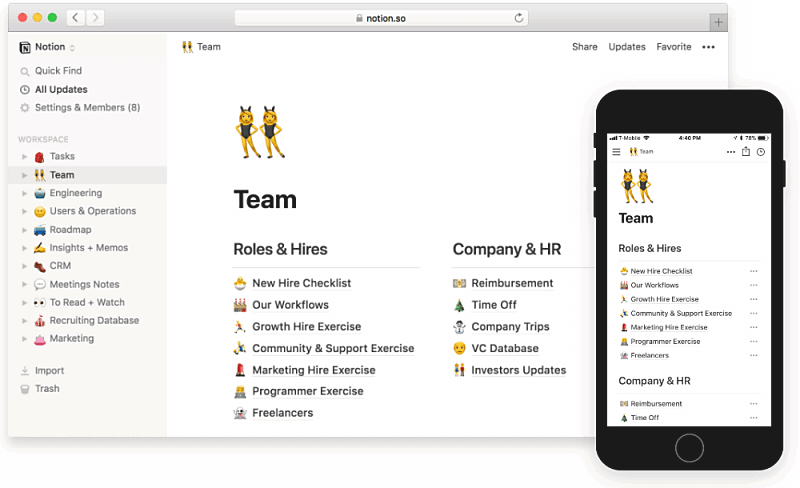 Notion is a team communication and collaboration app that lets you streamline your notes, tasks, and office Wikis detailing your company's culture and rules.
You'll be able to define to-do for the day, indicate what you've finished so far, add files and notes to documents, manage tasks in Kanban-board, calendar, and list view, as well as handle customer relationship, through the app's lightweight CRM features.
Notion's Wikis are the highlight of the app – you'll get a space to disclose culture rules and details to new hires, keep guidelines to company workflows, as well as notes on vacations, PTO, reimbursement, and Healthcare info. You'll also get a space to keep lists of specialized books and exercises your professional staff needs to perform and improve work.
Available for: Web, Windows, Mac, iOS, Android, Chrome, Firefox
Teamwork Chat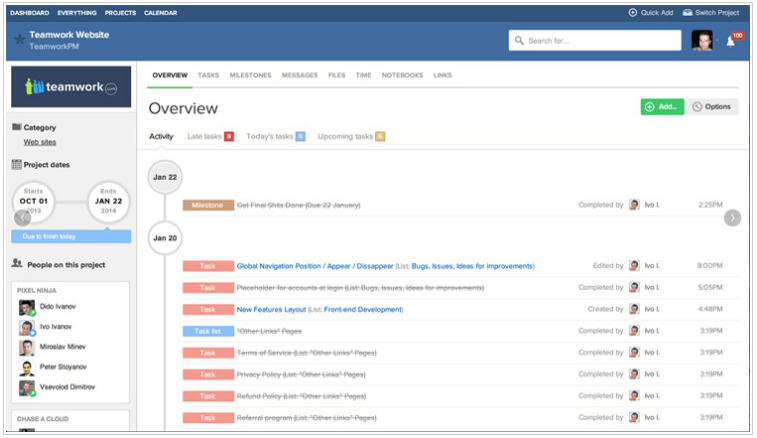 Teamwork Chat is the ultimate chatting software from the Teamwork family of apps – it lets you hold discussions, provide feedback, tackle problems, and overall collaborate more efficiently.
It's similar to Slack, in terms that you can send direct messages, participate in discussions in various topic channels, as well as add reactions and likes to comments. You'll also be able to search past messages in order to gather all the opinions and data you and your team gathered on a certain topic.
However, Teamwork Chat goes a step further than Slack by allowing you to create tasks from your talks directly within the app – which is also the app's standout feature.
Available for: Web, iOS, Android, Chrome
OpenProject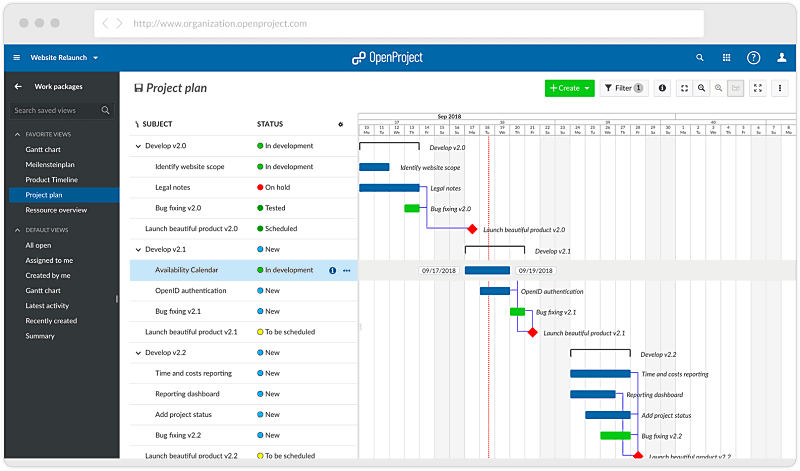 OpenProject is a free open source collaboration tool that allows you and your team to go through basic project management steps effectively – its features cover everything from project conception, definition, and planning, to launching and execution.
Your team will be able to handle and track work through Gantt charts, Kanban boards, and a Calendar overview of tasks with deadlines.
Open project is especially useful to software development teams – it offers efficient bug tracking, as well as the Agile and Scrum approach to project management, which allow you to create and manage backlogs and sprints. You'll be able to build, test, measure, and provide feedback for your software development projects easily.
The highlight of this tool is its WYSIWYG text editor, which allows you to streamline message communication among your team through faster and easier text editing, as well as the option to add tables, images and inline code to messages.
Considering that this tool is open-source, you'll also be able to view and tweak the code to fit your team management needs perfectly.
Available for: Web
Redbooth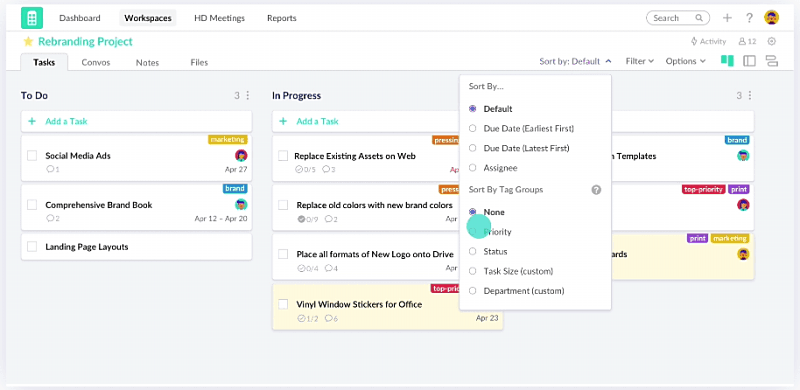 Redbooth is an online collaboration and project management tool that allows you to streamline your teamwork, tasks, and communication, in order to finish your projects faster and more efficiently.
With this app, you'll be able to add and sort assignees to the right tasks, define due dates and task dependencies, handle video meetings, as well as track project progress with a Gantt chart in the Timeline view of the app, which is useful if you're interested to identify bottlenecks in your team.
The highlight feature of this app is its visual approach to task management – you'll be able to manage tasks in a Kanban-based board, list, or calendar view, and make use of pre-built project templates in order to easily recreate types of projects your team frequently works on.
Available for: Web, Windows, Mac, iOS, Android
Wrike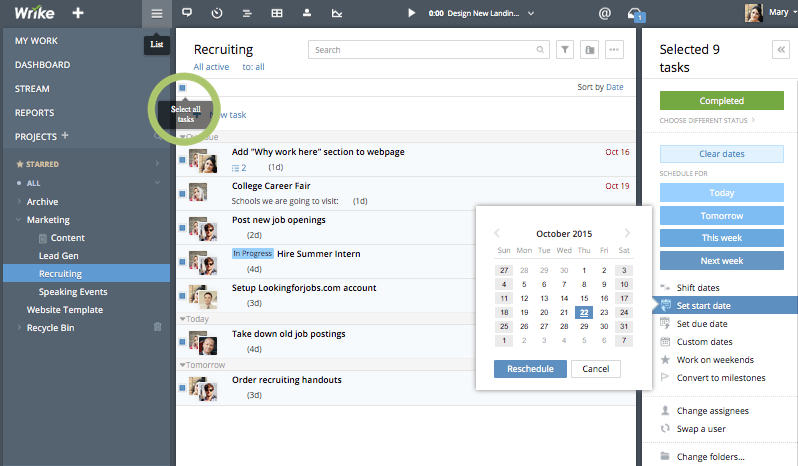 Wrike is a team and project management tool that provides you and your team with a simple communication system, one that allows you to provide feedback on various business matters, as well as stay on track with the current happenings in your company.
You'll be able to highlight important information in shared images, video, and files, as well as post comments to these attached document. With this app, you'll also get an efficient solution to plan, share, and track the progress of your work by scheduling tasks in a Calendar view.
Wrike's standout feature is its streamlined collaboration system – multiple team members are allowed to access and edit one document simultaneously and have all changes recorded at the same time. You'll also be able to collaborate and communicate with people outside of the company, in case you need to consult with your client or outsource work to a third party.
Available for: Web, Windows, Mac, Chrome
Quire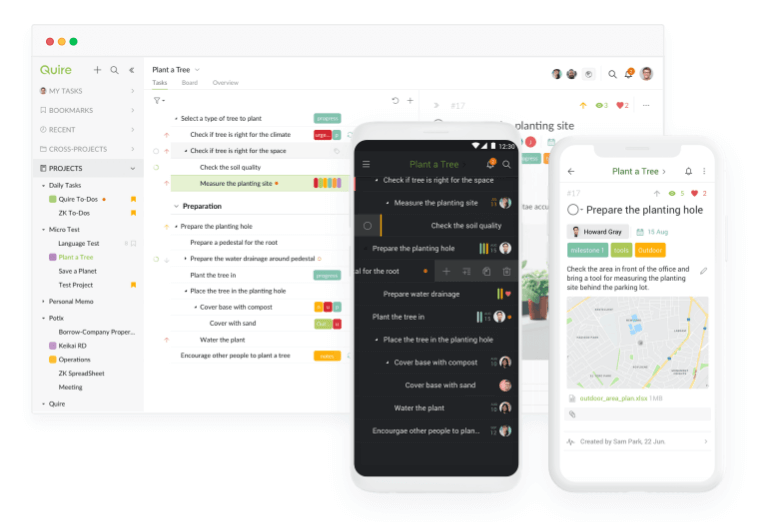 Quire is a visual collaboration platform meant to help you improve your project management – you'll be able to visualize your workflow by arranging and prioritizing your tasks and projects in a Kanban-based board.
You'll be able to break down large projects into smaller steps, assign roles & permissions, as well as communicate effectively through instant messaging.
For an even more efficient approach to team management, you'll also get the opportunity to assign multiple users to one task, view your team's progress in a Gantt chart, set reminders & notifications, and also batch similar tasks together to make task management easier.
As a highlight, you'll get to outsource work to an external team, and have contributors and external members take on less important tasks, in order to leave your core team time to tackle priority tasks.
Available for: Web, iOS, Android
GanttPRO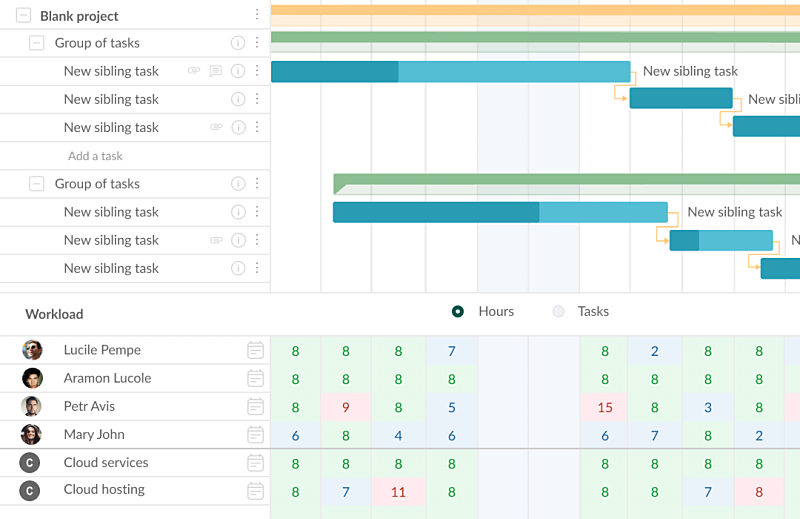 GanttPRO is Gantt chart software developed for project, resource, and cost management as well as team collaboration. With this tool, you can create and assign tasks in just a few clicks, set milestones, deadlines, and dependencies, and get a clear and visually appealing Gantt chart timeline with all your tasks, dates, estimates, and assignees.
In GanttPRO, users can communicate and collaborate with team members. They, in their turn, can be presented as real people and virtual resources. The tool allows specifying description for tasks, commenting on them, attaching files to them, mentioning project participants, and receiving  notifications. For teams, it can become a single central place where everyone can keep all project-related information.
At the same time, every single user has access to a tasks list view where all personal assignments are stored. If there is a need to change a Gantt chart view, users can switch to a Board view that is similar to boards in Kanban-based tools. Powerful resource management features allow seeing who is overloaded with tasks or, vice versa, has spare time.
For a quick start, GanttPRO provides with ready-made Gantt chart templates for different professional spheres: IT, construction, marketing, manufacturing, retail, education, event planning, etc. The learning curve is really short so managers can rest assured that other participants will start working on tasks right away.
Available for: Web, Windows, Mac, Linux.