How to set up a clock-in clock-out system at work
Need a good attendance management system so people coming to work can easily clock in and out?
Here are several simple ways you can track attendance with Clockify time clock app.
Option 1: Kiosk
You set up a time clock kiosk on any device you want (eg. tablet, phone), which people can use in turn to clock time in for free with their PIN code.
Kiosk setup (admin)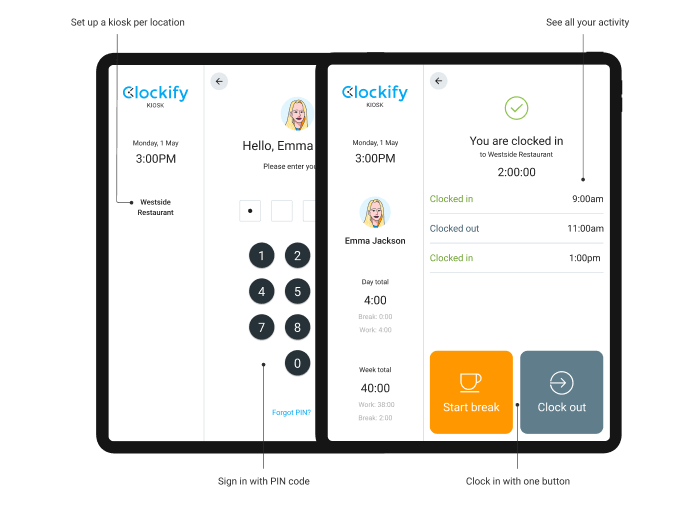 Enable Kiosk mode in Settings
Add employees
Create a kiosk and choose who can use it
Take any device you have (eg. a tablet) and place it at the employee entrance
Launch the kiosk by opening a link to it in a browser
Kiosk usage (employees)
Select your profile
Enter your PIN code
Choose "Clock in" or "Start break"
When finished, choose "Clock out" or "Finish break"
The kiosk is super simple to set up and use. Plus, you can have an unlimited number of users for free, forever.
If you need a kiosk in multiple locations, the upgrade is much more affordable than what other time clock apps charge.
Option 2: Timer app
If your employees have an email and a personal phone or a computer, they can download an app and track time on their own.
Invite employees by adding their email
Employee accepts the invite
Employee downloads a mobile app
Employee logs in and starts/stop the timer as they work
This option is great for people who work at a desk or are out on the field. All you have to do is invite them, and they are free to track time as they work without you having to set up the equipment.
All time tracking with a timer is completely free forever, no matter how many users you have.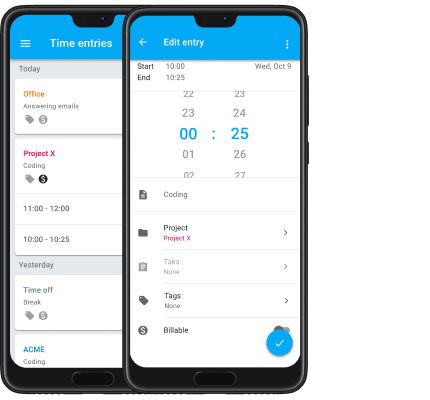 Option 3: Timesheet
If you don't need real-time time tracking, your employees can simply fill their electronic timesheets at the end of the day or week, detailing what they worked on and for how long. This can be done in a timesheet app.
Invite employees by adding their email
Employee accepts the invite
Employee opens the timesheet in a browser
Employee selects what they worked on and enters time under the corresponding day column
The timesheet method is the simplest of them all. All you have to do is add people, and they log time on their own. Although not as accurate as the timer method, this method is the easiest for employees to add to their everyday workflow.
You can even set up automatic timesheet reminders if people forgot to log their time. Plus, you can approve timesheets before sending them to payroll.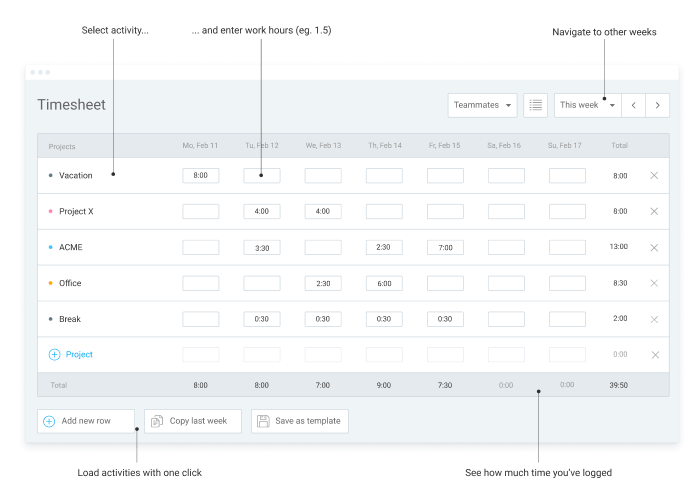 Bonus option: Auto tracker
If you like the idea of a timer, but employees find it a hassle, they can turn on the automatic tracker and add their time at the end of the day based on the recorded data.
Invite employees by adding their email
Employee downloads and installs desktop app (Mac, Windows, Linux)
Employee opens and enables Auto Tracker in the desktop app
At the end of the day, employee checks their recorded activities and creates time entries from them in two ways:

Select records and add them in bulk
Or create time blocks manually in the Calendar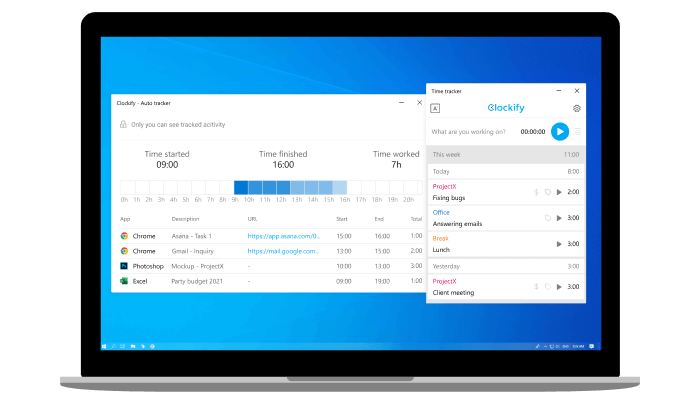 The desktop app and browser extension come with some additional features, such as:
Automatic time reminders, notifying you when you forgot to start the timer
Idle detection, notifying you when you forget to stop the timer
Automatic start/stop the timer when you turn your computer/browser on and off
Clock-in and clock-out reporting
Real-time activity
You can open Team Dashboard in your browser from anywhere to see:
Who's currently working on what
What was someone's last activity
Who tracked the most time
A quick breakdown of each person's time
If you have GPS tracking enabled, you can also see locations when people start and end time, as well as the route they traveled while clocked in.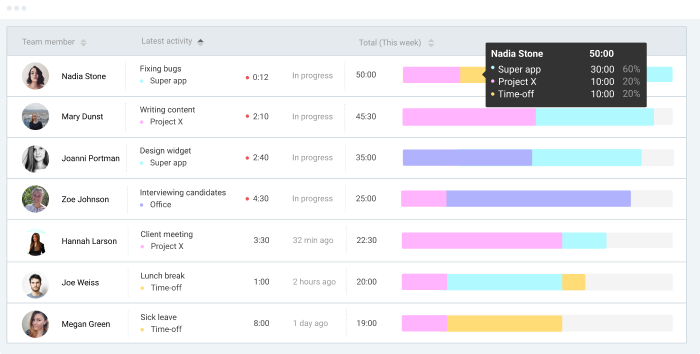 Summary report
You can see all time cards summarized by user, project, location, time period, or any other dimension you want in the Summary report.
You can also filter reports and share them with others, as well as export them as PDF or Excel and send them to payroll.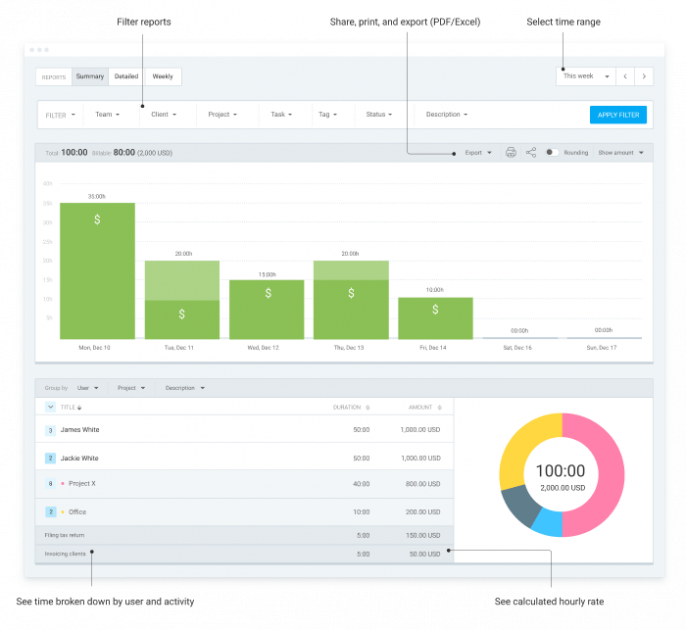 Detailed report
To see all time clocks individually, along with their start and end time, you can visit the Detailed report.
If you're an admin, you can also directly edit people's time cards, as well as add time for them.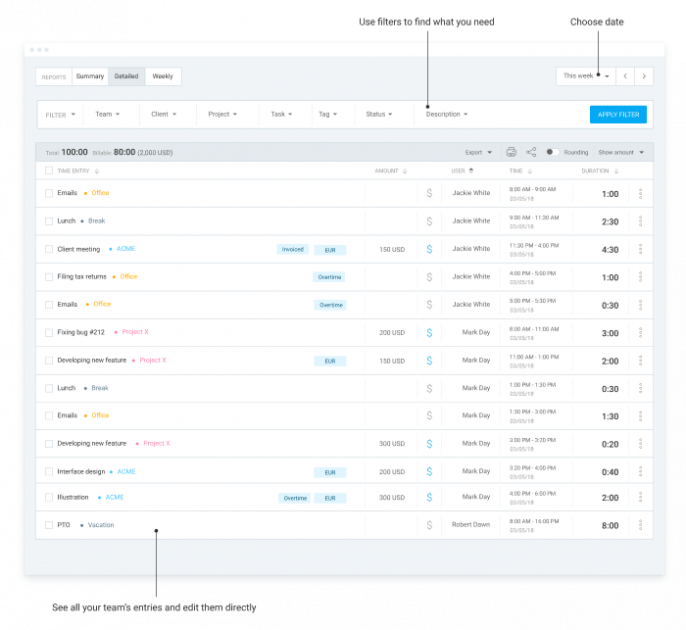 Weekly report
The Weekly report shows you all time summarized by project and user in a classic timesheet format.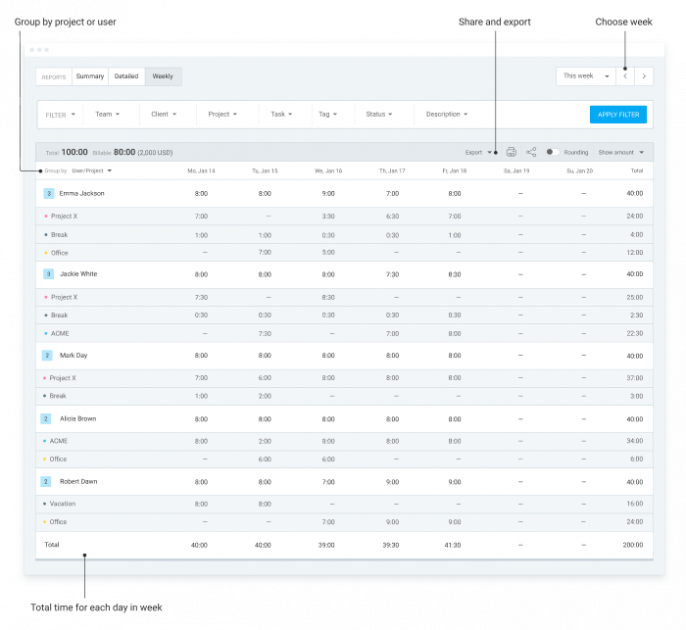 How to track breaks?
You can account for breaks in several ways,:
Enable the breaks feature, and people will then have the "Start break" option when they open the kiosk
Have a "Break" project so people can create a separate time card for their breaks and associate them with the "Breaks" project.
Create a "break" tag so people can create a time entry and attach the "break" tag so you can later group time by tag or filter it out from work time
Later, you can differentiate between work and break time in reports, and filter either by tag, project, or status.

How to track overtime?
If you need to see what time entries were created for overtime work, you can create an "overtime" tag. Then once someone's regular hours are finished, they can attach the "overtime" tag to all of their subsequent time entries.
If people use the timesheet to enter their work, they can switch to the time tracker and there add tags and notes to the appropriate entries.
Later, you can run a report and group time by User/Tag and that way see who has how much overtime. You can also see in the Detailed report which entries exactly were created for overtime work.
If people forget to tag their entries as overtime, you can set up automatic reminders. Simply set targets (eg. 8h/day) and when someone logs more time than their target, managers can get an email.
What's the best way to set up the clock-in-clock-out system?
The best check-in check-out system depends on your business needs and your employees.
Setting up a clock-in kiosk on your tablet is the best option if you're in a fast-moving environment and don't want to bother people with installing an app (or if they don't have work emails).
If people are coming to work every day and work at their computers, you can invite them as users in Clockify and they can personally log their hours at the end of the day by:

Filling their weekly timesheet, or
Creating time cards with start/end times.
✉️ Have any clock-in clock-out tips, suggestions, or questions? Write to us at blogfeedback@clockify.me for a chance to have your questions answered or your suggestions and tips featured in future updates of the post.