Free time blocking app
Clockify is a free time tracking app for blocked activities that lets you see where you really spend time.
Available for web, desktop, and mobile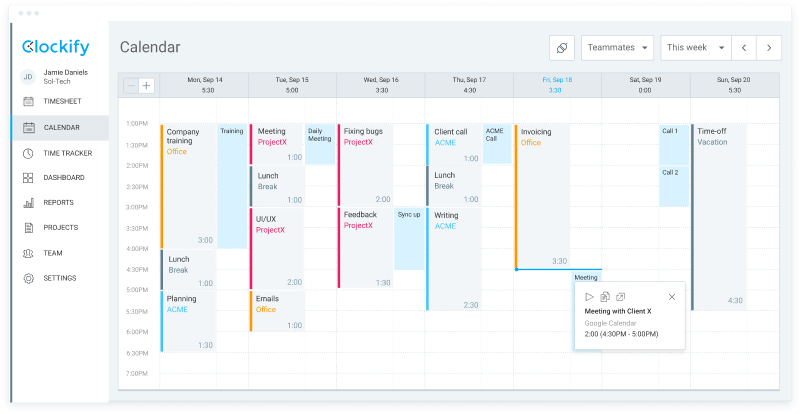 How to track time on blocked activities
Step 1
Create Clockify account
Step 2
Install time tracking extension for Chrome
Step 3
Start timer in Google Calendar
You can block out your day in Google Calendar and then track how much time you really spend on blocked activities.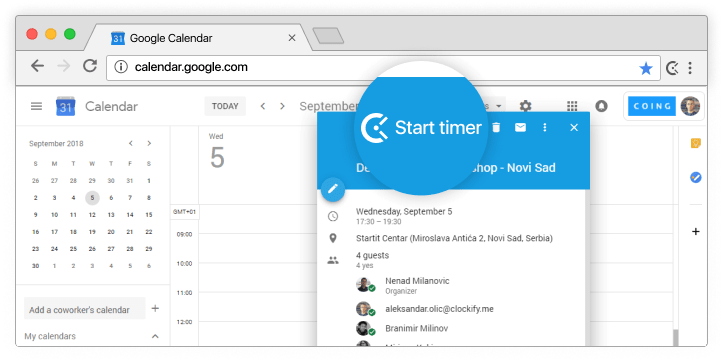 Step 4
Track time inside to-do apps
A timer button will appear in your favorite web apps so you and your team can track time right where you work (Trello, Asana, Todoist, Gmail, Google Docs, etc.).



Step 5
Limit work time
You can alocate how much time you want to work by activating the Pomodoro in the Clockify's Chrome extension. Once activated, you can specify how much you want to work, and get a notification when the timer reaches the alloted time.


Step 6
See time spent on activities
Open online Dashboard in your browser to see your most tracked activities and see where you spend the most time.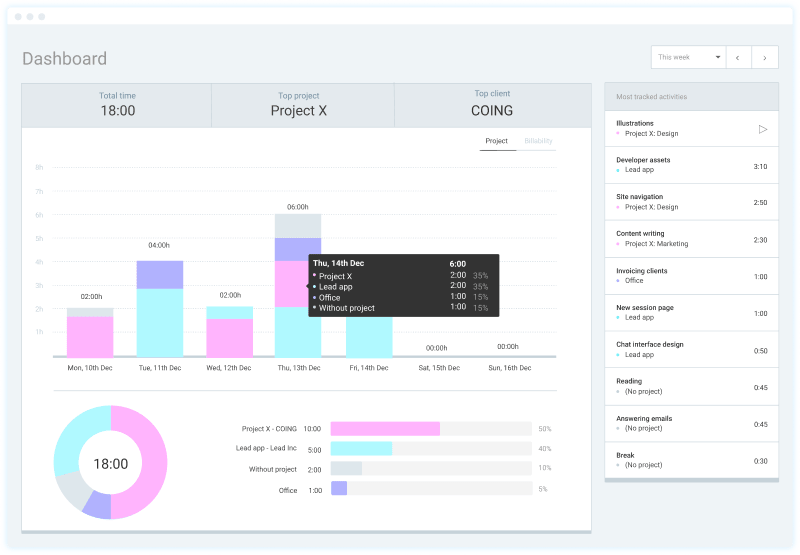 Step 7
Compare estimated vs real time
Set estimates for projects and tasks, and then see how much time you really spend on activities.
Step 8
Automate time tracking
Connect Clockify to Google Calendar via Zapier so you can:
Start timer automatically when an event starts
Stop timer automatically when an event ends
See tracked time in Google Calendar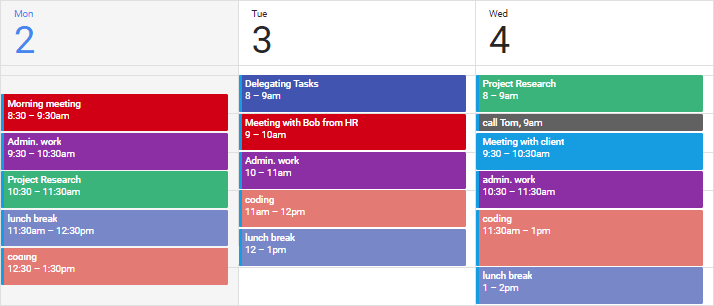 Time blocking and tracking features
Timer
Track time you spend on activities in real time.
Estimates
Estimate time and then track time against the estimate.
Completely free
All time tracking features and unlimited users, for free.
Integrations
Start timer within other productivity web apps.
Calendar
Create and edit time blocks in Calendar.
In-depth reports
See time broken down by period and activity.
Idle detection
Remove time you've been inactive or away from computer.
Automation
Automatically start/stop timer when X happens.
Reminders
Get notifications when you forget to track time.