How Whiteboard Games used Clockify when building their game
Our parents always told us that choosing the right college and major will predetermine the course of our professional careers. Nowadays, that's not always the case, but the statement still holds true for many people.
However, in the case of Luciano Musella, who you might've heard of as one of the faces behind the newest twin-stick shooter I See Red game — teenage and college dreams did come true.
What was once a college passion project for Luciano and his friends quickly became a cornerstone for Whiteboard Games — a video game publisher based in Argentina.
We've had the pleasure of speaking with Luciano on various topics, including:
The early days of Whiteboard Games,
I See Red and its production,
Difficulties that arise from working on a deadline, and
Tracking time with Clockify.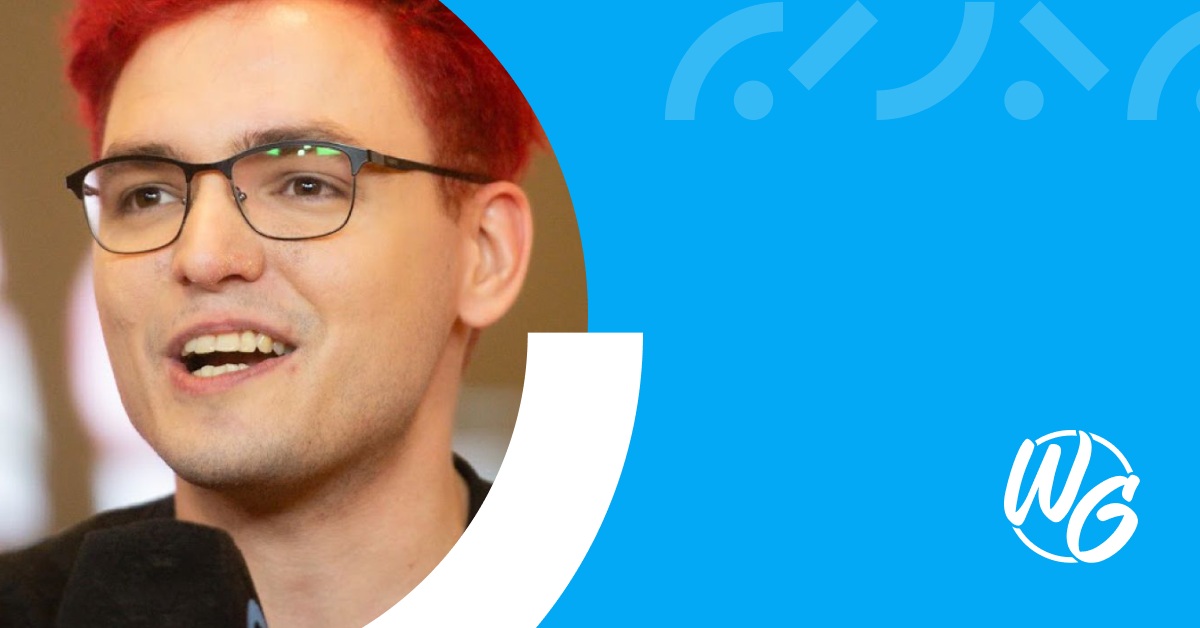 Whiteboard Games: Early beginnings
The story begins with 4 friends trying to make it on their own in college.
Learning about game development, storytelling, and design was one thing, but Luciano and his friends were put to the test when they reached their senior year and had to commit to finalizing their graduation thesis — developing a game that matched the industry's quality standards.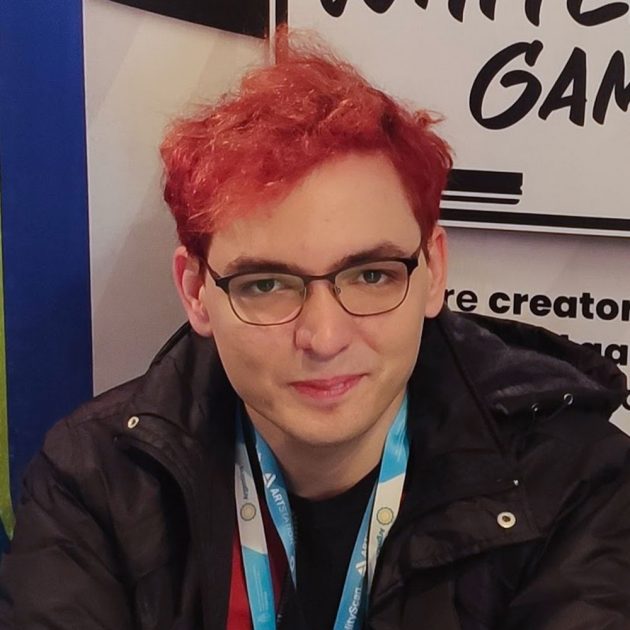 "Make a game that's good enough to reach the quality of one that's currently on the market — we took that quite literally and began production on what eventually ended up being known as I See Red."
When they reached the final days of college and graduation was at the doorstep, their thesis received high praise from professors and colleagues, earning them the highest grades. However, achieving academic success meant only one thing for them — keep working until the game's perfected.
I See Red: Inspiration and production
Needless to say, Luciano and his friends got to work and started working on something entirely different in order to separate themselves from the competition.
Early-day gamers certainly remember twin-stick shooters such as Robotron:2084 and Geometry Wars, which are a sub-genre of 'shoot-'em-up' games.
I See Red acts as an homage to the genre, but it's also a product of experimentation by the development team to resurrect the interest in gamers with improved design and game mechanics.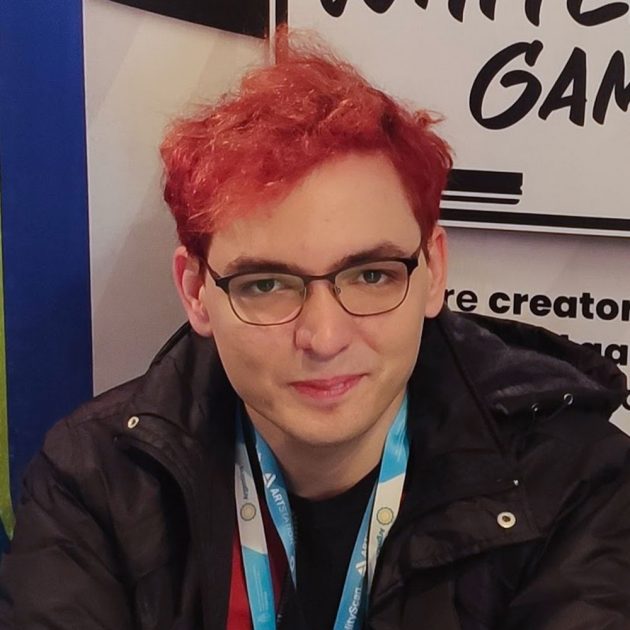 "The twin-stick shooter was basically us trying to learn and experiment a new genre, since at the moment we had already built FPS games, puzzle games, and many others, thus we wanted to do something that was different and cool."
When it came to production and team management, it was only natural that they ran into some roadblocks, especially once the team started growing in 2021. However, their spirits were high and they were not demotivated: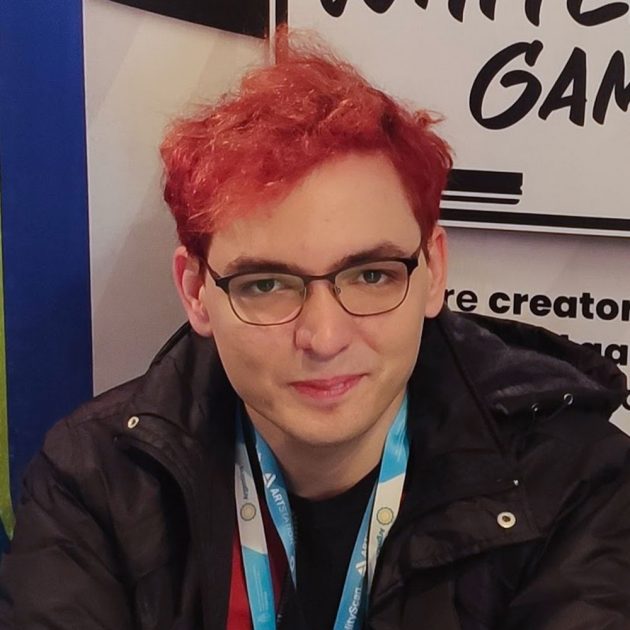 "We learned a lot of different things in college as to how to code, make the art for it, and so on, but not much on how to organize a team and lead it.
Luckily, the ADVA — Association of Video Game Developers of Argentina — sent an industry veteran to essentially operate as an executive producer, who guided us in the right direction and taught us along the way how to structure the team in a way that doesn't fall apart."
Fast forward to today, I See Red is available for purchase at Steam, and you can play it on multiple platforms, including:
Nintendo Switch,
PlayStation 4,
Xbox One, and
Microsoft Windows.
💡 Clockify Pro Tip
Who said that games cannot help you evolve? Take a look at our list of games that help you improve focus, time management skills, and boost productivity:
Overcoming obstacles: Grind, overtime, and finding their niche
As a young team, the creators behind Whiteboard Games had little to no experience when it came to managing a team or being in charge of a large production.
However, the results were evident by the number of hours they had to put in each week in order to meet their desired deadlines: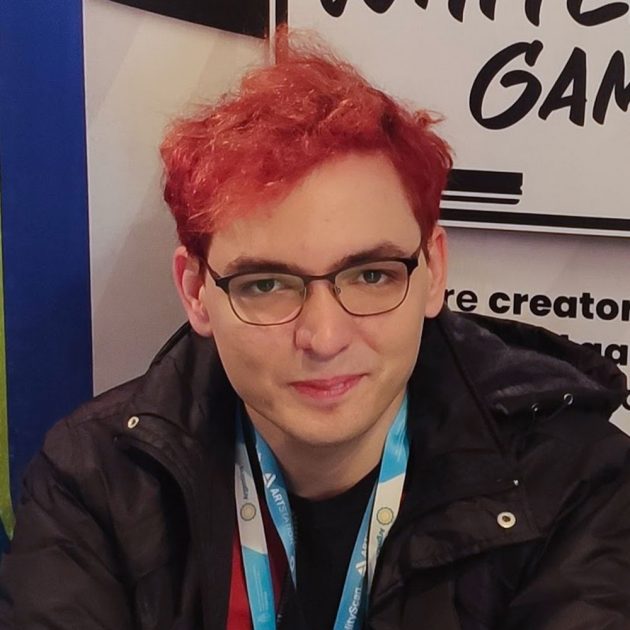 "The 5 co-founders began a 50-hour shift because we knew we weren't going to make it either way — I eventually had some 60-hour workweeks. No employee of ours ever did overtime by request, and if they were to choose to do so, we would pay them for every 30 minutes extra they did."
Coming from puzzle and FPS games, everything was a form of experimentation for the team, which brought upon new and often difficult challenges: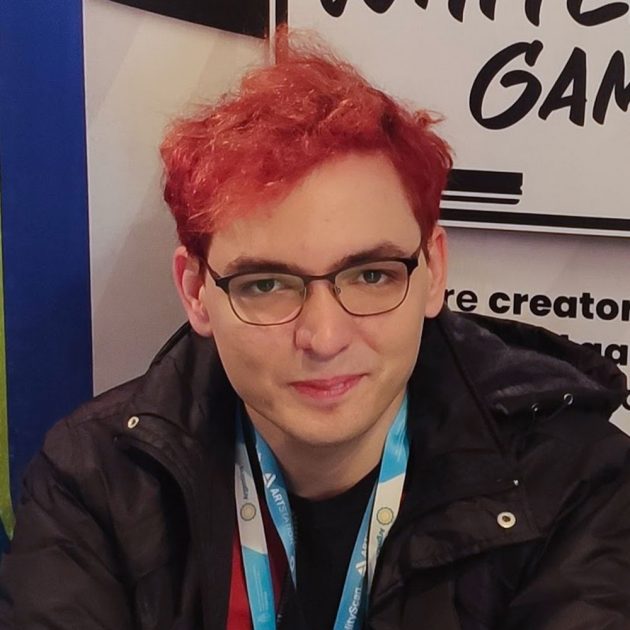 "There came a time when we would just wake up, turn the PC on (we work remotely), begin (or continue) a task on Clockify, and start working until we got to sleep, and then start all over again. We did stop the clock to eat, shower and other basic human needs, but that was basically it."
The conclusion — everything changed when the crew incorporated time tracking into their work routine.
💡 Clockify Pro Tip
In order to be successful, every larger project requires effective planning and seamless execution. If you want to know more, check out the following blog:
Benefits of using Clockify for game production
We got in touch with the creators behind I See Red after spotting an interesting post on r/gamedev. The post detailed the entire process of production of the game, seen through Clockify's lenses — the world's most popular time tracker for remote teams.
An astonishing 40,238 hours was the time it took the dev team to finish the project, from start to scratch, which amounts to roughly 4.5 years in the total program, design, and creation time.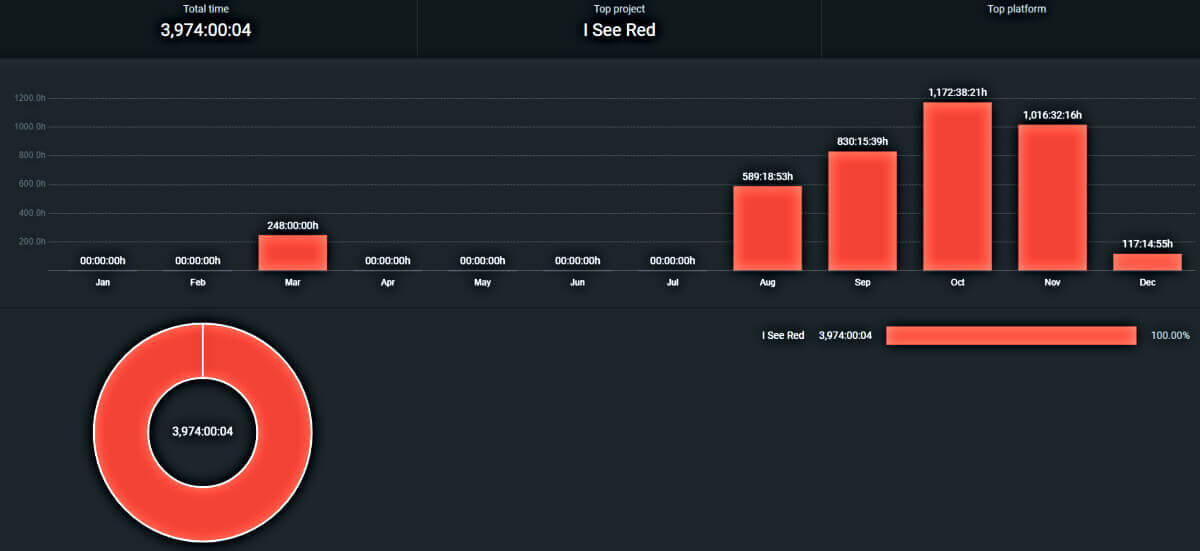 Having to pull shifts lasting longer than the industry average, Luciano came to a conclusion regarding work hours and time tracking skills — if you don't track time, you can easily underestimate or overestimate your time: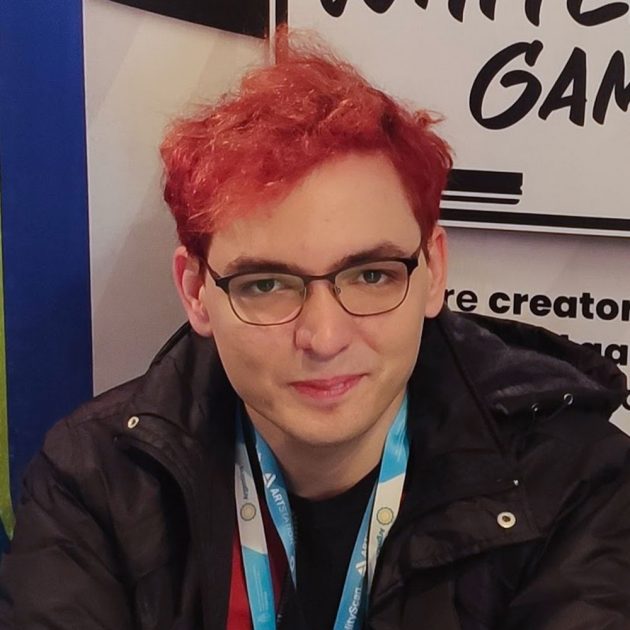 "What I learned by the usage of Clockify is that people that say "I work 70 hours" from Monday to Friday are simply exaggerating. When you actually track your time precisely you'll truly find out what working 60 hours is, and how 70 or 80 are near impossible."
Benefit #1: Clockify improves team dynamics and allows flexibility
Soon after the original team finished their studies, the project was underway, and with that, the team grew. In fact, over the course of 2 years that it took to finish I See Red, the team grew from 4 to 30 employees.
Luciano realized that tracking time is crucial when working remotely: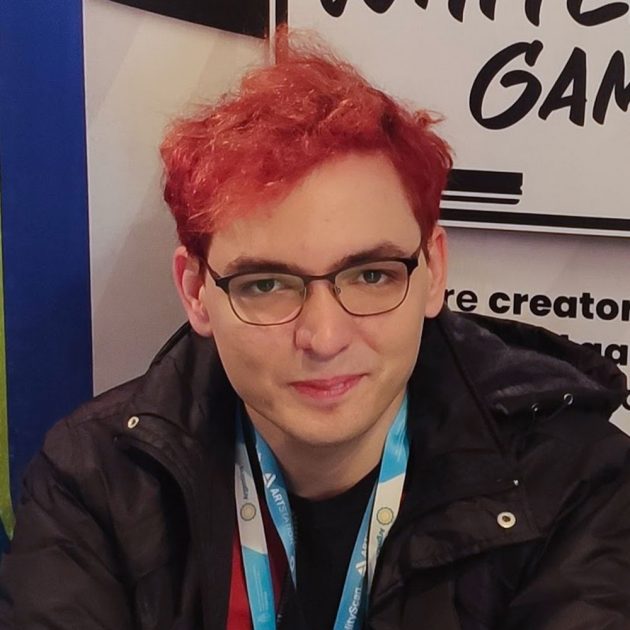 "For each different area of production of the game we had a task assigned to it. Each team member would start a new task and create a new entry with the area and write what they were working on at the moment.
It was mandatory since working remotely sometimes creates too much freedom to the point where people don't really know when they should finish."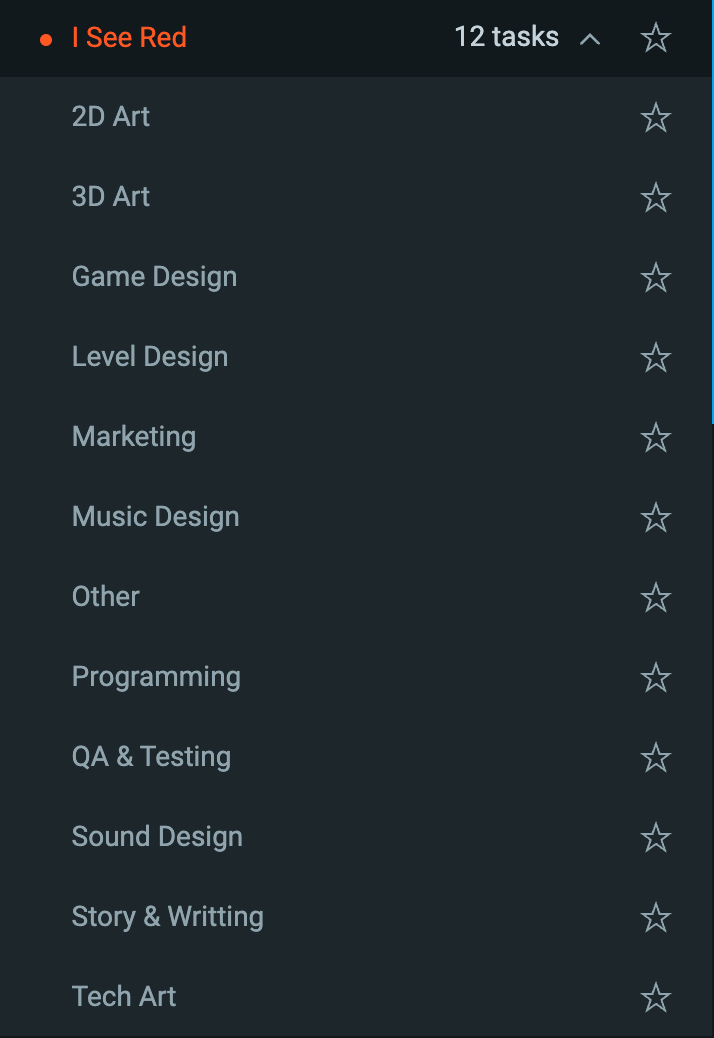 Furthermore, Luciano reiterated his stance on how overtime is important and the way they handled it by offering flexible work hours: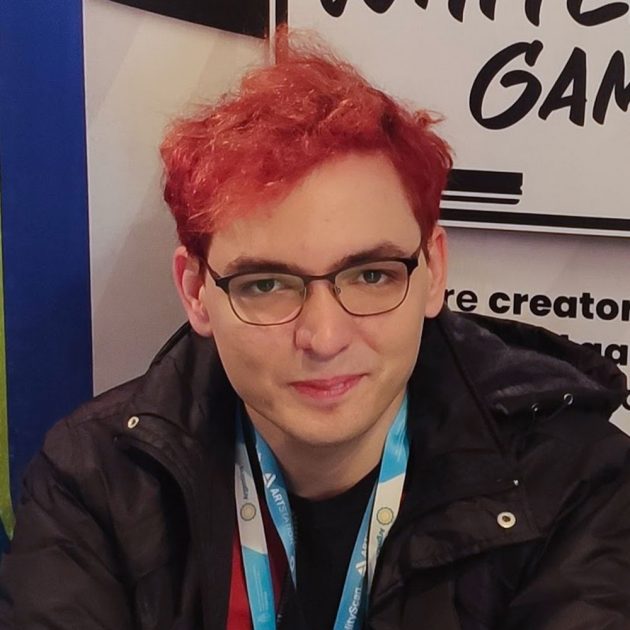 "From Monday to Friday you are required to do 40 hours if you are a full-time employee. You can do them at any time of day and the amount of hours that you want during that day — for instance, this creates space to have a 3-day weekend."
All in all, giving his employees space to operate as they wish under the 40-hour week restraints proved effective and successful for the team overall, since they reached their goal with ease and released the game as planned.
💡 Clockify Pro Tip
Learn everything you can about working 4 days a week and overtime — eligibility requirements, pay rates, and more:
Benefit #2: Clockify helps you plan ahead
As I See Red received funding and the team grew, expectations rose, and deadlines approached.
Luckily, Clockify's entries and analysis proved useful to the managerial staff in determining the length and effort it took for each of the tasks to be completed: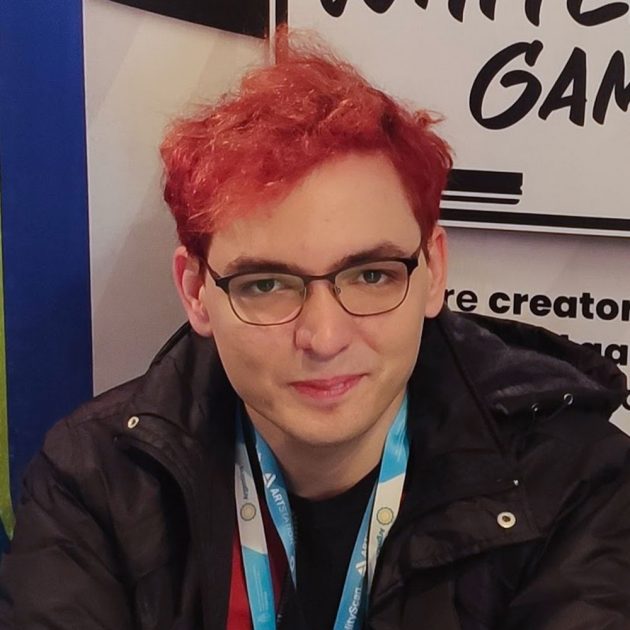 "When you track everything with the massive precision Clockify gives you, your mind unlocks the ability to calculate tasks more precisely. That made the work on sprint planning and sprint reviews far easier.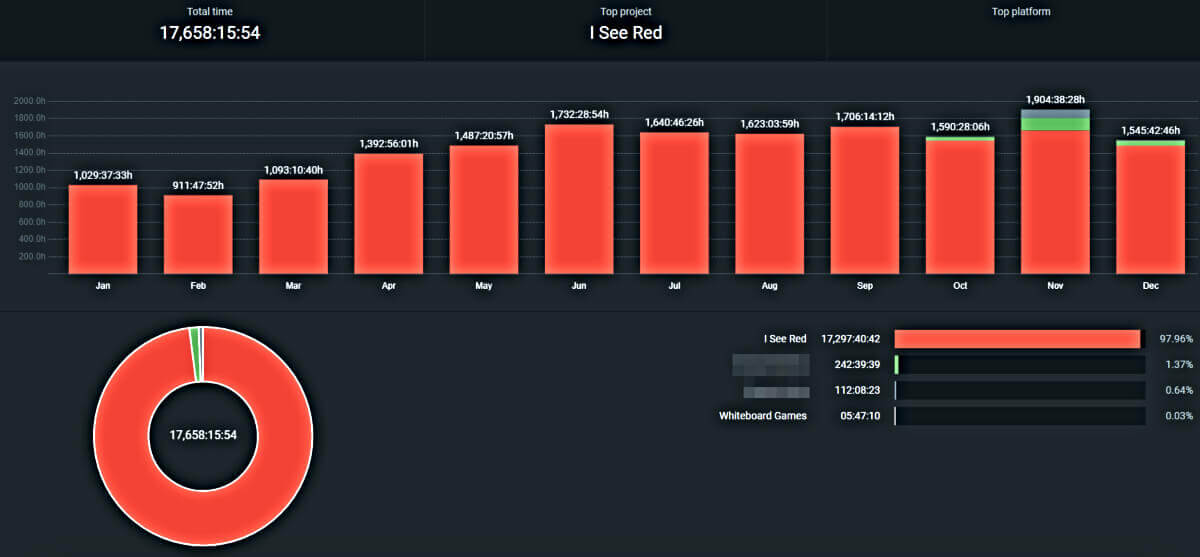 Even though Clockify has many great features to offer, using the time tracker solely brought more than enough for the team in their development phase.
Who would Luciano recommend Clockify to and why?
Along similar lines, Luciano shed light on how Clockify is the perfect tool that helps him manage his team and recommended it to everyone who struggles with time delegation: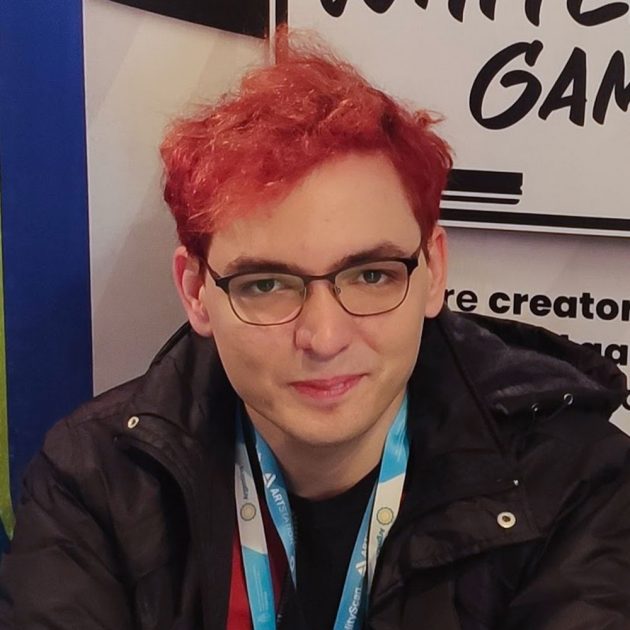 "It's a no brainer to recommend it.
You can handle big teams, see what they are up to in real-time, and know exactly where you are without any hurdles. On top of that, you can see that the tool is made with care and love, everything feels smooth, works exactly as you wanted it to, and that it has care and love put into it."
In the early stages, the team struggled with keeping up with the projected deadlines, tracking everyone's assignments, and making sure that daily goals were reached.
As time went by and everyone's time tracking skills improved, the team got the hang of it and they were able to build the company now known as Whiteboard Games.
Final thoughts: Hard work and time tracking go well together
It took two years of ups and downs for Luciano and his college friends to accomplish what they had set out to do in 2020 — transforming a passion project into a successful company they can be proud of.
As we wrapped up our interview, Luciano further stated that he is a fan of Clockify and that they'll certainly use it while working on their following projects in the upcoming years.
Based on his experience, it's safe to say that there is a strong correlation between success and time tracking in the gaming industry and that it's certainly worth a shot — especially if you're just starting out or thinking about incorporating a time tracker into your daily routine.
✉️ Are you interested in sharing how time tracking helped you in your line of work? Tell us your story at blogfeedback@clockify.me, and we might include it in future blog posts. Also, share this article with someone that might find it useful.