Time tracker
Start and stop timer as you work, or enter hours manually.
Timer
Track time using a stopwatch.
Add time
Enter and edit hours manually.
Resume
Continue tracking with one click.
Billable
Mark hours as billable.
Timesheet
Log your weekly activities in less than a minute.
Activities
Select activity and enter time.
Notes
Add more information.
Totals
See total time per activity/day.
Templates
Quickly load activities each week.
Calendar
Visually track time and log activities.
Visualize
See how your day looks like.
Add
Block hours with a click.
Edit
Edit blocks by resizing.
Connect
Add events from Outlook/Google.
Dashboard
See where you spend time and what your team is working on.
Top activities
See where you spend most time.
Visual charts
All time and money at a glance.
Breakdowns
See what your team worked on.
Live status
See who currently works on what.
Reports
See who worked on what, how much money you earn, review your team's time, and export the data.
Projects
Track time on projects, and keep an eye on progress and budget.
Tasks
Categorize time by job type.
Estimates
See tracked vs estimated time.
Rates
Custom hourly rates for projects.
Status
Track project progress.
Team
Invite your team so they can record their attendance and track how much time they spend on activities.
Invite team
Unlimited number of users, free.
Rates
Set per user hourly rates.
Manager
Give additional permissions.
Groups
Manage access using groups.
Apps
Track time from anywhere — everything is synced online.
Web • Chrome • Firefox • Windows • Mac • Linux • iOS • Android
Idle detectionStop timer from tracking time you spend away from your computer.
Mac, Chrome Auto start/stopAutomatically start or stop the timer when you turn on your computer or browser.
Mac, Chrome Offline modeTrack time even while offline.
Mac, Windows, Linux, Android, iOS Default projectAutomatically preselect some project when starting a timer.
Mac, Windows, Chrome, iOS, Android RemindersGet notification when you forget to start a timer.
Mac, Chrome Pomodoro timerGet notifications when it's time to take a break.
Mac, Chrome Auto trackerTrack how much time you spend in other apps on your computer.
Mac, Windows, Linux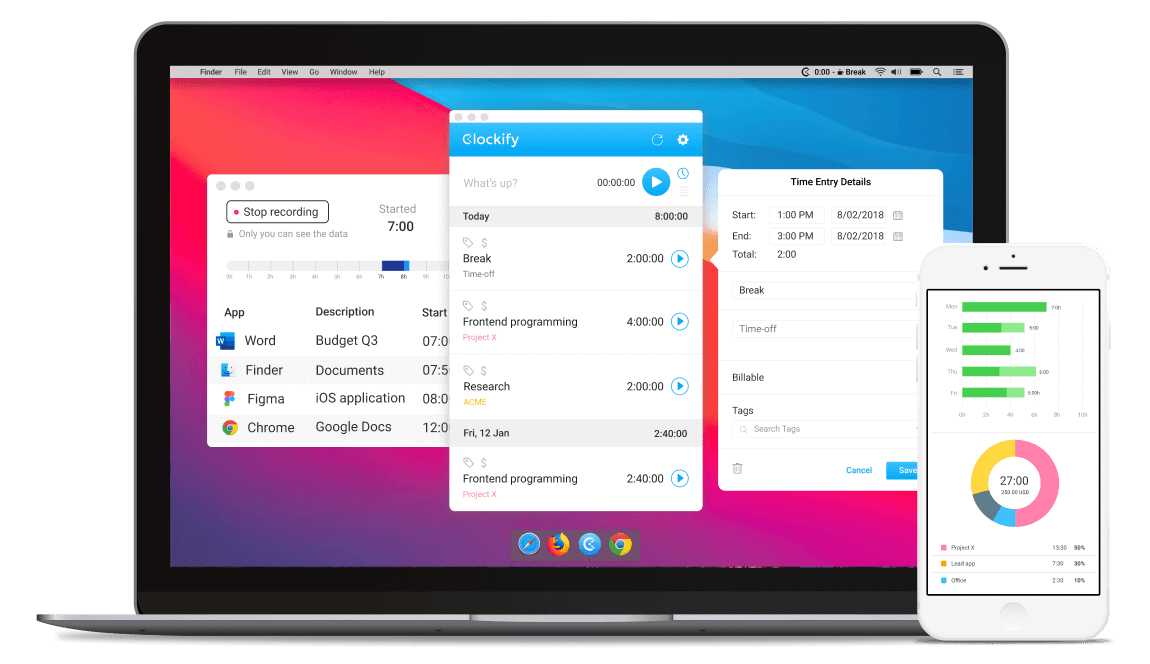 Integrations
Track time inside other web apps.



Watch demo
See how everything in Clockify works.