Why time tracking is essential for project management
Effective planning is a necessary condition for completing a project.
But, how do you determine whether the plan adheres to the anticipated timeline?
How do you monitor execution and guarantee that you provide an appropriate solution on time?
The key is project management.
Project management, however, is not a stand-alone discipline.
It is composed of several critical components — and time management is one of these components.
According to Forbes, exploring various time management techniques to determine which method works best can help alleviate stress and boost productivity — which is something your team will need when working on multiple projects.
Among other perks it offers, proper time management encourages you to track and analyze how much time is devoted to specific activities and the project as a whole.
If you are unaccustomed to time tracking, you may fear that it will overpower the team or stifle creativity. However, the truth is that keeping track of how much time is spent on every project benefits everyone.
And, the best way to keep track of time is via time tracking software.
To explain why time tracking software should always be an essential part of the project management process, in this blog post, we'll shed light on the following matters:
Defining the importance of time tracking in project management
Understanding the benefits time tracking brings to project management
Implementing the best time tracking practices for project management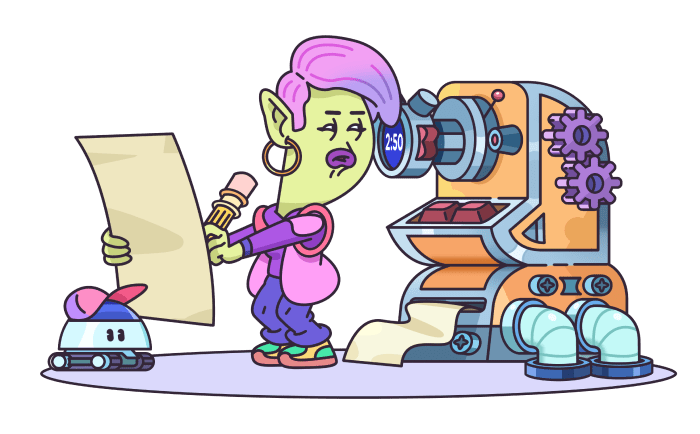 What is time tracking in project management?
The project time management process keeps track of how long team members take to complete their assigned tasks.
It assists the project manager in determining the team's productivity and progress on a project.
Time tracking enables project managers to audit their forecasts for a project — such as its time frame — and make necessary adjustments in their project management tool based on data.
Additionally, team members can use time tracking to evaluate their performance and make sure they are meeting project objectives.
While project managers can monitor this time manually, it's beneficial to use time tracking software, because such a tool can help you:
Track time spent on tasks,
Monitor team progress, and
Generate reports that you can later analyze.
While time tracking applications vary in their features, the majority enables project team members to keep track of their time on every assigned task.
This type of software can be beneficial for businesses that employ many hourly employees or that issue invoices to clients for hourly work.
Benefits of time tracking software in project management
According to Time Management Statistics, 82% of people do not use a comprehensive time management system, relying instead on simple options such as lists — or nothing at all.
Only 18% of employees make use of a well-defined time management system.
While there are several popular methods for tracking time — consider spreadsheets, smartphone notes, or even pen and paper — not all of them are equally effective.
The most efficient approach is to use a time tracking software — such as Clockify, which is a suitable time tracker for project management.
This type of software is typically the most precise and cost-effective for businesses looking to track time spent on projects.
Now, is time tracking effective in project management, overall?
The following is a list of reasons detailing why time tracking software (and, by extension, the process of time tracking in general) is critical for your business's success.
Time tracking software makes your work transparent
By incorporating time registrations into your practice, you automatically increase your business's transparency.
Time tracking software enables you to be on top of the work procedure by providing insight into completed tasks and the realistic time it took to complete them, when compared to the estimated times.
Additionally, you begin to recognize which activities are taking longer or shorter than expected, and start scheduling and prioritizing work more effectively.
Eventually, tracking time spent on projects and tasks via time tracking software will provide teams and managers with a broader picture of their workflow.
Everyone can review their tasks and better understand how to increase productivity while also keeping an eye on what others are currently working on — these insights will help you make better work schedules, as you'll know who's available to take on which task, and when.
Time tracking software makes other work activities easier to accomplish
When employees fail to enter accurate information into timesheets, the company incurs significant financial losses.
That's why it's important to not only make the process of time tracking easier, but also, to expand it to include other processes — this is possible via integrations you can get with a time tracking software.
For example, to directly affect the level of your financial losses, integrating your time tracking app with your top accounting systems for business is a great solution.
Moreover, depending on the tasks assigned to your team members, they may also be required to clock in when working offsite.
A time tracking software for accounting that includes a mobile application for all devices, including iOS and Android, enables your team members to continue tracking time regardless of their location.
Time tracking software provides performance insights
Without insight into your employees' performance, you may be unable to manage your teams effectively.
After all, it is crucial to recognize employees who put in the effort their roles require for the success of the company.
Without tracking and analyzing employee performance, it's challenging to get an accurate insight into employees' work hours and time spent on individual tasks — which is the perfect illustration of why time tracking software benefits a team's productivity.
Time tracking and project management software can provide helpful insight into your staff members' performance and help you understand who is performing well.
Additionally, because you'll know your high performers, you can increase their confidence by publicly recognizing their accomplishments.
Apart from identifying exceptional performers — i.e. team members who finish their tasks on time or earlier — time trackers can also be used to identify people's strengths and weaknesses.
You can recognize trends in people's behavior at work if you collect enough data. This information includes data highlighting:
How long it takes for people to complete their tasks,
Whether some people procrastinate on their tasks, and
Whether some people finish their tasks faster than expected.
This information allows you to take appropriate measures to assist anyone who has been having difficulty completing tasks efficiently and reward those who have been finishing their work faster (but with the same or better quality).
Time tracking software helps monitor project progress
According to the State of Project Management Report by Project.co, a sizable portion of surveyed employees openly admit to frequently missing deadlines — and even overlooking tasks that are due.
And, confusion and conflict may occur if you consistently miss deadlines because you underestimated the amount of time required to complete a task.
By underestimating the time required to finish a project, you're also underestimating the project's cost — which leads to money loss in the long run.
Additionally, if your personnel spends excessive time on projects that have lesser value, you'll also lose money.
But, when working with clients, you should pay more attention to this — after all, your tardiness tarnishes your brand image, so you should pay more attention to the efficiency with which your projects progress.
Without effective project management encouraged by effective time tracking, clients will lose trust in your brand and spread the word about your brand's shortcomings to other business owners. After all, word of mouth doesn't have to be positive — but, you'll want to make the effort to minimize the negative reviews.
Time tracking software automates timesheets and facilitates invoicing
By tracking project time with specialized software, you get improved timesheets and invoicing.
Why are accurate timesheets and invoices important?
Well, for one, accurate timesheets lead to accurate invoices, which leads to better client relationships.
And, team members' timesheets are more accurate the more frequently they complete them — after all, you're more likely to remember the tasks worked on and time spent on said tasks if you enter your time on a weekly, or even daily level.
And, completing timesheets in a software makes the process faster to accomplish, making it easier to complete accurate timesheets and invoices more frequently.
Time tracking software streamlines payroll
Another benefit of time tracking software is that it reduces the payroll processing cost — as time trackers automatically keep track of staff members' time. It is more reliable and accurate than manual tracking systems that are prone to errors.
For example, if you have hired freelance virtual assistants on an hourly basis, they can:
Define their hourly rates,
Clock in their billable hours directly into your time tracker app, and
Have their earnings calculated automatically and recorded for future reference.
Business owners can anticipate fewer rejected timesheets that lead to payroll processing delays and problems.
After all, time tracking tools enable you to keep track of your projects and the amount of time and money spent on them.
Additionally, with sufficient data from your time tracking system, you can accurately evaluate the resources required for a project, based on time tracked on similar projects.
Time tracking software strengthens client communication
The best time tracking software lays the groundwork for creating reports for distribution to clients and other stakeholders.
Sharing the project's stage and roadmap enables partners to track progress on tasks and raise any concerns in a timely manner.
Furthermore, they understand precisely where their investment or effort is going and whether it is paying off.
Ways to keep track of time in project management
If you're determined to enhance your project management efforts with time tracking, you should know how to do it properly.
Take a look at 4 effective ways to keep track of time in project management.
1. Choose the right time tracker tool
There are A LOT of time tracking tools to choose from, so how do you pick one among the many options available?
The most important thing to consider is what suits your business needs and processes best.
Determine what your project goals are.
From there, define the features you're looking for in a software to help you achieve those goals.
Doing so makes it easier for you to narrow down your options.
💡 Clockify Pro Tip
To help you choose the best time tracking software for you, here's a detailed analysis of the most popular time tracking software, along with a detailed comparison table of their features:
2. Motivate the team to track time
Introducing a new tool to your team can hinder productivity — if not done right.
Of course, it's a new system to learn, a new process to implement, and a new task to handle.
That's why it's important to get your team on board and encourage them to do time tracking.
3. Have a reminder system
In project management, a lot depends on accuracy, consistency, and time.
To make sure your employees' time logs are accurate and regular, you'll have to find a good reminder system. Luckily for you, with modern time tracking software like Clockify, you can set up email reminders that will ensure your employees log in time regularly.
To make things easier for managers and admins, you can also set up daily, weekly, or monthly reminders that will provide information about who hasn't been tracking their time. Or, if someone has tracked more time than their usual target.
4. Analyze tracked time
For project management, tracking time isn't enough. Analyzing the data obtained through time tracking software is what brings value to project management and planning.
By examining time tracking data at their disposal, managers can:
Learn how time tracking affects their teams,
Identify problematic areas, and
Understand their teams' productivity better.
Each aspect is essential for driving better results, saving time, and making more accurate budget estimates in the long run.
Conclusion: Enhance project management through a time tracking system
Traditional spreadsheets are obsolete, especially in project work.
You require an excellent tracking solution that is fully automated, provides real-time access to employee time data, and integrates with your billing and project management software.
In gist, time tracking tools for any project management system assist team members in:
Meeting deadlines,
Identifying areas for improvement, and
Monitoring work performance from any location in the world.
Additionally, you can utilize a time tracking application to optimize project workflow and focus your efforts on the right tasks at the right time — which benefits your business's bottom line.
✉️ Do you track your time? Have you found time tracking helpful for project management? How do you keep track of your time as a project manager? Is there anything that you've found particularly useful? Write to us at blogfeedback@clockify.me for a chance for your answer to be featured in one of our future articles.