How to create a PTO policy
If you're a business owner, maybe you've heard that having a great PTO policy can help you become a dream employer.
But, is this true?
Well, people really do appreciate having enough time off for all kinds of out-of-office activities.
So, providing your staff with the ability to take paid time off every now and then could increase your employees' morale and help you attract the best talent.
But, where should you start from?
Luckily, we're here to guide you through the entire process of creating a PTO policy.
In this blog post we'll:
Go over the basics of PTO and a PTO policy,
Cover many different types of PTO policies,
Look into the benefits of a great PTO policy,
Get into the laws that regulate this matter, and
Help you select the right PTO tracking system for your company.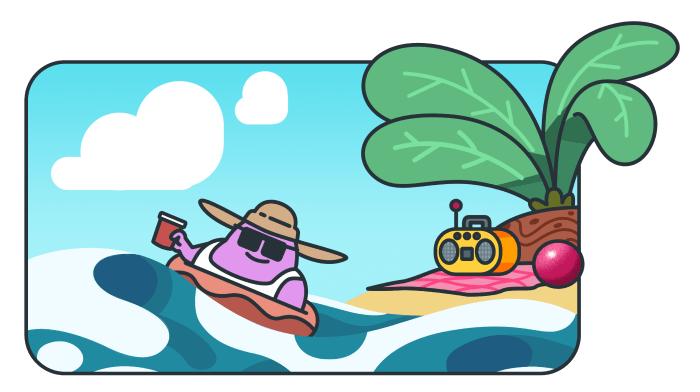 What is PTO?
Paid time off (PTO) is the time employees spend not working — but they still get paid for these hours.
PTO is an umbrella term that includes:
Vacation
Personal days
Sick leave
Bereavement
Jury duty
Maternity and paternity leave
Volunteer work
As seen above, PTO refers to the time off employees may take for many purposes.
But, some states require employers to offer employees separate days for sick leave or maternity/paternity leave — so make sure you're familiar with your state's labor laws before creating a PTO policy.
💡 Clockify Pro Tip
To make sure you're up to date on all the labor laws in your state, check out the following link:
What should be included in a PTO policy?
Now, a PTO policy should necessarily include:
The total number of PTO days workers get each year — The number of PTO days employees are entitled to per year depends on multiple factors, such as their tenure, location, etc.
The way employees obtain their PTO days — Employees can either get a single PTO sum at once or receive accrued PTO over time. The accrual allows workers to earn their PTO over time, and the number of days depends on the years of service employees have.
The rules for using PTO days — Employees can either use all their PTO days until a certain date or lose them, in line with the use-it-or-lose-it policy. Or, they can roll over their unused days to the next year's balance and use them next year, if the PTO policy permits.
Who's in charge of approving time off — A PTO policy should also state who's in charge of approving time off so that employees are familiar with whom to contact whenever they need to take some time off.
When's the best time to request time off — Employees should be familiar with the right time to ask for a leave. For example, they should request their time off two weeks before going on vacation.
It's worth noting that PTO policies aren't the same for salaried and hourly workers.
Hourly employees don't get unlimited PTO because they're entitled to overtime pay.
On the contrary, salaried employees can't receive overtime pay, but they can get unlimited PTO.
💡 Clockify Pro Tip
Working overtime is sometimes inevitable, and we have all been through that at least once. But what about working longer than usual without getting paid? If you've been wondering whether this is something you should consider doing, check out the following blog post:
Three types of PTO policies
If you're an employer, it's necessary to have in mind that there are 3 types of PTO policy:
Traditional PTO
Flexible PTO
Unlimited PTO
Let's go over each of these policies to see what's the difference between them.
Type 1: Traditional PTO
When companies opt for the traditional PTO policy, they make several specific categories for days off, like:
Vacation,
Sick leave, and
Personal days.
This way, employees need to choose a particular category when requesting their time off.
Advantages of traditional PTO policies
For workers, the key advantage of the traditional PTO rules is that the number of PTO days increases the longer employees work in a company — which helps decrease employee turnover.
Disadvantages of traditional PTO policies
Still, the main downside of the traditional PTO policy is that employees may be reluctant to use their time off due to the fear of not having enough days off in case of an emergency.
When this happens, they are more likely to end up with unused sick days that they'll want to use all at once.
When should employers use the traditional PTO policy?
If employers want to know exactly how their employees use their time off, their best choice is to create a traditional PTO policy.
Type 2: Flexible PTO
Flexible PTO (a.k.a the PTO bank) is a single pool of PTO days.
Employees have a fixed sum of their time off, and they can use these days as they like.
So, there are no distinct categories such as vacation, jury duty, or sick leave.
Advantages of flexible PTO policies
Flexible PTO gives employees the freedom to organize their days off how they want.
For example, working parents can use their time off to support their children at some sports events.
Disadvantages of flexible PTO policies
The key drawback here is that it can be difficult for employers to set an annual limit of PTO days for employees.
When should employers use the flexible PTO policy?
If employers want to find an easy way to deal with administration, a flexible PTO policy is a great choice.
Type 3: Unlimited PTO
With the unlimited PTO policy, employees can take as much time off as they'd like — as long as their managers approve these days off.
Advantages of unlimited PTO policies
Since most companies rarely use this type of PTO rule, businesses that opt for this PTO format attract many talented employees who appreciate the freedom and flexibility that come with the unlimited number of days off.
Disadvantages of unlimited PTO policies
Since there's no limit to the number of days off employees can take, frequent time off overlaps might become a common issue — which is especially concerning if your company has busy seasons.
When should employers use the unlimited PTO policy?
The unlimited policy works well when employers want to keep an eye on company finances. In companies where employees have unlimited PTO, workers can't accrue days off.
Therefore, when an employee leaves the company, an employer isn't obligated to pay out vacation time.
How much PTO do most companies give?
Regardless of the type of PTO policy companies choose, the average number of days employees receive per year is from 13 to 26 days — according to an SHRM survey.
These numbers are more exact for traditional PTO policies as they usually include separate categories of leave:
8 to 22 days for vacation
7 to 19 for sick days
4 personal days for full-time employees
But, it's important to repeat that these days depend on the length of employees' service.
💡 Clockify Pro Tip
You've most definitely heard of full-time employees. But what about full-time equivalent employees? If you'd like to get to know more about this subject, make sure to check out the following article:
How is PTO regulated by law?
Are employers required to provide their workers with paid time off?
Well, the answer can vary because federal and state levels differently regulate this issue.
According to the FLSA, employers are not obligated to pay their employees for the time not worked (vacations, personal days, holidays).
Benefits such as this depend on the agreement between the employer and the employee, and are stated in the employment contract.
At the state level, PTO regulations are different from state to state. State laws regulate some matters — like what happens with unused vacation time and whether employers are obliged to pay workers out.
Also, since the use-it-or-lose-it policy is illegal in particular states — while some states' laws require employers to provide workers with paid sick leave — it's important to be familiar with all the regulations before creating a PTO policy.
Benefits of creating a PTO policy
In case you're still having second thoughts about whether you should introduce a PTO policy or not, perhaps looking at the benefits that this choice could bring to your company might help you reach a decision.
A PTO policy improves work-life balance
When employees are aware that they are allowed to take a break from work whenever they feel necessary, they will be more likely to take shorter and more frequent vacations.
This possibility will prevent employees from ending up overworked because they have been waiting for their time off all year round.
But, apart from reducing the chances of suffering from burnout, a PTO policy that allows employees to take a break every now and then helps in maintaining a healthy work-life balance.
Instead of prioritizing work at the expense of their free time, the awareness that they are able to fit in a couple of days off from time to time could:
A PTO policy improves employee retention
Hand in hand with the improved work-life balance goes employee overall job satisfaction.
Naturally, when employees feel appreciated and see that their time away from work matters too, they are more likely to remain loyal and stay with the company much longer.
An attractive PTO policy shows employees that their contribution is respected — especially if the number of PTO days increases after a couple of years spent working for the same company.
A PTO policy reduces unexpected absenteeism
Every now and then, unscheduled absences will come up, and this is something companies usually need to figure out as they go.
However, if you have implemented a PTO policy, you're more likely to avoid unexpected absences from surprising you when least expected.
Since paid time off covers a wide range of leaves that do not require employees to share the reason behind their request for time off, they'll be more likely to request their leaves beforehand.
Apart from that, PTO can positively impact employees' honesty and improve trust in the workplace, especially in a remote setting.
Since providing your employees with an extra amount of time off they can use as they see fit shows you believe they can organize their workweek, employees are more likely to be honest and considerate towards their team members when scheduling their leave.
A PTO policy helps in building a stronger employer brand
The flexibility that comes with a great PTO policy offers a competitive advantage — especially if you're looking to hire top talent.
Although employer branding goes beyond offering additional days off, showing appreciation and willingness to put your employees first goes a long way in helping you attract the best possible people for the job.
Since being mindful of your employees' time off ensures their better work experience, people who are already part of your company will be more likely to recommend you as a stellar employer.
How can you make a paid time off policy?
Now that you're familiar with the basics of PTO policies, let's go over some tips to help you create a PTO policy that works for your company.
Step #1: Decide on the appropriate number of PTO days
If you choose the traditional or flexible PTO policy for your business, think about the appropriate number of PTO days you'll give your employees.
But, how do you make this decision?
Well, you can do some research to discover how other companies in your industry and geographic area deal with this matter.
For example, some studies show that employees working in the non-profit/foundation sector have 17.5 paid vacation days per year on average. Workers in the government and military industry have 17.3 days off per year on average.
Step #2: Decide on the rules for using PTO
When creating the PTO policy, it's crucial to choose whether you'll offer your workers the rollover option or the use-it-or-lose-it policy.
But, before making any choice, don't forget to check your state's regulations on the rollover option — because some US states mandate a rollover plan for PTO.
If this is the case in your location, be sure to note down more details on this subject.
Next, think about whether you want the employees to have the possibility of carrying over unused PTO days into the calendar year.
Then again, if you opt for the use-it-or-lose-it policy, include that info in your PTO policy. And, don't forget to remind your employees to take their days off to prevent losing their precious time off.
Step #3: Set the PTO approval process
Once you've decided on both the number of days employees can use and the rules for using PTO, it's time to set some ground rules for requesting time off.
The first step is letting everyone know the exact deadline for submitting their time off request.
For example, if workers want to take more than 5 days, they'll need to ask for time off two weeks in advance. When taking fewer days off, employees are allowed to request time off 2 days before using it.
But, defining expectations for scheduling time off does not necessarily mean that there won't be any unplanned absences — especially when it comes to sick days.
So, to prevent having fewer employees in a shift, try setting a realistic deadline for calling in sick — and don't forget to let everyone know who's in charge of approving their time off.
💡 Clockify Pro Tip
Does your company operate in shifts? If that's the case, don't miss out on:
Step #4: Let your employees check their PTO balance and accrual
As an employer or manager, you'll probably want to track your team's time off. But, to improve trust between you and your team, be sure to let your employees check their PTO balance.
If you're using software, such as Clockify, for requesting and approving PTO, give your workers access to review their time off — so that they can see their balance history and be aware of the time off they have available.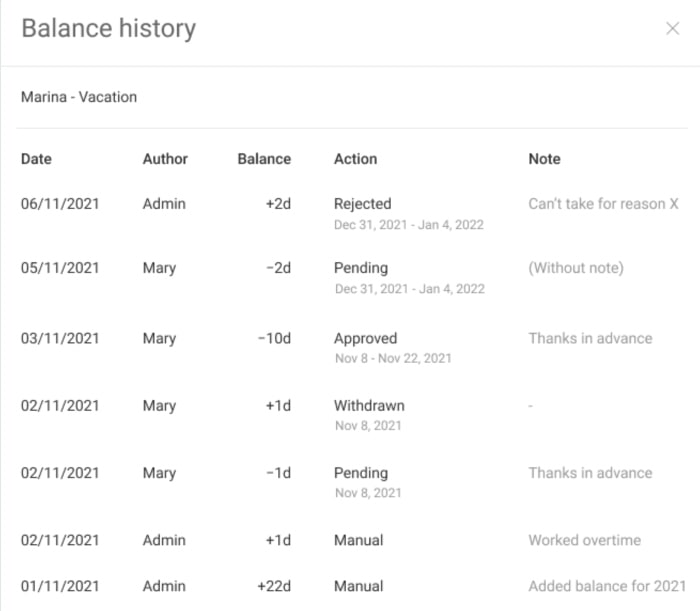 Step #5: Make sure your policy follows all laws and regulations
Since laws and regulations regarding PTO can vary across different states, it's important to take time to explore them before sharing your PTO policy.
If your company employs workers in more than one jurisdiction, it's also necessary to check if there are any variations between diverse areas of authority.
Step #6: Include your PTO policy in an employee handbook
Valuable information should always be shared.
So, don't leave your employees in the dark when it comes to PTO rules. Instead, add your PTO policy to an employee handbook.
Whenever new workers start off in your company, they'll have all the details they need to know about paid time off.
Also, don't forget to let your employees know that they can come to you if they have any questions about their PTO.
💡 Clockify Pro Tip
Creating a PTO policy doesn't have to take much of your time — check out our 11 PTO policy templates, choose the one that suits you, and adjust it to your needs:
How to choose a PTO tracking system
Tracking everyone's time off will save you the trouble of having to waste countless hours trying to manage your team's PTO.
But, how do you choose a PTO tracker that will work for you?
Let's go over everything you need to consider before making a final decision.
Know your PTO requirements
Depending on the type of PTO policy that you have decided to introduce, you will need a PTO tracking system that goes well with your requirements.
Let's say you have decided to let your team accrue their time off.
If this is the case, your best choice is to opt for software that can keep track of everyone's balance and automatically assign a certain number of days on a particular date.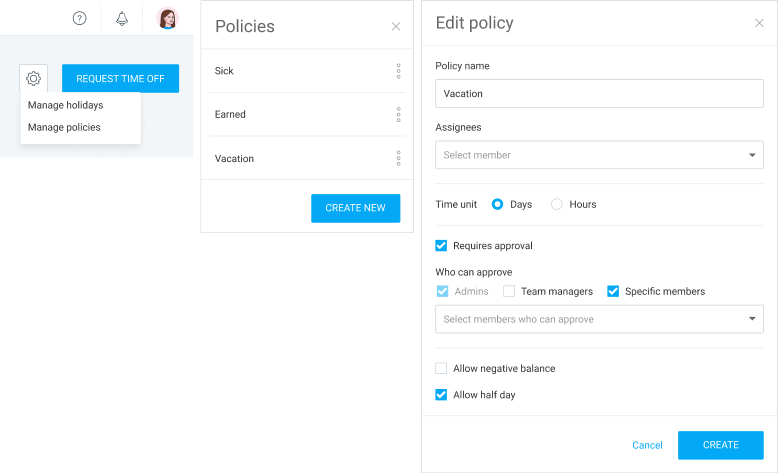 Also, it's never a bad idea to check whether a PTO tracker allows you to create and customize your own PTO policy so that it suits your company's needs best.
Some PTO trackers allow you to create multiple policies for different types of employees — or separate holidays from other types of leave.
So, think about whether multiple options that come with different software can make your managing time off easier before you pick a software.
Look for transparency
When you're in charge of a team, it's crucial to be able to keep an eye on all the upcoming leaves to ensure that your business runs smoothly.
But, to be able to do that, you'll need a transparent PTO system that will notify you whenever someone requests time off — and give you a visual overview of the time off timeline.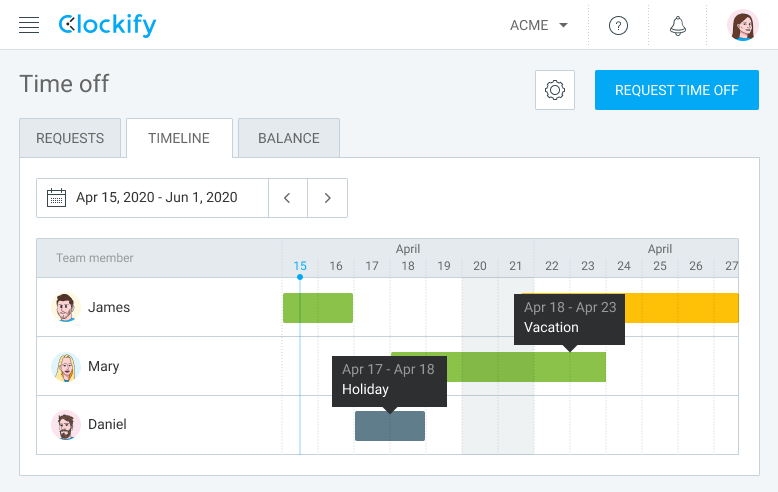 Not only will a transparent PTO system enable you to allocate tasks more accurately, but it will also help your employees schedule their PTO better.
When the whole team can take a glimpse into their teammates' time off, there will be fewer overlapping requests and missed deadlines — since they'll know exactly when's the least preferable time to schedule their time off. 
Make sure the PTO tracking system is easy to use
Apart from making sure that your PTO system is transparent and in line with your team's needs, it's also important to choose a tracker that will be easy and intuitive for the employees to use.
This way, they'll waste minimum time getting used to the new system. But, they will also avoid having to remind managers of their PTO requests — because all the leave-related information will be within reach.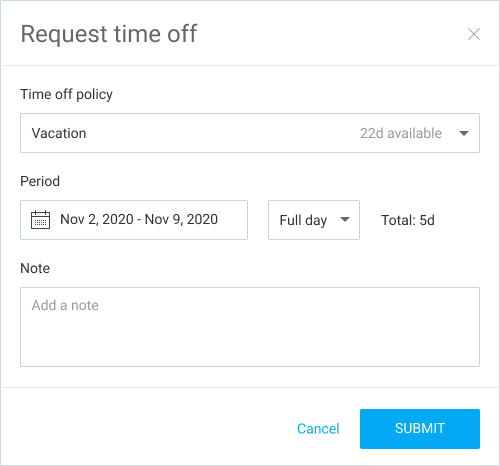 An easy-to-use PTO tracking system can also take a heavy load off the managers' backs — since they won't have to deal with loads of paperwork anymore.
Instead of manually processing dozens of leave requests, they can finish managing time off in a couple of seconds and shift their attention to more burning issues.
Conclusion: When creating a PTO policy, take one step at a time
Introducing a PTO policy goes beyond providing your employees with additional days off. You'll need to:
Figure out whether you want to provide your employees with the traditional, flexible, or unlimited PTO format.
Think about whether you want to allow your workers to accrue their time off or if they'll get one sum at the start of the year.
Choose whether you'll provide employees with an option to carry over their unused days off or if they have to use all PTO days by the end of the year.
Follow laws and regulations since PTO policy has to comply with federal and state laws.
Once you've made your choice and created a PTO policy, all you need to do is include it in an employee handbook, encourage employees to contact you if they have any questions — and you'll have everything covered.
✉️ Do you have a PTO policy for your company? What else would you suggest that one policy should cover? Send your answers, suggestions, and comments to blogfeedback@clockify.me and we may include them in this or future posts.