How to create a PTO policy (+ PTO policy template)
If you're a business owner, you can attract valuable and talented candidates by offering them competitive salaries. But, apart from financial motivation, many people will equally appreciate an attractive PTO policy. When you think about it, having enough time off to enjoy life outside of work is what we all desire. So, as an employer, you have this amazing opportunity to provide your staff with a PTO format that will be suitable for them.
In this article, we'll give you some practical tips on how to create a PTO policy. Before we do that, we'll first guide you through the basics of PTO and PTO policy, such as diverse types of policies and how laws regulate this matter.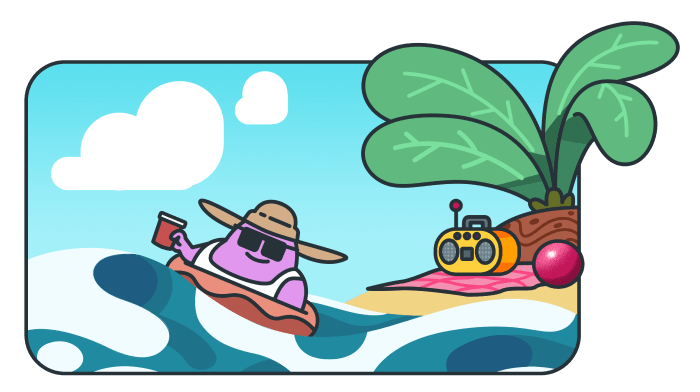 What are PTO and PTO policies?
Paid time off (PTO) is the time employees spend not working, but they still get paid for these hours. PTO is an umbrella term that includes:
vacation,
personal days,
sick leave,
bereavement,
jury duty,
maternity and paternity leave, and
volunteer work.
So, employees can take time off not only for vacation but also for other purposes, like maternity leave or jury duty.
What does the PTO policy regulate?
Now, the PTO policy regulates:
The total number of PTO days workers get each year.
Whether employees get PTO days as a single lump sum or if they can accrue days off. The accrual allows workers to earn their PTO over time. Accruals will depend on the years of service employees have. Workers can use the accrued time off before it expires, which can be either at the end of a calendar year or work-anniversary year.
If employees have to follow the rollover unused balance or use-it-or-lose-it policy. With the rollover unused balance, employers allow their workers to add unused days to the next year's balance. For instance, if an employee has 15 days of PTO per year, and he only uses 10 days, he'll be able to roll over these 5 days of PTO to the next year. On the other hand, the use-it-or-lose-it policy means that workers have to use all PTO days they get per year. If not, they lose these days off.
In addition, the PTO policy should state who's in charge of approving time off, like HR, supervisors, or anyone else. And, employees should know when to request time off since there should be a required amount of time prior to taking days off. For instance, workers have to submit their requests two weeks before going on vacation.
It's worth noting that PTO policies aren't the same for salaried and hourly workers. For instance, hourly employees don't get unlimited PTO because they're entitled to overtime pay. On the contrary, salaried employees can't receive overtime.
Three types of PTO policies
If you're an employer, be sure that there are several types of PTO policy:
traditional PTO,
flexible PTO, and
unlimited PTO.
Traditional PTO
When companies opt for the traditional PTO policy, they make several specific categories for days off, like vacation, sick leave, and personal days. This way, employees need to choose a particular category when requesting their time off.
For workers, the key advantage of the traditional PTO rules is that the number of PTO days increases the longer employees work in a company. Thus, employee turnover will be reduced, which is beneficial for employers.
However, the main downside is that workers may feel like they have limited options of taking days off. So, to keep their balances from going up, workers may report their days off incorrectly.
In what case should employers use the traditional PTO policy?
In situations when employers want to know exactly how their employees use their time off (what occasions).
Flexible PTO
Flexible PTO (the PTO bank) is a single pool of PTO days. Employees have a fixed sum of their time off, and they can use these days as they like. So, there are no distinct categories such as vacation, jury duty, or sick leave.
Flexible PTO gives employees the freedom to organize their days off how they want. For example, working parents can use their time off to support their children at some sports events.
But, the key drawback here is that it can be difficult for employers to set an annual limit of PTO days for employees.
In what case should employers use the flexible PTO policy?
In situations when employers are looking for a way to easily deal with the administration.
Unlimited PTO
With the unlimited PTO policy, employees can take as much time off as they'd like, as long as their managers approve these days off. In general, companies still rarely use this type of PTO rule. So, that's why businesses that opt for this PTO format attract many talented employees.
But, the main issue with the unlimited PTO policy is that some surveys show that unlimited PTO is usually underused. That's because workers find it hard to choose the appropriate number of days off.
In what case should employers use the unlimited PTO policy?
The unlimited policy works well when employers want to keep an eye on company finances. In firms where employees have unlimited PTO, workers can't accrue days off. Therefore, when an employee leaves the company, an employer isn't obligated to pay out for vacation time.
How much PTO do most companies give?
Now, regardless of the type of PTO policy companies choose, the average number of days employees receive per year can be from 13 to 26, according to the SHRM survey. Speaking of traditional policies that separate PTO categories, the average numbers are:
8 to 22 days for vacation,
7 to 19 for sick days and,
4 personal days for full-time employees.
It's important to note that these days depend on the length of employees' service.
How is PTO regulated by law?
Are employers required to provide their workers with paid time off? Well, the answer can vary because federal and state levels differently regulate this issue.
According to the FLSA, employers are not obligated to pay their employees for the time not worked (vacations, personal days, holidays). Benefits such as this depend on the agreement between the employer and the employee.
On the state level, PTO regulations are different from state to state. State laws regulate some matters, like what happens with unused vacation time and if employers are obliged to pay workers out. Also, the use-it-or-lose-it policy is illegal in particular states. On the contrary, in some states, like Washington, employers are required to provide workers with paid sick leave. Here's the list of states and more details about their sick leave regulations.
So, employers must pay close attention to federal and state laws when creating a PTO policy.
How can you make a paid time off policy?
Now that you know the most significant parts of PTO policies, here are some tips on creating the PTO policy that works for your company.
Decide on the appropriate number of PTO days
If you choose the traditional or flexible PTO policy for your business, think about the appropriate number of PTO days you'll give your employees. How do you make this decision? You can do some research to discover how other companies in your industry and geographic area deal with this problem.
For example, some studies show that employees working in the non-profit/foundation sector have 17.5 paid vacation days per year on average. Workers in the government and military industry have 17.3 days off per year on average.
Speaking of various states, the average PTO for small business owners in the Northeastern states (New York, New Hampshire, Maine) is 11.4 days per year. California and other states in the West allow 9.4 PTO days, while states in the South and Midwest have an average of 8.5 days per year.
It's also worth noting that, with proper PTO rules, you can make sure that your best employees don't leave the company. Here's how: reward workers with more time off the longer they work in your firm. This way, employees will feel more appreciated for their efforts, too.
Decide on the rollover option
When creating the PTO policy, it's crucial to choose whether you'll allow your workers the rollover option or use-it-or-lose-it policy.
First, remember to check your state's regulations on the rollover option because some states mandate a rollover plan for PTO. If this is the case in your location, be sure to note down more details on this subject. Next, do employees have a possibility to carry over unused PTO days into the next work-anniversary or calendar year? Choose one option and add it to your PTO policy.
Then again, if you opt for the use-it-or-lose-it policy, include that info in your PTO policy. Besides, you can remind your employees from time to time to take their days off and prevent losing their precious time off.
Set the PTO approval process
Once you've determined the number of days workers can use and other invaluable options, be sure to set some ground rules for requesting time off.
First, employees need to know a deadline for submitting their time off request. For example, if workers want to take more than 5 days, they'll need to ask for time off two weeks in advance. When taking fewer days off, employees are allowed to request time off two days before using it.
Now, these rules apply to any type of PTO, but let's focus on sick days in particular. Working in businesses like hotels and restaurants usually means working in shifts. Such working environments demand dynamic work so having fewer employees in a shift can be quite problematic. To prevent these situations, employers should set a realistic deadline for calling in sick. Thus, it'll be easier to find workers who'll take someone's shift.
Besides, the PTO policy should state who's in charge of approving days off. Depending on the number of employees in your company, this can be either an HR department, a manager, or an employer.
Let your employees check their PTO balance and accrual
As their employer or manager, it's logical that you'll track your team's time off. But, to improve trust between you and your team, be sure to let your employees check their PTO balance.
If you're using software for requesting and approving PTO, give your workers access to review their time off. For example, you can try Clockify, the time off and vacation tracker, for this purpose. Here, an employee can see her balance history, which shows time off requests and changes to the accrual, like in the screenshot below.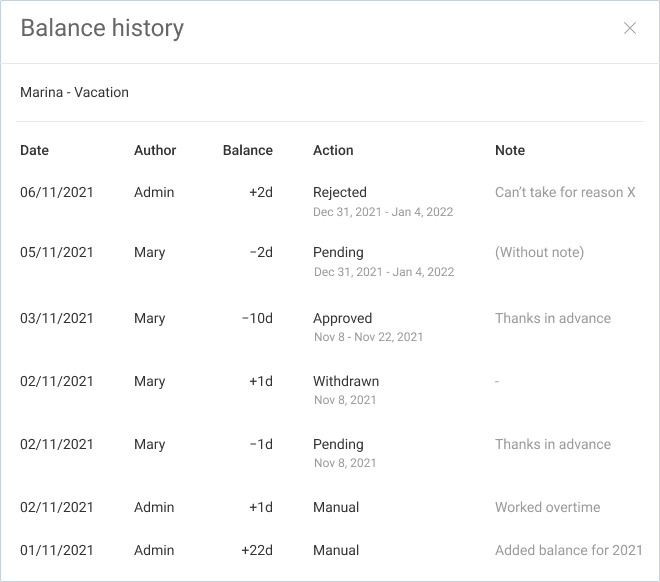 In this example, we can see a vacation balance. So, whenever the user submits a time off request, this action will be added to the list. Also, when managers or admins approve or reject requests, the Balance history will include these actions as well.
Make sure your policy follows all laws and regulations
We already talked about how different states have various regulations when it comes to PTO policy. So, before sharing your PTO policy with employees, take time to explore federal, state, and local laws and regulations. That's the best way to ensure that your policy complies with all laws.
Moreover, if your company employs workers in more than one jurisdiction, check if there are any variations between diverse areas of authority.
Include your PTO policy in an employee handbook
Valuable information should always be shared. So, don't leave your employees in the dark when it comes to PTO rules. Instead, add your PTO policy to an employee handbook. Whenever new workers start off in your company, they'll have all the details they need to know about paid time off.
Besides, let your employees know that they can come to you if they have any questions about their PTO.
A PTO policy template
To help you create a PTO policy that suits your business, we created a PTO policy template. In the screenshot below, you can see one part of this template, which you can download at the link below.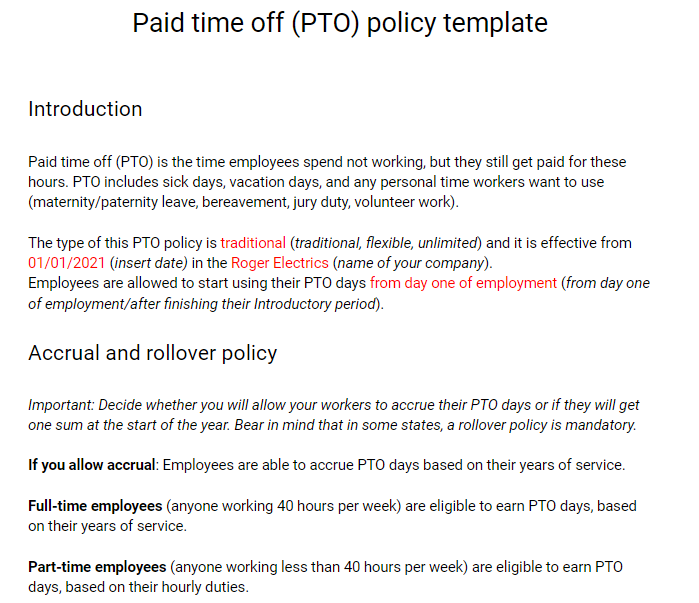 Here are the key categories this template includes:
Introduction: in brief, this is where you explain what PTO is and when employees can start using their days off. In addition, you can add the type of your policy (traditional, flexible, or unlimited).
Accrual and rollover policy: explain who's eligible to earn their PTO days and when employees can start using accrued time. You should also include an accrual schedule. Also, clarify if workers are allowed to carry over unused PTO days. If so, whether employees should roll over unused days into the next calendar or work-anniversary year. Clarify if there are any differences between part-time and full-time employees.
Sick leave: since sick leave is mandatory in some states, this is where you can input that data, depending on your company's location.
PTO requests and approvals: simply clarify how employees can request time off and who approves PTO days.
Termination: when an employee leaves the company, what happens with his accrued unused PTO days? Be sure to explain in this section.
Conclusion
When creating a PTO policy, you'll have several decisions to make:
First, you'll need to figure out whether you want to provide your employees with the traditional, flexible, or unlimited PTO format.
Then, you'll need to think about whether you want to allow your workers to accrue their time off or if they'll get one sum at the start of the year.
You'll also need to choose whether you'll provide employees with an option to carry over their unused days off or if they have to use all PTO days by the end of the year.
Furthermore, it's crucial you follow laws and regulations since PTO policy has to comply with all levels of laws.
Once you create your own PTO policy, make sure you include it in an employee handbook. Finally, encourage your workers to contact you if they have any questions or concerns about their PTO.
✉️ Do you have a PTO policy for your company? What else would you suggest that one policy should cover? Send your answers, suggestions, and comments to blogfeedback@clockify.me and we may include them in this or future posts.