Improve productivity
Track time you spend on activities, see where your time goes, and improve your time management skills.
Timer
Start timer when you start working on something, and switch between different timers with one click.
Cross-Platform
Track time from any device, even offline, and all data is synced online.
Reminders
Receive a notification when you forget to start the timer.
Idle Detection
Remove inactive time you've spent away from the computer when you forget to stop the timer.
Pomodoro
Improve focus by working in intervals, followed by brief breaks.
Integrations
Timer button can appear in other apps you use so you can track time with more ease.
Auto Tracker
Create time entries based on your computer's activity (apps, website, and documents you use).
Calendar
See how your day and week really looks like based on tracked data.
Dashboard
See on which activities you've spent the most time and trends across time.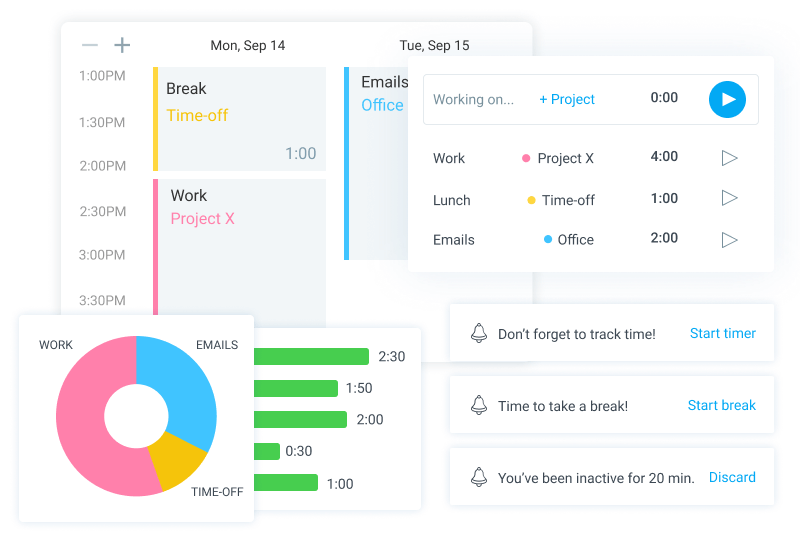 Manage billable hours
Track billable time, show clients how much you've worked, see how much money you've earned, and create invoices.
Projects
Break down project into tasks, and categorize them by client.
Billable
Separate billable from non-billable time.
Hourly Rates
Define hourly rates for tasks and projects, and see earnings.
Reports
See breakdown of all tracked time in reports by custom date and filter.
Share
Share a link to a live report with your clients so they can track utilization in real time.
Export
Customize and export data from reports (Excel, PDF, CSV).
Invoicing
Create invoices based on tracked billable hours.
Rounding
Round time up, down, or to nearest X minutes.
Costs & Profit
Track profit by comparing what you bill client vs what you pay your team.
Estimates
Set time estimates on projects and tasks and track progress.
Budget
Set fixed-free budget on projects and tasks and track progress.
Alerts
Receive an email when a project is near or is about to go over budget.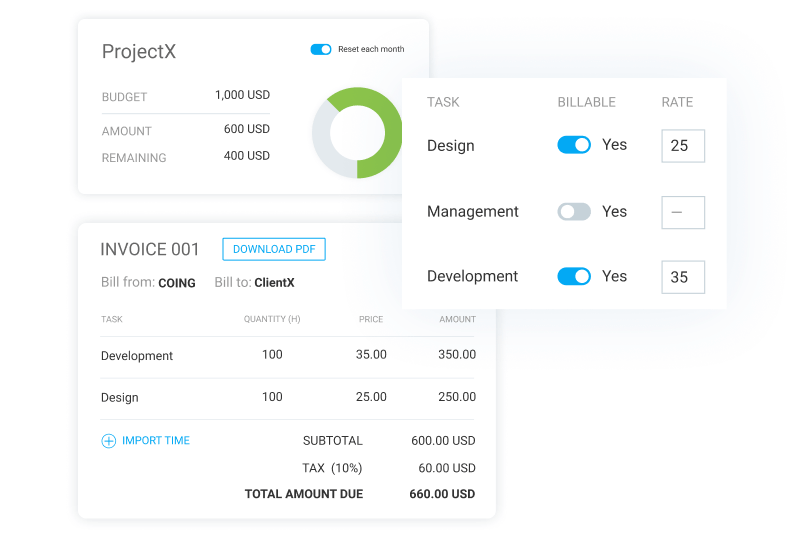 Track team activity
Invite your team so they can track time they spend on activities, see who works on what, manage workload, and send attendance data to payroll and accounting.
Assignees
Assign team members to projects and tasks so they can track time.
Force Timer
Prevent users from manually adding or editing time entries.
Team Activity
See who currently works on what and how their day looks like.
Lock Time
Prevent users from updating changing their past timesheets.
Schedule Reports
Receive a custom report each day, week, or month via email.
GPS Tracking
See location of your remote team members when they start tracking time and all the visited client sites.
Screenshots
Record computer screenshot while working so others can see what you're working on.
Overtime Notification
Receive an email when a member goes over their target number of hours.
Team Calendar
See how your team member's day looks like in Calendar, and find gaps or time overlaps.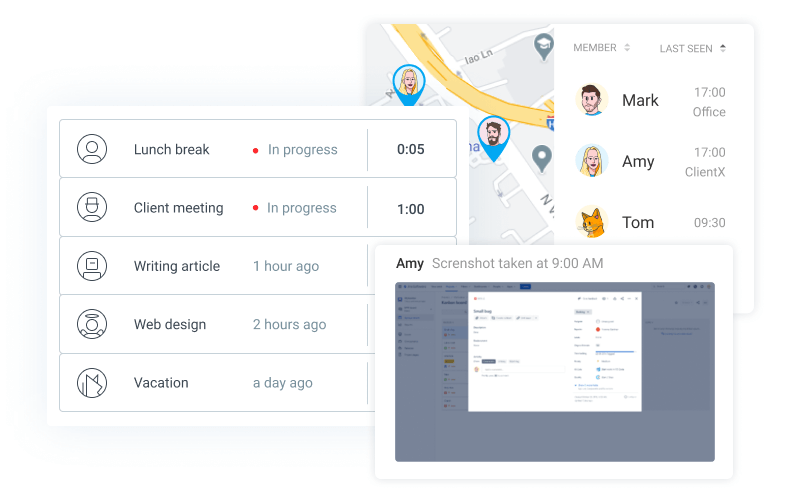 Analyze business processes
Measure time spent on daily activities to detect opportunities for improvements and automation, understand time spent on ad-hoc requests, and improve work-life balance and workload distribution among teams.
Online Timesheets
Team members can fill their weekly timesheet in less than a minute.
Timesheet Reminders
Get an automatic reminder when you forget to fill your timesheet.
Approval
Submit and approve timesheets, and have a detailed log if something changes.
Project Status
See what activities take up the most time and how long it takes to finish tasks and projects.
Manager Role
Make someone a manager so they can manage projects or approve their team member's timesheets.
Custom Fields
Add custom fields and information to time entries for more powerful reporting.
API & Webhooks
Connect Clockify with other systems, and sync data programmatically.
Import Data
Import projects, tasks, and historic time entries from a file
Security & Privacy
Control who can do what, and log in with your SSO.