I tried the 1-3-5 rule to stay on top of my schedule
If you somehow stumbled upon this blog post, that can only mean one thing — you're sick and tired of productivity gurus trying to sell you their online courses for $4.99 a pop.
Ironically, I'm here to talk about a similar thing. But, there's a twist to it — I've actually tried a useful productivity technique and I'm going to tell you all about how it went, for free.
After struggling to stay productive for days on end, I've tirelessly scoured the internet for any useful productivity tips I could try as a writer. But, to no avail, I was left sitting in front of my computer staring into the abyss and hoping at least some words would appear in front of me.
That's when my hopes were answered with the 1-3-5 rule — a productivity method that helps you stay on top of your schedule, with time to spare.
Naturally, I was skeptical at first, but I had to give it a shot.
This is my account of how the entire process went, with all the insights, pros and cons, and final verdict on the usefulness of the 1-3-5 rule productivity technique.
What is the 1-3-5 rule?
Describing the 1-3-5 rule is relatively easy — but putting it into practice can be challenging due to the intangible nature of this productivity technique.
In essence, the 1-3-5 stands for:
1 large,
3 medium, and
5 small tasks.
At first glance, it sounds like you're ordering a full-course meal at a restaurant — you have your main alternating meals, appetizers, salads, drinks, and desserts. And they all have a predefined portion size.
Then, when you inspect this productivity technique further, you realize that that's exactly what it is — a full-course meal meant to fill up your appetite for productivity.
Namely, the 1-3-5 rule states that, to stay productive during a business day, you'll have to block out your activities and responsibilities by their:
Priority,
Size, and
Difficulty.
The 1 large task
The large task is your priority for the day.
If you are working in a corporate environment, the task usually refers to:
Finishing a project,
Meeting a deadline,
Handling an important meeting, or
Tackling the main challenge of the day.
Of course, there are a multitude of examples, but you get the gist — the problem that irks you throughout the day is the one you should finish immediately.
Brian Tracy, the author of one of the best books on productivity, often referred to the largest task of the day as "the frog."
He used the term "eat the frog" as a way of explaining that the best way to stay productive is to tackle the largest task of the day first and only then move on to the next tasks or projects of the day.
The 3 medium tasks
Once your large, priority task is out of the way, you can move on to the next block of responsibilities — the 3 medium tasks. The medium tasks usually represent the activities that are closely connected to the large task.
For example, if you're organizing a big meeting to discuss the conditions of a new contract, the medium tasks would imply:
Calling or notifying the parties,
Setting up the conference room or creating a virtual workspace, and
Providing the participants with the necessary information that pertains to the meeting's agenda.
Depending on the nature of the 1 large task, you'll have to make a bullet list to determine which of the 3 medium tasks will have to be completed first and devise a general completion order.
The 5 small tasks
Finally, you move on to the 5 smaller tasks, which are usually described as "nuisance tasks."
Their description is not a reflection of their general importance — but it does show their relevance when compared to the salient and medium tasks.
If your work day allows it, you can shift small tasks around and complete them when you have a moment to breathe.
The 1-3-5 rule does not restrict you from moving such tasks to the next business day — but only if you know you'll have enough time to complete them, alongside the new 5 smaller tasks.
Why is the 1-3-5 rule useful?
In theory, this productivity rule sounds great — you divide your day based on your priorities, make a list of what you should do, and then you do it.
But, how does it all work in practice and why?
Well, most people rely on to-do lists, which are efficient.
However, if the line of work you're in is very demanding, chances are you won't have enough time to finish everything you've set out to do during one business day.
In fact, modern statistics show that approximately 59% of all to-do lists get finished during the day and 41% of tasks are left to float in the "never-gets-done" dimension.
The 1-3-5 rule works because there is no pressure on the user to complete everything. Furthermore, the rule values prioritization more than anything else, and the 1-3-5 pyramid serves as an instruction more so than as an obligation. It also allows leniency when it comes to shifting the schedule based on urgency.
Putting the 1-3-5 rule into practice: My observations
So, after collecting all the data and convincing myself that I knew all about the 1-3-5 rule, I decided to give it a shot the following day as I was just about to embark on a new writing project.
Here's my account of how the said days unfolded.
Day 1: Ignorance
As you can surmise from the heading, the first day was a nightmare for me.
I woke up, turned on my laptop, and started writing a draft for all my responsibilities for the day. The main goal of that dreaded Monday was to do research for a project that was supposed to have at least 5,000 words.
Naturally, I wasn't a bit thrilled — but I knew that the rest of the tasks I had to do that day were simple:
Contact the design team and ask them to create a cover illustration for my next blog,
Have a work-buddy meeting with a new employee,
Discuss the draft architecture with a colleague, and
Create a visual concept of what I will be writing about.
Sounds easy, right? Very feasible and highly doable.
Well, once my upstairs neighbor started drilling a hole in my ceiling and accidentally drilled through the ethernet cable, everything changed.
How my first day of practicing the 1-3-5 rule went
First thing in the morning, I had to pack up, go to the local coffee shop, and do my research there.
However, it was quite crowded and it nearly became impossible to have my meetings there. It even made sense that a pack of high schoolers entered the premises in the following minutes with a huge desire to see who could speak the loudest.
Overrun with anxiety, I was about to give up and call it a day, but then the premise of the 1-3-5 rule dawned on me — "Finish your salient task and move on to the next ones accordingly."
I gathered my thoughts (and my 125 opened tabs) and started reading. Once I focused on the top-priority task and eliminated the anxiety of not finishing the other tasks, I realized a huge burden was lifted off my chest.
As the day unfolded, the coffee shop became less crowded and I was able to conduct the meeting with the new colleague and even create a draft of my work based on the conducted research.
When it was 5:00 p.m., I realized that I didn't finish everything I had set out to do, but the "no-routine" concept of the 1-3-5 rule allowed me to shift the unfinished tasks to the following day and go to sleep peacefully.
Here's my Plaky draft representation of the 1-3-5: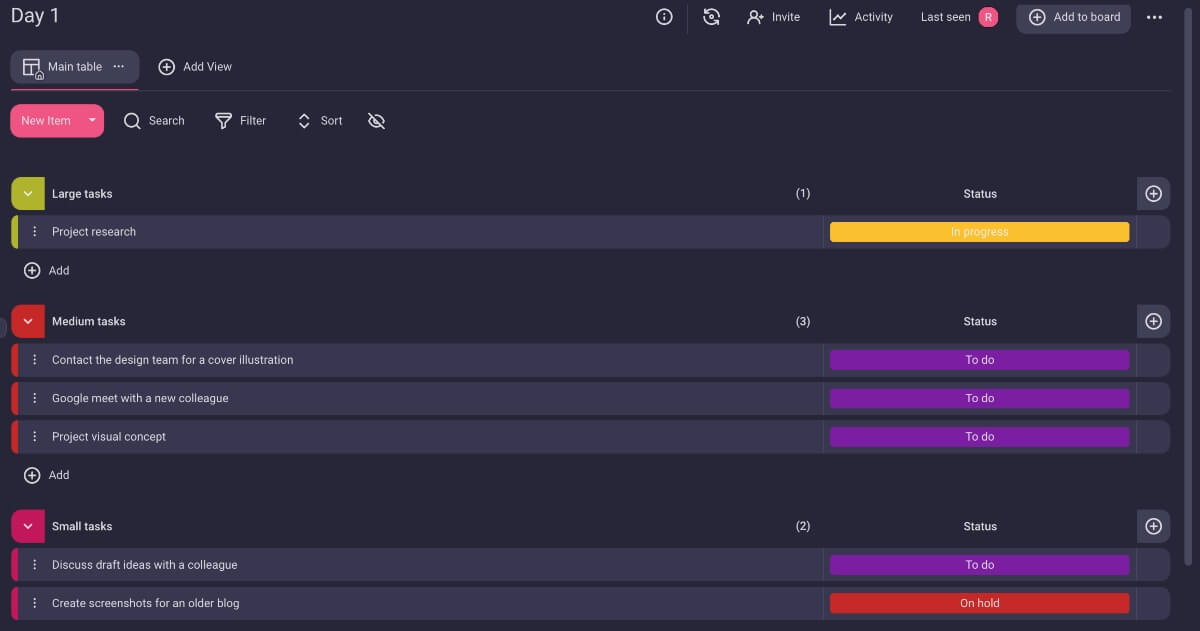 To surmise, constructing a draft and conducting the work buddy meeting took me an hour each, while the research stretched throughout the entire day.
The day looked like this, viewed through Clockify lenses:

Day 2: Realization
Here we go again — coffee, laptop, and myself versus the machine.
But first, I decided to set aside the first 2 and half hours of my work time to tend to the tasks I didn't finish yesterday.
I had a meeting with a colleague to discuss the concepts and the drafts of our following projects, which lasted for about an hour.
Afterwards, I created visual cues to help me with the writing process, which included notes and graphs.
Once that was out of the way, it was time to shift my focus to my salient task of the day — writing the introduction and the first section of my writing project.
How my second day of practicing the 1-3-5 rule went
What I immediately noticed was that the writing process felt a bit peculiar — healthy, to be exact. In other words, I did not experience the writing stress of "I'll never finish this in time."
I had to admit that the 1-3-5 rule bore some fruit in this instance.
Knowing how my day would unfold and the schedules that awaited me, I could already envision the pacing and the structure of my text. When I had previously created the visual cues, I also took 10 minutes to block out my day based on the activities and tasks I had to do. I have not experienced such a level of organization until trying out this technique.
I realized that I had to leave out the slot between 3:00 and 5:00 p.m. to do additional research, but I also had a team meeting from 11:30 a.m. to 12:30 p.m. That left me with a window of 2 and a half hours to focus solely on writing.
Naturally, the "deadline mode" kicked in because I had conditioned myself into thinking that the writing had to be done that day — and it worked.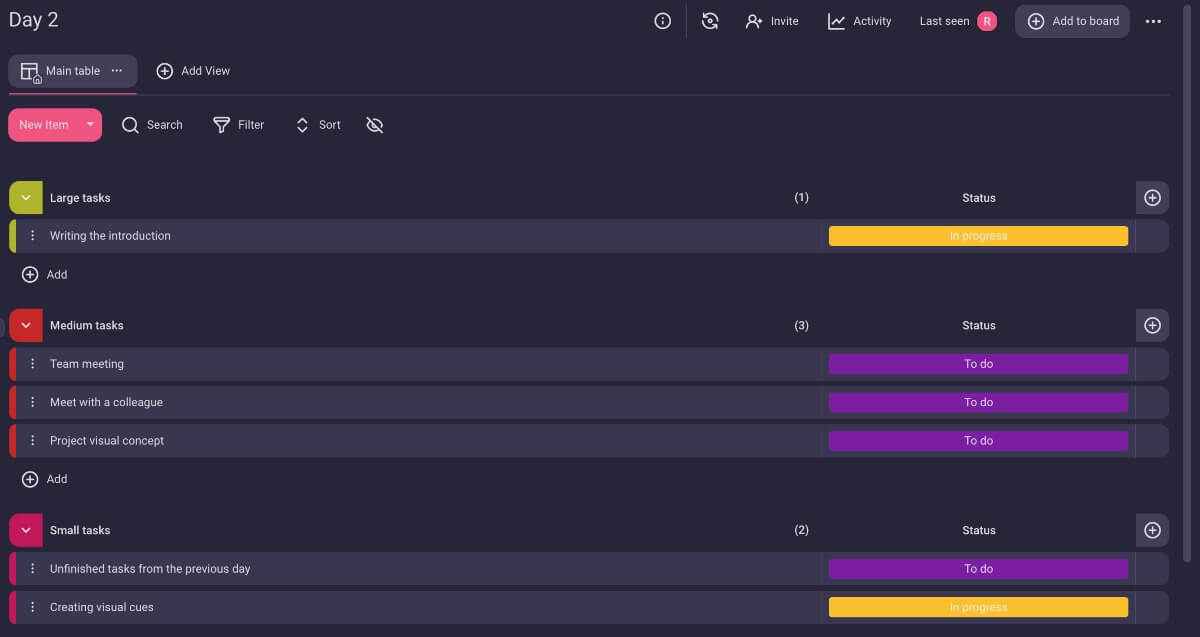 Writing the introduction and doing additional research took me about 4 and a half hours, and the unfinished tasks combined with the team meeting lasted for about 3 and a half hours.
For further clarification, here's my Clockify calendar entry for the day: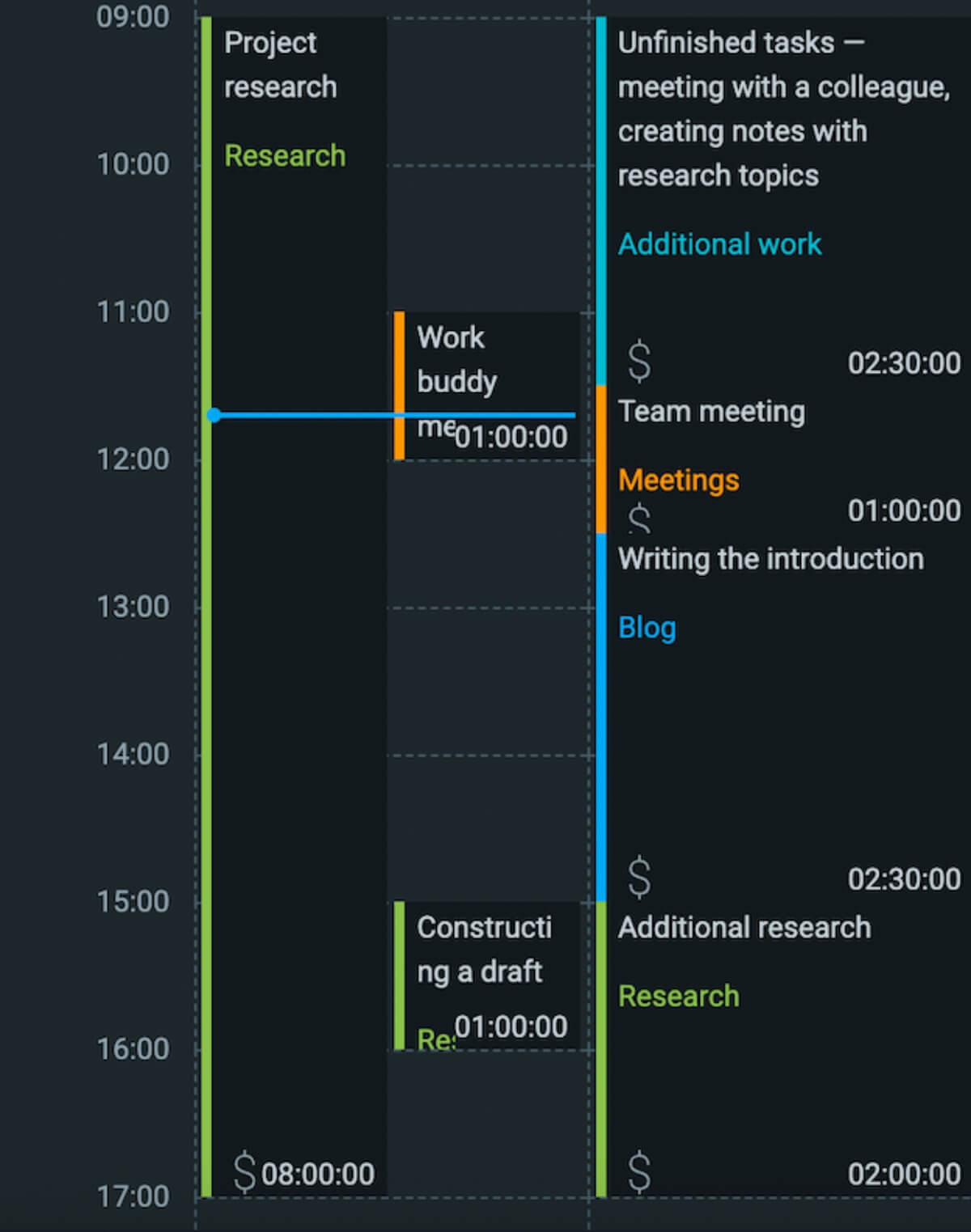 Day 3: Acceptance
Driven by the new-found faith in the 1-3-5 rule, I had set out to conquer the following day, not knowing that a perfect storm was about to hit.
The salient task of the day was writing the body of the text, ideally 1,000 words.
However, that all changed once I created my 1-3-5 draft for the day with the following information:
My bank account was locked and I had to resolve it ASAP,
I had to schedule a meeting to discuss the artwork for a previous blog I had worked on,
I had another team meeting,
I had to leave my apartment between 1:00 and 3:00 p.m. (the neighbor strikes again), and
I had to do additional research.
But, fret I did not, because the 1-3-5 was there to rescue me.
Well, it kind of was, but not really — I'll explain why.
How my third day of practicing the 1-3-5 rule went
Essentially, I used the two hours my upstairs neighbors usually spend remodeling to go to the bank and do research from the coffee shop — luckily, no high schoolers this time.
When I returned, I knew I had to focus on the writing and push the other meeting back for at least 2 hours, so I can get some writing done. I did stay longer in the day to compensate for the hours in the bank, but that was the time I allocated for the meeting — and it fit perfectly.
Unfortunately, I did not write the number of words I had intended — but I knew that I had fewer obligations in the following days, which would consequently allow me to focus solely on writing.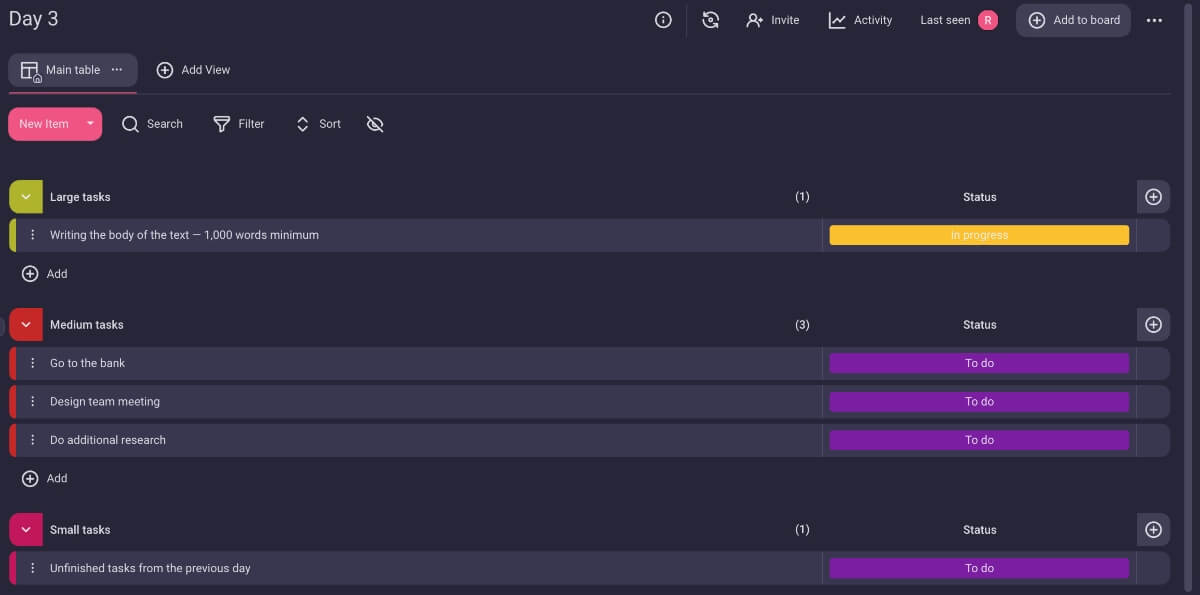 The bank run lasted for about 2 hours and the team meeting lasted for an hour or so, which roughly amounted to 3 hours. When the focus mode kicked in, I wrote for about 2 hours and later had a meeting with the design team.
Alongside answering emails, the entire day was mapped out like this: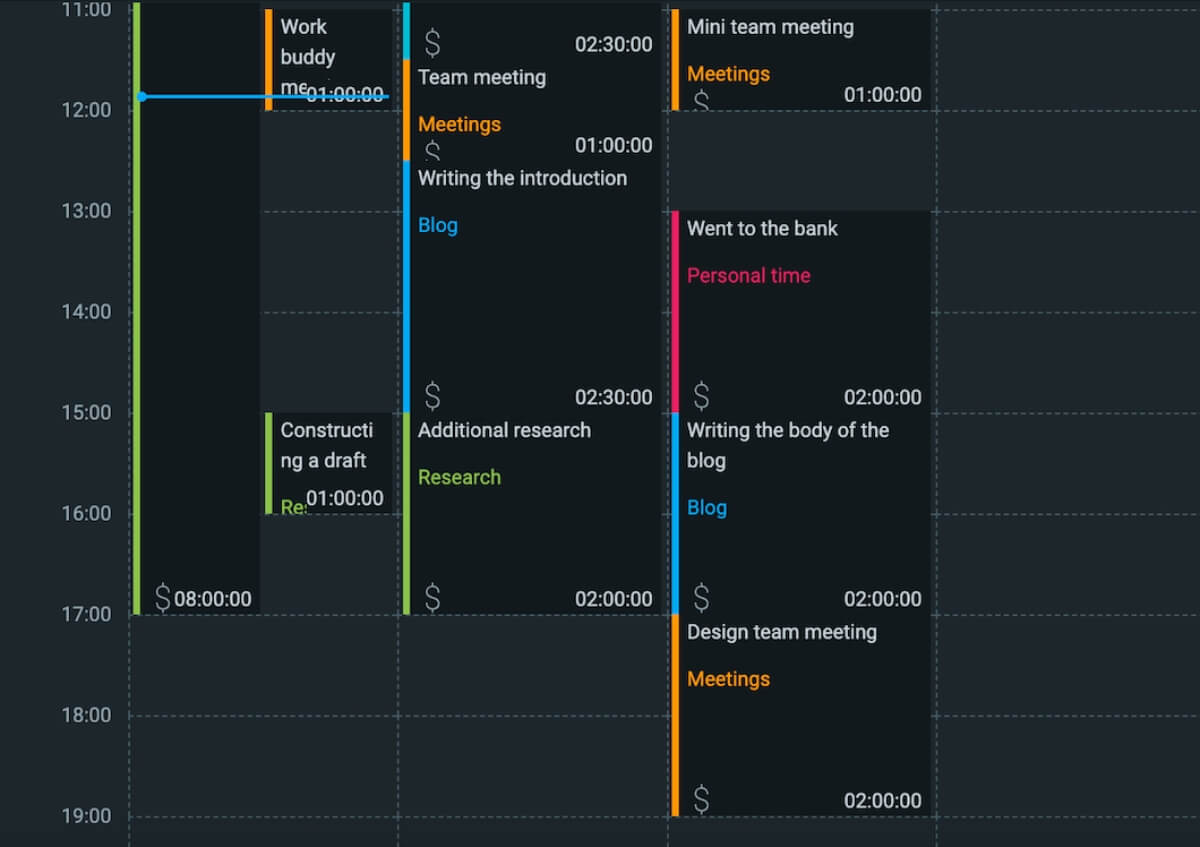 The following couple of days: Finalization
As my hectic schedule came to an end, I had nothing to do besides writing.
Therefore, the following days consisted of me trying really hard not to lose my mind while writing 1,000 words per day.
Of course, there were the occasional interruptions — helping and getting help from colleagues, answering emails, and participating in online workshops and discussions.
I could feel and reap the benefits of abiding by the 1-3-5 rule.
In honesty, there are jobs and professions where this method could greatly shape a person's work culture — such as high-demanding jobs with a multitude of daily tasks.
As for me, check out my 2 cents on the pros, cons, and conclusions I found about the 1-3-5 rule in the following lines.
✅ The pros of the 1-3-5 rule
Unfortunately, I could not experience the effects of this rule in its full glory as I did not have as many tasks per day as some other individuals would have.
However, I could tell that the organizational tools that come with using this technique truly helped ease some of the burdens that we all experience on a daily basis.
From what I found in practice, the 1-3-5 allows you to map out your day in advance, work around it when you receive new tasks, and juggle everything in between. When something doesn't go your way, you can always shift some things around and make your schedule more comfortable.
Furthermore, mapping out your day and organizing your responsibilities in a well-timed manner will greatly affect your time tracking and managing skills, in general.
❌ The cons of the 1-3-5 rule
As you can tell, the benefits of the 1-3-5 rule are not fully visible when you have a couple of major tasks in a day and no smaller tasks.
Moreover, the 1-3-5 cannot really help you focus unless you truly decide it's time to get something done.
That is why it's recommended that you use additional methods to help you stay focused, alongside the 1-3-5.
For example, many experts suggest listening to video game music during work. Original video game soundtracks were designed to keep the player in a "trance" and fully occupied with the gameplay — but research has shown that the same effect can be achieved in a work environment, if you only choose your soundtrack wisely.
For example, the "main boss" music can be used while you're dealing with the 1 large task, and you can use the background "tension building" soundtracks for smaller tasks. It's fun and it improves your focus!
My overall rating of the 1-3-5 rule
From my short experience, I concluded that the main attraction behind the 1-3-5 rule is the lack of obligatory factors.
This time management technique does not confine you to the traditional working dogmas.
Even though you're probably working an 8-hour shift, the division of time and responsibilities is up to you and your organizational prowess — for better or for worse.
I have also noticed that this rule can be applied to non-work issues. If you're going on a vacation and you're trying to pack a lot of activities into a one-week getaway, the 1-3-5 method can surely be beneficial.
Also, there's no need for fancy templates when you need to map out your day — you can be as old-fashioned as you want and jot down everything you need on a piece of paper.
FINAL RATING: ⭐⭐⭐⭐
Final thoughts on the 1-3-5 rule
In essence, I would recommend the 1-3-5 rule to everyone — employees, students, and anyone who suffers the dread of working too much. It helps you stay on top of things, devise the best plan of action, and finish everything in time.
I wouldn't necessarily call it the best time management technique/rule out there — but it serves the purpose. It is a neat and clearly structured way of gathering yourself during messy periods — and, at the end of the day, it makes you feel like your time working was worthwhile.
✉️ There are many time management techniques and methods to try out. If you know one that differs from the 1-3-5, make sure to let us know at blogfeedback@clockify.me and we might include your thoughts in one of our next blogs. Also, if you enjoyed reading this post, please share it with someone who might find it useful.