Free employee hours tracker
Clockify is the only 100% free time tracking software that lets your employees track time they spend working on projects and tasks.
Employee time tracking features
Track time with one click
Employees can track time using a simple timer or by entering time manually at the end of the work day.
Timer
Start a timer for an activity with one click
Timesheet
Log your weekly hours in less than a minute.
Review and edit personal entries
Employees can clean up their timesheets and fix entries so reports are accurate
Personal time dashboard
Everyone can track their productivity and see how much time they've logged
Track time from anywhere
Start tracking time in your browser, stop the timer on your phone - all your time entries are synced between the phone apps, desktop apps, and the website.
Available for web, desktop, and mobile
Time tracking is more convenient using a dedicated app
Idle time detection (Mac)
Clockify can detect when you're away from computer and lets you decide what to do with that inactive time
Targest and reminders
Remind people to track time if they haven't logged enough hours.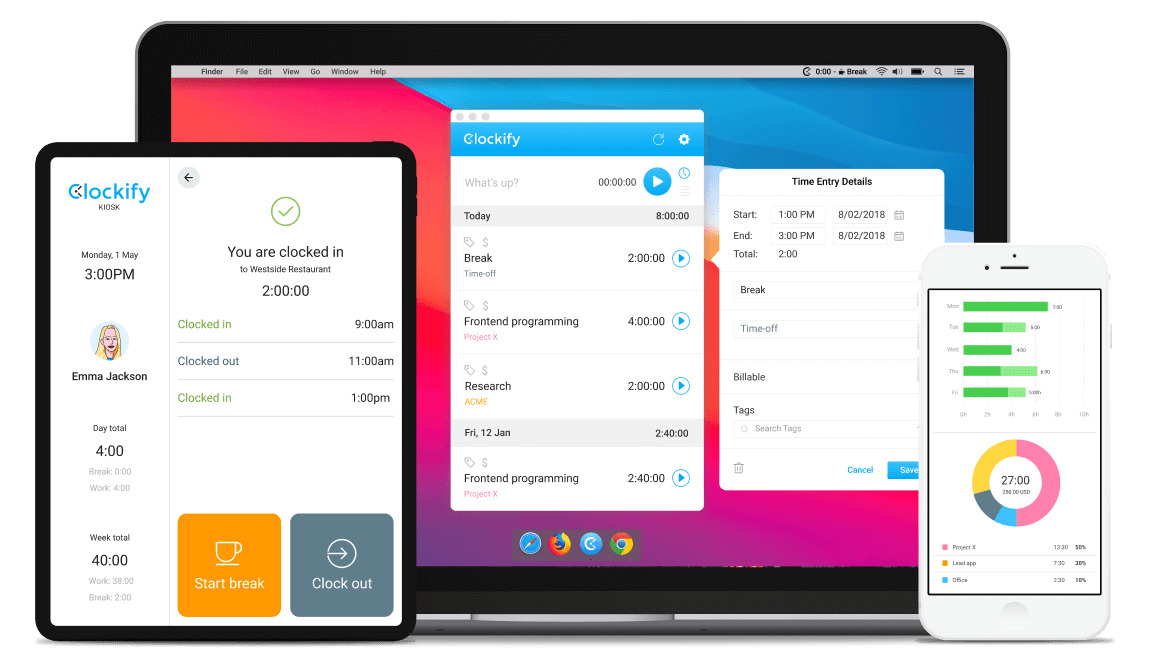 Learn more about: Work hours tracking | Employee timesheet
See how time tracking works
Features for managers
Reports
Summary report
Break down work hours by date and project
Weekly report
See who worked overtime and when
Export
Save all to Excel and analyze further
Share reports
Give view-only links to other managers or clients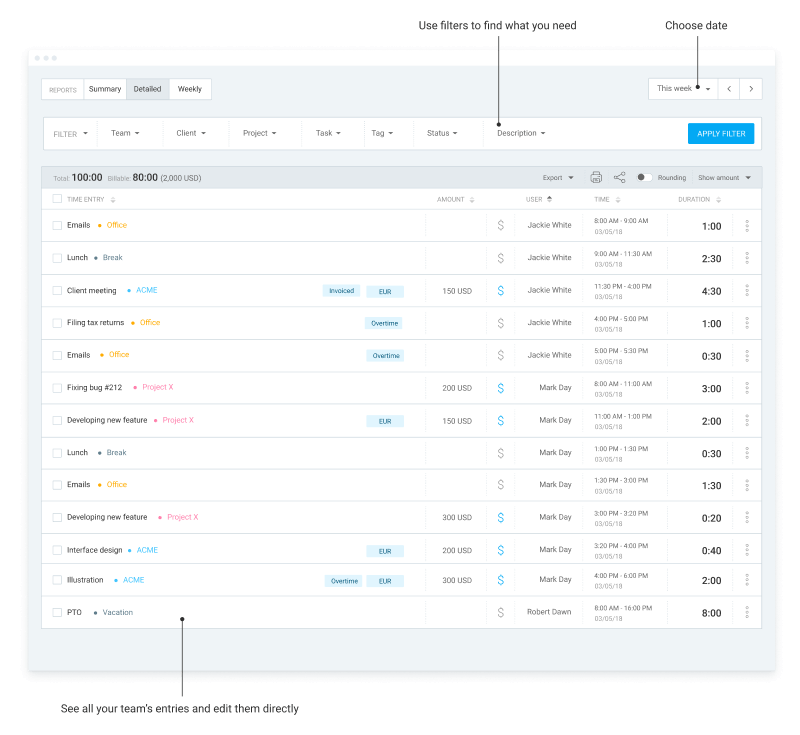 Manage projects
Projects and tasks
Your employees can track time for them
Estimate work
Later analyze budgeted vs tracked time
Project managers
Let team leaders update their own projects
Manage employees
Free - unlimited users and features.
User Groups - assign multiple team members to a project at once
Lock timesheets - entries can't be edited past a certain date
Time audit - edit employees' time entries to clean up reports
Learn more about time reporting
See how team tracking works