Project privacy settings #
There are two types of projects – Public and Private. When you create a project, you can choose whether it'll be Private (default option) or Public.
Public projects are:
Accessible to all workspace users
Everyone can select the project when tracking time
Everyone can see all time entries for that project in reports
Private projects are:
Only accessible to project members
Only project members can select the project when tracking time
Members can only see their own tracked time in reports
Project managers can see all tracked time on their project in reports
Once you create a project, you can always change its visibility by checking/unchecking the "Public(visible to the whole team)" checkbox.
Only Admins can change visibility after a project is created.
Admins can see and edit all projects and time entries, no matter if the project is public or private.
By default, only admins can create projects but you can allow regular users to create projects and clients when you set Who can create projects and clients to Everyone in your Workspace settings.
Adding people to projects #
To invite people and user groups on a project:
Go to a project
Click on the Team tab
Click "Add members for team…"
Select people or user groups you want to add to the project
Click Add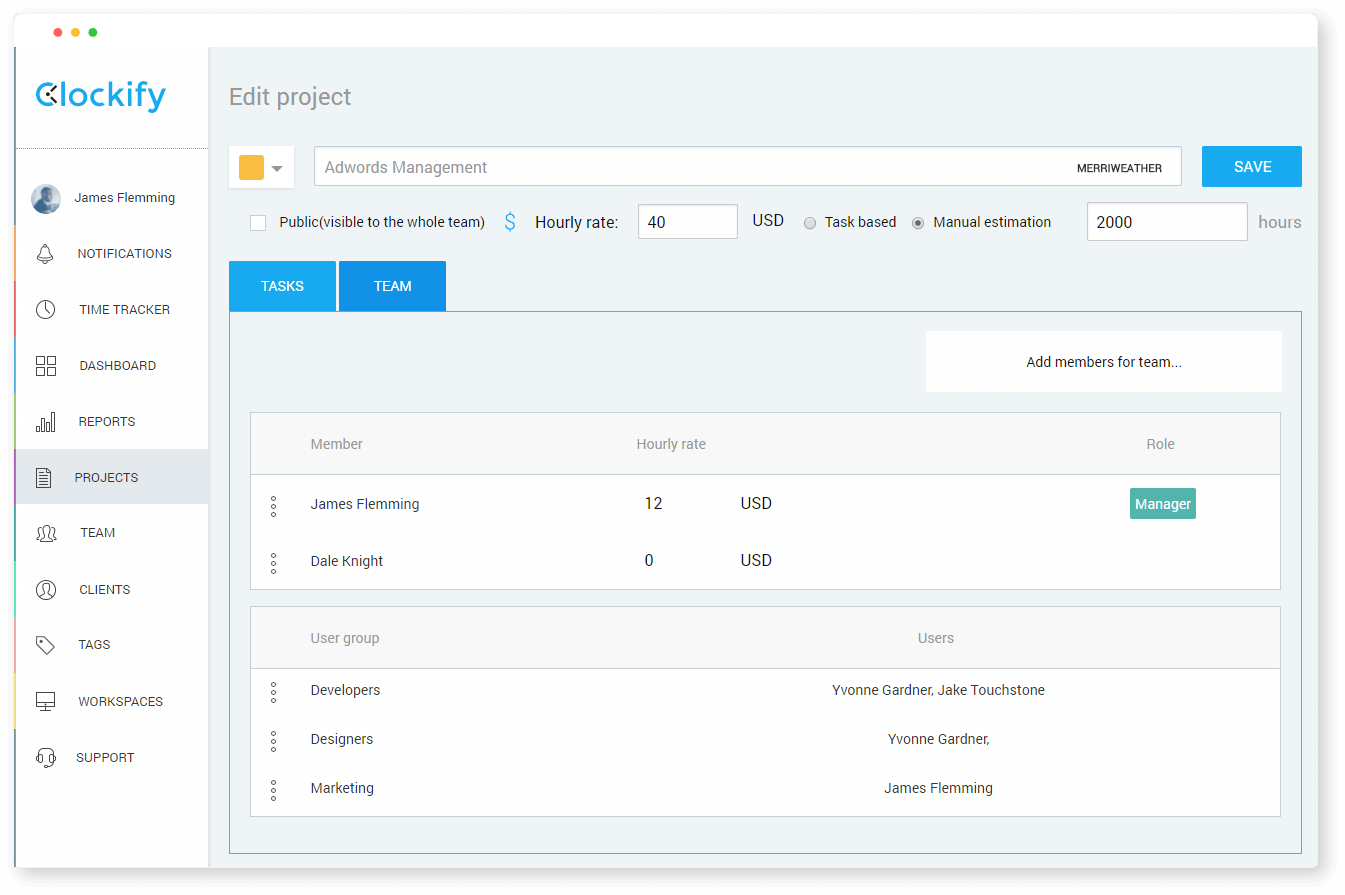 People will automatically get access to the project once you add them (meaning, there's no project invite).
Once people are added to the project, they can select the project when tracking time.
Only people who are invited to your workspace can be invited to a project.
If you want to assign a different hourly rate for each person on some particular project, you can define it in that project's Team section.
Project manager role #
The user who creates a project automatically gets the Manager role on that project.
A project can have more than one manager. To give someone manager rights, go to project's Access tab, click three dots next to the person's name, and select Give manager rights. To revoke manager role, click three dots next to person's name and select Revoke manager rights.
People who are managers can:
Edit project details (name, color, client)
Add people to the project
See and edit the project members' hourly rates
View project status for projects they manage
Delete project
Control manager rights for that project
Note: If you hide certain pages for regular users (set Only admins can see Projects in the Workspace settings), project managers will not be able to see the Projects page and manage projects.
Admins can see and edit everything, at all times.