Maine Labor Laws Guide
Ultimate Maine labor law guide: minimum wage, overtime, break, leave, hiring, termination, and miscellaneous labor laws.
Maine Labor Laws FAQ
Maine minimum wage
$12.75
Maine overtime
1.5 times the rate of regular pay after working 40 hours in a workweek
($19.125 per hour for minimum wage workers)
Maine breaks
Meal breaks not required by law
Rest period of 30 minutes required after 6 consecutive hours of work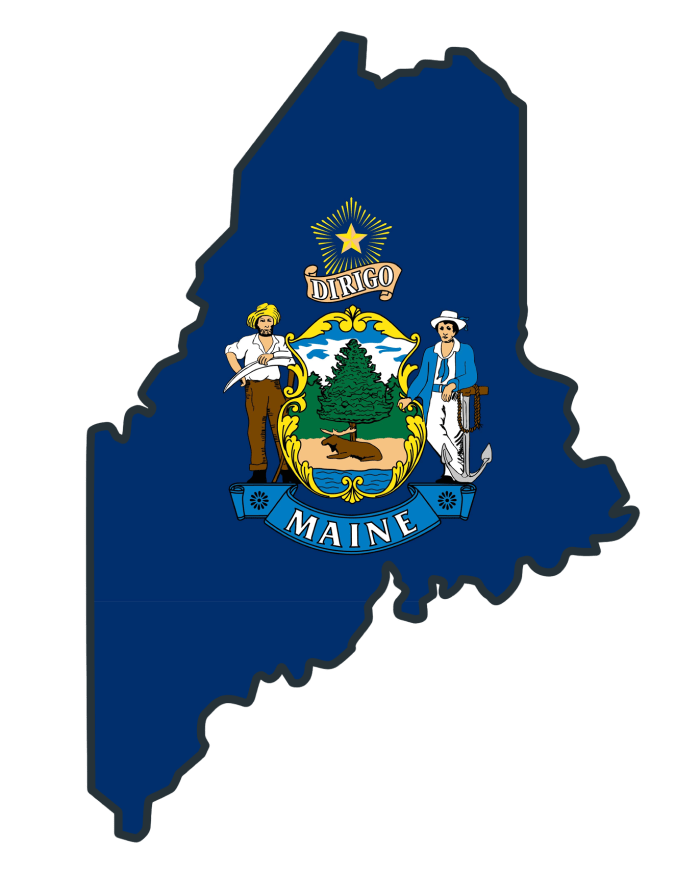 Maine wage laws
We can start with a review of the most important Maine laws when it comes to wages. To do this, we will take a look at the:
MAINE MINIMUM WAGE
Regular minimum wage
Tipped minimum wage
Subminimum wage
$12.75
$6.38
$4.25
Maine minimum wage

According to the State of Maine Department of Labor, the current minimum wage in Maine is $12.75 per hour.

This is an increase of 60% per hour compared to the year 2021 when the minimum wage in Maine was $12.15.

Tipped minimum wage in Maine (Service employees)

Laws in Maine define "service workers" as those employees who regularly earn more than $30 a month in tips.

Service employees (tipped employees) are entitled to a tipped minimum wage, which in Maine amounts to $6.38 per hour.

This is the amount that the employer must pay to the employee in direct wages. Additionally, the employer must prove that the employee earns at least the minimum wage when the direct wages are combined with the tips.

Subminimum wage in Maine (Training wage)

Under the Fair Labor Standards Act (FLSA), Maine employers can pay employees under 20 years of age the so-called training wage.

This means that, for the duration of their first 90 calendar days of employment, employers can pay a subminimum wage of $4.25 per hour.

In mid-2020, Maine eliminated the law that allowed employers to pay disabled employees a subminimum wage.

City of Portland minimum wage

As of January 1, 2022, the minimum wage inside the City of Portland, Maine is $13.

In addition, the Portland city council has issued an order by which all Portland employees must be paid 1.5 times their hourly pay during public emergencies. These are the so-called "hazard pay" provisions.

City of Portland tipped minimum wage

Service employees (tipped employees) in Portland have the right to a minimum wage of $9.75 per hour.

Note that there is a difference as to workers defined as "service employees" — in all other areas of Maine, the minimum earned in tips is $30 per month.

However, in the City of Portland, this minimum requirement is $100 in tips every month.

CITY OF PORTLAND MINIMUM WAGE RATES
Regular minimum wage
Tipped minimum wage
Subminimum wage (Training wage)
$13
$9.75
$4.25

Exceptions to the minimum wage in Maine

Some occupations where the Maine minimum wage does not apply include the following:

Agricultural workers on large farms
Outside salespersons
Taxicab drivers
Camp counselors
Salaried employees (administrative, professional, executive), who make at least $735.59 per week

Occupations exempt from the minimum wage

Maine payment laws

Maine employees must be paid at a pay frequency of no more than 16 days at a time.

Additionally, the payday should be regularly scheduled, and the pay interval cannot be increased without prior notice to the employee.

On the date of the regular payday (or the next business day), the employee is due their full wages earned no more than 8 days before the payday.

Maine overtime laws

In terms of Maine law, any work that exceeds 40 hours in a calendar week is considered overtime, and should be paid at the rate of 1.5 times the regular pay.

Additionally, the employer cannot request that the employee works more than 80 hours of overtime in 2 consecutive weeks.

Overtime tracker

Overtime exceptions and exemptions in Maine

Exceptions to overtime laws are made in cases when:

There is a public emergency declared by the Governor
The employee performs duties essential to the public, such as health care services

Furthermore, salaried employees (administrative, professional, executive) are also exempt from overtime regulations, if they make at least $735.59 per week.

Exemptions are also made for seasonal employees, medical interns, and employees who work for employers who shut down operations for annual maintenance.

Maine break laws

Employees situated in Maine are entitled to at least 30 minutes of rest time after working for 6 consecutive hours.

This is a paid rest period, unless the employee chooses to use this time as an unpaid mealtime.

In this case, the employee must be relieved of all of their duties.

Exceptions to break laws in Maine

Exceptions to break laws can be made in cases when there is an emergency, which entails danger to property, life, public safety, or public health.

Additionally, break requirements do not apply to small businesses, where there are fewer than 3 people at a time on duty, or where the nature of work allows more frequent, shorter breaks.

Maine breastfeeding laws

Nursing employees in Maine have the right to proper accomodation for expressing breast milk in the workplace, for up to 3 years after childbirth.

The employer must grant the employee an unpaid break, or allow them to use their paid break time for this purpose.

In addition, the employer must attempt to provide a reasonable amount of time, as well as a clean and private place (cannot be a toilet stall) for the employee to express breast milk.

Maine leave requirements

Each US state has its own regulations regarding which types of leave are required, and which are not.

Following up is a brief look into how Maine regulates required and non-required leave.

Maine required leave

To begin with, let's look at types of leave required by law:

Earned paid leave
Family medical leave
Jury duty leave
Emergency response leave
Military leave
Family military leave
Leave for victims of violence

Earned paid leave

As of January 1st, 2021, Maine employees working in establishments with more than 10 employees are entitled to earned paid leave.

The rate of accrual is 1 hour of leave per 40 hours worked, and up to 40 hours in a given year.

Up to 40 hours of this leave can be used in a single year, and for any reason.

Also, up to 40 hours of earned paid leave can be carried over from one year to the next.

Unless the reason for using the leave is an emergency, the employer may be required to provide up to 4 weeks of notice.

Family medical leave

Under Maine law, employees can take up to 10 weeks of unpaid family medical leave within a 2-year period, due to:

Giving birth or caring for a newborn
Adoption of a child under 16 years of age
Caring for a close family member with a serious health condition
Death or injury of a family member while on active military duty
Donating an organ

This requirement applies to employees working in establishments with 15 and more employees, who have worked for the same employer for at least 12 consecutive months.

Unless there is an emergency, the employee must give notice of taking this leave 30 days ahead of time.

Jury duty leave

An employer may not retaliate in any way against an employee who chooses to respond to a summons for jury service.

If the employer violates this requirement, the employee can take them to civil court and request the recovery of wages or health insurance benefits lost due to the violation.

Emergency response leave

The employer cannot discharge, or take any other disciplinary action against an employee absent from work due to responding to an emergency.

However, the employee must notify the employer in advance of their status as a firefighter or an emergency medical services person.

As an exception, the employer may designate the employee as essential to business operations, if there is a written agreement between the employer and the employee.

Military leave

Maine employees that are members of the Military can take two types of leave to serve active duty:

Paid military leave — up to 17 days in a calendar year without loss of pay or benefits.
Unpaid military leave — once the active duty term exceeds 17 days.

Once the active duty service deployment is over, the employees should be able to return to their previous position as if they had not left the employment at all — without losing any of their previous benefits.

Family military leave

Employers who are the spouse, domestic partner, or parent of a person deployed for military service may be eligible for an unpaid family military leave of 15 days for each deployment.

Other conditions that have to be fulfilled for the employee to be considered eligible include:

Having worked for at least 12 months for the same employer
Having worked at least 1,250 hours in the 12 months preceding the leave request
Their family member is to be deployed for 180 or more days

The employee should give at least 14 days notice prior to the leave if the leave will last more than 5 consecutive workdays.

Leave for victims of violence

An employee may take a leave of absence if the employee or their close family member becomes the victim of violence, sexual assault, or stalking.

The employer must grant leave for victims of violence to do the following:

Prepare for and attend court hearings
Receive medical treatment
Attend medical treatment of close family members who were victims of violence
Obtain necessary services (such as a restraining order) to address the domestic violence, sexual assault, or stalking

The employer may deny this leave only in cases when the absence would cause undue hardship to the business.

Maine non-required leave

We can now go on to types of leave not mandated by Maine law:

Sick leave
Bereavement leave
Vacation and holiday leave
Voting time leave

Sick leave

Private employers in Maine are not required to provide sick leave to their employees.

However, State employees (i.e. public employees) do have some of these benefits. For example, full-time State employees accrue paid sick leave at the rate of 8 hours for each completed full month of service.

Accrual rates for other types of State employees

Bereavement leave

Private employers in Maine do not need to provide bereavement leave to their employees.

Again, State employees are covered by different regulations and some may be eligible for paid bereavement leave.

More info about different regulations

Vacation and holiday leave

Private employers in Maine do not need to grant vacation or holiday leave, unless otherwise obliged under a contract with the employee.

Voting time leave

Maine employers do not have to approve of a voting time leave for their employees.

Child labor laws in Maine

In Maine (as well as in all other US states), child labor laws exist to protect minors from working under overly dangerous, or otherwise detrimental conditions.

In Maine, there are different regulations for two age groups of working minors — those aged 14 and 15, and those aged 16 and 17.

Labor laws for minors under the age of 16

First of all, in order to be employed, all minors under the age of 16 must acquire a work permit approved by the Bureau of Labor.

One work permit is only applicable to one work position. Furthermore, the minor is allowed only one work permit during the school year, but two permits during the summer vacation period.

As for working hours, minors in this age group can work:

No more than 6 days in a row
Only after 7 a.m. and before 7 p.m. during the school year (extended to 9 p.m. during the summer vacation)
No more than 8 hours in a day, and 40 hours in a week while school is not in session
No more than 3 hours in a day, and 18 hours in a week while school is in session

Labor laws for minors aged 16 and 17

Minors 16 and over do not need a work permit for employment.

However, they still have the following restrictions when it comes to their work hours:

No more than 6 days in a row
Only after 7 a.m. on a school day, and after 5 a.m. while school is out of session
Only before 10:15 p.m. on a night before a school day, and no later than midnight when there is no school the next day
No more than 10 hours in a day, and 50 hours in a week while school is not in session
No more than 6 hours on a school day, 10 hours on a holiday, and 8 hours on the last day of school
No more than 24 hours in a week, unless during the last week of school, and weeks when there are less than three school days (when they can work for up to 50 hours)

Prohibited occupations for minors

Maine uses federal regulations when it comes to protecting minors from working in hazardous environments.

These regulations forbid employers from hiring minors for some occupations, including the following:

Handling explosives
Operating a motor vehicle
Mining
Quarrying
Logging
Operating a circular or band saw, or guillotine shears
Operating power-driven machinery

List of prohibited occupations

Hiring laws in Maine

A non-discriminatory hiring process is the right of all Maine employees, protected by the Maine Civil Rights Act.

According to this law, the employer is prohibited from discriminating against someone on the basis of their:

Race or color
Sex
Sexual orientation
Age
Physical or mental disability
Genetic predisposition
Religion
Ancestry
National origin

This means these personal characteristics cannot be cause for refusing to hire an applicant, as well as terminating, not promoting, or inadequately compensating an employee.

Maine "Ban-the-box" law

Maine has recently passed its own "Ban-the-box" law, intended to give everyone a fair chance at employment.

This law prohibits employers from requesting an applicant's criminal history information during the initial application.

In addition, the employer may not state in a job posting that those with a criminal record need not apply.

Termination laws in Maine

Maine follows the principle of "employment-at-will".

In practice, this means that the employment relationship can be terminated by either party, at any time, and for no particular reason.

Most employees fall under these terms of employment, unless otherwise specified by their contractual agreement with the employer.

Final paycheck in Maine

Once the employment relationship has been terminated, the employer must pay the employee their final paycheck by the next regularly scheduled payday.

The employer may deduct an overpayment, a loan, or an advance against future earnings, if they can provide a written statement signed by the employee.

Conversely, the employer may not deduct any alleged property damage, or money owed, without following the necessary procedures.

In the case that the employer is selling their business, they must pay the employees their final wages no more than 2 weeks after the sale of the business.

Severance pay in Maine

If a large commercial or industrial establishment (employing 100 or more employees) closes, endures a significant shutdown, or relocates — its previous employees may be eligible for severance pay.

The severance pay should be included in the final paycheck, at the rate of one week's pay for each year, and partial pay for a partial year, counted from the last full month of employment.

Maine mini-COBRA laws

In case of termination or other major life events, affected employees may be eligible for either the federal COBRA (Consolidated Omnibus Budget Reconciliation Act) or the Maine mini-COBRA.

These plans allow the continuation of health insurance for up to 36 months, usually at 102% of the original cost.

The events that may qualify an employee or their dependents for continued health insurance include the following:

Termination
Significant reduction of work hours
Divorce
Being incapacitated due to serious health issues
Caring for a family member with serious health issues

However, be sure to check with your local authorities whether you are eligible for COBRA plans.

Occupational safety in Maine

Maine has an OSHA (Occupational Safety and Health Administration)-approved State Plan, regulating safety in the workplace.

This plan is very similar to the federal OSHA standards, with the exception of added standards for respiratory protection and Video Display Terminals.

To enforce the standards provided by the Maine State Plan, the Department of Labor conducts workplace inspections.

Miscellaneous Maine labor laws

Last but not least, we can review some miscellaneous Maine labor laws that do not strictly fit into the previously mentioned categories. These include the following:

Whistleblower protection laws
Background check laws
Employer use of social media regulations
Drug and alcohol testing laws
Sexual harassment training laws
Independent contractors classification
Prevailing wages on State construction projects
Record-keeping laws

Whistleblower protection laws

Employees acting in good faith to report inappropriate employer activities are subject to Maine whistleblower protection laws.

These laws make it illegal for employers to discharge, threaten, discriminate, or in any other way retaliate against an employee who:

Reports to the employer or a public body a violation of Maine laws
Reports to the employer or a public body a practice that creates risk for the employee or other individual's safety and health (specifically applies to school personnel reporting a violent or disruptive student)
Takes part in an investigation or court hearing
Refuses to carry out an order that would break Maine law
Reports inadequate patient care in healthcare facilities

The employee is first required to bring any violations to the employer's attention, and to allow sufficient time for corrective action.

However, this is not required in cases when the employee has a specific reason to believe that reporting to the employer will not be met with immediate correction of violations.

Background check laws

In Maine, there are several occupations where employers are required to conduct criminal background checks before hiring an applicant.

These occupations include the following:

Health care providers
Personal care providers
School staff and childcare providers
Occupations where the employee has direct access to the client's property, personally identifiable information, and financial information and resources

Employers must conduct a comprehensive background check, including criminal history records, for all direct employees in these occupations.

Employer use of social media regulations

When it comes to the employee's personal social media accounts, Maine law states that employers are prohibited from the following:

Asking an applicant or an employee to disclose their personal social media password
Asking an applicant or an employee to access their personal social media account in the presence of the employer or their representative
Requiring the applicant or employee to disclose personal social media information, or to change their privacy settings that would allow a third party to access this information
Require that the applicant or employee add anyone to their personal social media contact list
Discharge, or in any other way discipline the employee for refusing to provide access to their personal social media account
Refuse to hire an applicant who does not provide access to their personal social media account

However, one exception to this is that the employee is required to provide all information necessary to access all employer-provided devices and software.

Drug and alcohol testing laws

To require their employees to participate in drug and alcohol testing, Maine employers must have a drug testing policy approved by the Maine Department of Labor, Bureau of Labor Standards.

For a policy to be approved, the State expects the employer to consult their employees when creating it, as well as to provide an individual written notice of its submission to the bureau.

Additionally, even though recreational marijuana use is legal in Maine, employers are not required to permit or facilitate marijuana use in the workplace.

Sexual harassment training laws in Maine

Under Maine law, employers with more than 15 employees are required to provide sexual harassment education to all new employees.

The sexual harassment training program needs to be conducted within one year of the beginning of employment, and needs to include the following information:

The fact that sexual harassment is illegal
The definition of sexual harassment under state and federal laws (with the inclusion of examples)
The internal complaint process
The availability of legal aid and complaint process information
The contact information of the commission
The available protection against retaliation

Furthermore, employees in supervisory and managerial positions are required to get additional training to make sure how to properly handle sexual harassment complaints.

Independent contractors classification

Unless demonstrated otherwise by the person or the business hiring them, Maine law considers the status of all workers as employees.

Depending on the level of agency and control a worker can exhibit during their work, Maine authorities determine whether the person is an employee or an independent contractor.

Once again, worker status as an employee or independent contractor is determined by State and federal law, not contractual agreements.

Worker misclassification is illegal, and it can lead to penalties.

Determining employee vs. independent contractor status

Prevailing wages on State construction projects

When State-funded public projects are estimated to cost $50,000 or more, the contractors working on the project are entitled to prevailing wages.

These are calculated by gathering data about the price of construction work in the given area, and the official wage rate must be posted at the work site.

Wage rates for 2022

Record-keeping laws

According to Maine laws surrounding record-keeping employment practices, employers must keep:

Records showing the exact amount of wages paid to each employee, as well as dates when this occurred
Records of hours worked by each employee, each business day

These records must be available and accessible for inspection by the Department of Labor representatives at all times.

Conclusion/Disclaimer

We hope this Maine labor law guide has been helpful. We advise you to make sure you've paid attention to the links we've provided, as most of them will lead you to the official government websites and other relevant information.

Please note that this guide was written in Q2 2022, so any changes in the labor laws that were included later than that may not be included in this Maine labor laws guide.

We strongly advise you to consult with the appropriate institutions and/or certified representatives before acting on any legal matters.

Clockify is not responsible for any losses or risks incurred, should this guide be used without further guidance from legal or tax advisors.
Need a simple time clock for employees?
Clockify allows you to track time, attendance, and costs with just a few clicks, for FREE.
Your team can track work time via web or mobile app personally, or you can set up a time clock kiosk from which employees can clock in and out.
Later, you can approve timesheets and time off, schedule shifts, run time card reports, and export everything for payroll (PDF, Excel, link, or send to QuickBooks).