Michigan Labor Laws Guide
Ultimate Michigan labor laws guide: minimum wage, overtime, breaks, leave, hiring, termination, and miscellaneous labor laws.
Michigan Labor Laws FAQ
Michigan minimum wage
$9.87 per hour
Michigan overtime laws
1.5 times the rate of regular pay after working 40 hours in a workweek
($19.74 per hour for minimum wage workers)
Michigan break laws
Meal breaks not required by law
Rest period of 30 minutes required after 5 consecutive hours of work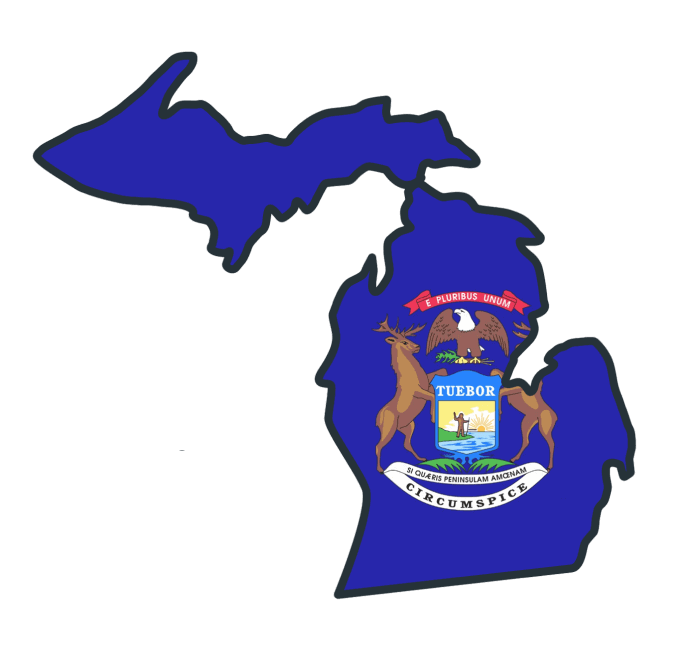 Michigan wage laws
Starting off, let's review the different aspects of Michigan wage laws. The specific areas we will be dealing with are the following:
Minimum wage in Michigan
Tipped minimum wage in Michigan
Subminimum wage in Michigan
Exceptions to the minimum wage in Michigan
Michigan payment laws
MINIMUM WAGE IN MICHIGAN
Regular minimum wage
Tipped minimum wage
Subminimum wage (Training wage)
$9.87
$3.75
$4.25
Michigan minimum wage
As of January 1, 2022, the minimum wage in Michigan is $9.87 per hour.
According to the Michigan Labor and Economic Opportunity bureau, this is a small increase from the minimum wage for the previous year, which was $9.65.
Tipped minimum wage in Michigan
Employees who regularly and customarily receive tips are considered "tipped employees" under Michigan law.
This category of Michigan workers receives a tipped minimum wage of $3.75 per hour.
This is the minimum amount that the employer must pay to the employee in direct wages.
Furthermore, the employer must track employee tips, in order to make sure that the employee earns at least the minimum wage (i.e. $9.87) when the direct wages are combined with the tips.
If not, the employer must pay the difference.
Subminimum wage in Michigan (Training wage)
Following the provisions of the Fair Labor Standards Act (FLSA), Michigan employers can pay employees aged 16 to 19 a subminimum training wage of $4.25 per hour.
However, this wage rate only applies to the first 90 calendar days of employment. After this time period, these employees need to be paid at a regular minimum wage rate, at the least.
Exceptions to the minimum wage in Michigan
Michigan once again refers to the federal FLSA regulations when it comes to determining categories of employees exempt from the minimum wage.
These categories notably include:
Farm workers
Taxi drivers
Outside salespersons
Salaried employees — administrative, executive, and professional employees — if they earn more than $684 on a weekly basis
If you need more information about exceptions to the minimum wage in Michigan, go ahead and take a look at this US Department of Labor reference guide to the Fair Labor Standards Act.
Michigan payment laws
Employers in Michigan have to follow a few requirements when it comes to the frequency at which they have to pay their employees.
First off, employers who have established a schedule of regularly recurring weekly or biweekly payday have to fulfill the following conditions:
The employer must pay out wages earned during the first 15 days of the previous month before or on the first day of each calendar month.
The employer must pay out all wages earned from the 16th to the last day of the previous month before or on the 15th day of each calendar month.
Employers with a regularly scheduled monthly payday have to pay their employees all wages earned in the previous month within 15 days of the end of the monthly pay period.
Michigan overtime laws
In addition to the FLSA provisions, Michigan also uses its own Workforce Opportunity Wage Act to regulate overtime requirements, compensation, and exceptions.
As a general rule — all work in excess of 40 hours in a workweek is considered overtime, and needs to be paid at the rate of 1.5 times the regular pay.
Specific rules apply to the following categories of employees:
Employees conducting fire protection activities
Law enforcement employees
Security personnel in correctional facilities
Staff of hospitals, retirement homes, and other facilities where patients reside on the premises
You can find more information around Michigan overtime requirements in this excerpt from the Workforce Opportunity Wage Act.
Overtime exceptions and exemptions in Michigan
There are also occupations which are exempt from overtime requirements. In Michigan, these include:
All occupations not covered under minimum wage requirements
Agricultural workers
Employees of amusement establishments that do not operate more than 7 months in a calendar year
Anyone holding public office
Administrative, professional, or executive employees, including school teachers and school administrative personnel
Note that retail and service employees can also be included in the category of bona fide administrative, executive, or professional employees — if 40% or more of their workweek activities consist of this type of work.
Track Michigan overtime with Clockify
Michigan break laws
There are no federal laws or specific state regulations that would require Michigan employers to provide meal breaks or rest periods during work hours.
However, if the employer has a policy that provides unpaid breaks — the employees have to be relieved of all duties during these breaks.
Exceptions to break laws in Michigan
One exception when the employer is required to provide a break is for employees who are minors.
According to the Michigan Youth Employment Standards Act, minors working 5 or more consecutive hours are entitled to at least 30 minutes for a meal or rest period.
Michigan breastfeeding laws
The Michigan Department of Health and Human Services has issued a lactation room policy to help enable a supportive environment for breastfeeding employees.
Employers are required to provide adequate facilities and reasonable break time for employees to express their breast milk.
The designated space should abide by the following rules:
Be private (if possible have a functional lock),
Have a comfortable chair,
Have an electrical outlet, and
Have a countertop or other flat surface.
To emphasize, this space cannot be a toilet stall or restroom.
Michigan leave requirements
Each US state has its own distinct requirements when it comes to types of leave employers are required, and those they are not required to provide.
In this section, we'll look at both required and non-required leave in Michigan.
Michigan required leave
To start with, we can take a look at types of leave required by Michigan law:
Sick leave (Paid Medical Leave Act)
Family medical leave
Jury duty leave
Emergency response leave
Military leave
Leave for victims of domestic violence and sexual assault
Sick leave (Paid Medical Leave Act)
Employees in establishments hiring 50 or more workers may be eligible for paid sick leave, according to the Paid Medical Leave Act of 2019.
Paid sick leave can be used in situations such as:
The employee or a member of their family is affected by a physical or mental illness or condition.
The employee or their family member is in the process of diagnosis or treatment of a medical condition.
The employee needs to take care of their children, due to child care facilities or schools being closed in a public health emergency.
This leave is accrued at the rate of 1 hour for every 35 hours worked.
However, the employer does not have to allow the accrual of more than 1 hour per calendar week, and more than 40 hours in a benefit year. In this case, a benefit year is any consecutive 12-month period.
Additionally, employees may carry over up to 40 hours of accrued sick leave from one to the next benefit year.
Here too, there is a note that employers can prohibit employees from using more than 40 hours of accrued sick leave in a single benefit year.
Family medical leave
Under the provisions of The Family and Medical Leave Act, some Michigan employees may be eligible for up to 12 weeks of unpaid leave following major life events.
Some of the events that can qualify an employee for family medical leave include:
Birth and care for a newborn child
Adoption or taking in a foster child
Health condition that prevents the employee from working
Care for a family member with a serious health condition
Additionally, for employees to take family medical leave, federal law states that the employees have to fulfill the following conditions — they need to:
Have worked for the same employer for at least 12 months prior to the leave, and
Have worked at least 1,250 hours in those 12 months.
To further check your eligibility for the family medical leave, see this US Department of Labor FAQ.
Jury duty leave
Michigan employers cannot prevent their employees from attending jury duty, nor in any way retaliate against them if they choose to do so.
To reiterate, employers are forbidden from threatening to discharge, discipline, or fire an employee who chooses to attend jury duty.
Additionally, any employer who — without a written agreement — forces an employee to work more hours than they usually do (including time spent attending court) can be charged with a misdemeanor, and even contempt of court.
Emergency response leave (for State employees)
During public emergencies, some Michigan State employees may acquire an unpaid leave of absence to help with disaster relief.
Employees who qualify for this type of leave are state classified civil service members, as well as volunteers certified by the American Red Cross.
These employees may be granted paid emergency response leave, if the following conditions are met:
The disaster has been declared by the governor, or by the president of the US
The American Red Cross has requested the services of the employee
The leave has been approved by either of the following:

The employee's department head
The governor (if the work is out-of-state)
The civil service commission (for classified civil service members)
The State cannot take any adverse action against an employee choosing to take the emergency response leave.
However, it can reappropriate funds paid to an employee who uses the leave for unapproved purposes.
Military leave
State classified employees who are members of the uniformed services are eligible for unpaid military leave.
These employees will receive full seniority credit for the duration of their deployment, if the following conditions are met:
The total military service is under 5 years,
The discharge is not disqualifying, and
The return is timely.
Detailed instructions and information for employees wanting to request military leave can be found in this Q and A for State Employees in the Uniformed Services.
Leave for victims of domestic violence and sexual assault
Under the provisions of the previously mentioned Paid Medical Leave Act, employees who have been victims of domestic violence may use their medical leave to:
Get medical care
Get psychological or other counseling
Receive help from victim services organizations
Relocate or acquire any legal services related to the abuse
Attend court hearings and other proceedings
Michigan non-required leave
We can now move on to types of leave not mandated by Michigan law:
Bereavement leave
Vacation and holiday leave
Voting time leave
Bereavement leave
Private employers in Michigan are not required to provide bereavement leave to their employees.
However, State employees are allowed 8 hours of funeral service leave on the day of the funeral, if the deceased was their parent, child, or spouse.
Vacation and holiday leave
Private Michigan employees are not entitled to vacation or holiday leave, unless otherwise specified in their contract.
Full-time State employees receive between 15 and 35 vacation days a year, as well as 12 scheduled holidays every year.
Voting time leave
Private employers do not have to grant a leave of absence for voting purposes.
State employees receive Election Day time off every other year.
Child labor laws in Michigan
Michigan has specific child labor laws under the Youth Employment Standards Act (YESA), which covers all persons under the age of 18, including employees, independent contractors, and performing artists.
All minors must acquire a work permit, an agreement, or a contract signed by the employer and the chief administrator of the school the minor attends. If the minor changes jobs, they must get a new work permit. Additionally, the permit may be revoked due to poor academic performance.
All minors must have adult supervision at their place of work, especially in occupations that involve cash transactions after sunset or after 8 p.m.
The legal hours differ for two age categories:
Minors under 16, and
Minors aged 16 and 17.
Labor laws for minors under the age of 16
Minors under the age of 16 can work the following hours:
From 7 a.m. to 9 p.m.
No more than 10 hours a day
No more than 6 days in a week, nor more than a weekly average of 8 hours a day or 48 hours a week while school is in session
No more than 48 hours of school and work combined while school is in session
Labor laws for minors aged 16 and 17
Minors aged 16 and 17 can work these hours:
From 6 a.m. to 10:30 p.m. when school is in session
From 6 a.m. to 11:30 p.m. when school is not in session
No more than 10 hours a day
No more than 6 days in a week, nor more than a weekly average of 8 hours a day or 48 hours a week while school is in session
No more than 48 hours of school and work combined while school is in session
Prohibited occupations for minors
The Youth Employment Standards Act (YESA) also regulates occupations prohibited to minors. These occupations have been deemed hazardous to minors, and they include:
Working in establishments where alcohol is sold, served, or consumed
Working in confined spaces, such as silos, utility vaults, sewers, boiler rooms, etc.
Construction operations
Handling explosives
Operating motor vehicles
Operating power-driven machinery
You can find a full list of occupations forbidden for minors in Michigan in this Department of Energy, Labor and Economic Growth spreadsheet.
Hiring laws in Michigan
Michigan's Elliott-Larsen Civil Rights Act 1976 protects the employees' right to a fair hiring process, by prohibiting discrimination on the basis of:
Race or color
Religion
National origin
Sex
Age
Height
Weight
Marital status
In effect, this means that Michigan employers cannot refuse to hire, limit, segregate, classify, or treat differently any job applicants or employees on the basis of the listed characteristics.
Michigan "Ban-the-box" law
Michigan has passed the so-called "Ban-the-box" law, aimed at providing a fair chance at employment.
This is done by prohibiting questions about prior arrests that did not lead to conviction during the initial job application, as well as delaying background checks.
The name of the law refers to banning the "box" on the application form with the question:
"Have you been convicted of a felony?"
Termination laws in Michigan
Michigan is one of the many US states that follows the doctrine of "employment-at-will".
This means that the employment relationship can be terminated by either party, at any time, and with no specific argumentation.
Private employees fall under these terms of employment, unless otherwise stated in their contract with the employer.
Final paycheck in Michigan
If an employee is discharged or voluntarily leaves employment, their employer needs to pay their final paycheck by the next regularly scheduled payday.
Additionally, if the amount of due wages cannot be determined until the end of the contract — the employer must pay out as near of an estimate as possible.
Michigan Mini-COBRA laws
In situations where an employee is terminated, or is going through some other major life event — they may be eligible for continued health insurance.
Either the federal COBRA (Consolidated Omnibus Budget Reconciliation Act) or the Michigan Mini-COBRA allow the continuation of health insurance for up to 36 months, usually at 102% of the original cost.
Some of events that could qualify an employee or their dependents for continued health insurance include the following:
Being terminated
Having a significant reduction of work hours
Going through divorce
Having a serious health issue that makes the employee unable to work
Taking care of a family member with serious health issues
However, it's best to check with your local authorities whether you are eligible for COBRA or Mini-Cobra plans.
Occupational safety in Michigan
Michigan has an OSHA (Occupational Safety and Health Administration) - approved State Plan, aimed at regulating safety in the workplace.
The plan has some similarities to the federal OSHA standards, and is enforced by The Michigan Occupational Safety and Health Administration (MIOSHA).
This state agency can conduct workplace inspections to ensure all of its requirements are being upheld.
More information on particular MIOSHA standards in different industries can be found on this Labor and Economic Opportunity agency web page.
Miscellaneous Michigan labor laws
Last but not least, we can review some miscellaneous Michigan labor laws that do not strictly fit into the previously mentioned categories. These include the following:
Whistleblower protection laws
Background check laws
Employer use of social media regulations
Drug and alcohol testing laws
Sexual harassment training laws
Independent contractors classification
Prevailing wages on State construction projects
Record-keeping laws
Whistleblower protection laws
Michigan has a long-standing Whistleblowers' Protection Act, which provides protection to employees who report suspected or witnessed violations of local, state, or federal law.
This act forbids employers from discharging, threatening, or in any other way retaliating against an employee who reports or intends to report violations to the law.
Of course, this prohibition is only valid if the reporting employee is acting in good faith, and not if the employee knows the report is false.
Background check laws
When collecting pre-employment data, Michigan employers need to make sure to stay within the bounds of the federal Fair Credit Reporting Act.
Also, the previously mentioned "Ban-the-box" laws prohibit inquiry into an applicant's criminal history during the initial application.
Some occupations where in-depth background checks are required include the following:
Child care staff
Adult household members in childcare homes
Applicants, licencees, unsupervised volunteers, and program directors in child care centers
Employees, independent contractors, and all other staff with direct access to patients residing in the facility
For further guidance, take a look at this government Workforce Background Check guide.
Employer use of social media regulations
Following the Michigan Internet Privacy Protection Act (IPPA), employers (as well as educational institutions) are forbidden from:
Requesting access to an employee's personal social media password
Asking the applicant or employee to disclose information that would grant the employer access to personal social media accounts
Retaliating in any way against an employee that refuses to provide access to their personal social media accounts
The only exception to these prohibitions is in the case when the employer has issued the devices and software to the employee. In this case, the employer can have access to any accounts located on the issued items.
Drug and alcohol testing laws
Michigan has no laws concerning private employers' drug and alcohol testing practices.
However, classified employees are subject to three different authorized types of testing:
Reasonable suspicion testing — the employer has a valid cause for testing
Pre-appointment testing — testing before being appointed to a specific position
Follow-up testing — within 24 months of the employee disclosing drug or alcohol problems, entering rehabilitation, or failing a pre-appointment test
The Employee Fair Scheduling Act
Michigan's Employee Fair Scheduling Act requires that employers post non-fixed schedules at least 14 days before the beginning of the workweek.
This schedule cannot be changed unless employees are notified at least 96 hours before the start of the workweek.
If the schedule does change without a 96-hour notice, the employees are entitled to overtime pay for the duration of their first shift on the changed schedule.
One more addition — if a permanent change has been made to a pre-established schedule, employees are entitled to overtime pay for the first two shifts of the new schedule.
Record-keeping laws
There are federal, as well as Michigan laws concerned with record-keeping employment practices.
These laws require keeping some of the following records:
All application and hiring records — for at least 1 year
All information around promotions, demotions, layoffs, recalls, discharges, selection for training — for at least 1 year
Job descriptions — for at least 2 years
All records of leaves of absence — for at least 3 years
Records of test results and reasons for their administration — for at least 3 years
Further information on this topic can be found in this Employee Record Retention guide.
Conclusion/Disclaimer
We hope this Michigan labor law guide has been helpful. We advise you to make sure you've paid attention to the links we've provided, as most of them will lead you to the official government websites and other relevant information.
Please note that this guide was written in Q2 2022, so any changes in the labor laws that were included later than that may not be included in this Michigan labor laws guide.
We strongly advise you to consult with the appropriate institutions and/or certified representatives before acting on any legal matters.
Clockify is not responsible for any losses or risks incurred, should this guide be used without further guidance from legal or tax advisors.
Need a simple time clock for employees?
Clockify allows you to track time, attendance, and costs with just a few clicks, for FREE.
Your team can track work time via web or mobile app personally, or you can set up a time clock kiosk from which employees can clock in and out.
Later, you can approve timesheets and time off, schedule shifts, run time card reports, and export everything for payroll (PDF, Excel, link, or send to QuickBooks).