Free employee time-off tracker
Clockify is the only truly free time and attendance tracker that lets you track employee time-off (like vacations, personal time off, and leaves of absence) in just a few clicks.
How vacation and time off management works
Clockify is a project time tracker that lets you track attendance of your employees and their work hours. It's so simple that people can start using it in less than a minute and track their planned leaves.
All people have to do is open their timesheet and log their time off. Then, admin can see who logged vacation hours, edit (in necessary), and lock timesheets so no further edits can be made. If someone want to cancel their time-off, admin can do it for them. Super simple - no need for approvals, complex workflows, special codes, or anything.
In addition to tracking vacations and time off, employees can also track their work hours and overtime. Then, in reports you can see PTO accrual and calculate balance by exporting reports in Excel.
Learn more about attendance tracking
Step 1
Create Clockify account
Step 2
Set up projects
Create work projects and a project for time-off. You can further specify the nature of time-off using tasks.
Sick leave Personal time off Vacation Business trip Sabbatical Family leave Unpaid leave Bereavement National holiday Personal time Jury day Half-day
Step 3
Invite your team
You can invite unlimited number of people, for free.
Step 4
Employees log their hours
Each team member gets their own weekly timesheet. There, they can select projects (including time off, vacation, sick leave, etc.) and log their hours. Full time employees can enter 8h for time off, and others 4h or whatever else necessary.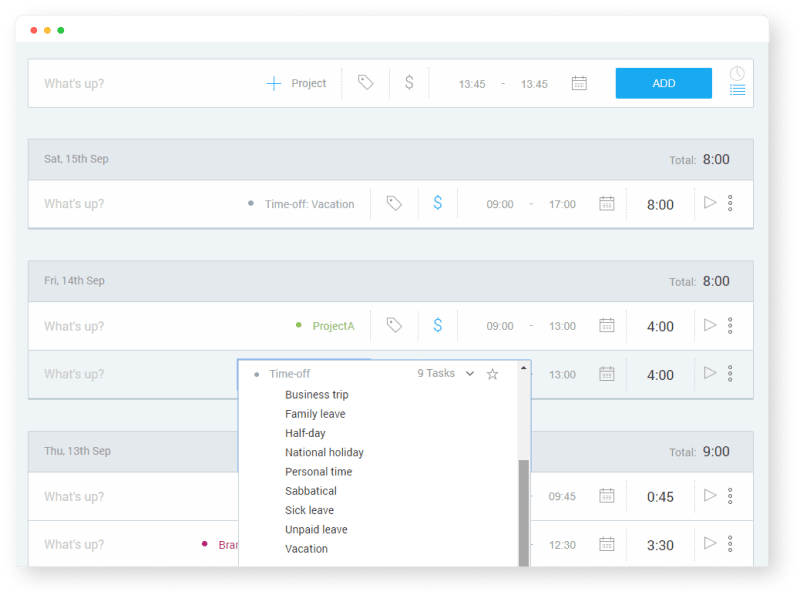 Step 5
See in reports who took time off and when
Weekly report shows you all logged time, broken down by project and user. Other reports can show you other data, like billable hours, earnings, budgeted hours, etc.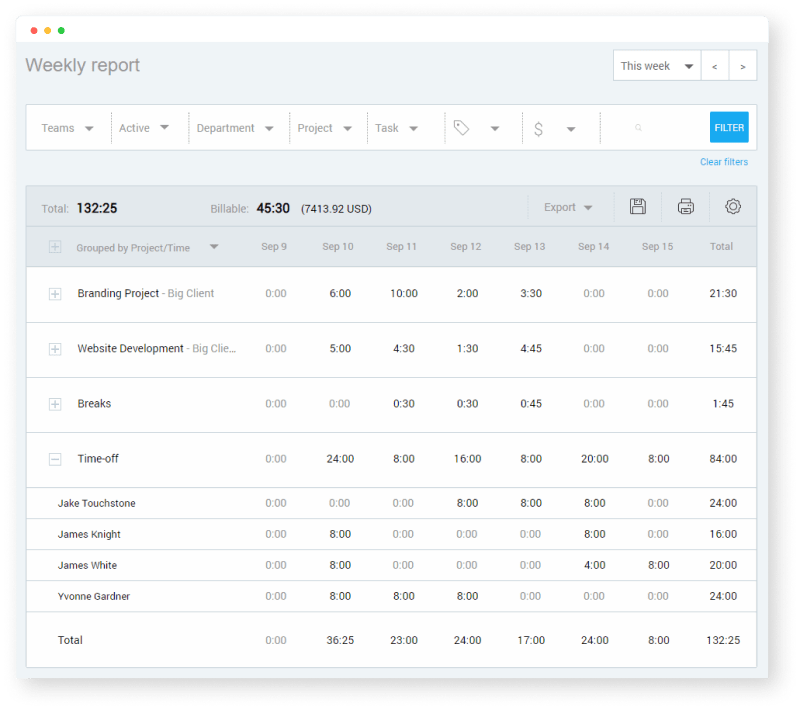 Step 6
Employees can calculate their vacation days and PTO accruals themselves
Everyone on your team can run a personal report to see how much time they've spent on vacation and other activities, and see how much time they have left, without having to ask the HR.
Time off and attendance tracking features
Insanely simple
All people have to do is log in and enter log hours in timesheet.
Free forever
Clockify is the only truly free attendance tracker on the market.
Unlimited users
Clockify is the only time tracking software that's completely free.
Works in browser
Clockify is a web app so your team can access it from any computer, without having to install anything.
Mobile apps
Employees can log their vacations and sick leaves using the iPhone or Android app.
Export reports
You can download all attendance, PTO, and other time tracking data in PDF, CSV, and Excel.
Hourly rates
Clockify can automatically calculate your billable hours and hours worked for payroll.
Flexible approvals
When people log vacation hours, admin can see it immediately and later lock timesheets to disable further edits.
Add time for others
Someone forgot to log their holiday or vacation hours? Admins can add time for them.
Available for web, desktop, and mobile
★★★★★
Perfect for tracking our employees' hours
"We needed a better way to keep track of everyone's time, attendance, projects, and budgets in one place. Enter, Toggl! It seemed like a dream come true except... you had to pay per month and per person! There was no way our little company could afford that.
As a company just starting to get off the ground, we need every penny we can spare and a good way to track our employees' hours and project investments. Now that Clockify timesheet app is available, I have even higher hopes for our company's success this year."
— Katelyn Salem‎, Video editor at Synema Studios