9 Best Jira plugins
Jira is Atlassian's issue tracking program which focuses on agile project management and bug tracking. Jira offers a wide variety of plugins (also known as Jira add-ons), from design tools and language packs to CRM and document management. Plugins are pieces of software that provide additional functionalities — think of them as the equivalent of the apps on your phone. Each one offers a unique set of features and, if you choose the right one(s), makes your life easier and boosts your productivity.
In this article, we'll explore the best, most functional, practical, popular, and effective Jira plugins that will help you get the most out of Jira.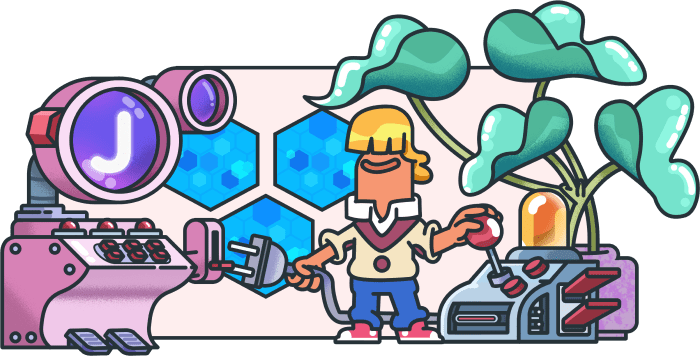 Best Jira plugin for Tracking Time – Clockify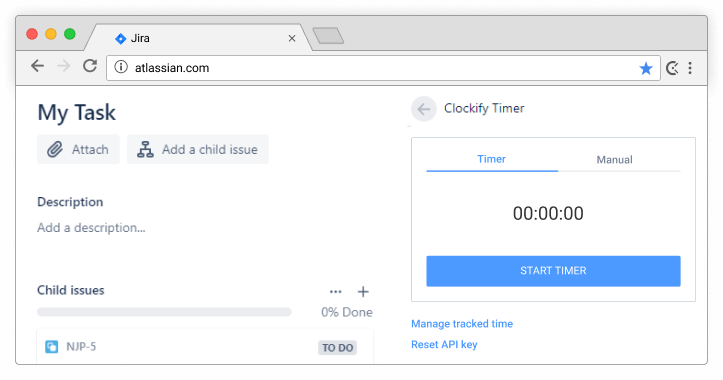 Tracking time you spend on Jira is vital – you'll be able to analyze the exact amount of time you spend on projects, tasks and processes. Track time on tasks right from Jira with just one click, then run time reports in Clockify. Owing to this plugin, you'll be able to break down data and single out what issues take the most of your time. Consequently, you'll be able to:
improve your future schedules
reorder activities according to the amount of time they take
improve your time and project management.
To help you spend your time in the most effective way, Clockify provides a variety of useful features:
Log time manually
Run timesheet reports
Categorize time by project, task, tag
Customizable reports
Visual time breakdown
Invite team
Unlimited everything
All of that for free — forever.
Best Jira plugin for Test Management – XRAY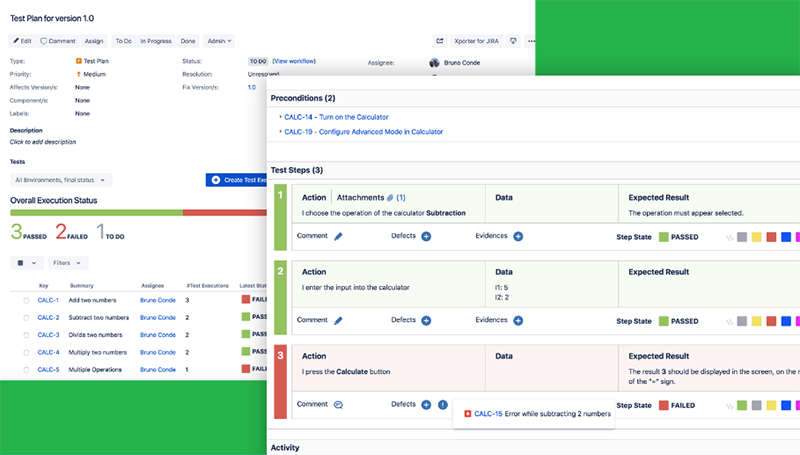 XRAY is a prominent test management plugin that provides manual and automated tests for quality assurance in Jira. With it, you can:
treat and manage all tests as Jira issues
tracks tests and test executions
execute various tests on various environments and then compare the results
report all test results through the CI tool
determine the status of test entities according to their test plan, their versions, and the environment where it was executed
This Jira test management plugin also provides other test-related actions:
Singling out recurring conditions and associating them to the right tests
Organizing tests in the right folders and test sets
Writing cucumber scenarios
And all this, by scrutinizing Jira issues, as well as making use of its screens, custom fields, and pre-existing workflows.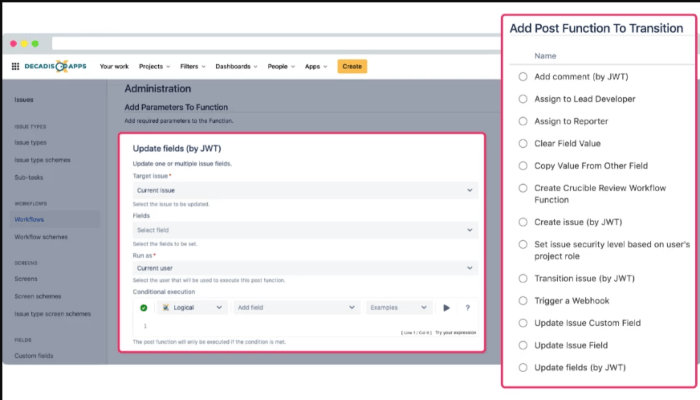 Jira Workflow Toolbox is the best-rated automation solution for Jira for a reason. It allows you to save time by automating repetitive tasks; this plugin also has advanced options, such as only automating certain actions if the timing is right, so you can focus on more important tasks.
It lets you completely customize your workflows, even if you don't know how to code. With JWT, you can:
Create issues and sub-tasks during transitions, as well as update fields
Access all issue data with field codes, even data not directly accessible via the UI
Configure your workflows with dropdowns for selecting fields, data, and a wide variety of functions
Use built-in examples
Do live-testing
Test expressions against any issue and preview the output in real-time
Monitor workflow executions and changes made in detail in the audit log.
You are also able to restrict the availability of transitions and require fields.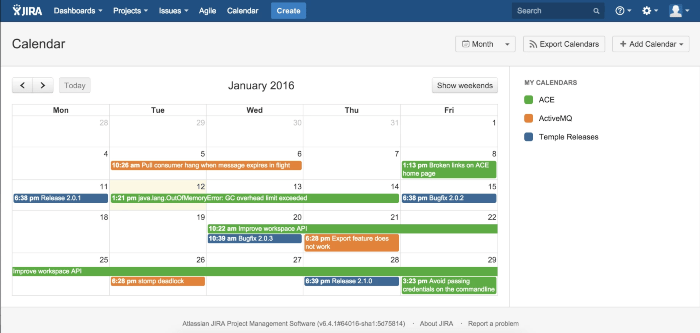 My.com Calendar is everything you need in a Jira Calendar – it allows you to use any project or filter as an event source, share calendars with other users, and create periodic issues to make sure you won't forget anything important. It displays issues from any project in calendar format, which provides you with a clear visual overview of everything you are working on.
Additionally, you can:
View all issues in chronological order via timeline view
Manage color, start and end date of events
Hide weekends, if you want to
View issue fields data in event popup
Create separate events that are not linked to issues
All those features are packed in a clean and easy-to-use interface, with the option to drag and drop.
Best Jira plugin for Gantt charts – BigGantt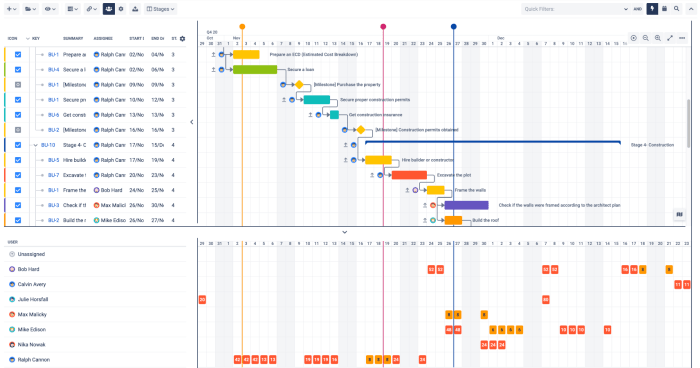 This Gantt Chart helps you plan and manage your project portfolio simply and straightforwardly – the system uses a drag & drop interface, so you can easily move around your tasks.
When you first open this Jira plugin, you'll see a chart – here, you can directly create and manage your tasks, as well as track their progress and keep an eye on their deadlines.
You'll also be able to:
Auto-schedule your tasks
Manage links between issues
Analyze your projects via baseline, critical path, and custom-made markers
Craft high-level agile roadmaps
Smartly link issues right on the timeline
All your tasks are visually singled out with indicators, so everyone involved can easily track their progress.
Considering that different issues can be related in a way, this plugin also allows you to map out issues according to their dependencies.
Best Jira plugin for Diagramming – draw.io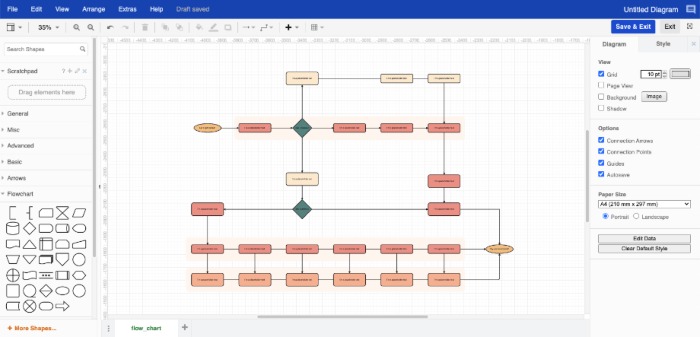 Draw.io enables a stable, secure, and easy approach to the diagram for Jira – you'll be able to store diagram data within Jira, and always have it at hand reach.
This flowchart maker is much more just that – with it, you'll be able to create:
organizational charts
UML and BPMN diagrams
mockups
mind maps
tree diagrams
network diagrams
architectural board layouts
other useful templates
You'll get a chance to mix and match mics, ER diagrams, arrows, as well as basic and advanced shapes, in order to visualize your work. You'll also be able to embed the diagram source in a PNG format. If you have diagrams made in another tool, you can just drag and drop them directly onto your workspace.
Once you're done with drawing, you can attach your diagrams to the right Jira issues, as well as easily export or import them to another place.
In draw.io, you can also make use of keyboard shortcuts that help automate your work further.
Best Jira plugin for Project Management — Structure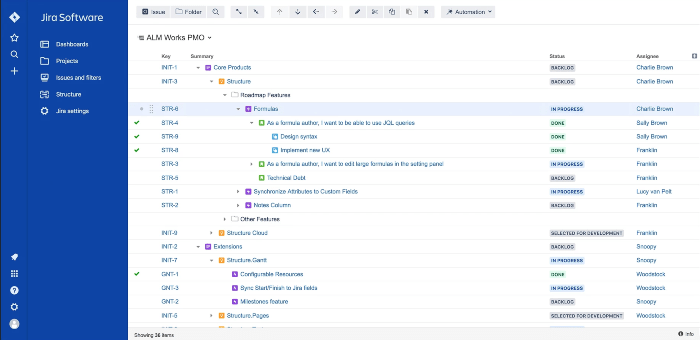 Structure is a powerful project management plugin that helps you to track and manage all your projects and teams on Jira. It allows you to:
Assemble overviews of all the project information
Track tasks and projects and make management reports
Define your own issue hierarchy
Manage your projects in real-time
See live Jira project data
Set up automation for adding new Jira issues
This plugin lets you easily visualize and organize projects, which is essential for teams that parallelly work on different projects, use shared resources, and create a large number of issues. Additionally, it has a user-friendly interface with a familiar spreadsheet-like view of Jira issues.
Best Jira plugin for To-Do Lists — Issue Checklist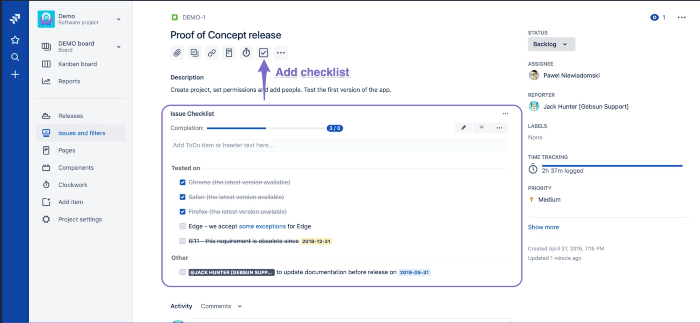 If you're a fan of to-do lists, the Issue Checklist is a plugin for you. With just a couple of clicks, you can add to-do lists to Jira issues, see your progress, and get the satisfaction of crossing off a task from the list.
To facilitate your work even further, you can save a checklist as a template and use it whenever you need it. Or, you can make it a default template, and it will automatically load every time you create a new issue.
Some other helpful features are:
Mention users
Add due dates
Insert issue keys, hyperlinks, and emojis
Use statuses like "In Progress" and "Skipped"
Block issue transition if a checklist is not completed
Convert checklist item to Jira issue
You can also integrate it with Jira automation tools, such as Power Scripts, Recurring Tasks, ScriptRunner, and Xporter.
Best Jira plugin for Reports and Charts — eazyBI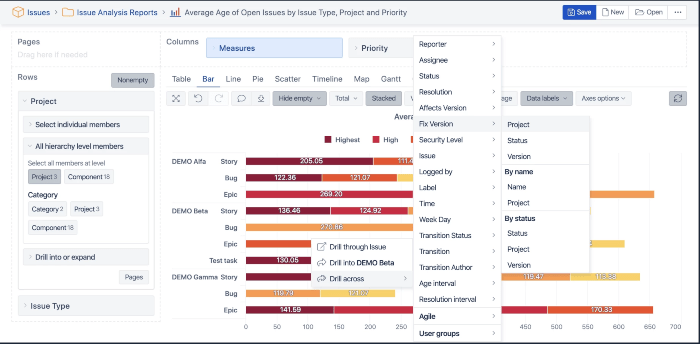 The eazyBI plugin allows you to create reports and charts to visualize your data and bring a new dimension to data analytics. You can both utilize ready-made templates or create custom reports, as well as make any type of chart you'd like: bar chart, scatter chart, timeline chart, map chart, and gauge chart, just to name a few.
This plugin also allows you to:
Make standard calculations (such as statistical, trends, and cumulative) with one click
Create custom calculations for more advanced Jira reports
Built reports with drag and drop
Publish reports and dashboards as Jira gadgets
Analyze external databases and files
With interactive reports, you will be able to easily discover trends, notice outliers, and catch potential problems.
✉️ What are your favorite Jira plugins? Would you add anything to our list? Let us know at blogerfeedback@clockify.me for a chance to be featured in this or future posts.