Jira is Atlassian's issue tracking program which focuses on agile project management and bug tracking.
Here are the best, most functional, practical, popular and effective Jira plugins that will help you get the most out of Jira.
Tracking time you spend on Jira is vital – you'll be able to analyze the exact amount of time you spend on projects, tasks and processes.
Owing to this plugin, you'll be able to single out what issues take the most of your time, so you'll be able to:
improve your future schedules
reorder activities according to the amount of time they take
improve your time and project management
And, you'll be able to do all this by abiding to the time you've clocked in so far.
Clockify pro tip
To learn more about tracking time in Jira with Clockify, check out our blog post and video tutorial about How to best track time in Jira.
Automate Tasks and Processes – Automation Lite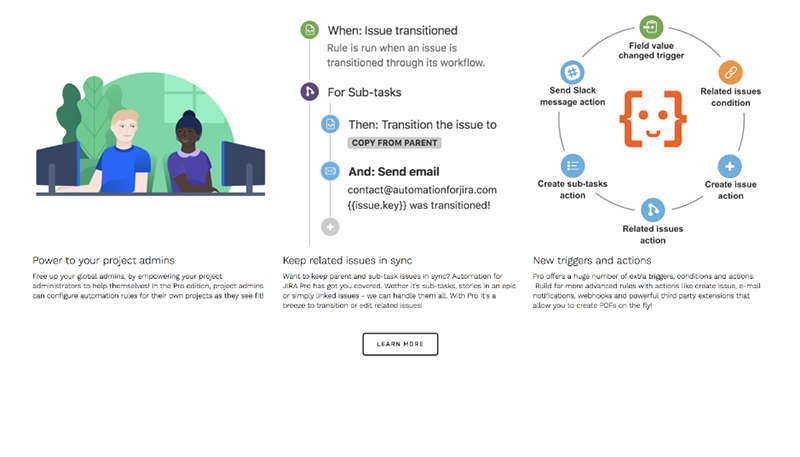 Automating work as much as possible is bound to help you finish faster – and, in Jira, you can turn to Automation Lite to help you automate your tasks and processes.
This plugin stands out as the simplest Jira's automation plugin – you can create and set your own automation rules, by combining triggers, actions, and conditions that tackle various scenarios. For this purpose, the plugin provides you with about 20 components you can combine to your liking.
Same of the more prominent uses of the system include:
smart auto-assign for issues
implementing escalations
tracking SLAs
defining defaults for system fields
removing attachments and issues
automatically closing expired issues
These are of the features this plugin provides, but there are more that can further help you automate your work.
Test Management – XRAY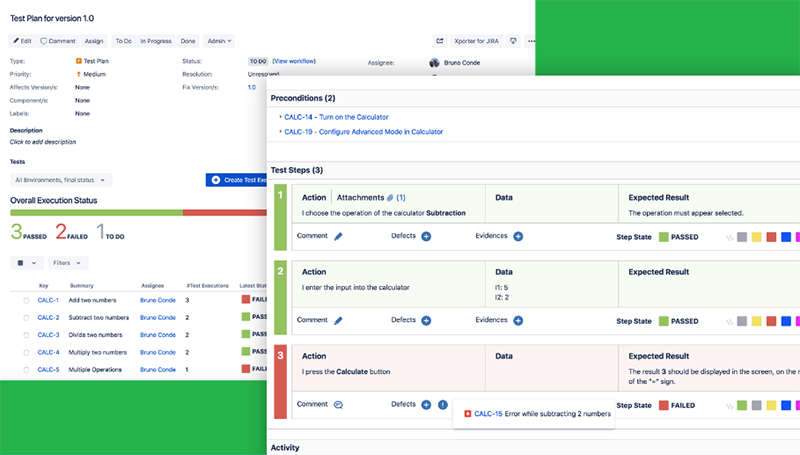 XRAY is a prominent test management plugin that provides manual and automated tests for quality assurance in Jira. With it, you can:
treat and manage all tests as Jira issues
tracks tests and test executions
execute various tests on various environments and then compare the results
report all test results through the CI tool
determine the status of test entities according to their test plan, their versions and the environment where it was executed
This Jira test management plugin also provides other test-related actions:
Singling out recurring conditions and associating them to the right tests
Organizing tests in the right test sets
Writing cucumber scenarios
And all this, by scrutinizing Jira issues, as well as making use of its screens, custom fields and pre-existing workflows.
Calendar – Mail.Ru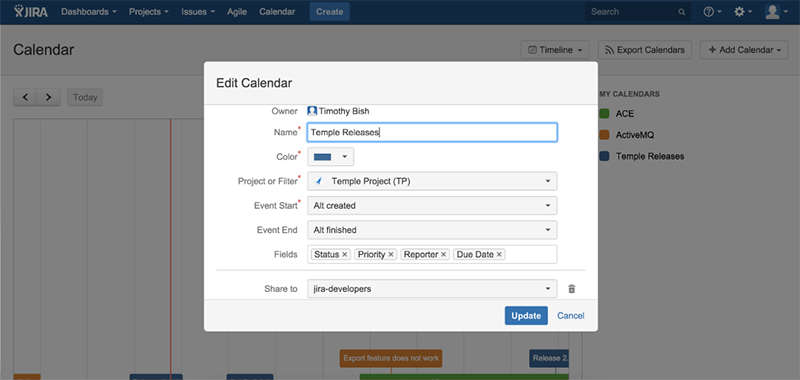 Mail.Ru calendar is everything you need in a Jira Calendar – it allows you to view issues in a timeline view, configure your projects and filters as events, and all that through an easy-to-navigate interface.
You'll be able to account for your project's issues, by making them into events marked with specific color, start and end date. Then, you'll be able to:
view them in a daily, weekly, monthly or quarterly timeline view
decide whether you'll want to the system to count weekends as well
have issues appear as event popups
track issues as calendar events with your team
establish recurring events and issues
You can also export Mail.Ru calendar data to other popular calendar formats, such as Google Calendar, Outlook, as well as IOS Calendar.
Schedules – Recurring Tasks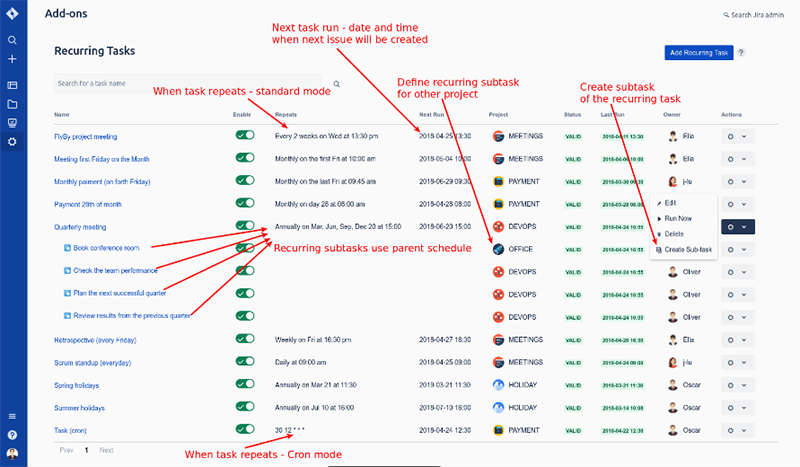 This scheduling plugin for Jira cloud allows you to schedule and configure your recurring tasks, run status reports on your last task, as well as add new recurring tasks when you need to.
The Recurring Tasks plugin will help automate the process of scheduling tasks and subtasks, and save the time you'd spend in adding them manually every time.
With this plugin, you identify recurring issues in your work, so that the system is able to auto-create these issues on specified dates, or within specific time intervals.
So, you'll never have to worry about forgetting to tackle an issue, because it will be created automatically as soon as the system recognizes it.
Gantt chart – BigGantt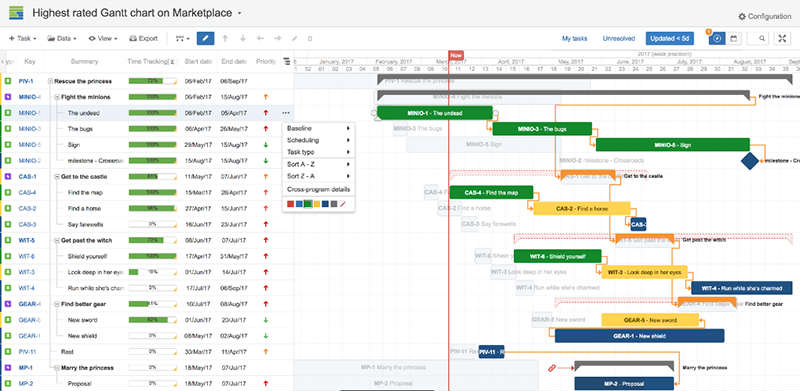 This Gantt Chart helps you plan and manage your project portfolio in a simple and straightforward way – the system uses a drag & drop interface, so you can easily move around your tasks.
When you first open this Jira plugin, you'll see a chart – here, you can directly create and manage your tasks, as well as track their progress and keep an eye on their deadlines.
You'll also be able to auto-schedule your tasks, manage links between issues, as well as analyze your projects via baseline, critical path and custom-made markers.
All your tasks are visually singled out with indicators, so everyone involved can easily track their progress.
Considering that different issues can be related in a way, this plugin also allows you to map out issues according to their dependencies.
Diagraming – draw.io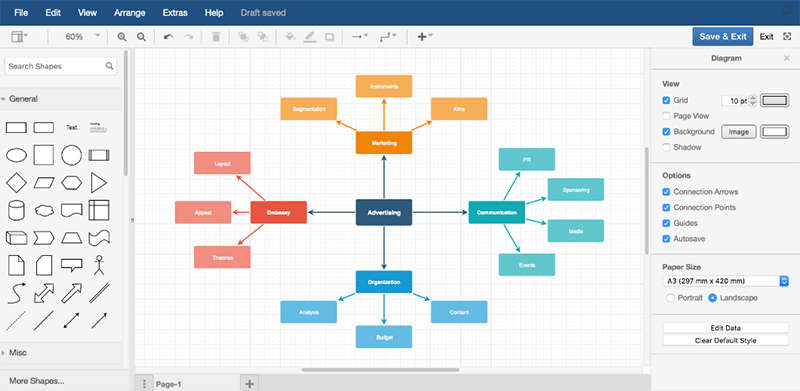 Draw.io enables a stable, secure, and easy approach to diagramming for Jira – you'll be able to store diagram data within Jira, and always have it at hands reach.
This flowchart maker is much more just that – with it, you'll be able to create:
organizational charts
UML and BPMN diagrams
mockups
mind maps
tree diagrams
network diagrams
architectural board layouts
other useful templates
You'll get a chance to mix and match mics, ER diagrams, arrows, as well as basic and advanced shapes, in order to visualize your work. You'll also be able to embed the diagram source in a PNG format.
Once you're done with drawing, you can attach your diagrams to the right Jira issues.
In draw.io, you can also make use of keyboard shortcuts that help automate your work further.
Asset Management – Insight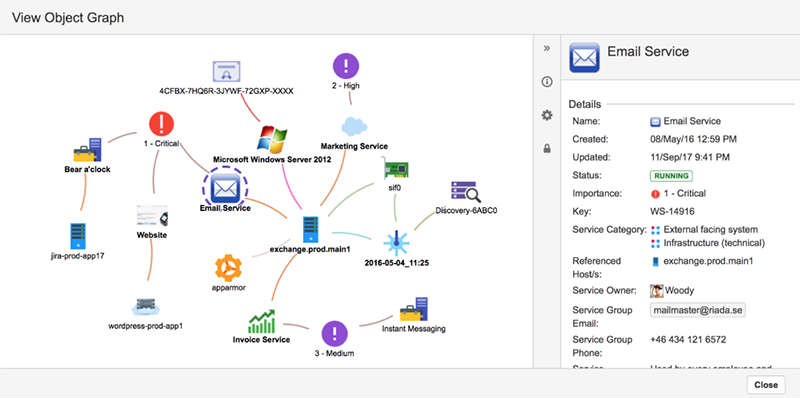 Insight is an asset management plugin fit for enterprises – you get an open API, visualization and automation options, as well as  HR, CRM, ITIL and more.
The plugin helps you respond to challenges faster, and make better decisions along the way by minimizing operational risk and improving governance.
You'll be able to connect a certain asset with a certain Jira issue, so you'll be able to make use of the search and filter options of Insight for easier navigation.
Insight has a variety of uses, for a variety of teams:
IT experts can control serves and computers with it
Software teams can use it to manage software components and versions
Business teams can use it to manage financial information, among other vital points
Collaborative Testing – Capture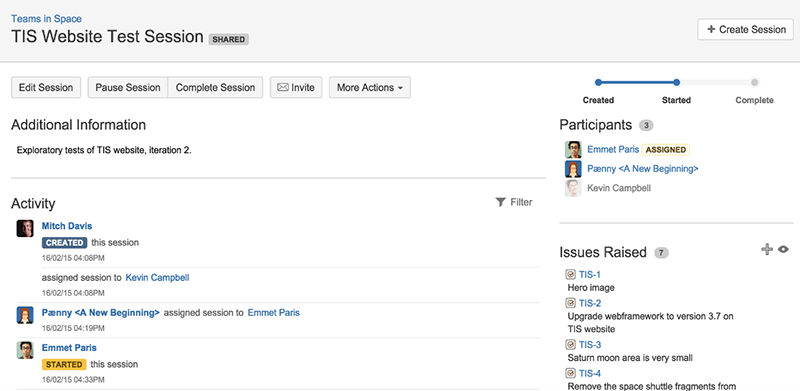 With the Capture plugin, you and your team can easily collaborate on testing sessions, as well as provide and prioritize feedback. It's also efficient for when you want to validate the functionality of an application, or search for epics and sprints, in order to link them to the right issues.
This plugin allows you to provide visual feedback you can then share centrally. You can also annotate this feedback and then provide it directly to Jira.
One of the standout features of Capture is that you can easily manage screenshots in it – this includes downloading, renaming or deleting them.
The option to provide audio feedback is available as well – you can capture audio feedback and then make use of an annotation tool to add further notes to it.