What is the Pitman schedule & why should your team use it?
Are you managing a company and looking for a suitable work schedule? Do you want your business to run around the clock while your team members maintain their productivity? If so, your organization will benefit greatly from the Pitman work schedule.
Continue reading and find out about:
The basics of the Pitman schedule,
The Pitman schedule's pros and cons,
The variations of the Pitman work pattern, and
The tips to successfully implement the Pitman schedule.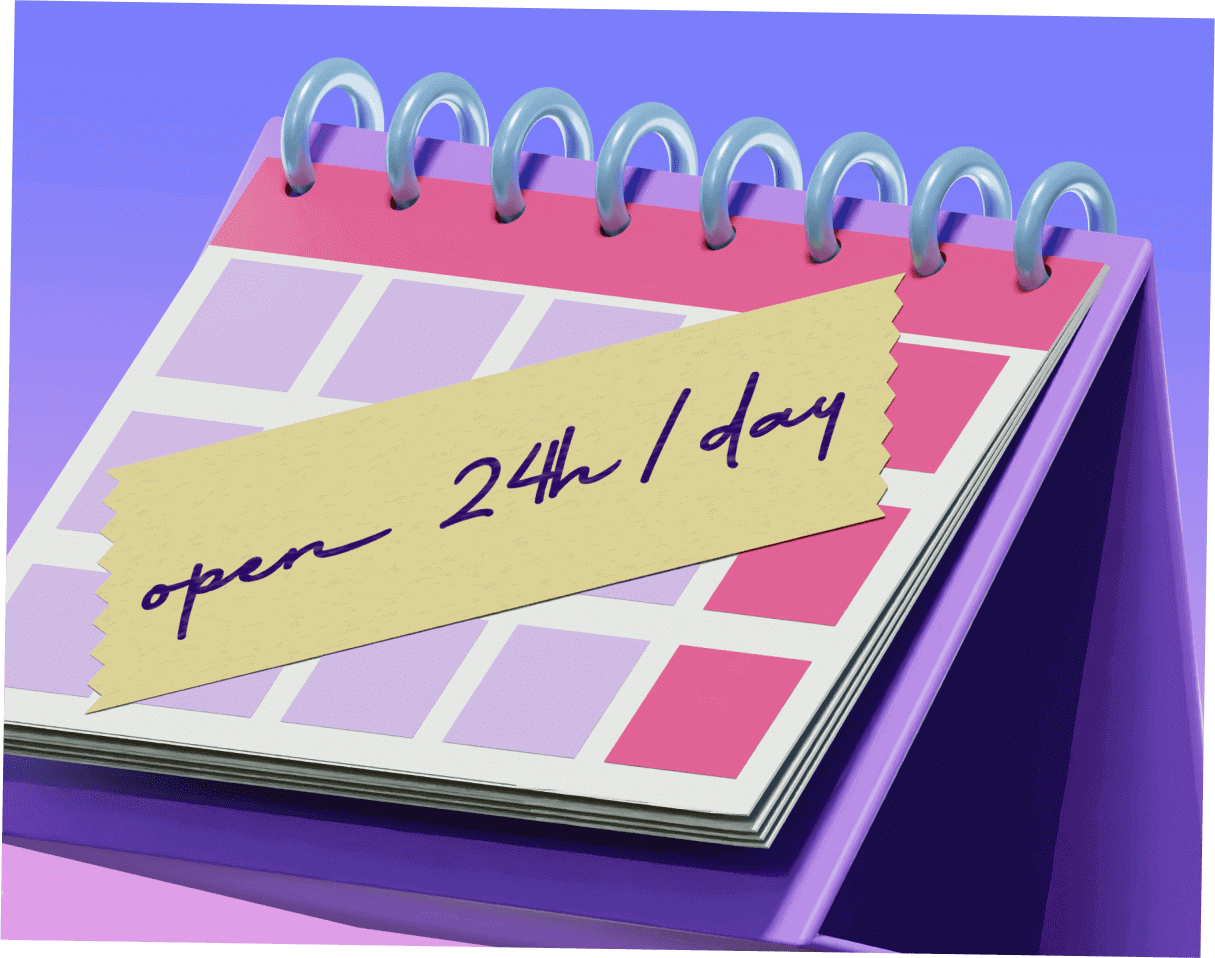 What is the Pitman schedule and how does it work?
The Pitman schedule is a work plan which includes four teams working 12-hour shifts in a two-week period. This work schedule ensures your business is open 24/7, but it also enables productivity and employee satisfaction.
There are two versions of this schedule:
The Pitman fixed schedule, and
The rotating Pitman schedule.
Variation #1: The Pitman fixed schedule
During all cycles of the Pitman fixed schedule, all four teams follow a fixed schedule. So, the first two teams work day shifts, while the other two teams work night shifts.
An employee will go through the following cycle:
Work two business days,
Take two days off,
Work three business days,
Take two days off,
Work two business days,
Take three days off.
The Pitman fixed schedule is also known as the 2-3-2 schedule because employees have two days off followed by three working days, and then they have two days off again.
The first team works the day shift while the second team works the night shift, as you can see in the table below.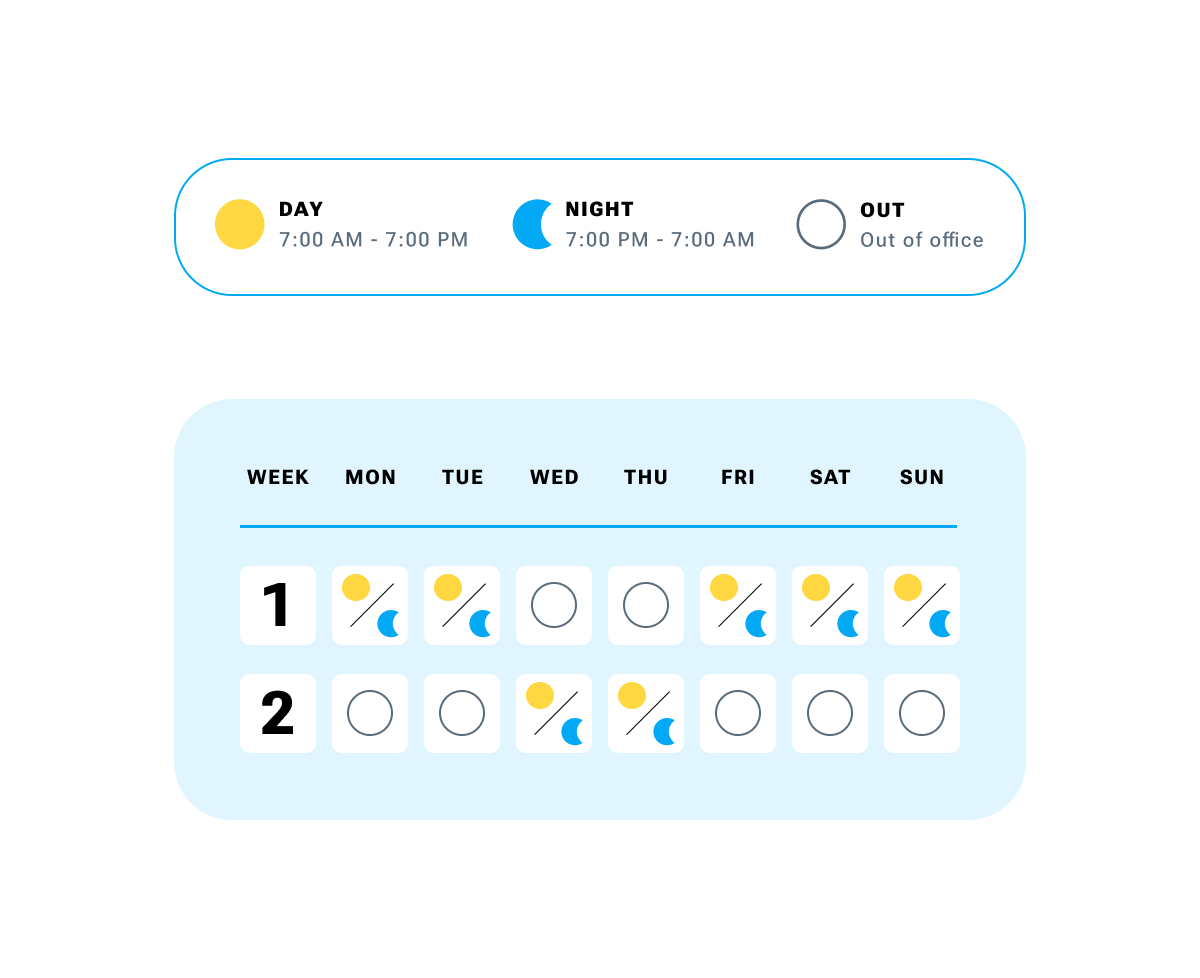 During the same period, the other two teams follow this schedule: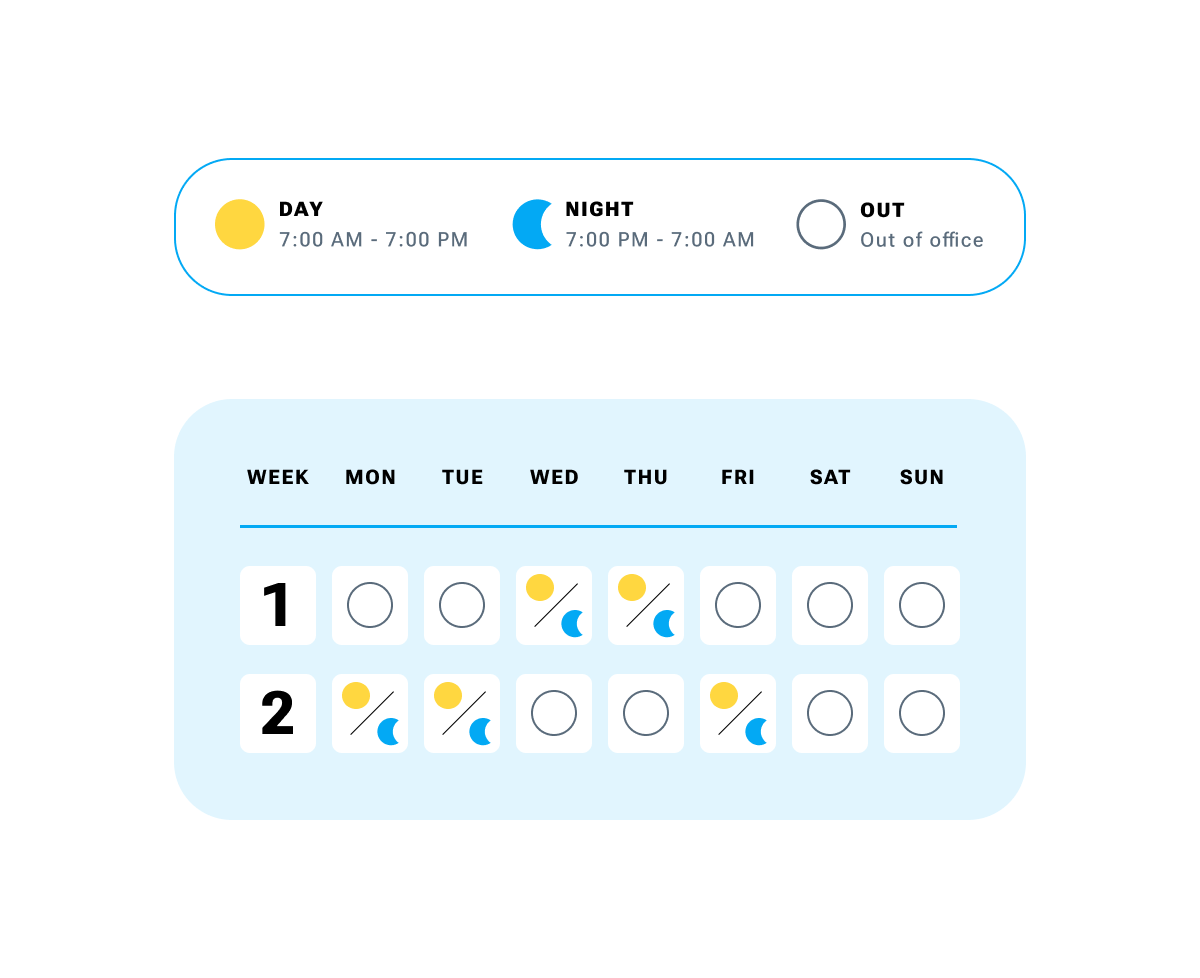 Variation #2: The rotating Pitman schedule
Unlike in the Pitman fixed schedule, where teams always work in the same shifts, in the Pitman rotating schedule, four teams rotate between day and night shifts. During the first two weeks one team works the day shift, and during the next two weeks it works at night. And, the team that worked at night in the first cycle will work the day shift in the next cycle.
This is also known as the 2-2 3-2 2-3 schedule because:
During the first week, we have two working days, then two days off followed by three working days.
The second week starts with two days off, then we have two working days followed by three days off.
So, basically, the numbers 2-2 3 cover the first week and 2 2-3 the second week.
The following is the schedule for the first team in this rotating shift work: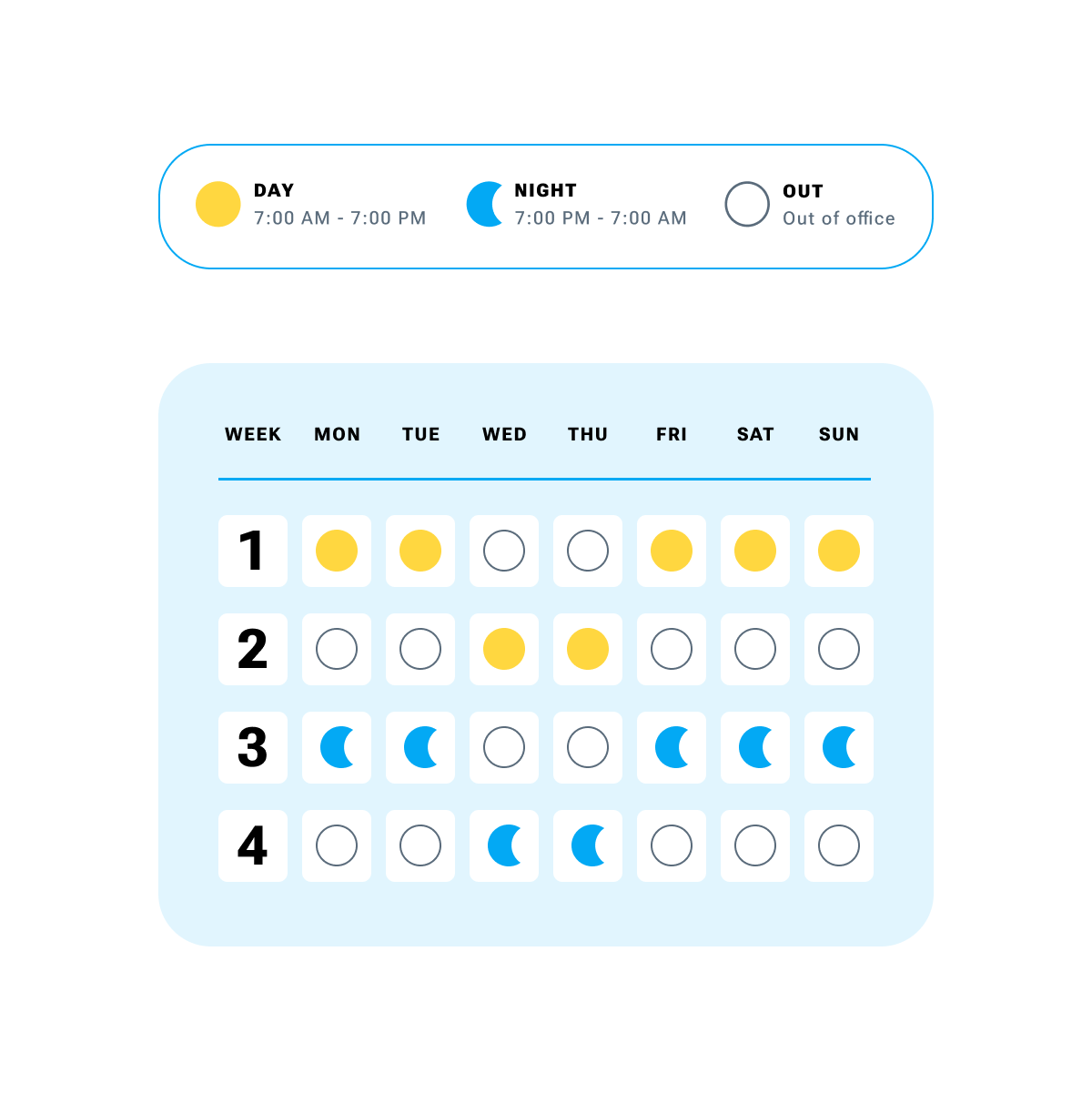 The second team's schedule is similar to the first team's schedule, with one difference — instead of the day shift, the second team works during the night.
The same is for the third and fourth teams: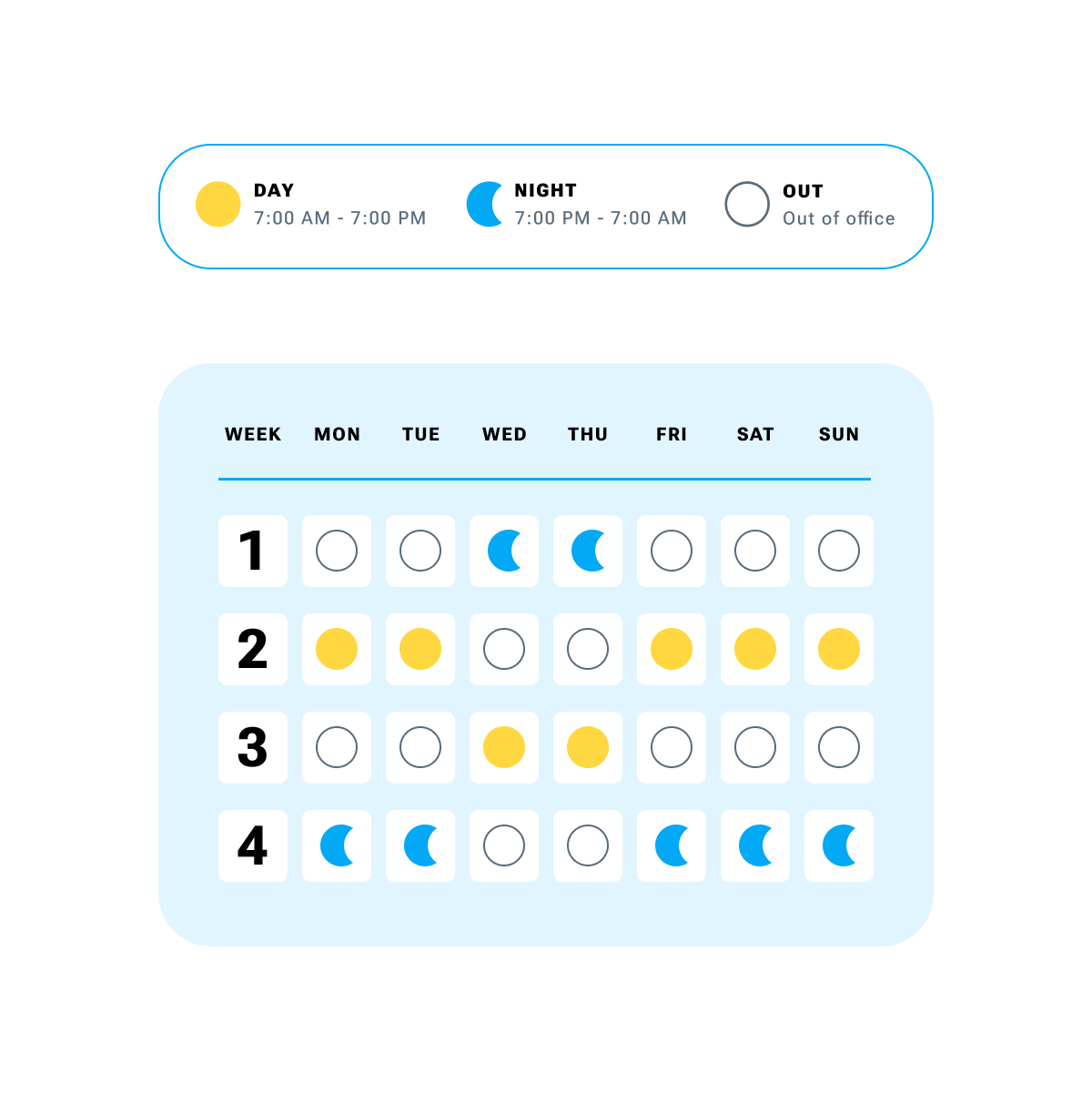 💡 Clockify Pro Tip
There are other work schedule variations, and if you want to find out more about those work patterns, read our blog posts:
Who uses the Pitman schedule?
The Pitman work schedule is commonly implemented in mid-large departments that operate outside of the typical 9–5 workday like in:
Police force,
Emergency medical care (EMC),
Customer service, and
Dispatching.
These industries use the Pitman work pattern to provide 24/7 service while reducing burnout, protecting sleep schedules, and prioritizing work-life balance for everyone on the team.
Advantages of the Pitman work schedule
Even though the Pitman schedule is most commonly implemented in police departments, emergency services, and call centers, it is not surprising that other industries use the Pitman schedule too. Since it helps with improving employee satisfaction, among other benefits, many companies have already adopted the Pitman schedule. If you decide to do the same, here are some of the most common advantages you'll definitely spot right away.
Advantage #1: Higher earnings for employees
Applying the Pitman schedule and working 12-hour shifts means that your employees will earn a base wage with added percentage for additional four-hour work.
For example, most nurses are paid more for working night shifts, or at the weekend. This is a great benefit for your workers as it can be up to a third of their original pay. This increases employee satisfaction and motivation.
Advantage #2: Less time spent in traffic
If you have a regular 9–5 job, you will likely spend hours stuck in traffic, as you will commute during the peak hours. But, if you follow the Pitman shift schedule, you can forget about stressful commuting due to traffic congestion. Furthermore, you will easily find a car park.
Disadvantages of the Pitman work schedule
While the Pitman work schedule is a popular and efficient way of organizing work, it has its issues, especially since it involves long working hours. We've found and listed some of the most common cons of this work pattern.
Disadvantage #1: Lack of safety when going to work
Working in shifts and during the night means returning home late when there are fewer people on the streets, and depending on the location of your job, it can be more or less dangerous. For example, if you are a nurse working a night shift, walking alone at night can be stressful, as well as driving because more people drive under the influence of alcohol at night.
Disadvantage #2: Poor health choices
Long-shift work comes with changes in eating and sleeping cycles, which can cause a lot of stress. That's why shift working is often linked to higher rates of poor health choices, such as:
Short sleep duration,
Smoking,
Obesity,
Low physical activity, and
Higher alcohol use.
Tips to implement the Pitman work schedule effectively
The Pitman work schedule has many advantages, but it also has its disadvantages. However, these drawbacks can be reduced by implementing the Pitman work pattern correctly. Here are some tips on how to use the Pitman work schedule successfully.
Tip #1: Create a rulebook
Implementing the Pitman schedule can be confusing for your employees, especially those who haven't worked in shifts. They may struggle to remember the times of their shifts or some other important details.
That's why it's a good idea to have a rulebook that will be available to all your employees where they can easily find all the important information related to their shifts, projects, and tasks. Moreover, if you need help with creating schedules that are easily accessible to your employees, you can use tools like Clockify, which also has schedule templates.
In your rulebooks, you can also include advice on how to prevent the most common problems related to the Pitman schedule, such as sleep disorders and obesity.
Tip #2: Create a carpooling system
Organizing transportation to and from work is important for employees, especially those who work at night. The reason for this is that many people don't feel safe walking alone or using public transport as crime rates are higher at night. Taking care of your employee's transport can help build trusting relationships between management and employees and make employees loyal to the company.
Tiredness is often the cause of many car accidents so creating a carpooling system can reduce the likelihood of these casualties. Additionally, employees usually prefer carpooling over public transport as it is faster and they get more time to sleep.
Another advantage of carpooling is that it is cost-efficient. Employees like the idea of saving money by sharing seats in a car.
Furthermore, carpooling is a great way of creating employee bonding, as they get to spend more time together outside of work and work as a team. Nurturing this type of collaborative culture will result in building trust among colleagues and higher employee productivity.
Tip #3: Work out the type of skills and the number of employees needed
Like in every business, managers should decide how many employees are needed to cover all shifts. The number depends on the type of job and it can vary from business to business. Moreover, you should also figure out what skillsets are needed for your business and different shifts as some shifts may require specific skills. Using employee scheduling software can help you organize your workers and their schedules much faster, predict future demand, and match your staffing levels accordingly.
Tip #4: Enable your employees to be up to date with their schedule
Scheduling shifts manually for large teams of employees can be a challenging and time-consuming process. So, you should grab every opportunity to reduce time spent on a task as it equals increased profits.
Furthermore, following a changing schedule can be confusing for your employees, especially the new ones, who still haven't gotten used to this type of work. Some of them can even miss their shift if they don't pay enough attention.
By using a project scheduling tool such as Clockify, you can alert them in advance about their shifts, and it enables them to easily check their schedules and be up to date with all changes that may occur.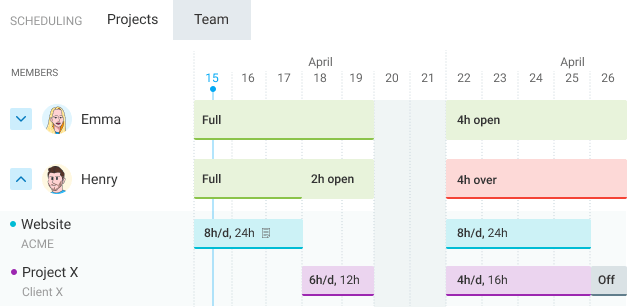 Conclusion: Increase employees' satisfaction with the Pitman work schedule
If your business needs a 24/7 work plan, and you want to ensure employee satisfaction, you will greatly benefit from the Pitman work schedule. This plan comes with advantages such as higher earning for employees and less time spent in traffic. In this blog post, we presented some practical tips on how to implement the Pitman schedule effectively, reduce its drawbacks, and ensure your business operates like clockwork despite being available 24/7.
✉️ Have you already had a chance to work on the Pitman schedule? Do you have any advice on how to use the Pitman work pattern and increase employee satisfaction? Share your experience with us at blogfeedback@clockify.me. Also, if you liked this blog post, share it with someone you think would find it useful.