9/80 work schedule — what it is and how it works
Working nine-to-five, what a way to make a living! In the 1920's nine-to-five work schedules went mainstream and brought the Americans an entirely new view of how a workday should look like. It later spread to the rest of the world and became a status symbol since only white-collar workers could enjoy the perks of a fixed work schedule. Nowadays, the situation is completely different. People find nine-to-five work schedules outdated due to so many alternative work schedules that are present today.
Now, many companies offer their employees workweek schedule alternatives and among them is the 9/80 work schedule. The majority of employees would agree that the best work schedule is one with the most time off. The 9/80 work schedule could be the one they were longing for.
In this blog post, we will tell you everything you need to know regarding this type of work schedule — how it functions, its pros and cons to both employees and businesses, and whether it can be suitable for your business.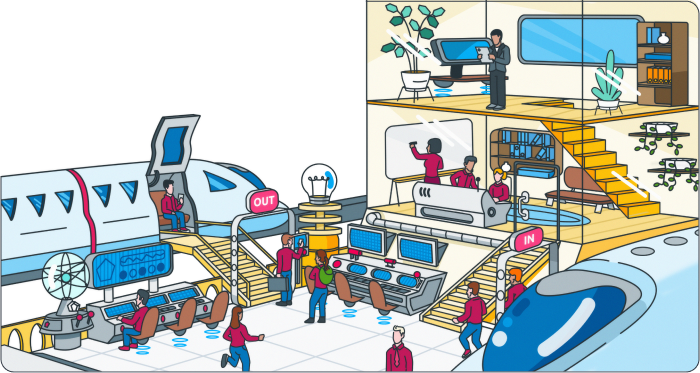 What is a 9/80 work schedule?
Simply put — 9/80 is a compressed two-week work schedule where employees have one day off every other week. Meaning, employees work nine hours a day every Monday to Thursday, and on Fridays (in the first week), they work for eight hours (=44 working hours for week #1). The next week they also work 9-hour days from Monday to Thursday and get Fridays off (=36 working hours for week #2). The cycle repeats again the upcoming Monday. Thus, employees have a 3-day weekend, but that scheduled day off can be any other day of the workweek.

In essence, a 9/80 work schedule is an alternative work schedule.
According to recent research, 67% of businesses with 500 employees or less offer some form of alternative work schedule to their employees.
Apart from the 9/80 work schedule, there are other alternative schedules in the USA employees can choose from. Workers can choose between schedules such as 4/10, 3/12, and our topic in this blog post — 9/80.
How a 9/80 workweek schedule works
For instance, your regular workweek schedule is from 8:00 a.m. to 5:00 p.m., Monday through Friday, with Friday as a scheduled day off. Here's how your compressed workweek schedule would look like (without a lunch break).
| | |
| --- | --- |
| Week No. 1 | Week No. 2 |
| Monday 8:00 – 5:00 | Monday 8:00 – 5:00 |
| Tuesday 8:00 – 5:00 | Tuesday 8:00 – 5:00 |
| Wednesday 8:00 – 5:00 | Wednesday 8:00 – 5:00 |
| Thursday 8:00 – 5:00 | Thursday 8:00 – 5:00 |
| Friday 8:00 – 4:00 | Friday Day Off |
Whether you are an employee or a business owner, you need to carefully track your or your employees' worktime because it takes some time to get used to a new schedule and integrate it into your daily routines.
For this purpose, you can try out an employee time tracker application that is simple and convenient to use, such as Clockify. With it, you can keep track of your clock-in and clock-out times, and ensure you adhere to your work schedule, no matter its type.
💡 If you are still on a nine-to-five work schedule and have trouble making it work, you might find this article useful:
9/80 work schedule template
Since it may seem confusing to calculate your hours according to a 9/80 work schedule at first glance, we're also including a free 9/80 work schedule template you can use, to help you grasp the concept. Here, you can enter your clock-in and clock-out time and easily calculate your total hours when using a 9/80 work schedule:
How to run payroll for a 9/80 workweek?
In a 9/80 workweek schedule, the total hours worked for the first week are 44 hours, and for the next week 36 hours. Paid workdays in a compressed workweek are handled in a two-week period to avoid paying four hours (from the first week) of overtime.
Let's assume that you work Monday – Friday, from 8:00 a.m. to 5:00 p.m. (without a lunch break). The first workweek will end at 12:00 p.m. (noon) on the first Friday (=40 paid hours), the new week will begin at 12:01 p.m. and end the next Thursday at 5:00 p.m. (=40 paid hours). This is how payroll in a compressed 9/80 workweek schedule is handled.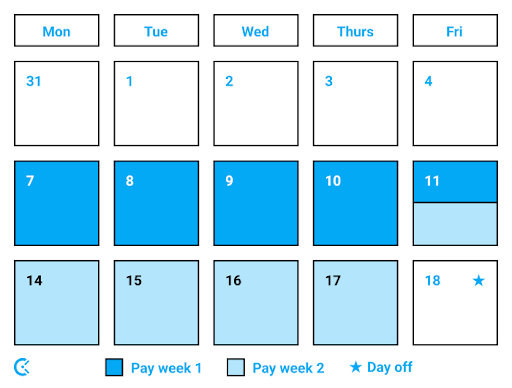 The payroll system needs to be carefully handled in order to accurately track billable and non-billable hours to avoid any misunderstandings or even lawsuits. Bear in mind that this is just an example scenario where an employee starts their work at 8:00 a.m. and ends at 5:00 p.m. without a lunch break. As with any other schedule, a 9/80 must include a lunch break of 30 minutes to 1 hour.
California Labor Code 510 (which we will discuss in more detail below) states that everyone who works over 8 hours a day is eligible for overtime pay. But with a 9/80 work schedule, this is not applicable. Overtime work in a 9/80 schedule is calculated on the following principle — working more than 40 hours a week before noon on Friday is considered overtime. In that case, employees must be paid 1.5 times their hourly wage for the overtime hours.
Leave days in a 9/80 workweek schedule
As the payroll system is handled differently with this alternative schedule, the same is true of sick and vacation days. If a sick day takes place between Monday and Thursday, it counts as a 9-hour sick day. If it happens on a Friday, it counts as an 8-hour sick day. The same rule is applied for vacation days.
However, when it comes to national holidays, the situation is slightly different. Let's say Christmas falls on your scheduled day off. In this case, you are entitled to a holiday 'credit' of 8 hours which you will be able to use within the next 12 months. Moreover, if a national holiday falls on a Monday (9-hour workday), it is counted as a regular 8-hour holiday + you receive 1 hour of vacation credit, which you can use later on.
How is a 9/80 work schedule approved? (California Labor Code section 510)
According to law, California Labor Code section 510 sets the requirements for implementing a 9/80 work schedule. Before even considering 9/80 for your business, it must be approved in a secret ballot election by at least two-thirds of the employees in a certain work department. An employer is obliged to disclose wages, hours, and benefits in a written form in both English and non-English language (if more than 5% of employees speak a different language) and hold the election to their own expense during working hours.
The results from the election must be handed over to the California Division of Labor and Research. Also, if one-third of employees file a petition to revoke an alternative schedule, a new election shall be held within 30 days after the petition.
When an organization or company elects a 9/80 work schedule for a specific department or a shift, affected employees fill in a form where they choose their day off between Monday to Friday. If, for instance, they choose their day off to be Wednesday, they have to pick between two options: Wednesday A or Wednesday B, depending on whether they want to begin a work month with the first Wednesday off or the next (in a two-week timeframe).
Scheduled day off is fixed, and once established, it cannot be changed unless in exempt cases where the request is consulted with a supervisor or manager. There are exceptions where certain groups of workers can be exempt from this work schedule. Single parents with small children, people with certain medical conditions, or university students who work and study can ask to be excluded from this schedule. Groups of workers such as customer support specialists and computer operators who maintain 24-hour coverage are also excluded from the compressed workweek schedule.
All the steps above should be followed accordingly in order to avoid any penalties or lawsuits.
An example of a 9/80 work schedule: Clif Bar & Company
Clif Bar is an American food company that produces energy drinks and power bars. It is popular among cyclists, climbers, and other outdoor enthusiasts.
They believe their employees' time off is precious and, they've reportedly integrated an alternative 9/80 schedule as an optional work schedule for their employees. Having a healthy, stress-free work environment is the secret to their success. The 9/80 work schedule offers Clif Bar's employees the opportunity to spend more time with their families doing enjoyable and healthy activities. Moreover, this company wants to help their employees shorten running their errands as well, so they offer additional perks meant to help create 3-day weekends for their employees as enjoyable and fulfilling as possible.
The owner of Clif Bar, Gary Ericson, believes this alternative work schedule results in employees' satisfaction, boost in motivation, personal growth, and increased productivity at work. His employees' well-being is the key to success according to Ericson, and a 9/80 work schedule helps them achieve it.
According to job reviews from several websites, the 9/80 work schedule and relaxing atmosphere at work are actually the two most important benefits of Clif Bar & Company, as rated by current or former employees. So, this type of alternative work schedule works for them.
What are the advantages of a 9/80 work schedule?
Whether you are an employer or employee, dealing with changes is never an easy process. You need to adapt to different work habits and integrate them into your or your company's daily routine. Following is a list of advantages of a 9/80 work schedule from both employee and employer's points of view.
Advantages of a 9/80 work schedule concerning employees
Both you and your family members will likely need to manage major life changes. Still, the good side of this life-changing situation is that you will be able to spend more time together. We've prepared a list of advantages when initiating a 9/80 work schedule as an employee.
More free time — People have more free time on their hands, thus they can maintain a healthy work-life balance. In a USA survey from 2006, 151 cities were surveyed where HR professionals talked about the benefits of alternative work schedules. Healthy work-life balance was the number 1 benefit, with 74.1% of cities confirming this. With this schedule, employees can enjoy their day off running errands or even pursuing a hobby. Not only will you have more free time, but also you will be able to enjoy the benefits of having a long weekend and plan a 3-day trip with your family or friends.
Choice of the day off — Employees have the freedom of choosing an extra day off.
Less commuting time — If you are a commuter, with a 9/80 work schedule you will avoid usual traffic jams at peak hours when leaving work one hour later. People who work nine-to-five and live in big cities spend at least an hour commuting or stuck in traffic jams thus they arrive home after 6 p.m. That is almost the same time 9/80 workers arrive home but still have a day off every other week.
More time for a part-time job — Having an extra day off may be an opportunity for some to find a part-time job. You can make some extra money on the side working a freelance job since they are in high demand nowadays.
Higher motivation — A 9/80 work schedule is a great motivator for all people who integrate this schedule into their work routines since they obtain an additional day off to look forward to. That can boost employees' morale and even their performance at work.
Advantages of a 9/80 work schedule concerning employers
As we've covered how this alternative work schedule has benefits for employees, the following benefits concern a business.
Perspective staff — When employees see that a business offers alternative options such as choosing a work schedule, the majority will think fond of it. Ambitious employees will rarely settle for poor conditions at work, and this kind of incentive might seem appealing to them.
Fixed schedule — A 9/80 work schedule is fixed and is effective throughout the year, so employees are not allowed to ask for frequent changes (unless in emergencies).
Decreased tardiness and absenteeism — Employees who work from 7 a.m. or 8 a.m. are more likely to avoid traffic congestions at peak hours and less likely to be tardy. With 9/80, employees have more free time on their hands, which helps them organize their work and life in such a way that they are less likely to be absent from work due to personal issues.
Improved employees' performance and productivity — Employees feel more motivated and show quality work when they have an extra day off to look forward to.
Low costs — A 9/80 is simple to implement and only obliges the employer to pay for the voting expenses. In the previously mentioned survey from 2006 about alternative work schedules, 16.5% of the respondents discovered other organizational benefits such as energy and utility costs reduction.
What are the disadvantages of a 9/80 work schedule?
A 9/80 has a lot to offer to both employers and employees, but there are some drawbacks to this work schedule, too. Following is a list of disadvantages from both employees' and employers' points of view.
Disadvantages of a 9/80 work schedule concerning employees
We've prepared a list of some drawbacks of a 9/80 work schedule that have negative impacts on employees.
Not suitable for all — This work schedule does sound appealing to a lot of employees, but it doesn't have to mean all people prefer it. Single parents or people who work two jobs may find this work schedule too tiring and might have extra costs such as hiring a nanny. The same 2006. survey showed that 7.1% of cities stated this schedule increased daycare costs.
Fixed work schedule — As we already mentioned earlier, a 9/80 schedule is fixed and cannot be modified in any circumstances. Employees need to fill in a timesheet a year ahead and in unforeseen circumstances, they are not able to ask for time off.
Tiring workdays — It takes a lot to handle when you think that you have to work for 9 hours a day and commute for another hour or even more. This could lead to stress and anxiety. In addition, many people opt for overtime work to earn more money, but with this schedule that would be very difficult to manage.
Disadvantages of a 9/80 work schedule concerning employers
There are also possible drawbacks from the employers' points of view.
Scheduling — The 2006's survey also showed that 38.8% of surveyed cities had difficulties with scheduling. Employers might have trouble dealing with unforeseen circumstances when employees with major decision-making roles have their scheduled days off. Communication with suppliers and customers during days off is often negatively affected too. If scheduled days off are not equally distributed within a department, it can lead to confusion and missed deadlines.
Poor performance — Not all characters can embrace this work schedule successfully. Some employees might not be able to adapt to this schedule easily. Thus, their performance might fall below the required standard.
Lack of overtime hours — Even though employees work one hour longer with this schedule, some businesses still require overtime work. Following the rules of a 9/80 work schedule, only a few workers would apply for overtime work since that would be too tiring to handle. One solution would be to add an extra shift which could result in spending a lot of resources.
Expenses with leave days — When an employee asks for sick leave or vacation days on a 9-hour day, the company loses 1 hour of work. Also, if a holiday falls on an employee's day off, they are entitled to 8 hours of holiday credit which is another expense for an employer.
Would a 9/80 work schedule work for your business?
Changing a work schedule is a major life change and should be consulted with your employees. You should both explain your points of view and make a joint decision. Bear in mind that this work schedule doesn't work well with small businesses due to a lack of staffing and the ability to cover shifts. Also, this work schedule is more suitable for IT industries and knowledge-based companies rather than manufacturing factories.
If you plan to implement this schedule into your business, it is crucial to provide your employees with a clear company policy regarding wages, overtime, scheduled days off, vacation leave, etc. Last but not least, you should collect regular employee feedback on their satisfaction to create open and honest communication.
Wrapping up
Whether you are an employee or a business owner, adopting a 9/80 work schedule may be a challenging but also ambitious undertaking. This change in work schedule must be done in accordance with the rules that we've mentioned in this blog post. Everyone must be familiar with the system to avoid misunderstandings and untidy work schedules.
The 9/80 work schedule will boost productivity and motivation at work and allow everyone to enjoy an extra day off. With the proper implementation, both businesses and employees can benefit from such an alternative work schedule.
✉️ Have you heard about the 9/80 work schedule before? Which work schedule suits you or your company best? Send your answers, suggestions, and comments to blogfeedback@clockify.me and we may include them in this or future posts.