Single Sign-On (SSO) Time Tracking
Connect Clockify with your SSO system so your team can securely log in via SSO and fill their timesheets.
SAML 2.0 OAuth 2.0 LDAP
What is Clockify
Clockify is a modern employee timesheet app that works in a browser. Clockify streamlines timesheet collection and time analysis so you no longer have to fill out, scan, and store paper timesheets.
With Clockify, you can track projects, attendance, time off, who worked when and how much, expenses, profits, costs, and payroll.
What is Single Sign-On (SSO)
Single sign-on (SSO) is an authentication scheme that allows a user to log in with a single ID and password.
SSO allows your team to log into multiple applications with a single authentication. Practically, it means that your users won't have to repeat the login process for each service or software that you use.
Single Sign-On options in Clockify
Clockify can connect with your SSO system. Once connected, your team has to log in into Clockify to fill their timesheets using your SSO system.
This eliminates user passwords and require everyones in your team to log in using your company's IdP authentication system. Clockify supports all protocols (LDAP/AD, SAML2, OAuth2) used by all major identity providers (Office 365, Azure, Google, Okta, etc.)
Clockify supports all major protocols (SAML 2.0, OAuth 2.0, LDAP/AD), so you can connect it with Azure, Microsoft Active Directory, Google, Okta, OneLogin, etc.
✓

Azure SSO: If you're using Microsoft's Office365 modern authenticator via Azure, you can connect it to Clockify either via SAML or OAuth.

✓

Microsoft AD: If you're using Microsoft Active Directory, you can connect it to Clockify via LDAP.

✓

Google SSO: If you have a Gmail account or a GSuite private emails, you can connect it with Clockify via OAuth.

✓

Other major single sign-on providers supported (Okta, OneLogin, etc.)
How to connect SSO with Clockify →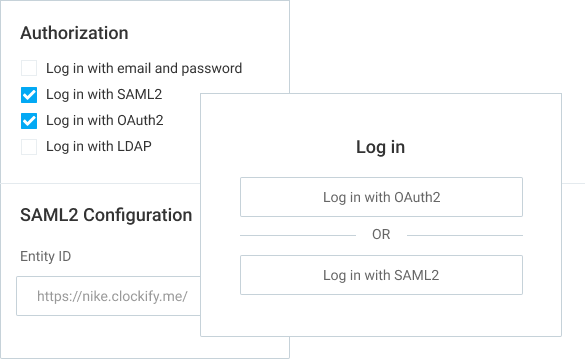 Other Enterprise features
Custom fields
Track additional information, besides time.
Approve timesheets
Submit and approve time for payroll and billing.
API
Integrate Clockify with your internal systems via API.
Want to host on your own servers?
Clockify is a cloud time tracker that you can use in your browser. But, in addition to our hosted solution, you can also host Clockify on your own premises.