Free employee timesheet app
Clockify is the only 100% free timesheet app. It lets your employees enter how much time they spent on activities in an online time sheet.
Modern digital timesheet for employees
Clockify is a modern employee time sheet app that works in a browser. Clockify streamlines timesheet collection and time analysis so you no longer have to fill out, scan, and store paper time sheets.
By using Clockify, you no longer have to rely on traditional physical timesheets and time cards, complex timekeeping systems, Excel spreadsheets, or rule-of-thumb estimates.
Regulated overtime payments can be one of the heftiest bottom-line business expenses. Clockify makes it extremely easy for you to exactly how many hours each employee has worked.
With Clockify, monthly and hourly employees can enter hours spent on specific projects/tasks throughout the week, and revise them when needed so your reporting data is consistent.
Clockify can also calculate payroll and calculate billable hours automatically, based on your employees' hourly rates.
Employees fill their timesheet for each day in the week
Management runs reports to see and export time
You can use timesheet data to:
Improve the overall value of the work done by employees
Have a record of who worked on what and how much
Track overtime and fulfill legal requirements of knowing who worked how much
Minimize time spent on low-value tasks and maximize for high-value tasks
Send approved work hours to accounting and payroll in PDF or Excel
Export timesheet data and use it for:
HR and Payroll
Track attendance, overtime, who worked on what and when, and how much everyone should be paid.
Client billing
See how much you worked on a project, how much you need to bill clients, set billable rates, and add narrative to time entries so you can justify invoices later.
Project status reporting
Estimate time, track time budgeted for tasks so you can make budget vs actual analysis, calculate resource utilization, and identify where labor hours are spent.
Governance activity costing
Use time data in order to comply with government and shareholder compliance standards, timesheet requirements, work rules, and other audit criteria (DCAA, SOX, EEC).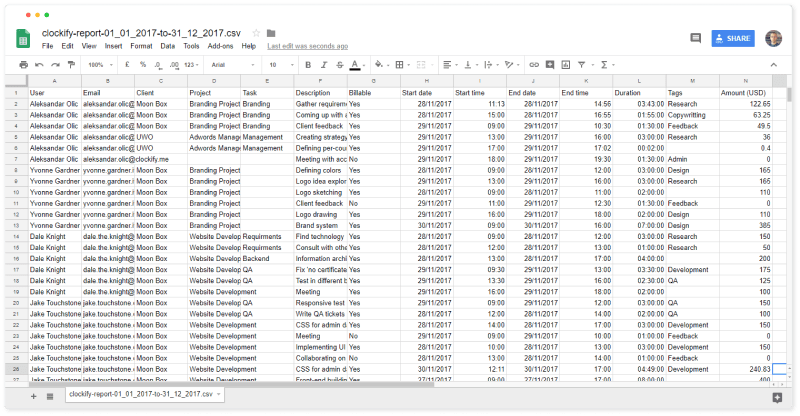 Learn more about time reporting
How to fill timesheets with Clockify
Step 1
Create Clockify account
Step 2
Set up projects
Create a list of pre-determined activities for your employees to select and log time for.
Step 3
Invite employees
Clockify is completely free, no matter how many employees you have.
Step 4
Employees fill their timesheets
Your employees enter how much they've worked online in browser, or in a mobile app (Android, iOS).
Step 5
Run reports
You have three types of reports, depending on what you need to do:
Summary report: see time summarized by project and
Detailed report: review and edit time your employees logged
Weekly report: see who tracked how much time each day
Timesheet features
Online timesheets
Log all your work hours in less than a minute.
Insanely simple
No training required, just log in and go.
Unlimited users
The only truly free timesheet app for large teams.
Export data
Export all timesheets to PDF, CSV, and Excel.
Robust reporting
Get all the time data calculated in one click.
Projects and tasks
Track and categorize work activity by project or job.
Hourly rates
Automatically calculated payroll and billable hours.
Apps
Log work hours in browser, or from mobile or desktop app.
Reminders
Employees get automatic reminders for missing hours.
★★★★★
No more spreadsheets
Clockify is ideal for my needs. I work part-time for a client working as his executive assistant and his bookkeeper. I was getting myself in a mess just using a timesheet created in MS Excel and when I discovered Clockify I was over the moon with joy. I keep Clockify open in the background and I switch projects when I start the work and when I finish the work. I used to under invoice for my time and lose income but now I can bill for every second I work on his projects. Also, it has great reporting function and can either print off or save as a PDF or Excel etc. So not only do I invoice my client, I've also got exact data for the time I carry out each of his tasks.
— Ruth Manser, Executive Assistant & Bookkeeper
★★★★★
Excellent, excellent, excellent
I have been using it for a week now and rolling it out to our 7 person team. Response has been very good. The software answers the 3 key questions we have about our team. 1.) What did you work on today? 2) How much time have you been spending on any one project? 3) What projects are in the mix? Having the ability to mark billable vs. non-billable is a feature we will use as well. It had all the features I needed AND NONE of the ones I did not want. So it was not unnecessarily complicated. Thus the ease of use and intuitive nature of the software was excellent. The free price tag for these basic functions was a bonus. Overall, perfect for our needs.
— Justin Nealey, Lead Project Engineer at TMC/Ametek
★★★★★
An invaluable tool
Clockify is simple and easy to use, and importantly is also flexible. It's great that there are desktop and mobile applications, as well as the web application, so that you can track time in a way that is most convenient at the time. I often switch from logging my time as I complete a task and after I've completed tasks. The different ways of categorizing time entries is also really useful, but for me one of the best features of Clockify is its ability to integrate with other web applications such as Trello and Google Docs - making it even easier to track time. The fact that an API is available is also brilliant.
— Andy Green, Founder at Lyke Ltd.
★★★★★
Fantastic work/project tracking software
Beautiful and clean design which allows customers to easily track hours for their work or project. Love the fact that you can label and assign specific time-periods for clients and projects. Best part, it's FREE! You can use all the basic features for free! Fantastic! So far i have only been using Clockify for a week and have loved it so far - it's been so helpful for allowing me to track my hours!
— Eric Aaberg, Assistant Coach at The University of Texas at Dallas
300+ reviews