The only truly free employee timesheet
Clockify is the only 100% free timesheet software for employees. Enter hours in a simple online time sheet and track work hours across projects.
Modern digital timesheet for employees
Clockify is a modern employee time sheet app that works in a browser. Clockify streamlines timesheet collection and time analysis so you no longer have to fill out, scan, and store paper time sheets.
By using Clockify, you no longer have to rely on traditional physical timesheets and time cards, complex timekeeping systems, Excel spreadsheets, or rule-of-thumb estimates.
Regulated overtime payments can be one of the heftiest bottom-line business expenses. Clockify makes it extremely easy for you to exactly know how many hours each employee has worked.
With Clockify, monthly and hourly employees can enter hours spent on specific projects/tasks throughout the week, and revise them when needed so your reporting data is consistent.
Clockify can also calculate payroll and calculate billable hours automatically, based on your employees' hourly rates.
Employees fill their timesheet for each day in the week
Management runs reports and export time
FREE FOREVER
✓

Unlimited users

✓

Unlimited timesheets

✓

Unlimited reports

✓

No per user fees
How to easily fill hourly timesheets with Clockify
Step 2
Set up projects/tasks
Create a list of pre-determined activities so your employees have a drop-down of pre-loaded tasks to choose from.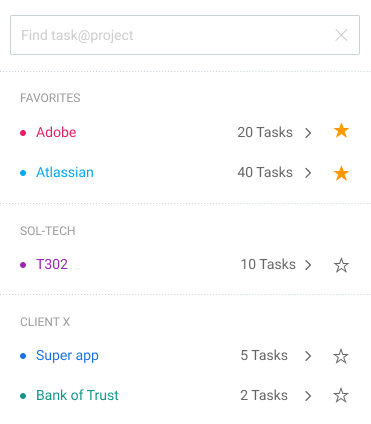 Step 3
Invite employees
Clockify is completely free, no matter how many employees you have.
Step 4
Employees fill their timesheets
Your employees enter how much they've worked online in a browser.
Step 5
Check employee hours in reports
Weekly report helps see who logged how much time each day in the week. You can if they've worked overtime, who took time off, who's going away on a vacation, and drill down into the data using filters and export time and attendace in PDF, CSV, and Excel.
Learn: How to set up a simple clock-in clock-out system | Tracking vacation and PTO
Step 6
Export reports
You can run an online report and break down time tracking data however you need. When the time comes, export the report as PDF, Excel, or CSV.
Download report samples: PDF • CSV • Excel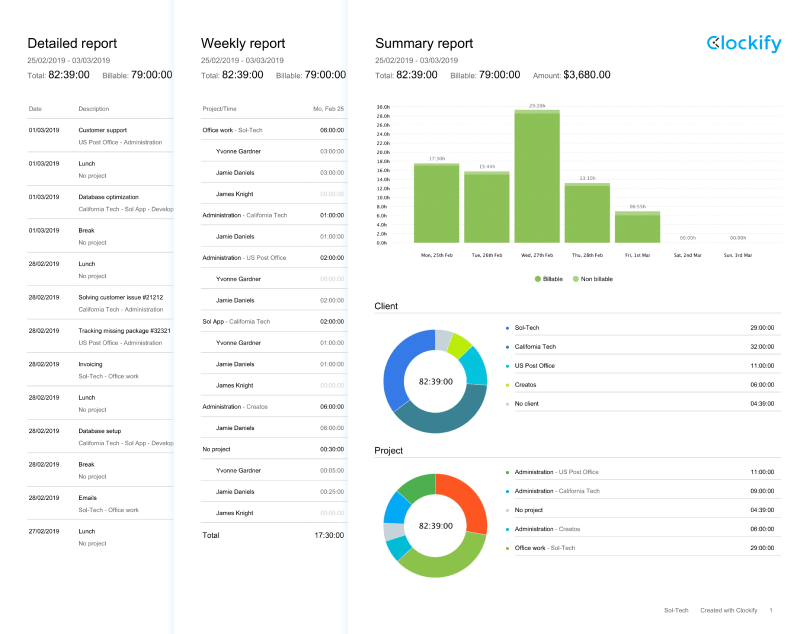 Step 7
Extra features
Reminders: set up targets so employees get automatic reminders to log missing time
Add time for others: open and update other people's timesheets for them
Lock timesheets: approve time by locking timesheets at the end of the week/month
Timesheet features
Online timesheets
Log all your work hours in less than a minute.
Insanely simple
No training required, just log in and go.
Unlimited users
The only truly free timesheet app for large teams.
Export data
Export all timesheets to PDF, CSV, and Excel.
Robust reporting
Get all the time data calculated in one click.
Projects and tasks
Track and categorize work activity by project or job.
Hourly rates
Automatically calculated payroll and billable hours.
Apps
Log work hours in browser, or from mobile or desktop app.
Reminders
Automatic timesheet reminders for missing hours.