Free employee timesheet app
Clockify is the only 100% free timesheet app. It lets your employees enter how much time they spent on activities in an online timesheet.
What is Clockify
Clockify is a modern employee timesheet app that works in a browser. Clockify streamlines timesheet collection and time analysis so you no longer have to fill out, scan, and store paper timesheets.
By using Clockify, you no longer have to rely on traditional physical timesheets and time cards, complex timekeeping systems, Excel spreadsheets, or rule-of-thumb estimates.
Clockify is super simple and completely free no matter the team size.
How it works? An employee simply logs in with their email, selects their activity, and fills out the time boxes. Then, you can immediately see, analyze, and export the data in reports.
With Clockify, monthly and hourly employees can enter hours spent on specific projects/tasks throughout the week, and revise them when needed so your reporting data is consistent.
Clockify can also calculate payroll and calculate billable hours automatically, based on your employees' hourly rates.
Management can use time tracking data to:
Improve the overall value of the work done by employees
Maximize time spent on high-value tasks
Minimize time spent on low-value tasks
Export timesheet data and use it for:
HR and Payroll
Track attendance, overtime, who worked on what and when, and how much everyone should be paid.
Client billing
See how much you worked on a project, how much you need to bill clients, set billable rates, and add narrative to time entries so you can justify invoices later.
Project status reporting
Estimate time, track time budgeted for tasks so you can make budget vs actual analysis, calculate resource utilization, and identify where labor hours are spent.
Governance activity costing
Use time data in order to comply with government and shareholder compliance standards, timesheet requirements, work rules, and other audit criteria (DCAA, SOX, EEC).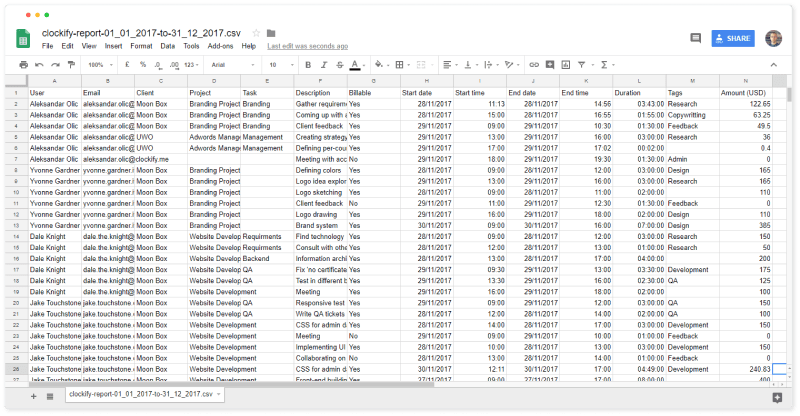 Learn more about time reporting
How to fill timesheets with Clockify
Step 1
Create Clockify account
Step 2
Set up projects
Create clients, projects, and tasks so your employees can categorize their time entries.
Step 3
Invite employees
Clockify is completely free, no matter how many employees you have.
Step 4
Employees fill their timesheets
Your employees enter how much they've worked in browser online, or by using a mobile app (Android, iOS).
Step 5
Run reports
Admins have 3 types of flexible and robust reports that break down all employee timesheet data:
Summary report: time summarized by project and billed with proper rate
Detailed report: review and edit time entries your employees made
Weekly report: see who tracked how much time each day in the week
Timesheet features
Insanely simple
Employees can enter time with just a few clicks.
Fill timesheets online
You can use a timer or manually log all your time at once.
Unlimited users
The only timesheet app that's free for no matter how many users you have.
Export data
You can export all the time entries in PDF, CSV, and Excel.
Robust reporting
See who logged how much time at a single glance.
Projects and tasks
Categorize tracked activities for everything is neatly organized.
Hourly rates
Clockify will automatically calculate payroll and billable hours.
Lock timesheets
Prevent users from changing their old timesheets by locking them.
Reminders
If someone forgot to log their hours, Clockify will remind them.
★★★★★
Perfect for tracking our employees' hours
"We needed a better way to keep track of everyone's time, projects, and budgets in one place. Enter, Toggl! It seemed like a dream come true except... you had to pay per month and per person! There was no way our little company could afford that.
As a company just starting to get off the ground, we need every penny we can spare and a good way to track our employees' hours and project investments. Now that Clockify timesheet app is available, I have even higher hopes for our company's success this year."
— Katelyn Salem‎, Video editor at Synema Studios