Toggl Track Review: Pricing & Features Overview (2020)
Toggl is a popular app that lets you track how much time you spend on activities. It's mostly used by freelancers who need to know where the billable hours go, but it's also popular with students and people who want to improve their productivity.
Toggl works online in a browser, but you can also install it on your computer or phone and track time from there. What makes Toggl different from the other time trackers that it's extremely easy to use and doesn't get in the way. It's only as complicated as you need it to be.
Toggl is free for up to 5 team members. If you're an individual who just wants to know where your time goes, the basic free version is all you need. If you have a team or need billable hours calculation, the pricing starts at $10/user/month.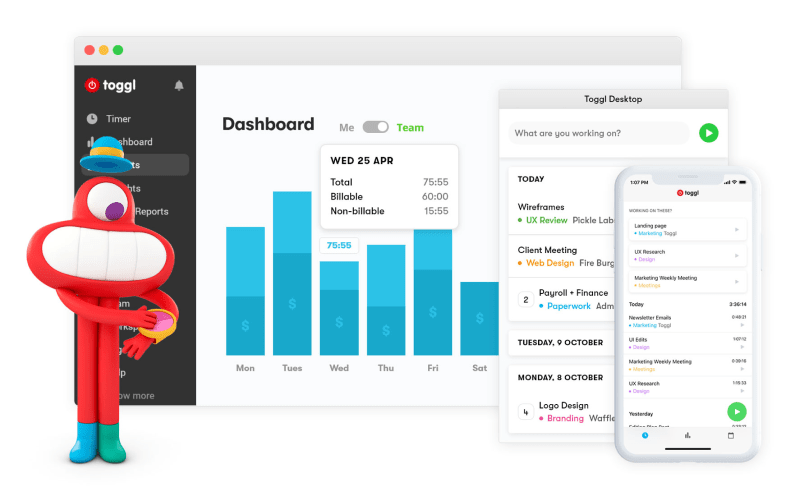 Score: 4.6 (Features: 5 | Ease of use: 5 | Platforms: 5 | Reporting: 4 | Cost: 3)
PROS:
Available on all major platforms
Super simple to use
Integrates with other apps
Free to get started
Idle detection, reminders, and Pomodoro
CONS:
Expensive paid plans (especially for large teams)
Limited reporting options
Review of Toggl Track features
Time tracking
Toggl is a web app, meaning you use it online in a browser. To make time tracking more convenient, you can also install a mobile app and track time on the go in an app, or install on your desktop so the tracker is always close at hand, so you don't have to keep Toggl open in a tab all the time.
The best thing about Toggl is simplicity and convenience. You can start a timer with one click, and optionally type what you're doing and categorize the activity using projects. For advanced categorization, you can use clients, tasks, and tags.
If you're not a fan of timers, or forgot to start one, you can always add time manually after the fact.
The greatest problem with start and stop time trackers is that you sometimes forget about them. Toggl remedies this problem with time tracking reminders and idle detection.
If you're working but the timer isn't running, Toggl can send you a friendly reminder if you forgot to start the timer. Or, if you're away from the computer but the timer is still running, Toggl will notice you're inactive and allow you to discard the idle time.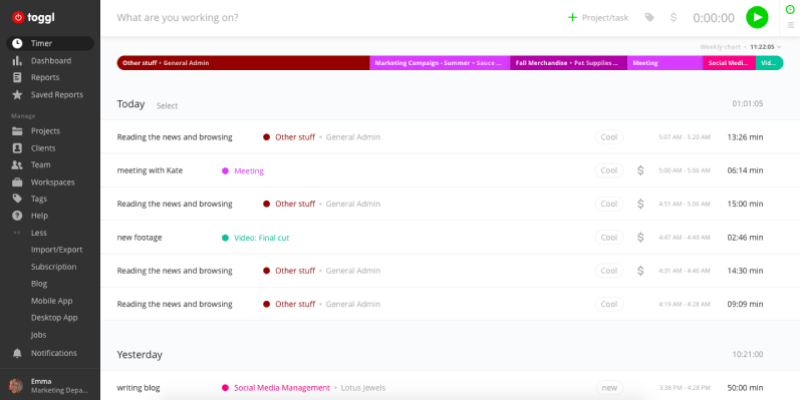 Reporting
Toggl has four types of reports:
Dashboard, which shows yours and your team's activity at a glance;
Summary, which crunches all the data and shows you how much time each project took;
Detailed, which simply lists all the time entries you and your team made in a certain period;
Weekly, which show summary data by project and user by the day in the week, like in a timesheet.
Reports are very flexible as you can choose what data you wish to see, apply filters to get a custom report, export data in PDF and Excel, and save a report and share it with others via a public link.
If you're on a paid plan, Toggl will also calculate how much your billable hours are worth. You can set a general hourly rate (or define a different rate for each user and project), and Toggl will automatically calculate everything.
While flexible, reports have limited number of grouping options: you can only see breakdown by user, project, and client; but you can't see breakdown by tag, day, or group for example.
You also can't customize what data you wish to see or don't want to see, but that's not a big problem as you can simply download the report in Excel and there slice and dice data as you wish.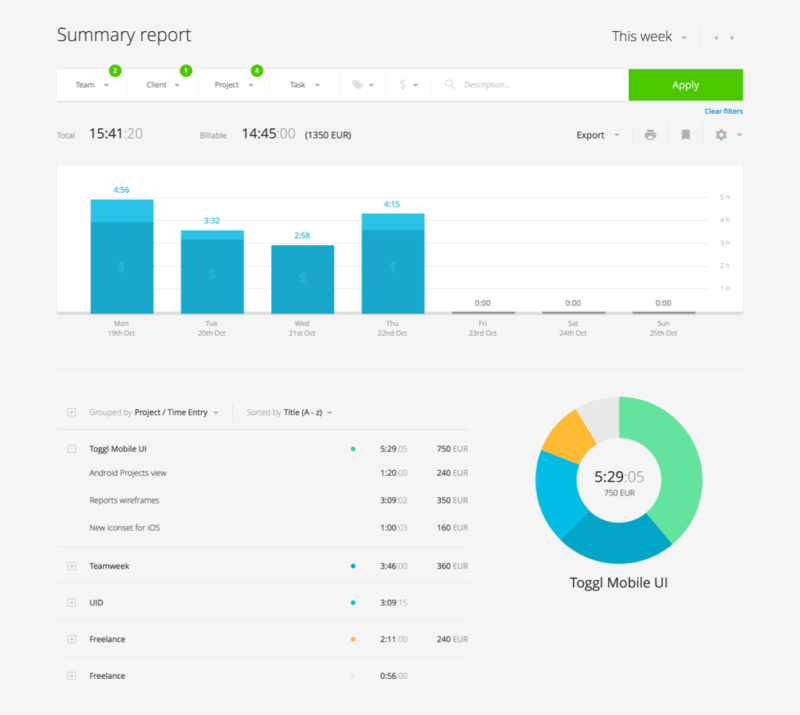 Project management
Although automatic trackers like RescueTime are easier to use and require zero effort, they can only show you on which apps you spend time but they can't tell what you were doing. Toggl, on the other hand, requires a bit more work but it's more reliable for project tracking.
You can also set project budget in form of a time estimate. Then, as you track time, you can see which projects are near or over the budget, and get an alert via email.
For budget tracking, Toggl doesn't offer as much features as Harvest for example. You can't set a budget for money, only time. Recurring projects also are not supported.
Although Toggl is not a project management tool, it does offer some basic project management features. For example, you can create tasks (which work like sub-projects), assign them to team members, and mark them as done. For more project management features, you're gonna need to use a dedicated tool.
Because Toggl is primarily a time tracker, you're gonna need a separate tool for invoicing and task management. Luckily, Toggl integrates with almost every app you need: Trello, Jira, Asana, Basecamp, and plenty more.
Toggl pricing
Toggl is a great option for individuals who just want to know where they spend time, and it lets you get started for free.
But if you have a team, the costs can spiral out of control very fast.
For a team of 20 people, Toggl will cost you at least $200/month. And because all the significant team management features are in the Premium plan, you'll have to dish out $400/month just so everyone in your team can track time.
Free - All the basic time tracking features, up to 5 members.
Starter ($10/user/month) - More than 5 members, billable rates, project time estimates, alerts for estimates, tasks.
Premium ($20/user/month) - Track labor costs and profitability, scheduled email reports, reminders, add time for others.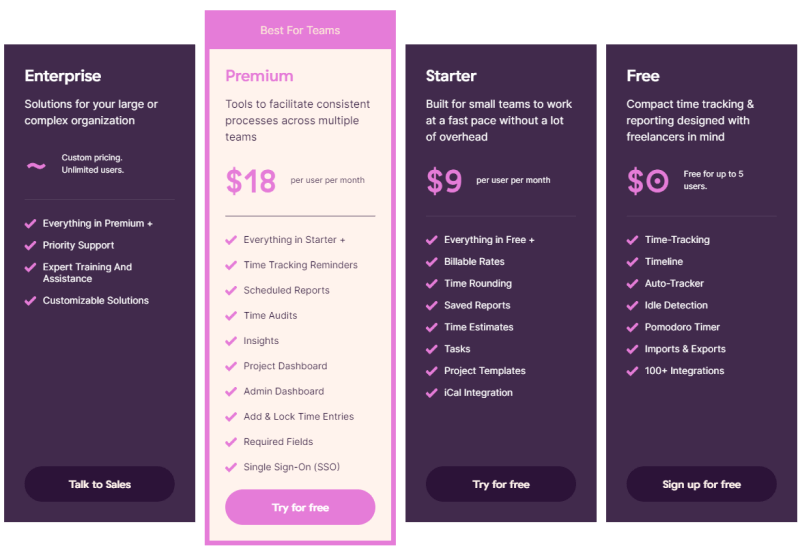 What's good about Toggl
It's so focused on what it's meant to be; a time tracking app. I've tried a number of apps like this and they all require a lot of clicks or taps to get it started. This one is simple and had the least number of steps to start tracking
It is very simple to use.
It provides features like idle time detection, tracking reminder.
The app is available for all the platforms like desktop, mobile, and web. You can even integrate into the Chrome browser to easily track time on any third-party application like BitBucket, GitLab, Jira, etc.
Powerful reports with export option. You can filter the time entries by project, client or user.
An option to create different workspaces which help to be more organized.
You can create a client, their projects and also assign a team to track everyone's time.
An option to assign tags to time entries. This helps to filter reports.
Everything is synced in the cloud, so we can use it from anywhere. Also, we don't have to worry about data backup.
I love that Toggl is quick to set up new projects and get to work. It shouldn't be a big deal to start tracking your time, because it's such a minimalistic task, but a lot of time trackers make it a big thing to start a project.
I like that it's cloud based, so no matter which office I'm working from, it's not a big deal
Toggl has an interface that looks nice and is user friendly.
Mac app is what really sealed the deal for Toggl. There are times when I forget to stop the timer, and the Mac app allows Toggl to detect idle time and ask me if I want to keep it or discard it
Ability to break down tasks within projects means helps keep timesheets as specific as possible, which my clients appreciate
Chrome extension is very easy to use, and reminds me to track my time whenever I'm online
Autotracker and idle time features are both extremely helpful for holding me accountable + keeping my hours accurate
My #1 go to for recording my time to bill clients. I couldn't even imagine manually writing time down
Toggl has countless integrations so you're always able to start and stop time and accurately record your time from any device, anywhere
The ability to provide my leadership team a visual representation of my time and my staffs time was invaluable during budgeting and resource allocation time
The best features are the easy to use UI, and a display that shows the user a task by task view of how their day progressed, as well as a consolidated weekly view where you can see a more holistic view of where time was spent
It's simple to use, allows you track across all your projects and activities and even lets you share reports with others. And it's easy to use.
They have an app for any device you can throw at them, which means you have no excuses not to know where you're putting your time and attention.
Simply and intuitively adjust start and end times if you forgot to press start or stop
Thanks to Toggle I could finally forget about timesheets. It does all the calculations for you. Now I don't start any task without hitting "start" with Toggl. It also helps me to control workload of the entire team.
The speed and ease of use it true. The app is very light and the interface is very minimalist, does not distract and allows you to quickly set the proper parameters.
I love how simple and one-click function for 3rd party application integration works. No need to open multiple tabs, it just under one dashboard.
Toggl also finds out your idle time if you forget to turn the timer off and allows you to quickly decide (with one click) what to do with it.
What's bad about Toggl
Pricey. Requires expensive subscriptions for the features you really crave
One of the major downside of Toggl is that it does not have a screenshot features to where i can take a snapshot of a particular screen and save it with in Toggle
Sometimes I've hit "enter" on the desktop app, assumed it started the timer, and gone off on my merry way, only to find hours later that it hasn't started at all!
In reports, the time entries are not grouped by date.
It gets expensive quickly
API integrations are lacking, we have to double handle many figures. We haven't found a simple means of turning records in to invoices.
We haven't found a way of linking a task management system with Toggl that pulls projects, value etc across
The number of users in a team is just 5. It would be great to have at least 10 users for small agencies which can't afford the paid version
I don't like the recent changes that don't let you see your history without generating a report. I also wish it integrated with Google Calendar/Outlook and would automatically import meetings/scheduled events and tag them with the correct project
I also don't like that it runs until you turn it off, without reminders or updates - like it'll run 8 hours and send me a reminder, but if I ignore that single note, it stops. I would like it to send multiple updates, or have the ability to cut off, and to send me a notification/alert to start it again the next morning, because sometimes I'll forget and come back two days later to find 48 hours tracked to a single project.
It would be nice if you could customize the reports more. For example, I would like to print a PDF of a report showing all time entries but not showing who was the user for each entry
As someone that multitasks / hops around between projects pretty regularly, I wish there was a way to run multiple timers at once or otherwise account for this
Mobile app, while a handy offering, isn't as easy to navigate as the desktop application
Inability to export reports on the Android app. I don't know if that is something that is coming to it eventually, or if that is only available with a different level of plan. But I am 80% of the time mobile and need to send in reports on the go
I find the Chrome button to be pretty buggy and typically just had to use the website for tracking
The interface is a little clunky and sometimes I find myself making empty timesheet entries that are logged for a number of hours until I realize the clock is still running
The purple tint in UI really doesn't work, especially in dark mode. Reduces necessary contrast and basically makes it look like your monitor is failing just in the area where the toggl window is.
Really, really don't like the colour scheme. Pink? For a business app. Really weird. Also not a fan of the new 70s logo. But what I dislike most is having to sign in every time (web version) - what a pain.
No option to export working hours by day (list of days with the amount of hours worked on that day), only by project/client.
Too many pricing tiers, some options should be included standard especially given that Toggl is not robust enough for enterprise deployment
The desktop app sometimes gets the spinning beach ball of death. Occasionally it won't respond for so long that I have to force quit
The desktop app will slow down over time as you accumulate time entries; you have to clear the cache to speed it up again. I wish Toggl would automate that process, for instance by removing all time entries older than 2 weeks. Anything longer ago than that I can go online to find.
The Android App needs a little bit of work and it crashes semi-frequently. You don't lose data when it happens, but it's a little annoying
The desktop client only tracks time. I wish I could manage client and project info as well.
It does take a little bit of time to put your time in and register all tasks. If you are dedicated to that then great; if not its not going to be entirely automatic but better than a load of other apps in the same space.
It is very easy to forget to turn off the timer! Then suddenly you have left it on for 6 hours, meaning you have to delete the entry and discount any hours you have done. That is very frustrating, as the timer runs even if you have closed the window.
Sometimes the user experience is not so intuitive and you need to try something a few times before you can figure out how to do something
Competitors
See detailed comparison of best time trackers
Clockify
The main Toggl alternative. Clockify takes everything that's good about Toggl (simplicity and ease of use), improves upon it, and offers it for free.
Unlike Toggl, Clockify is free no matter how many users you have, plus it offers a lot of paid Toggl features for free (like billable rates, estimates, and tasks), plus a few more others that Toggl doesn't have (like the Timesheet). If you decide to go with a paid plan, Clockify will cost you just $9.99 (Plus) / $29.99 (Premium) per month for the extra features, no matter how many users you have, the price is fixed.
Harvest
Harvest is similar to Toggl, charges $12/user, and is used mainly by agencies and freelancers for budget tracking and invoicing, as it offers a more complete solution that Toggl.
Harvest lets you set monetary budget, track expenses, project forecast and resource plaining, offers more billing features, and lets you combine time tracking, invoicing, and scheduling all under the same roof. While robust, all this extra functionality makes Harvest a bit harder to learn and use.
Hubstaff
Hubstaff is primarily an employee monitoring tool. Just like Toggl, it lets your team track how much time they spend on activities, but it also takes random screenshots while they work (for proof). It's mostly by remote agencies who manage a lot of freelancers and need to make sure someone actually works while their timer is running. Hubstaff also offer a lot of other features, which comes at the expense of ease of use.
The Basic plan costs $8/user/month and offers you unlimited screenshots, while the Premium plan costs $12/user/month and also lets you track what apps your employees use, what sites they visit, and their location, plus some scheduling and invoicing features.
Timecamp
Timecamp is a middle ground time tracking solution that comes with a little bit of everything. It lets you track time, monitor employees, and make invoices. Timecamp isn't too difficult to use, but it also isn't as easy as Toggl.
Timecamp's free plan is much more restricting (1 user, only time tracking, no exports or integrations), but paid options can cost you much less ($7/user/month, or $12/user/month for invoicing and monitoring features)
Toggl Review Summary
Toggl is a great time tracker for people who want to see where they spend time. It's super simple to use, available on each major platform, and free.
But if you have team, Toggl can be too expensive. You might want to try Clockify instead, or Harvest if you do a lot of invoicing.