Toggl Track Review: Pricing & Features (2021)
Pricing & Features Overview
Toggl is a popular app that lets you track how much time you spend on activities. It's mostly used by freelancers who need to know where the billable hours go, but it's also popular with students and people who want to improve their productivity.
Toggl works online in a browser, but you can also install it on your computer or phone and track time from there. What makes Toggl different from the other time trackers that it's extremely easy to use and doesn't get in the way.
Toggl is free for up to 5 team members. If you're an individual who just wants to know where your time goes, the basic free version is all you need. If you have a team or need billable hours calculation, the pricing starts at $10/user/month.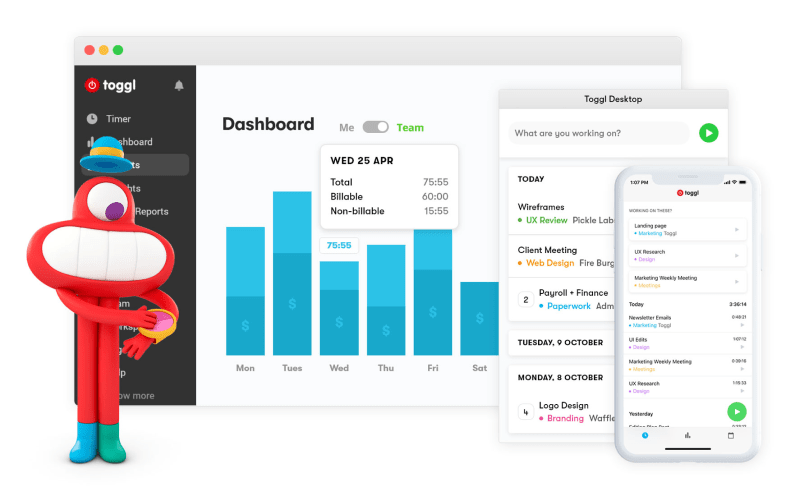 Score: 4.0
Features: 5 | Ease of use: 3 | Platforms: 5 | Reporting: 4 | Cost: 3
PROS:
Available on all platforms
A variety of features (reports, Pomodoro Timer)
Reminders, Calendar view
Integrations with other apps
CONS:
High fees
A limited number of tags
The buttons are not very intuitive
Review of Toggl Track features
Time tracking
Toggl is a web app, meaning you use it online in a browser. To make time tracking more convenient, you can also install a mobile app and track time on the go in an app or install it on your desktop, so the tracker is always close at hand, so you don't have to keep Toggl open in a tab all the time. You can also use Toggl Track as a browser extension.
The best thing about Toggl is its simplicity and convenience. You can track time by using a timer, entering it manually, or adding your calendar events as time entries. For advanced categorization, you can use clients, tasks, and tags.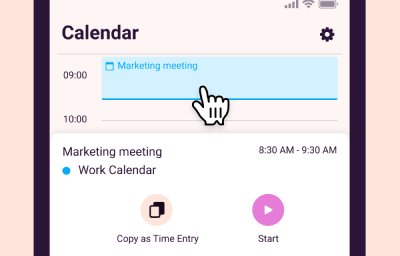 The greatest problem with start and stop time trackers is that you sometimes forget about them. Toggl remedies this problem with time tracking reminders and idle detection.
If you're working but the timer isn't running, Toggl can send you a friendly reminder that you forgot to start the timer. Or, if you're away from the computer but the timer is still running, Toggl will notice you're inactive and allow you to discard the idle time.
Reporting
Toggl has three types of reports:
Summary - where you can review total tracked time and filter it by date, user, client, project, and other options.
Detailed - where you can see each individual time entry. You can also export these entries.
Weekly - where you can review tracked time throughout the week.
If you need to keep some reports for future references, you can create saved reports. Then, you can share them with your team or clients. You can also schedule reports to email, although this is only available with the Premium plan. In addition, there's an option of time rounding in reports as well.
If you're on a paid plan, Toggl will also calculate how much your billable hours are worth. You can set a general hourly rate (or define a different rate for each user and project), and Toggl will automatically calculate everything.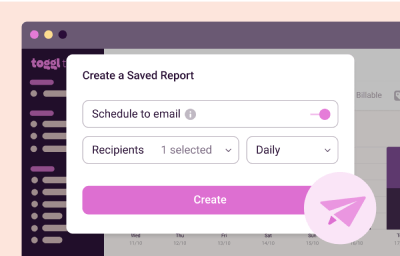 Project management
Although automatic trackers like RescueTime are easier to use and require zero effort, they can only show you on which apps you spend time, but they can't tell what you were doing. Toggl, on the other hand, requires a bit more work but it's more reliable for project tracking.
You can also set a project budget in the form of a time estimate. Then, as you track time, you can see which projects are near or over the budget and get an alert via email.
For budget tracking, Toggl doesn't offer as many features as Harvest for example. You can't set a budget for money, only time. Recurring projects also are not supported.
Although Toggl is not a project management tool, it does offer some basic project management features. For example, you can create tasks (which work like sub-projects), assign them to team members, and mark them as done. Be sure that this option doesn't come with the free plan.
When it comes to invoicing, Toggl Track offers a PDF invoice template that you can easily download and fill out. However, you can't automatically send an invoice via email.
Toggl pricing
Toggl is a great option for individuals who just want to know where they spend time, and it lets you get started for free.
But if you have a team, the costs can spiral out of control very fast.
There are four available plans:
Free - this plan is for individuals and has basic features, such as time-tracking, timeline, idle detection, Pomodoro timer, integrations, and others. You can use this feature for up to 5 users.
Starter - for small teams, contains options like billable rates, time estimates, and project templates.
Premium - built for multiple teams, Premium plan has features like time audits, insights, and time tracking reminders.
Enterprise - this plan is for large and complex organizations and covers options such as priority support and expert training and assistance.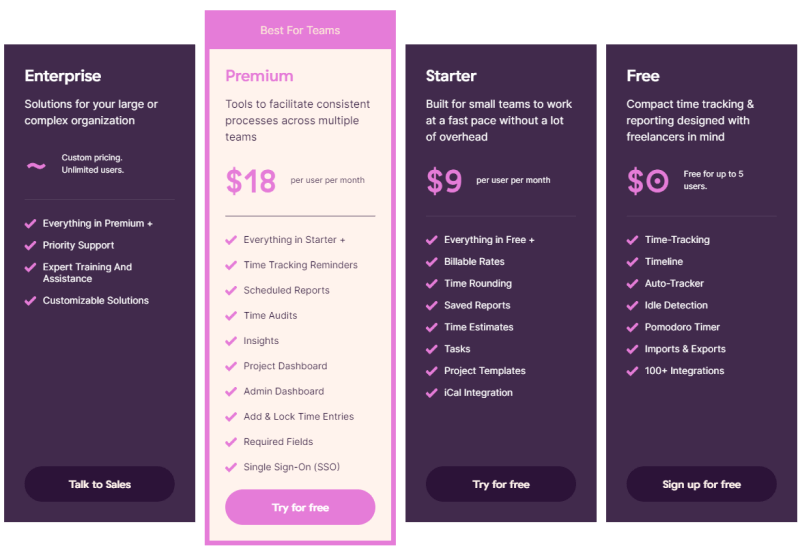 What's good about Toggl
Easy and quick to set. Handy reporting.
It has many features. I can track tasks by project or client, or by date. It has many views.
As an hourly contractor, it's easy to switch between projects.
Flexibility to track my time and function to track my time in a different time slot.
Quick in use; easy to add tasks & projects; love weekly reporting interface!
It is exactly what I have searched for before I used Excel tables and that was more work and often inaccurate.
I like the ease of adding new projects to the mix. It really is so easy for me to organize my time and my projects. Also, if I make a mistake, adjusting the time or project is simple also.
As an independent voice over artist, it is important to keep track of time working on a project, down to the minute, since I charge per minute. Toggl Track is a good, free program to use and has saved me a lot of headaches trying to manually keep track of minutes. I like that it stores past projects for reference as well.
It is very easy to use. It gives me weekly breakdowns. I also like the optional Pomodoro app, which encourages me to get up and take a regular quick break.
Toggl keeps me on track, so if I am working on a project for one client, and my mind gets distracted and tries to get me to work on something else, I can look at Toggl and remind myself that NO, I'm working on THIS right now. When I officially switch to the other client, I do it intentionally. Also, it realistically captures how much time I am spending on stuff. I might think I'm spending 4 hours on something but in reality, it's 2.5 hrs. Also, if I switch on the timer on my OS and run out of the house to pick up my daughter and forget to turn off the timer, I can do it on my iOs device.
Super easy to enter and track time across projects, making this an essential tool for (most importantly) easily tracking your time and where you're spending it.
As a nomadic worker for NGOs, it's hard for me to feel satisfied with how much I give to the cause. Toggl gives me peace of mind so I can give a minimum set of weekly hours to my duty. It's also a great tool for tracking other sub-contractors who join our missions.
Keeping a track of small but numerous time-invoiced projects is really easy using this software. Perfect for that alone - I've not used any of its more advanced features.
I love the integration with Asana and the free plan for a small-scale web developer like me.
Toggl is super easy to use and helps me stay focused on the task at hand! I love being able to visualize where my time is being spent throughout the day.
Very easy to use, and with the possibility of using for tracking personal tasks.
The time tracking feature is so easy to use in both modes- ON/OFF timer & manual. It is also very well organized under different projects & teams, especially useful for someone like me who is independent, not belonging to one particular organization, and works remotely. It helps in billing with no confusion and there is accountability.
It is super easy to use, you can export data if needed, easily set up projects and clients, and track with any granularity you want. The recent addition of Calendar View is awesome.
Being able to efficiently keep track of my time as someone who is hourly paid. It is great having the small app open on your desktop but also having the ability to go into more detail on the website.
A simple and effective tool for tracking your time and reporting. Practically no setup hassle.
I love that I'm able to tell my boss exactly how much time I've spent on a project. It helps us both.
I've been using Toggl Track to keep track of my hours since I started freelancing in 2015. It is so reliable and easy to use. I find the Reports feature great and being able to see things with greater or less detail as needed. Toggl Track is also free to use.
I love that I can manually clean-up my day. So, if I forget to hit start or stop, I can go back and clean-that up to better present my hours on projects.
This software helps me keep organized and make my billing much more streamlined. Easy to use. Thank you!
It's an excellent tool for your productivity stack. Runs on all platforms, minimal disruption and provides excellent reports which can be shared with clients.
What's bad about Toggl
Kind of annoying to add clients but once they're in there it's easy.
The reporting part is a bit under my expectation.
In the free version, you cannot stop and continue one project. If you stop and start tracking again, it will create a new project line, and then you need to manually add up the times for that one project... but at least you can label each one.
Lately, the color scheme! They had a beautiful, red, white, and black theme and now they shifted to some strange one.
Not being able to view stats on the desktop app.
Extension on the browser I used quite buggy. Sometimes the timer button does not show up on browser Brave. No issue on Chrome though.
The difficulty of retrieving an old entry for reusing.
In general, it is very good but would like to see different colors in the bars from weekly reports, indicating the type of project (similar to Clockify).
Stopping the timer in an app sometimes doesn't stop the timer on Toggl home. page/dashboard. Requires keeping Toggl page open on separate tab & double-checking.
Not very keen on the new design, however, it's fine since the app still runs in the background.
It would be great to have a free trial of the premium version.
Sometimes people finish their work but forget to switch off the timer. It would be nice if Toggl notifies you when you close a browser tab or checks the status after 2h.
I liked this software overall, but the fees were a bit high for the functionality (something that you can do for free in excel basically).
The newly changed color scheme. I can't stand to look at this anymore. It's why I have to rate it low on being able to recommend it to other people. While the features are still great, the professional and comfortable appearance is now gone for clashing pastel puke colors which make it seem less like a professional tool and hard to read information. Thankfully, I don't have to open the web app much anymore (since it's probably the worst-looking), but when I do, I get headaches - literally.
The buttons are not very intuitive to use, but I got used to them after a few days.
Some of our team members find it difficult when exporting their times for reports and finding the right function that fits them best.
It took a little time to figure out how to assign a project when starting the timer - if I didn't designate a project from the get-go, it was a little gnarly figuring out how to set it after the fact.
The new workspace add is a bit confusing to set up when you are invited to join.
Entries can't be edited easily... just delete and re-enter.
I don't like that I'm not able to start a task again where the timer left off. Sometimes I accidentally stop a task.
The software is almost perfect, but the interface for adding events retroactively on the Mac app can be a little hard to use.
Some minor glitches in the Web UI, which I believe is due to integration with Safari Browser.
I can't synchronize it with other apps like Todoist, calendar, etc.
The number of tags is too limited. I need at least one more tag to categorize the task, clients, projects and company area.
Not so easy to integrate and a little expensive.
Competitors
Clockify
The main Toggl alternative. Clockify takes everything that's good about Toggl (simplicity and ease of use), improves upon it, and offers it for free.
When it comes to Clockify, adding tasks and billable rates as well as setting time estimates is available with a free plan, while these options only come with the paid plan in Toggl. Besides, Clockify has several features that Toggl doesn't offer, such as timesheets, manager role.
Harvest
Harvest is an app that comes with only two plans. Their free plan is available for one seat and two active projects. The other one is a paid plan that costs $12 per seat per month.

By using Harvest for free, you'll be able to have unlimited clients and send unlimited invoices. However, you won't be able to import data or projects and integrate with other apps. Speaking of integrations, Toggl allows you to connect your account with other tools for free.

By comparing Harvest and Toggl features, you can see that both apps have options like billing and invoicing and offline time tracking. But, Toggl allows you to have the employee database, which isn't possible with Harvest.
Hubstaff
Apart from time tracking, Hubstaff is an employee monitoring tool and payroll software. With Hubstaff, employers and business owners can track employee performance with features like activity level and screenshots. Also, this app allows sending payments to workers.
By comparing free versions of Hubstaff and Toggl, you'll notice that Toggl offers a variety of time tracking options, while Hubstaff only allows simple time tracking along with several employee monitoring features that are quite limited with this plan.
But, if you want to use features such as invoices, integrations, client and project budgets, and tracking time off, you'll have to opt for Hubstaff Premium plan ($10 per user per month).
TimeCamp
With TimeCamp, time tracking gets automated, so all you need to do is connect your work software to a TimeCamp account. Plus, if you add specific keywords for each project, you won't have to switch between projects, the app will automatically do that. TimeCamp has other practical features, like billing, attendance tracking, timesheet approval, and invoicing. Unlike Toggl, TimeCamp offers overtime calculation and vacation/leave tracking.
If you compare basic paid plans for Toggl and TimeCamp, you'll see that TimeCamp's package is less pricey ($5.25 per user per month, compared to Toggl's $10 per user per month). However, if you're willing to pay a bit more, you'll have more options with Toggl's Starter plan. The only advantage of TimeCamp's Basic plan over Toggl's Starter plan is advanced time tracking.
RescueTime
If you wish not only to track your time but your productivity as well, try RescueTime. This app shows you visually how you spend your day by using chart bars and pies. Besides, if you often feel distracted, just turn on the FocusTime distraction blocking, which can last as long as you need to stay focused. In addition, you can monitor the time you spend on meetings and calls. If you're eager to learn how to become more productive, there's an online course on their site called the Productivity Challenge, but it isn't free.
With the RescueTime free plan, you'll get basic options like automatic time tracking and time and productivity reports. However, blocking distractions comes only with the paid plan. When it comes to prices, RescueTime paid plan costs $6 per month per team member. Compared to Toggl's Starter plan, RescueTime is a more affordable option. But, if you need more than time tracking and productivity reports, RescueTime won't suit your needs because it doesn't have billable hours, invoicing, and similar features.
Timely
Timely automatically measures your time and adds the time entries to timesheets. Aside from time tracking, Timely is also a project management tool. So, you can plan your projects, review them in a timeline view, and see what each team member is doing at the moment.
The Timely's Starter plan is $8 per user per month and it covers basic time tracking and project management features. The price is almost the same for Toggl's Starter plan ($10 per user per month). By comparing the time tracking features of these two plans, they are quite similar, except for the fact that Timely offers timesheets. At the same time, Toggl doesn't have project management options, but it covers the Pomodoro timer with its Starter plan.