Workforce management software
Simple and free workforce management software. Manage tasks, employee work hours, eliminate paper work, control costs, and increase productivity.
What is workforce management software
Workforce management software helps employers gain insight into workforce and improve productivity. It helps them plan work, manage employee time, control labor costs, and improve efficiency. A good workforce management software automates processes, eliminates paper work, and cuts tedious tasks. allowing employees to focus on getting thigns done.
What is Clockify
Clockify is a modern worforce management system that lets you and your employees manage tasks and projects, track work hours online, and see who works on what.
Clockify streamlines timesheet collection, attendance tracking, time analysis, and payroll calculation so you can eliminate paper work and time spreadsheets.
How it works? An employee logs in, selects their activity, and enter their time. Then, you can immediately see the time in reports and export the data.
With Clockify, you can track attendance, PTO, who worked on what and how much, time spent per activity, how much money each project brings or costs, and how much you need to pay employees or bill clients.
How to manage workforce with Clockify
Step 1
Create Clockify account
Step 2
Set up tasks and projects
Create projects, categorize them by clients, create tasks on projects, and assign them to your team. Then, all your employees have to do is choose a project/task and start the timer.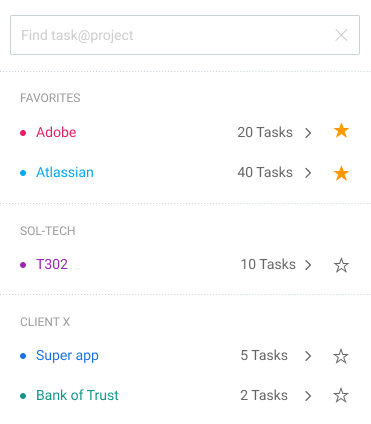 Step 3
Invite your team
You can invite unlimited number of people, for free.
Step 4
Employees enter hours in web timesheet
Each team member gets their own timesheet, where they can select what they worked on and log how much time they spent on it.
Employees can also track hours using an app
Employees can track work and attendance in real time using a timer (available via web, desktop, and mobile app).
Step 5
See who works on what in real time
Weekly report shows you who logged how much time each day in the week. If people forget to log time, Clockify can automatically send them reminders.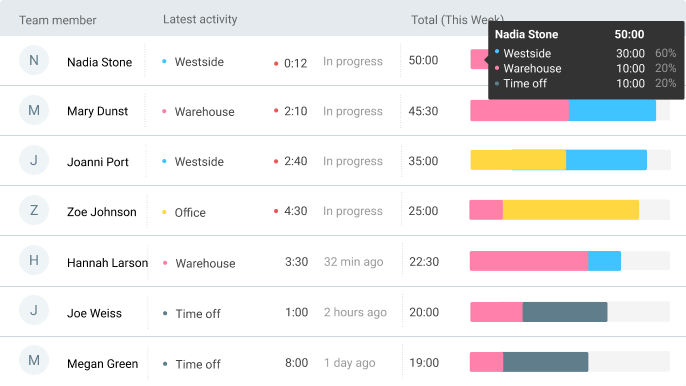 Step 6
Compare estimated vs real time
Set estimates for projects and tasks, and then see how much time your team really spend on activities.
Great workforce management software
Our team manages as many as 30 projects every week. Getting real reporting out of spreadsheets was time consuming, and not all that successful. Now, or team can create projects that can be shared and I don't spend 2+ hours a week combining a bunch of spreadsheets to report on which projects our team is spending their time on.

Nenad Milanovic, CEO at COING